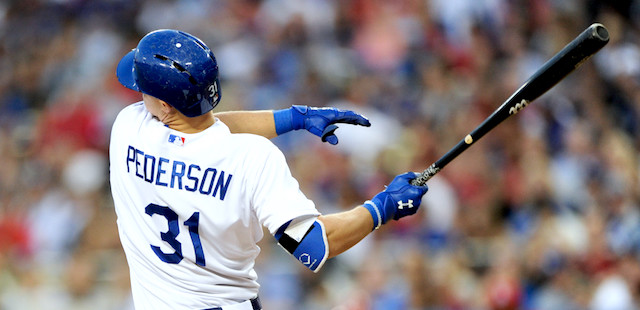 Welcome to the hitting streamers column for the week of 4/15 - 4/21. Whether you're looking to maximize the number of games played, exploit favorable matchups, or fill in for injured players, streaming hitters can be a fruitful strategy for those willing to put in a little work every week.
Keep in mind that this column highlights players owned in fewer than 50% of Yahoo leagues who could present nice streaming options for the upcoming week. This applies to any league but specifically is geared toward head-to-head weekly leagues where matchups are more critical.
If the following names aren't available, don't hesitate to check our famous waiver wire pickups list to find some appealing alternatives. Let's get to it.
Editor's Note: Get any full-season MLB Premium Pass for 50% off. Exclusive access to our Draft Kit, premium rankings, projections, player outlooks, top prospects, dynasty rankings, 15 in-season lineup tools, and over 200 days of expert DFS research.
Sign Up Now!
Bats to Stream and Start in Week 3
Seven-Game Weeks: Baltimore, Chicago White Sox, Cincinnati Reds, Kansas City Royals, Los Angels Angels, Los Angeles Dodgers, Milwaukee Brewers, Minnesota Twins, Philadelphia Phillies, Seattle Mariners, Toronto Blue Jays
Streamer of the Week
Joc Pederson (OF, LAD) - 53% Owned
Pederson is just above the 50% cutoff line, but he's available in enough leagues that it's worth checking waivers to see if he's available considering the upside here. Pederson is off to a great start thus far, with four home runs and a .990 OPS through 48 PA, and perhaps most encouraging is his 14.6% strikeout rate. While his strikeout rate probably won't be that low over a longer period of time, Pederson also has an 84% contact rate and 90.5% zone contact rate on the season and has been cutting down on strikeouts over the past few years.  Again, it's early, but metrics like strikeout rate and contact rate can be big indicators of legitimate improvements at the plate.
Numbers aside, what makes Pederson so intriguing is that the Dodgers are slated to take on seven right-handed starters this upcoming week. That means plenty of games in the leadoff spot for Pederson, who has an .848 OPS and .252 ISO against righties all time. The icing on the cake is a four-game series in Milwaukee, where Pederson should benefit from a positive park shift. This upcoming week is just about ideal for Pederson's skillset.
Behind the Plate
Welington Castillo (C, CWS) - 48% Owned
Castillo is just 2-for-21 to start the season, but the veteran backstop has a career .742 OPS and .167 ISO, which is more than serviceable for a streaming catcher. He also hits relatively high in the order, usually around sixth or seventh, and hits cleanup against left-handed starters. The White Sox have three games at home against the Royals and four games in Detroit this week, which means they will be facing low-quality pitching. Chicago also gets two games against lefties, and Castillo has an .834 OPS and .194 ISO against southpaws all time. This week could be a nice slump-buster for Beef Welington.
Omar Narvaez (C, SEA) -  33% Owned
It's rare to find a catcher on waivers who won't annihilate your batting average, but Narvaez has shown a solid hit tool over the course of his big league career. He owns a .275 AVG and .362 OBP over 783 career PA. Even though he wields virtually no power, Narvaez is still a positive bat behind the plate. The Mariners are also scheduled to face seven righties this week, and Narvaez has been much better against right-handed pitching, owning a career .760 OPS and .111 ISO against righties for his career. A three-game series against Cleveland is a little rough matchup-wise, but a four-game series in Anaheim offers matchups against rather weak pitching outside of Trevor Cahill, and even Cahill has proven inconsistent over his career.
Also Consider: Jonathan Lucroy (C, LAA) - 16% Owned
At the Corners
C.J. Cron (1B, MIN) - 28% Owned
It hasn't been a great start to the season for Cron, who has just a .577 OPS and 7:1 K:BB ratio in 30 PA thus far. What's most concerning is his .069 ISO and just two extra-base hits, since Cron's only positive attribute is power. Cron is known for his streakiness, but he's still crushing the ball, as Cron has a 90.6 MPH average exit velocity on the year. This might be a good week for Cron to break the slump, as Minnesota has seven games against Toronto and Baltimore pitching. Toronto has had a few surprises in the rotation, but they are still relatively weak and unproven compared to the rest of the league. Cron could provide some decent power production this week if his bat heats up a bit.
Ryan O'Hearn (1B, KC) - 5% Owned
O'Hearn is another player off to an underwhelming start on the surface, but his underlying numbers show promise of better days ahead. O'Hearn is only hitting .240 with a .787 OPS, but he has a 93.4 MPH average exit velocity and .505 xSLG along with an unreal 60% hard-hit rate. This is a small sample size, obviously, but these StatCast numbers are juicy. O'Hearn also has a 5:6 K:BB ratio thus far and has shown great plate discipline throughout his minor league career. Now he gets a seven-game week, with all on the road in good hitters' parks. He gets three games against the White Sox in Chicago, and a four-game set against the Yankees in New York. This bat was built for Yankee Stadium. The Royals also face just two lefties this week, which means O'Hearn should be in the starting lineup at least five times.
Also Consider: Yonder Alonso (1B, CWS) - 18% Owned
Up the Middle
Jorge Polanco (SS, MIN) - 27% Owned
Polanco's bat has been smoking to start the year, and he owns a .375 AVG and 1.182 OPS in 44 PA going into play Thursday. The nice thing about Polanco, from a streaming perspective, is that he should provide plenty of volume this week. Minnesota has a seven-game week ahead, and Polanco plays virtually every day and hits second for the Twins. That's the type of player Polanco is from a season-long standpoint, an accumulator, but with four games against Toronto and three in Baltimore, the Twins should put some runs on the board this week. Expect a good batting average and a solid amount of run production this week from Polanco.
Garrett Hampson (2B/SS, COL) - 28% Owned
Hampson was my stream of the week last week, and while in hindsight that seems a little aggressive, it's hard not to be enticed by Hampson's skill set, especially given his home ballpark. There's no hiding the fact that Hampson has been atrocious at the plate thus far. He has a .197 OPS and 29% strikeout rate with zero walks in 31 PA this season. With those numbers out of the way, it's worth noting that with Daniel Murphy and Ryan McMahon both out of the picture, Pat Valaika is Hampson's only threat for playing time. Valaika posted a .460 OPS and a wRC+ of 9 (league average is 100, so 9 is really, really bad) in 133 PA last year. It's sink-or-swim time for Hampson, and with a four-game series at home against the Phillies, he should be able to do some damage this week. For speed, there aren't many better options on waivers right now.
Also Consider: Andrelton Simmons (SS, LAA) - 43% Owned, Orlando Arcia (SS, MIL) - 2% Owned
In the Outfield
Jay Bruce (OF/1B, SEA) - 43% Owned
If batting average wasn't a category then Bruce would be a fantasy monster. Despite his .204 AVG, Bruce already has seven home runs on the year along with a .972 OPS and .469 ISO in 57 PA thus far. Bruce hit a total of nine home runs in 361 PA last season. We're just two weeks in, and Bruce is ready to eclipse last year's home run total. He could do it next week, as he gets seven games and not one against a left-handed starter. Bruce did leave Wednesday's game early with Achilles tightness, so it's worth watching the injury report with him. Assuming this is just a day-to-day thing, Bruce should be locked and loaded for next week as one of the best power options out there.
Jorge Soler (OF, KC) - 26% Owned
Soler has clobbered the ball thus far, when he actually hits it. He has a .233 ISO and 90.0 MPH average exit velocity, but also has a 37% strikeout rate and 66.3% contact rate on the year. The ballpark upgrades Soler is getting, three games at the White Sox and four at the Yankees, should be enough to help his power potential when he does make contact. In leagues where Jay Bruce is unavailable Soler is a fine alternative.
Also Consider: Alex Gordon (OF, KC) - 19% Owned, Leury Garcia (OF/MI, CWS) - 4% Owned
More Streamers and Head-to-Head League Columns