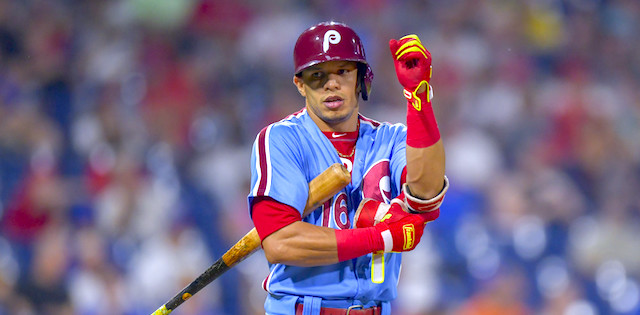 I've written before about my qualms with the term "sleeper." In an age where more information is available than ever before, the odds that you'll catch any of your rivals napping on a particular player are fairly low.
Having said that, it's still useful to consider players whose average draft position comes in well below what we might expect, if our personal projections are to be believed. That's why describing them as draft values, rather than sleepers, feels more appropriate. Is this distinction academic or pedantic? Probably.
Whether or not you share the same misgivings over terminology, today we'll look at five second basemen who are likely to turn a profit on their current acquisition cost. The keystone appears to be one of the weaker positions in the game this season, but there are still values to be had.
Editor's Note: Get any full-season MLB Premium Pass for 50% off, with exclusive access to our season-long articles, 15 in-season lineup tools and over 200 days of expert DFS research/tools.
Sign Up Now!
ADP: 176
I am nothing if not consistent in my praise of Hernandez, as anyone who follows me on Twitter, has read my work, or takes my order at a drive-thru can attest. Last spring, when Scott Kingery was inspiring debate in fantasy circles on whether or not he could produce a 30/30 season as a rookie (editor's note: LOL), there was a vocal contingent of Phillies fans who wanted to see Hernandez moved in a trade. Indeed, in each of the past two winters, there has been chatter of such a move. Wisely, the Phillies' front office has refused to do so. Hernandez has averaged 12 home runs, 17 stolen bases, and 88 runs over the past two seasons as Philadelphia's primary leadoff hitter, with career-highs in all three categories (15, 19, and 91 respectively) in 2018.
It's true that his batting average slipped to .253 after two consecutive years of hitting .294, but Hernandez played the entire second half of the season with a broken foot. That he managed those career-highs anyway is a testament to how good he was in the season's first half, when he hit .270 with a .378 on-base percentage and was on pace for a 15/25 season with over 100 runs scored. Assuming his hip issues this spring don't linger, he should be profitable at his current ADP despite being pushed the lower half of the lineup by the Phillies' banner offseason. Thanks for coming to my TED Talk.
ADP: 251 ADP
It's not difficult to understand why LeMahieu's ADP has plummeted in 2019. After three straight seasons of hitting over .300, including a league-best .348 in 2016, the veteran managed just a .276 mark last season. LeMahieu has left the friendly confines of Coors Field, and he also doesn't have a clear starting role in New York. None of that is exactly good, but there is more to consider here.
First, LeMahieu hit a career-high 15 home runs last season despite logging his fewest plate appearances as a regular since 2014. He accomplished this by significantly increasing both his fly ball rate and pull rate. That may have come at the expense of batting average, yes, but .276 is still a plus mark in today's game.
Second, Yankee Stadium isn't Coors, but it boosts homers nearly as much. Finally, LeMahieu was signed with the understanding that he would play all around the infield. At first base, Greg Bird can't stay healthy and Luke Voit is unproven. At second, Gleyber Torres faded badly in the second half as a rookie and may need to slide over to shortstop when - not if - Troy Tulowitzki gets hurt. At third, Miguel Andujar is a true defensive butcher and likely overachieved offensively last season. Point being, there are plenty of avenues to playing time here.
ADP: 295 ADP
After spending the better part of a decade as a part-time player who couldn't stay healthy, Lowrie has managed to play in 150 games in each of the last two seasons as he moves into his mid-thirties. That's surprising on its own, to say nothing of the fact that they've also been the two best years of his career.
The veteran had surgery to correct a deviated septum prior to the 2017 campaign, and it seems to have worked wonders. He's supplemented that by becoming a disciple of the ongoing air-ball revolution, which has helped him produce the fourth-best wRC+ among second basemen over the past two seasons.
He'll likely hit near the top of a quietly solid Mets lineup, and offers positional flexibility since he's 3B eligible. Keep an eye on the knee injury that's limited him in spring training, but a healthy Lowrie's production should easily outstrip his modest draft price.
ADP: 364 ADP
After three seasons as a utility player, Frazier is finally getting a shot at everyday at-bats in Pittsburgh. Penciled in as the starting second baseman and likely leadoff man, he's a career .280/.345/.422 hitter in 966 plate appearances and hit a career-high 10 homers last season in just 352 plate appearances.
Frazier also swiped nine bases in 454 PA back in 2017. A plus average, double digits in HR/SB, and 80+ runs scored are all realistic possibilities for a guy being drafted after such luminaries as Starlin Castro, Avisail Garcia, and Johan Camargo.
ADP: 429 ADP
It is true that Kinsler has hit .236 and .240 in the last two seasons. It's true that he's entering his age-37 season. It's true that his OPS has fallen from .831 to .725 to .681 over the past three years, with corresponding declines in most of his counting stats. Yet his status as a fantasy afterthought is overly harsh. Why?
Consider this: Even though last season was the worst of his career, he still managed 14 homers and 16 steals in 128 games. Then take note of the fact that he is reportedly the favorite to lead off in the Padres' lineup, in front of free agent prize Manny Machado and some combination of Wil Myers, Hunter Renfroe, Franmil Reyes, and Eric Hosmer. Kinsler isn't going to single-handedly win you a championship, but his goose certainly doesn't seem cooked just yet.
More Fantasy Baseball ADP Analysis