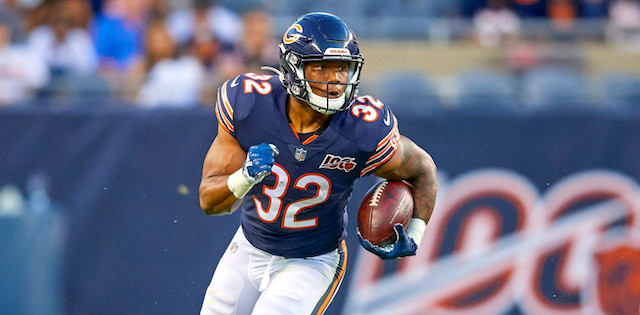 Welcome to our Week 15 matchup analysis and start/sit column for fantasy football. We'll be covering every single contest from the Sunday slate in one convenient location, helping you make the best decisions for your fantasy lineups. Be sure to check back regularly because this article will be updated as news comes in regarding injuries and other important information.
Chris O'Reilly will start off by covering the first set of games that begin at 1:00 PM ET on Sunday, and Spencer Aguiar will take you home with his analysis of the late afternoon and evening games.
If you have any additional lineup questions, follow us on Twitter @Teeoffsports and @cjoreillyCLE and feel free to ask away! Without further ado, let's get started.
Editor's Note: Get any rest-of-season NFL Premium Pass for 50% off. Our exclusive DFS Tools, Lineup Optimizer and Premium DFS Research through the Super Bowl.
Sign Up Now!
Matchups Analysis - 1:00 PM ET Games
Chicago Bears at Green Bay Packers
Matchups We Love:
David Montgomery (RB, CHI)
I try to steer clear of hanging my hopes on touchdowns, especially from players who have demonstrated prolonged stretches of providing little value when they don't score them. But I'm confident David Montgomery finds the endzone against a Packers team that has given up the second-most rushing scores (14) to RBs. We've come a long way since the days of Cordarrelle Patterson inexplicably seeing goal-line work for Chicago; Montgomery has built a 62.2% share of the Bears' carries in the red zone, and 86.7% inside the five. The Packers aren't a bad red zone defense by any means, but get this: 12 of the 14 rushing scores they've given up have come from fewer than five yards out, and all but one have come inside the 20. The Packers are also permitting the sixth-most rushing yards per game to RBs, lifting Montgomery's admittedly volatile floor. In any case, give me the rookie's stranglehold on the scoring position role as a high-end flex at worst for Week 15.
Allen Robinson (WR, CHI)
The Packers' pass defense is one of the great anomalies of 2019. They've allowed the third-fewest receptions per game to opposing WRs (127), but the most yards per catch (16.26). I'm willing to overlook the potentially low PPR floor created by this oddity, and I trust Allen Robinson this week. Robinson has been the one constant in a mostly tumultuous season on offense for the Bears, and was producing quality fantasy numbers even in Chicago's darkest hours. With Mitch Trubisky playing better of late, I'm even more confident in the Bears' top wideout. He's averaging 10 targets per game in his last three, and has scored four touchdowns in the same span. I'll take the volume to outweigh the matchup here, and give me the over on Robinson's season-long 11.8 yards per catch.
Matchups We Hate:
All Packers Wide Receivers Not Named Davante Adams (WR, GB)
It's hard to believe an offense led by Aaron Rodgers is so devoid of reliable wide receivers, but here we are. None of Allen Lazard, Geronimo Allison, or Marquez Valdes-Scantling are seeing consistent targets and the Bears are an unkind adversary for wideouts. I'm steering clear.
Other Matchups:
Tarik Cohen (RB, CHI)
From an opportunity standpoint, Tarik Cohen has certainly seen enough passing-game work to warrant weekly consideration as a PPR flex play. Production-wise, not so much. Cohen has posted fewer than 30 receiving yards in four of his last five games, which has served to cancel out the fact that he's catching an average of over five passes a game in this span. Green Bay provides him with a reasonable chance at opening things up, but Cohen himself hasn't given you any reason to trust him. With so many injuries having swept through the league of late, I can understand if you're scrambling for an emergency flex option in PPR formats. If your roster remains intact after the great season-ending injury purge of 2019, don't gamble your championship hopes away on Cohen.
Mitch Trubisky (QB, CHI)
Dare I say Mitch Trubisky has resembled a legitimate starting NFL quarterback in his last two games? Trubisky has completed 75.3% of his passes and thrown six touchdowns (with a rushing score to boot) in consecutive impressive victories. Turnovers continue to plague him enough to give you pause, however, as he's thrown five interceptions in his last four games. The Packers Defense owns the seventh-highest turnover rate in the league, as well as the fourth-best interception rate on opponent's pass attempts. With Green Bay's run defense not presenting quite as formidable a challenge, I don't envision the Bears asking their quarterback to go on the road and chuck his way to a win with their playoff hopes hanging in the balance. I'm anticipating a low-scoring game, and I don't know that I'd trust Trubisky even if I saw shootout potential here.
Anthony Miller (WR, CHI)
You certainly have to love what Anthony Miller has done in the Bears' last four games, a span in which he's averaged six catches, 9.25 targets, and 78.25 yards. Miller also scored his first touchdown of the season in Week 14. Depending on your team's injury troubles, Miller might find his way into your lineup by default. The matchup concerns me from a PPR standpoint, however, and the youngster's ceiling could take a hit in a game without much shootout potential. That said, Week 15 has brought with it an uncanny string of serious injuries to wide receivers, and I wouldn't stray too far from Miller in my search for a replacement if I lost one of the players in question.
Aaron Jones (RB, GB)
By separating Aaron Jones from the obviously less reliable Montgomery, you might think I'm banking on a slow day for Jones. This isn't necessarily the case despite the Bears' tough run front, as there is scoring potential here along with PPR upside. Chicago is just behind Green Bay in rushing touchdowns allowed to opposing backs at 12, and has allowed the seventh-most receptions to the position. I like Jones to salvage what could be a low-efficiency outing on the ground if he's able to get into the endzone, which he's done a total of 15 times this year. I also like him as a reasonably high-floor pass-catching option as long as he sees somewhere in the vicinity of the six or seven targets that have been sent his way the last two weeks. But I'd be remiss if I didn't acknowledge the handful of occasions this year on which Jamaal Williams has vultured Jones' PPR opportunities.
Jamaal Williams (RB, GB)
Speaking of Jamaal Williams, this matchup does have the makings of a game in which Jones accumulates something like 12 yards on his first seven carries, in turn motivating Matt LaFleur to roll with a two-pronged backfield approach as he has done several times this year. The problem lies in whether or not Williams can turn that split into fantasy-relevant production, and he's fallen short of that threshold on the ground more often than not. Williams enjoyed a serviceable PPR streak in the middle of the season in which he scored a receiving touchdown in four straight games, but he hasn't been enough of a consistent factor for me to believe he's capable of putting up numbers on limited touches against a Bears Defense holding RBs to well under four yards per tote.
Aaron Rodgers (QB, GB)
The Bears' 5.8 net yards per pass attempt against is the seventh-lowest in the NFL, and they pressure the quarterback at the league's seventh-highest rate. They're allowing a touchdown on 2.9% of opposing pass attempts, which is the fourth-lowest rate. If Aaron Rodgers was having an Aaron Rodgers-like season, I'd be willing to overlook some of the reasons this is a tough matchup. But Rodgers has thrown one or zero touchdown passes in four of his last five games (he threw four in the other one, to be fair). He hasn't thrown for more than 243 yards in any game since October, and has come in under 200 yards in three of his last five. Rodgers doesn't turn the ball over, so you likely don't have to worry about him shooting himself in the foot. But I'm not buying a high-scoring game here, which limits his upside in an unfavorable matchup.
Davante Adams (WR, GB)
The Bears present one of the NFL's least inviting WR matchups, but the almost cartoonish target share of Davante Adams is usually enough to keep him afloat in most fantasy lineups. He's averaging just south of 10 targets per game since returning from a month-long injury absence in early November. His six targets in Week 14 were his second-lowest such total of the season, and it's unlikely he swoops that low in back-to-back weeks. In any case, he's the only remotely trustworthy wideout in Green Bay, and needs to be started as such.
Jimmy Graham (TE, GB)
Jimmy Graham is working his way through an injury, and has done nothing of consequence in any fantasy format for months. You can find much better options at tight end for Week 15.
Philadelphia Eagles at Washington Redskins
Matchups We Love:
Zach Ertz (TE, PHI)
This is a mostly lackluster matchup, but Zach Ertz is anything but a lackluster tight end. Ertz has always been the Eagles' best pass-catcher, now the argument can be made he's their only one. He's seen double-digit targets and gone for at least 91 yards in four of his last five games, a span in which he's also averaging more than eight receptions and has scored four touchdowns. I don't see any reason for these numbers to take a dip with Philly trotting out a WR corps comprised of depth players.
Matchups We Hate:
Dwayne Haskins (QB, WSH)
The Eagles aren't an especially intimidating QB matchup, but nothing we've seen from Dwayne Haskins suggests he's ready to put up numbers against even worse competition than Philly. If he had enough pass attempts to qualify, Haskins' bad throw rate of 21.4% would be worse than current league leader Mason Rudolph at 20.9%. The rookie has committed eight turnovers and accounted for just three touchdowns.
Adrian Peterson (RB, WSH)
The Redskins backfield once again belongs solely to Adrian Peterson, at least from a rushing perspective. Chris Thompson will likely reemerge as a pass-catching threat, but Peterson is in line to see the vast majority of rushing work with Derrius Guice on injured reserve. Whether volume does him any good against the Eagles or not remains to be seen, but the smart play is to look elsewhere. Philly is one of three teams holding opposing teams below 90 yards rushing per game, and the Eagles have allowed just eight rushing scores to RBs. Peterson should be looking at 15-plus touches as long as this game doesn't get out of hand, but he's likely to have a tough time getting anything going.
Other Matchups:
Carson Wentz (QB, PHI)
The Redskins have played pretty well defensively of late in an otherwise lost season, and Carson Wentz is one Zach Ertz absence away from having to throw the ball to himself. Washington's last three opponents--a sample that includes Aaron Rodgers last week--are averaging 190 yards per game through the air and have thrown four touchdown passes. The Redskins have also forced seven turnovers in this span, including four picks. I'd treat Wentz as a low-end QB1 for Week 14, and if you have a better option, go for it.
All Eagles Wide Receivers (WR, PHI)
Remember the episode of It's Always Sunny in Philadelphia where the Eagles hold an open tryout? If they held one this week to address their WR corps, even Green Man would get an honest look. Alshon Jeffery will miss the remainder of the season, leaving Philly with J.J. Arcega-Whiteside, Greg Ward Jr., and Nelson Agholor (who, by the way, is also injured). I'd list this group collectively among the hates if I thought there was anything that might compel you to start any of them to begin with.
UPDATE: Nelson Agholor has officially been ruled out.
Miles Sanders / Jordan Howard / Boston Scott (RB, PHI)
Let's try to sort this mess out after Boston Scott decided to throw a wrench in everyone's spokes last week with 128 yards and a touchdown on 16 touches. I still have to lean in favor of Miles Sanders as the lead back here, as Week 14 marked the first time Scott saw more than eight touches in a game. Scott should be taken seriously as a candidate to cut into Sanders' work, and maybe this situation yields a split in Week 15, but I'm hard-pressed to justify getting super enthused over Scott this week. A lot of whether he has any value at all hinges on Jordan Howard's status. Howard remains held back by a shoulder injury that's kept him out of Philly's last four games. If he sits again, treat Sanders as you have been. I'd really have to be backed into a corner if I was going to turn to Scott.
UPDATE: Jordan Howard has officially been ruled out.
Dallas Goedert (TE, PHI)
Dallas Goedert isn't quite as safe a play as his positional teammate, but he continues to see the type of volume that can translate into serviceable PPR production when capitalized on. Goedert has seen at least six targets in all of his last four games. He probably needs a touchdown or a big play to round that out into start-worthy value, but he and Ertz are the big scoring-position targets left in this decimated corps of pass-catcher, giving him at least a better-than-not chance of scoring.
Chris Thompson (WR, WSH)
With Derrius Guice out of the picture due to an MCL sprain, the door is now open for Chris Thompson to reclaim a prominent role in Washington's offense. The operative word there is "Washington," as a prominent role in this offense does not necessarily translate into a sunny fantasy forecast. Thompson did lead the Redskins in receptions and targets last week, so he's trending positively at least. His quarterback has largely struggled to establish any consistent downfield connections, which lends itself to the likelihood of continued involvement for the Redskins' pass-catching back. A common theme in this week's column is going to be navigating the flurry of injuries that have befallen the NFL, and I'd treat Thompson as a risky emergency fill-in at the flex if I need one for this matchup.
Terry McLaurin (WR, WSH)
I could almost copy and paste Terry McLaurin's outlook from one week to the next, at least since Haskins took over at QB. McLaurin's target share is going to help him tread water most times, but his ceiling is severely limited by the play of his quarterback. If you just lost one of the half-dozen or so wide receivers who are now out for the season and you have no choice but to roll McLaurin out there, take solace in the fact that Philly has given up six touchdowns to wideouts in its last four games.
Other Redskins Wide Receivers (WR, WSH)
Needless to say, if I'm unenthusiastic about the very talented McLaurin, my confidence in the rest of Washington's WR corps isn't going to be through the roof. Kelvin Harmon and Steven Sims Jr. have shown signs of life in recent weeks, but depending on your league format, this week decides who goes to the championship round. Unless the entire Eagles Defense decides to hole up at the hotel bar for this game, you don't want those championship aspirations riding on anyone from this group other than McLaurin.
Miami Dolphins at New York Giants
Matchups We Love:
Saquon Barkley (RB, NYG)
[Insert positive outlook for running back facing the Dolphins Defense here.] Miami is giving up an average of 4.66 yards per carry to opposing RBs, and the Giants rank sixth in the NFL in yards before first contact per rushing attempt. I know Saquon Barkley hasn't been the league-winner you thought you were getting on draft day, but if you're still in the championship hunt, he could win you a week.
Matchups We Hate:
None
Other Matchups:
Ryan Fitzpatrick (QB, MIA)
I don't have a difficult time envisioning a good old-fashioned shootout in this matchup, with the added intrigue that both quarterbacks in question are total wild cards. The Giants, like the Dolphins, rank inside the top five league-wide in points allowed per game, as well as in touchdown rate on opponents' pass attempts. If it weren't for how turnover-prone Ryan Fitzpatrick is, along with the fact that Devante Parker might not play this week, I'd have higher hopes for the Dolphins QB.
Patrick Laird (RB, MIA)
Maybe it's just because they're not particularly difficult to score on through the air, but the Giants have very much cracked down on opposing backs in the second half of the season. Since Chase Edmonds rumbled for three rushing touchdowns against this unit in Week 7, the only running backs who've found the endzone on the ground are Le'Veon Bell and Boston Scott. Patrick Laird has done well for himself from a volume standpoint over the last two weeks, but this isn't a matchup that's begging to be exploited.
Mike Gesicki (TE, MIA)
Mike Gesicki's outlook will get a boost if DeVante Parker doesn't play this week, and I'm not adamantly opposed to starting him regardless. He torpedoed your lineup in Week 14, but he's averaging over six targets per game in his last five, and has seen five of his seven total red zone targets in his last three. He's clearly emerged as a preferred option in scoring position, which can't be ignored. He's outside must-start territory, but there are worse guys to turn to if you don't have one of the top options at tight end.
DeVante Parker / Allen Hurns / Albert Wilson (WR, MIA)
All of Miami's top three wideouts are questionable to play on Sunday, making this a tough group to depend on for Week 15. Naturally, a green light for DeVante Parker in particular means you're rolling him out there, but he's facing a condensed timeline for being cleared from the league's concussion protocol. Albert Wilson is also dealing with a concussion. Allen Hurns is at least participating in practice as of Thursday, so there's a chance he suits up as the number-one option in this group on Sunday if his teammates don't get the go-ahead. It's a shame there is so much uncertainty here, as the Giants are allowing the second-most receiving yards per game to WRs, along with the third-most total touchdowns.
UPDATE: DeVante Parker and Albert Wilson are both officially active.
Golden Tate / Darius Slayton / Sterling Shepard (WR, NYG)
Darius Slayton is the hot hand among Giants receivers, averaging over nine targets, six receptions, and nearly 100 receiving yards in his last four games. He's also caught multiple touchdowns twice in this span, and at this point it's difficult to justify sitting him unless you have definitively better options. Sterling Shepard is averaging just over seven targets per game since returning from a prolonged injury absence three weeks ago, but it hasn't amounted to much with the exception of a touchdown in Week 13. The normally dependable Golden Tate worries me the most in this group, as he's been slowed by injury and is questionable for Sunday. It's tough for any offense to sustain three fantasy-relevant wideouts on a weekly basis, much less an Eli Manning-led Giants team. I'm comfortable with Slayton in my starting lineup, and I wouldn't necessarily run for the hills from Shepard or Tate (if Tate is healthy), as long as we acknowledge the risk involved. Miami is allowing 14.5 yards per catch and the most touchdown to WRs of any team in the league.
UPDATE: Golden Tate is without an injury designation heading into the weekend. It appears he will play on Sunday.
Eli Manning / Daniel Jones (QB, NYG)
I'm operating under the assumption that a team with absolutely nothing to play for isn't going to take any chances with its future by rolling a hobbled Daniel Jones out there, meaning Eli Manning should be in line for his second straight start. There isn't anything to dislike about the matchup here; the Dolphins defense is a well-documented mess. Some of Miami's more distinguished defensive numbers include a league-worst 2.59 points per opposing offensive possession, a league-high 7.2% touchdown rate on opponents' pass attempts, and the lowest pressure rate and turnover rate in the league. I can't imagine a scenario in which Manning has to start for you this week, but if for some reason you find yourself in that unique position, I wouldn't be panicking over his matchup.
UPDATE: Jones is expected to miss this week's game again.
Evan Engram (TE, NYG)
Evan Engram hasn't played since Week 9, and he's not exactly trending in the right direction for this week after two limited practice sessions. His upside is hard to ignore if he does play on Sunday, but if you've been getting along fine with his replacement, I wouldn't be in a rush to make the automatic switch.
UPDATE: Engram is expected to miss this week's game again.
New England Patriots at Cincinnati Bengals
Matchups We Love:
Julian Edelman (WR, NE)
You'll learn in the passages ahead (and maybe you already believe it yourself) that I find New England's offense to be one of the least impressive of any legitimate contender. Julian Edelman does not fall under this umbrella, as he has been nothing short of exceptional in 2019. Edelman ranks third in the league in receptions, which makes him one of the safest PPR options out there. He hasn't seen fewer than 10 targets in any game since Week 5, and that span includes game scripts of all shapes and sizes. Edelman should be in line for yet another WR1 workload regardless of how this one unfolds, and the Bengals are ill-equipped to shut him down.
UPDATE: Edelman is officially active for Week 15.
Matchups We Hate:
Joe Mixon (RB, CIN)
Volume is usually enough to merit a starting spot in fantasy lineups, but Joe Mixon will need more than just a high touch count to bring back value this week against the Patriots. New England has allowed just 20 red zone possessions all season, and all three of Mixon's rushing touchdowns have come inside the 20. I don't have a heap of faith in Andy Dalton to consistently lead the Bengals into scoring position. Casting further gloom on Mixon's outlook for Sunday is that the Patriots are holding their opponents to the fewest plays and yards per offensive possession. Again, is this an offense we expect to sustain long drives against one of the league's best defenses? Mixon has rewarded your patience in recent weeks with a surge of efficiency and scoring, but I'd downgrade expectations for Week 15.
Andy Dalton (QB, CIN)
If I like anything about Andy Dalton this week, it's that he might have to throw the ball 50 times to keep up with the Patriots. There's nothing overly impressive about New England's offense, but they operate well enough to beat up on the Bengals. Other than potentially being in comeback mode for most of this contest, there is next to nothing to like about Dalton's outlook. The Patriots are the best defense in the league when it comes to limiting time of possession, and only the Steelers force turnovers at a higher clip. They have more than twice as many interceptions as they've allowed touchdowns, and I think we can safely pencil Dalton in for a couple of the former.
Tyler Boyd (WR, CIN)
You have to assume Tyler Boyd is going to see a ton of Stephon Gilmore on Sunday, and if so, here are some things to keep in mind. Twenty-four defensive players have been targeted at least 75 times in pass coverage this year. Among them, Gilmore's 44.6 QB rating against is the lowest in the NFL. His 50% completion rate against is tied for the third-lowest. He and TreDavious White are the only players in this collection who have not surrendered a touchdown. Boyd has overcome tough matchups, and his target share keeps him relevant against just about anyone, but this is a considerably uphill battle.
Other Matchups:
Sony Michel (RB, NE)
I talked Sony Michel up in an extremely favorable matchup with the Chiefs last week, but his total failure to take advantage of it has me checking out on the Patriots runner. Week 15 brings another opponent that a competent running back should be able to exploit, and you have to think the Patriots will be able to impose their will on the lowly Bengals. That said, Michel has done the opposite of earn the benefit of the doubt. He's not an automatic start for me despite the matchup at hand, and if you have more proven options, I'd suggest turning to them.
James White (RB, NE)
Target share should keep James White in the picture for just about any matchup, especially if Michel continues to be so unreliable on the ground. But is it acceptable for me to say I'm just not in any way impressed with anything the Patriots do on offense? Other than White's relatively consistent pass-catching role and Julian Edelman, what is there to get excited about here? Fortunately for anyone who owns the Patriots' top offensive contributors in fantasy, the Bengals shouldn't provide much resistance in Week 15. Expect enough involvement from White in the passing game to return PPR value.
Tom Brady (QB, NE)
Continuing with our theme of not thinking very highly of the Patriots offense, we arrive at Tom Brady, who has completed under 55% of his passes in three straight games. I'd be surprised to see him struggle with efficiency against the Bengals, but it's time to start seeing this team for what it is. Brady should be able to give you enough production not to totally derail your fantasy hopes this week, but I'm looking for higher-upside plays.
Mohamed Sanu / Jakobi Meyers / Phillip Dorsett (WR, NE)
By now, you get the picture. The Patriots offense is largely a one-man show held up by Julian Edelman, who is such a vacuum of opportunity that there isn't much left over for his teammates. The rest of New England's WR corps is sparingly involved, and you have to view these guys as risky, touchdown-dependent fantasy options. Making matters worse, the Bengals are surprisingly holding opposing wideouts under 10 catches per game.
UPDATE: Mohamed Sanu, who logged limited practice sessions all week, is questionable for Sunday.
Rex Burkhead (RB, NE)
It's worth mentioning that Rex Burkhead saw two more touches than Michel in last week's loss. The matchup is favorable enough to believe that someone is capable of capitalizing on it, but Burkhead's chances and production are too far outside the realm of dependable to think it's clearly going to be him.
Alex Erickson / John Ross III (WR, CIN)
John Ross is going to need to be eased back into action both in real life and in fantasy lineups, and is not a safe play against New England's pass defense. Alex Erickson's target count on a week-to-week basis is too up-and-down to depend on, though he's probably looking at a more consistent role with Auden Tate out for the season. Either way, both of these Cincinnati wideouts carry a great deal of risk into a matchup with the Patriots.
Houston Texans at Tennessee Titans
Matchups We Love:
DeAndre Hopkins (WR, HOU)
Remember early in the season when the sky was falling and DeAndre Hopkins wasn't a WR1 anymore? That was fun. Fast-forward to today, and Hopkins has caught the second-most passes of any wideout in the league, and he ranks sixth and eighth in receiving yards and touchdowns, respectively. He has been targeted at least eight times in every game since Week 3, with six showings of double-digit passes thrown his way in this span. I like his 27.8% share of targets inside the 10-yard line against a Titans team allowing nearly two-thirds of opposing red zone possessions to end in touchdowns. In any case, unless Hopkins shows up to this game with cinder blocks on his feet, he's a WR1 against the Titans.
Deshaun Watson (QB, HOU)
It shouldn't take a whole lot of convincing for you to believe in Deshaun Watson this week, but here are a few tidbits for good measure. The Titans have given up the fifth-most air yards on completed passes, and Watson's nine intended air yards per pass attempt is the sixth-highest average. He's completing 63.83% of pass attempts in the red zone, which is the fourth-best rate among QBs with at least 40 passes thrown in such field position. He's thrown 16 of his 24 aerial touchdowns inside the 20, where the Titans rank as the third-easiest team to score on. If you're still alive in the championship hunt, Watson is probably a key reason why. The same is likely to be true if you make it to the championship round in Week 16 (for leagues with such a playoff format).
Derrick Henry (RB, TEN)
First things first, keep an eye on Derrick Henry's injury status heading into the weekend, as he hasn't practiced this week. Assuming he plays, there aren't many running backs you can depend on more than Henry. If volume is king in fantasy football, Henry's combination of opportunity and production makes him an emperor. He has scored at least one touchdown in five straight games, and gone over 100 yards rushing in four straight. He's seen double-digit touches in every game this season. Adding even more promise to his profile is his 80% share of Tennesee's rushing workload in the red zone. The Texans are the second-easiest team to score on inside the 20, which should set Henry up for a chance to make it six straight games with a TD.
UPDATE: Derrick Henry did not log any practices this week, but he is confident he'll be active for Sunday's game. Keep close tabs on him, as a surprise inactive designation will drastically change your lineup plans for Week 15.
Ryan Tannehill (QB, TEN)
The Texans are a model of inconsistency, and their defense is the primary culprit. They'll reel off a signature win one week only to be inexplicably dismantled by the Drew Lock-led Broncos the next. The way Ryan Tannehill has played since taking over as Tennessee's starter, how can you not like his outlook in this one? Tannehill has launched multiple touchdown passes in all of his last four games and completed at least 77.3% of his passes in three straight. He's getting the job done on minimal chances, as he hasn't thrown more than 27 passes in a game since the first week of November. His 7.4% touchdown rate on pass attempts, while bordering on unsustainable, isn't in grave danger against a Texans Defense giving up the fourth-highest such rate in the league. It would've taken a long and winding road to arrive at Tannehill as your weekly starter, but he's a solid option for Week 15.
Matchups We Hate:
None
Other Matchups:
Carlos Hyde (RB, HOU)
Part of the theme in this matchup is two terrible red zone defenses squaring up, but Carlos Hyde's role there has diminished greatly in recent weeks. Since Week 9, Hyde has just three carries inside the 20. He began the season as a volume workhorse with a prominent role in scoring position, and his fantasy profile thrived in the RB2 or high-end flex range. Touchdowns are now a little harder for him to come by, so adjust accordingly if you haven't yet, and consider him a volume-based flex in standard leagues.
Duke Johnson (RB, HOU)
Duke Johnson has seen five or more targets in five of his last seven games, which is certainly an improvement on his early-season PPR returns. It's still not quite enough to sustain a role you can depend on in fantasy. Deshaun Watson is averaging the sixth-highest intended air yards per pass attempt average, and with DeAndre Hopkins at his disposal, why wouldn't he be prone to chucking it downfield? Johnson if a fringe fantasy option with an untrustworthy week-to-week PPR profile and minimal rushing work to lean on.
Darren Fells (TE, HOU)
The Titans are the third-worst red zone defense in the league, allowing 64.9% of opposing possessions inside the 20 to end in touchdowns. All seven of Darren Fells' touchdowns this year have come inside the 20, which is the second-highest total in the league. You'd like for him to be more involved on the other 80 yards of the field, but this is the rare instance in which a touchdown-dependent play has a better-than-not chance of scoring one.
Will Fuller / Kenny Stills (WR, HOU)
Will Fuller is an interesting play if he suits up against the Titans, who have been pretty regularly exposed by opposing wideouts in their last six games. We all know Hopkins gets first, second, and third crack at blowing the top off an opponent's secondary, but Fuller's involvement when he plays a full game is difficult not to notice. He's averaging 12 targets in his last three such outings. He's not without risk if he returns to the field this week, but there are worse matchups for him to step into. Kenny Stills has proven that it doesn't much matter whether Fuller is out there or not, as his involvement in the Texans' passing game doesn't seem to swing too far one way or the other. Having posted fewer than 10 receiving yards in two of his last three games and never having caught more than four passes in any one game this season, Stills can safely be avoided for Week 15.
UPDATE: Will Fuller is officially active for Week 15.
A.J. Brown (WR, TEN)
At my own peril, I'm trusting A.J. Brown this week. The low-volume pass offense employed by Tennessee somewhat limits his ceiling on days when he doesn't go for 100-plus yards and two touchdowns, but the success he and Tannehill are having together has to count for something. Houston's defense of the WR position is trending positively in recent weeks, but this unit is still suspect enough to believe in Brown as a flex play.
Corey Davis / Adam Humphries (WR, TEN)
This column is never complete without the time-honored tradition of mentioning that Corey Davis and Adam Humphries are not viable fantasy options, so here it is. Humphries is dealing with an injury serious enough to keep him out of practice on Thursday, casting doubt on whether he even plays Sunday. Davis continues to cement his early-career legacy as one of the league's more disappointing fantasy WRs of the last half decade. He has gone three straight games with two or fewer catches.
UPDATE: Adam Humphries has been ruled out for Week 15.
Jonnu Smith (TE, TEN)
We had a Jonnu Smith sighting in Week 14, as the Titans rarely-used tight end found the endzone in a rout of the Raiders. That's where the positives end, however, as his final line for the day was three catches for 29 yards and the touchdown. He's seen just 12 total targets in his last four games, which makes it difficult to envision him enjoying the same success Noah Fant had against the Texans last week.
Denver Broncos at Kansas City Chiefs
Matchups We Love:
Phillip Lindsay (RB, DEN)
Kansas City has been routinely dismantled by running backs, both in the passing game and on the ground. Phillip Lindsay hasn't been an elite workhorse back, but he's the clear leader in Denver's backfield and he's mostly capitalized on his chances to the tune of an RB2 season. Only Carolina and Jacksonville are giving up more yards per carry on opponents' rush attempts than the Chiefs. I'm fine with projecting another 15-plus touch outing for Lindsay, with positive production to go with it.
Travis Kelce (TE, KC)
Travis Kelce is a great fantasy player on his own, but the fact that his offense is surprisingly lacking in dependable options outside of him makes the Chiefs tight end one of the league's most automatic weekly options. Over his last five games, Kelce is averaging 6.6 catches, 8.8 targets, and 77 yards. That's a double-digit PPR day without scoring a touchdown, and with a league-leading 11 targets inside the 10-yard line, he's always a threat to get into the endzone. Lock and load.
Matchups We Hate:
None
Other Matchups:
Drew Lock (QB, DEN)
It's okay to be impressed with what Drew Lock did to the Texans last week while also maintaining some level of skepticism as to whether he can do it again. The Chiefs are holding opposing QBs to a 61.7% completion rate, which is the sixth-lowest in the league. Their 35.4% conversion rate allowed on third down is the ninth-lowest. Moreover, Kansas City has mostly been a porous run defense this year, meaning the Broncos are likely to rock the ground game in this road bout. Lock is a wait-and-see guy right now, with his best-case scenario being a strong finish to 2019 that sets him up as someone to think about for 2020 drafts.
Royce Freeman (RB, DEN)
Royce Freeman's spot on the depth chart has predictably limited his fantasy output; he's seen single-digit rushing attempts in each of his last five games. If I could count on that number to climb somewhere between 10-12 this week, I might be inclined to roll the dice on him in such a soft matchup. Unfortunately without that guarantee, he comes in as dependent on a score.
Courtland Sutton (WR, DEN)
Courtland Sutton has overcome below-average quarterback play en route to becoming a dependable WR2. I wonder how much the Broncos will choose to launch the ball in his direction on Sunday against a Chiefs team you can run on. It should also be taken into account that the Chiefs are giving up the fifth-fewest air yards on completions, and Sutton ranks 11th in the league in yards before catch. You can't ignore the number-one receiver in Denver's offense, but I'm hoping the volume is there to give him a high floor.
Other Broncos Wide Receivers (WR, DEN)
If the Chiefs' defense of WRs concerns me enough to temper expectations for Sutton, I'm naturally not going to be in on the rest of Denver's receivers. In addition to meager target shares for guys like Tim Patrick and Daesean Hamilton, we have to worry about an unproven QB in Drew Lock and a poor Kansas City run defense that suggests a heavy emphasis on the ground game from the Broncos. No thanks.
Noah Fant (TE, DEN)
You'll want to keep an eye on Noah Fant's injury status heading into the weekend, as he's logged only a limited practice as of Thursday night. It's tempting to buy into Fant's recent performances; he's gone over 100 yards and scored a touchdown twice in his last five games, and added another serviceable four-catch, 60-yard outing in there for good measure. While this is encouraging, he's largely put up these numbers on minimal opportunity. Only once in this five-game stretch has he seen more than five targets. You like that he's capable of making plays when his number is called, and his efforts should lead to more chances. But until that target count starts to creep up toward something that provides him with a higher floor, he's not a lock-and-load starter, even at a position sorely lacking in safe options.
UPDATE: Noah Fant remains questionable heading into the weekend, but his team is optimistic he'll play Sunday. He is expected to suit up.
Patrick Mahomes (QB, KC)
Listing Patrick Mahomes among the others is by no means an indication that you should think twice about starting him, but I'd hold off on expecting him to be a top-three scorer this week. Denver's defense is holding its opponents to touchdowns on 3.5% of pass attempts, which is the seventh-lowest percentage in the NFL. They're also the toughest team to score on in the red zone, where Mahomes has surprisingly struggled. The Chiefs QB is completing under 50% of his passes inside the 20. He's also failed to throw multiple touchdowns in four of his last five games, and a matchup with a top-1o scoring defense in the Broncos should provide enough resistance that he's not a lock to break that trend on Sunday.
Damien Williams / LeSean McCoy / Darwin Thompson (RB, KC)
And now we arrive at my least favorite mess to sift through on a weekly basis, the Kansas City backfield. For starters, I just flat-out don't think any of these guys are all that good. Second of all, nobody in this committee seems to have any sort of defined role, so it's not even like you can hang your hat on volume from one week to the next. This is true regardless of whether Damien Williams returns to action or not this week. Denver has begun to display some weakness against the run of late, but at the end of the day, it's not enough for me to believe the underwhelming LeSean McCoy is going to capitalize on it with 10 or so touches. The same applies to Williams and Darwin Thompson. I'm saving myself the frustration and avoiding this situation altogether.
UPDATE: Damien Williams has officially been ruled out for Week 15.
Tyreek Hill (WR, KC)
Tyreek Hill's target counts continue to allow him to stick around in fantasy lineups as a reasonably high-floor option, but it's been over a month since we've seen the explosiveness that made him last year's WR1. The Broncos are allowing the sixth-lowest yards-per-completion rate in the league, as well as the seventh-lowest touchdown rate on pass attempts. You're starting him regardless, but view him as a WR2 with upside as opposed to the week-winner you were targeting on draft day.
Mecole Hardman / Demarcus Robinson / Sammy Watkins (WR, KC)
Last week was a perfect way to sum up the 2019 season for the Chiefs' WR corps outside of Tyreek Hill: Mecole Hardman caught one pass, and it happened to go for a 48-yard score. Sammy Watkins and Demarcus Robinson were largely non-factors despite eight passes having gone in Watkins' direction. I feel like a broken record at this point, but you're playing with fire if you deploy any of these guys in your fantasy lineup for Week 15. With the possible exception of Watkins, who occasionally pops up out of nowhere with a high-volume, low-production day, there is nothing sustainable to hang your hat on with this WR group.
Seattle Seahawks at Carolina Panthers
Matchups We Love:
Chris Carson (RB, SEA)
With Rashaad Penny out, Chris Carson has a chance to be the NFL's top-scoring fantasy RB against the pitiful Panthers run defense. Carolina has given up five more rushing touchdowns (24) than the second-worst team in that regard, and is tied with the Jaguars for the most yards per carry allowed at 5.3. Carson was seeing start-worthy volume even when Penny had emerged as a viable fantasy option in his own right. In this matchup? I'd be surprised if Carson doesn't see at least 25 touches.
Russell Wilson (QB, SEA)
With the exception of a one-week reprieve against the hapless Redskins, the Panthers have been getting shredded through the air over the last month. Over their last four games, they've faced the Falcons twice and the Saints once. In those three contests, Drew Brees and Matt Ryan have combined for more than 900 passing yards and six touchdowns. I'm not sure how many more reasons you need to feel confident in Russell Wilson--you know, the guy with the second-most passing touchdowns in the NFL--but the Seahawks quarterback should be firmly back on the map as a high-end QB1 after a rough outing against the Rams last Sunday night.
Christian McCaffrey (RB, CAR)
The Panthers are averaging the most yards before first contact on rushing attempts of any team in the league, and Christian McCaffrey is obviously responsible for a very large portion of that. No player in the league has a stronger share of both the rushing and passing-game work out of his team's backfield than McCaffrey. Opponents are averaging 4.6 yards per rushing attempt against the Seahawks, setting McCaffrey up for a customary RB1 outing.
D.J. Moore (WR, CAR)
D.J. Moore's lowest yardage output in his last six games is 75 yards. His "worst" all-around game in this span was last week, when he caught four of six targets for 81 yards. Benefiting from a defense that can't keep anyone out of the endzone and a quarterback who's been slinging it over 41 times a game since Moore's breakout began, the Panthers' number-one guy should be receiving weekly consideration as your number-one guy.
Matchups We Hate:
None
Other Matchups:
Tyler Lockett (WR, SEA)
The mystery continues for Tyler Lockett, whose four catches and 43 yards actually represented an improvement over anything he'd done in the previous three weeks. As for the matchup, the Panthers have been lit up in recent weeks by Michael Thomas (of course), Julio Jones (twice), and Calvin Ridley (also twice), so enough targets sent his way could yield a high-end fantasy outing. At this point though, you have to weigh the risk, because D.K. Metcalf has emerged as the much safer option in this pair.
D.K. Metcalf (WR, SEA)
In four of his last five games, D.K. Metcalf has caught exactly six passes and gone for at least 70 yards. He's been targeted at least six times in all five. When one door closes, another opens. That's the glass-half-full way of looking at the Seahawks top two wide receivers. Unless of course you're the Lockett owner going up against the guy with Metcalf in the semifinals this week. In any case, one of the many factors in making the right decision on a player is to evaluate trends. Metcalf's trend is one of a pass-catcher who has earned the faith of his quarterback, and when that quarterback is Russell Wilson, you have to believe Metcalf can keep putting up flex-caliber numbers.
Jacob Hollister (TE, SEA)
We like that Jacob Hollister has caught 10 of 14 targets in his last two games. We don't like that the Panthers are one of the league's least inviting matchups for tight ends. If I have to roll with a risky option, I'd prefer one with more upside, such as the above-discussed Darren Fells of the Texans.
Kyle Allen (QB, CAR)
Seattle is a bend-but-don't-break pass defense, permitting the fourth-most passing yards per game while limiting opponents to the fifth-lowest touchdown rate on pass plays. The Seahawks also own the third-highest turnover rate in the league, and we know Kyle Allen isn't immune to those. There's shootout potential here, but Allen doesn't come in as one of the 10 or 12 safest options of the slate.
Curtis Samuel (WR, CAR)
In order for D.J. Moore to become a WR1, someone had to be sacrificed. Curtis Samuel, your service is appreciated and will not soon be forgotten. Focusing on the six-game span in which Moore has exploded onto the scene, Samuel has drifted out of the foreground of the Panthers' passing attack. He's caught four or fewer passes in all six games, and has been held to 35 or fewer yards in four of them. He's been able to salvage a handful of these outings by getting into the endzone, but his opportunities aren't abundant enough to consider him a safe fantasy play.
Greg Olsen / Ian Thomas (TE, CAR)
With Greg Olsen still dealing with concussion symptoms, the door could be open for Ian Thomas to build on his Week 14 success. Thomas reeled in five of 10 targets for 57 yards and a touchdown against the Falcons last Sunday. Up next is a Seahawks Defense that has been torched by tight ends all year. You'd like for a little more certainty here, whether in the form of a definitive ruling on Olsen's status or a wider sample size for Thomas. Either way, if you're simply playing the matchups, you can't do much better than the tight end going up against Seattle.
UPDATE: Greg Olsen has officially been ruled out for Sunday, clearing a path for Ian Thomas to capitalize on a favorable matchup.
Tampa Bay Buccaneers at Detroit Lions
Matchups We Love:
Kenny Golladay (WR, DET)
If you roster Kenny Golladay in fantasy, you're already aware of all the perks, so allow me to shed light on just one thing. Golladay is averaging 19 yards per catch, which ranks third in the NFL. He's also averaging 14.1 yards before the catch, which ranks second. Tampa Bay is allowing the third-most air yards on completed passes. I know we have to adjust accordingly to third-string quarterback David Blough, but in Blough's two starts, Golladay is still going for 21.6 yards per catch--so it hasn't hurt him yet. Also keep in mind that Marvin Jones is no longer in the equation, which could potentially result in even more targets heading Golladay's way.
Matchups We Hate:
Bo Scarbrough (RB, DET)
Bo Scarbrough was a surprise non-participant in practice on Thursday after logging a limited session on Wednesday. That's not exactly an encouraging development in terms of what it might mean for his Sunday status. It might not matter a great deal either way, as he'll be facing an uphill battle against the Buccaneers' stout run defense if he suits up. Tampa Bay is the only team that has yet to allow its opponents to total 1,000 rushing yards on the season, and only the Jets are permitting fewer yards per attempt than the Bucs. Scarbrough has made good on the opportunity afforded to him over the last four weeks, but a week off to rest might not be the worst thing in the world for the youngster if he's not 100%.
UPDATE: Bo Scarbrough has officially been ruled out for Week 15.
J.D. McKissic / Ty Johnson (RB, DET)
For the same reasons discussed above, I don't think we need to be rolling the dice on J.D. McKissic or Ty Johnson this week. McKissic is a pass-catching back without much of a fantasy role; he hasn't seen more than four targets in any game since Week 10. Maybe that changes if Scarbrough sits, but I'm not willing to roll those dice. Johnson has yet to see a truly fantasy-friendly workload in any game this season, and betting on him to suddenly produce in such a tough matchup is a needless gamble.
Other Matchups:
Chris Godwin (WR, TB)
I'll upgrade Chris Godwin to a love if Jameis Winston gets the go-ahead for Sunday, but I'd be lying if I said a broken thumb on the quarterback's throwing hand didn't concern me regarding the Bucs' de facto number-one pass-catcher. Winston's modus operandi is largely to literally throw caution to the wind and send the ball downfield, and I have to think there's going to be a pain tolerance factor regarding how well and how often he's able to do that against the Lions. In any case, you have to trust the outlook of a wide receiver averaging just south of nine targets per game, and Godwin's already prominent red zone role in Tampa Bay should only increase with Mike Evans out.
Breshad Perriman (WR, TB)
I imagine there are going to be a ton of fantasy owners in on Breshad Perriman this week, and that obviously won't be without merit. The monstrous target share that once went to Evans will likely be fractionally distributed elsewhere, and Perriman will undoubtedly factor in. What's more, Perriman is already coming off two pretty solid fantasy outings, catching eight of 12 targets for 157 yards and a touchdown in his last two games combined. All this said, if you're of the mind he immediately steps into the Evans role, I have to caution you to lower those expectations. Evans is a hands-down, top-flight WR talent in the NFL, and not just anyone is capable of doing what he is, even with an abundance of opportunity. We've also discussed Winston's thumb injury, which could further detract from Perriman's outlook. Consider him a high-upside play with risk attached.
Jameis Winston (QB, TB)
I won't continue to belabor the point on Winston's thumb, just know that it's not ideal to have broken bones in your throwing hand while playing a full-contact collision sport. Winston's fantasy profile is already one of humongous upside with a near guarantee of a couple turnovers, and if the injury affects his ability to grip the ball securely, throw a tight spiral, or air it out downfield, the upside is limited and the turnovers become more likely. I think he plays no matter what, but I'd be keeping a close watch on what comes out of any news reports from the Buccaneers regarding his level of pain. Be prepared to pivot on Sunday morning if Winston is your guy for Week 15, as you don't necessarily want to leave a spot in the championship round up to this kind of chance.
UPDATE: Jameis Winston logged a full practice on Friday, presumably setting him up to play on Sunday. Just bear in mind what's been discussed here regarding the potential for pain or discomfort to detract from his upside, especially if your Week 15 QB decision comes down to Winston or another safe, quality option.
Ronald Jones II / Peyton Barber (RB, TB)
As the old saying goes: In fantasy football, unpredictable backfield committees in which neither player is all that good to begin with are king. Wait, what? That's not the saying? Oh well. That's what we have in Tampa Bay. Peyton Barber and Ronald Jones have gone back and forth between ceding touches to each other all year, with no tangible means of guessing which weeks one or the other might be the lead guy. The end result is two running backs who can be counted on for somewhere between 10-12 touches a game, with anything on top of that qualifying as a bonus. Moreover, you can't depend on either Jones or Barber as an efficiency play, as they are both averaging under four yards per rushing attempt and seeing minimal work in the passing game. If you're handcuffed into considering one of these guys, hope that the Buccaneers get into scoring position. The Lions are the fourth-easiest team to score on in the red zone.
O.J. Howard (TE, TB)
If not for how impossible he made himself to trust during the first half of the season, I might be inclined to jump back on the O.J. Howard bandwagon after his last two weeks. Howard has caught nine of 11 targets for 134 yards, allowing him to creep back onto the TE fringe. Adding more intrigue to his outlook for Week 15 is the absence of Mike Evans. We all feel like the talent is there with Howard, and if that's the case, he's now the second-most talented pass-catcher in Tampa Bay. Finally, if his quarterback can't bomb the ball downfield 20 times due to his thumb injury, there might be opportunity in the intermediate-range passing game for Howard to make some PPR noise. I guess it all depends on how fractured your trust is, but if you're willing to forgive and forget, I think you can find worse guys to turn to in the event you're searching for a tight end this week.
Cameron Brate (TE, TB)
I won't casually ignore Cameron Brate's touchdown last week, nor will I try to hide the fact that he caught all four of his targets. What I will do is point out that he had seen just two targets combined in his previous two games. Am I going to be surprised if Brate uncannily takes over as the tight end to rock with in Evans' absence? No. Am I willing to take that chance by deploying him in Week 15? Also no.
Ryan Griffin (QB, TB)
I'm listing Ryan Griffin here on the off chance Winston is ruled out. In such a scenario, we need to recalibrate our opinions of Tampa Bay's pass-catchers. Godwin would remain a must-start by default, but his upside takes a massive hit. Perriman would become a non-factor for me, with the already risky Howard remaining a high-risk, high-reward option.
David Blough (QB, DET)
There's room for optimism on any quarterback going up against the Buccaneers, but let's not get carried away here. I like him to keep the connection going with Kenny Golladay, and that's about it. Throw a dart at him in DFS if you're up to it, but you shouldn't need to be talked out of starting him in your league's playoffs.
Danny Amendola (WR, DET)
If I'm one of the owners in my league who got waylaid by injuries to wide receivers this week--and especially if I owned Marvin Jones--I'm entertaining the idea of Danny Amendola against Tampa Bay. Amendola has seen eight targets in each of his last two games with Blough at the helm, and I don't see any reason for that number to drop significantly with Jones out for the year. The matchup with a ghastly Buccaneers pass defense speaks for itself, and a potentially increased role could thrust Amendola into PPR flex territory.

Jesse James / Logan Thomas (TE, DET)
I'm including T.J. Hockenson's backups here because Tampa Bay presents a soft enough TE matchup that someone here could exploit it, but Jesse James and Logan Thomas are the long shots of all long shots. This Lions team has transitioned through three quarterbacks, and the tight end has not been a point of emphasis for any of them.
Matchups Analysis - 4:00 PM ET Games
Minnesota Vikings at Los Angeles Chargers
Matchups We Love:
Melvin Gordon (RB, LAC)
Melvin Gordon took a bit of a backseat to Austin Ekeler in Week 14. Gordon did quietly put up over 80 yards from scrimmage for the fifth straight week, but it was no match for Ekeler's 213-yard eruption. It has become obvious that these two will be entrenched as a two-headed monster for the rest of 2019, but the game script is pointing towards Gordon being the man you want to own on Sunday.
Matchups We Hate:
Kyle Rudolph (TE, MIN)
We saw what happens in Week 14 when Rudolph's nose fails to turn red and find the endzone. Two catches, 11 yards and 3.1 PPR points resulted in disaster, and fantasy owners should be worried that the veteran TE potentially could put together another stocking full of coal if he misses out on paydirt in Week 15. If I was an owner of Rudolph, I would be looking elsewhere for production against a difficult Chargers Defense.
Other Matchups:
Kirk Cousins (QB, MIN)
After a surge in the middle of the year saw him produce over 19 fantasy points in six of seven games, Kirk Cousins regressed back towards his early-season form in Week 14. Cousins failed to exceed 30 pass attempts for the first time since Week 8 and provided his second-worst fantasy outing since Week 5. While the Los Angeles Chargers have been beatable both on the ground and through the air, their slow tempo on offense does often keep QBs on the lower end of fantasy value. Only one quarterback as surpassed 15 fantasy points since Week 5 on the road versus the Chargers, which was Mahomes' 15.2 point outing on the day. All in all, I'd look to keep Cousins on the bench if you can avoid playing him.
Philip Rivers (QB, LAC)
Don't let Philip Rivers' recent statistics confuse you. The veteran QB has failed to throw the ball over 30 times in his last two contests and hasn't exceeded 15 fantasy points during a home start since exploding in Week 3. I realize this hasn't been the same Minnesota defense of years past, but the game flow isn't pointing in the right direction for either QB on Sunday.
Dalvin Cook (RB, MIN)
Fantasy owners had to breathe a little easier once they learned Dalvin Cook would have no limitations last Sunday. One of the breakout stars of 2019 carried the ball 18 times on the day for 62 yards, adding a scoring touchdown on the ground and two receptions through the air. If we are looking to be slightly nitpicky, Cook was bailed out from a poor production outing for the third straight week by finding the endzone, but that isn't going to prevent you from playing your RB1 in Week 14. He got you this far. You can't look back now.
Austin Ekeler (RB, LAC)
The Minnesota Vikings have allowed an NFL low 51 receptions to backfields this year, which begs the question as to how much you should trust Austin Ekeler in Week 15. Conventional thinking would state that he should be a high-end RB2 after destroying the Jacksonville Jaguars for 213 scrimmage yards and 31.3 PPR points, but I'd going to downgrade Ekeler more towards the flex range against an extremely stingy Vikings Defense.
Keenan Allen (WR, LAC)
The fact that the Vikings have allowed the eighth-most PPR points to wideouts in 2019 has to keep Keenan Allen as a WR2 for your lineups. Allen's target share and big-play ability are unquestioned, although he has seen a small dip in targets in recent weeks.
Mike Williams (WR, LAC)
After 10 touchdowns during his rookie campaign, it took us 14 weeks for Mike Williams to find the endzone in year two. The Vikings have allowed eight percent of passing plays to grade out as explosive this year - good for 16th best in the league. Williams is averaging an absurd 30.1 yards per catch in his last five games and might be able to beat the Vikings deep a few times on Sunday. That is good enough to place him in the WR3/flex range.
Stefon Diggs / Adam Thielen (WR, MIN)
With Adam Thielen out since Week 9, Stefon Diggs has been the top option for the Vikings the past six weeks. That has resulted in some combustible outings but has also seen a few clunkers thrown into the mix.  There is no doubt that Diggs' big-play potential gives him a chance to succeed each and every contest, but the return of Adam Thielen might be needed for the entire offense to get out of the mud. Keep an eye on Thielen's health as we get closer to Sunday, but you might want to slightly downgrade Diggs into WR3 territory if Thielen misses another game.
UPDATE: Adam Thielen is practicing and looks like he will make his return in Week 15. 
Hunter Henry (TE, LAC)
Hunter Henry has seen his production dip in the past two weeks, recording a reception on just 8.7% of his routes during that stretch. That is a steep decline from his 16.7% tally in Week 8 to 12, but fantasy participants are going to have to roll with their TE star on Sunday. Henry has been one of the safest options at the position this year, so let's hope he can get himself back on track against a defense ranked in the bottom half against tight ends.
Jacksonville Jaguars at Oakland Raiders
Matchups We Love:
Josh Jacobs / Deandre Washington (RB, OAK)
As I write this article on Monday, I am not sure where Josh Jacobs is heading health-wise, but it is very important to handcuff yourself and pick up Deandre Washington if you are able to grab him on the waiver wire. The Raiders are virtually out of playoff contention and might decide to pull the plug on the rookies' season, and you want to have yourself covered if that happens. Washington was given the lions share of the work in Week 14 without Jacobs, rushing 14 times for 53 yards to go along with one rushing TD, six catches and 43 yards through the air. Washington becomes an RB2 down the stretch if Jacobs is sidelined and could be a game-changer for any fantasy team that is in need of a little help.
UPDATE: Josh Jacobs' MRI on his shoulder was positive, and he is expected to play on Sunday.
Leonard Fournette (RB, JAX)
Positive touchdown regression is coming at some point for Leonard Fournette, and let's hope it is during the playoff stretch and not next season for his owners this year. The Raiders have allowed nine rushing touchdowns this season to running backs, including four in the past two weeks. If you own the former LSU bruiser, you are treating him as an RB1.
Matchups We Hate:
None
Other Matchups:
Gardner Minshew (QB, JAX)
If you are stuck in a spot where you are forced to stream in a deeper league, can I interest you in Gardner Minshew? The Oakland Raiders have allowed the second-most points to fantasy QBs in 2019, and Minshew's running ability usually settles him in for QB2 type numbers.  My biggest concern for the rookie is that WR D.J. Chark could be forced to miss the game on Sunday, which would slightly lower his ceiling. Still, though, you could do a lot worse if you are in a pinch.
UPDATE: D.J. Chark has officially been ruled out of Sunday's game.
Derek Carr (QB, OAK)
Derek Carr should be viewed as the ultimate boom-or-bust option for fantasy managers that need to swing for the fence. The Jaguars have allowed two of the last four QBs they have faced to go for over 30 fantasy points and haven't kept anyone to single digits in a standard league all year. That last fact would give me some confidence that Carr is safer than it may seem and might even be playable in deeper one-QB settings.
Tyrell Williams / Hunter Renfrow (WR, OAK), Darren Waller (TE, OAK)
I don't believe Hunter Renfrow will be rushed back from the serious punctured lung injury that he suffered just weeks ago, but head coach Jon Gruden has been optimistic in interviews that the rookie will be back in action on Sunday. For what it is worth, Gruden says a lot of things that exude confidence, so I wouldn't necessarily take this declaration at full face value, but if Renfrow were to return, tight end Darren Waller would see the most significant decrease of the group. Waller's target share dropped nearly in half during games Renfrow was used as an every-down player, which would provide me with some pessimism going forward. The Jaguars have allowed the fifth-most fantasy points per attempt in the past eight weeks, giving Williams some flex appeal after a handful of poor showings.
UPDATE: Hunter Renfrow has been declared inactive for Sunday.
D.J. Chark / Dede Westbrook / Chris Conley (WR, JAX)
What a week to miss if D.J. Chark is unable to go because of his ankle injury. The Raiders have allowed the most points in the NFL during the past eight weeks per pass attempt, but I think owners should start figuring out a backup plan for the breakout WR. If you find yourself in a bind and are looking for a lottery ticket, Chris Conley's big-play ability might shine through against a Raiders Defense that has allowed the second-most yards per catch to wideouts. As for Dede Westbrook, look for a heavy amount of volume if Chark is held out.
UPDATE: D.J. Chark is planning on traveling with the team to Oakland. That doesn't mean he will be active but keep an eye on his health in upcoming days. 
UPDATE: D.J. Chark has officially been ruled out of Sunday's game.
Cleveland Browns at Arizona Cardinals
Matchups We Love:
Kyler Murray (QB, ARZ)
Kyler Murray has hit a rookie wall in recent weeks. Perhaps some of it can be accredited to facing strong defenses, but Murray has done his part in sinking a lot of fantasy owners out of their playoffs down the stretch. That level of volatility always makes it scary to trust any player to perform in a must-win situation, but the rookie is in a prime bounce-back spot for an explosion. The Browns rank inside the bottom six in rushing yards allowed to quarterbacks, as well as rushing scores to the position. The game is shaping up to be a shootout, and I want to get some exposure where I can.
Kareem Hunt (RB, CLE)
Through five contests, Kareem Hunt has yet to provide a scoring output lower than 11.8 PPR points. That level of consistency should have you feeling comfortable if you are starting him as your RB2, and there is upside this weekend against Arizona for Hunt to ascend to the next level. The game should feature a higher tempo and that is perfect for Cleveland's best pass-catching back.
Jarvis Landry (WR, CLE)
We can blame Odell Beckham's paltry 2019 campaign on injuries (which does seem fair) but Jarvis Landry has been the biggest recipient from his lack of output. Landry has averaged 10.1 targets in his past seven games and should see a hefty target share once again on Sunday.
Christian Kirk (WR, ARZ)
While there haven't been too many combustible performances for Christian Kirk in 2019, the second-year wideout has been a target monster when healthy. Kirk has not received under seven targets during the past four weeks and should be in line for another robust amount of opportunities in a potential shootout. I believe we see the wideout get over 10 passes thrown his way this Sunday, which could account for the potential explosion fantasy owners have been waiting to receive.
Matchups We Hate:
David Johnson  (RB, ARZ)
Maybe I have been scorned one too many times by David Johnson this year, but I can't get myself to play him in a playoff situation. Five total touches (accounting for 13.3 PPR points) doesn't all of a sudden forgive his past failures. Don't forget this is the same man that scored a grand total of 4.6 points in his previous four games.
Other Matchups:
Baker Mayfield (QB, CLE)
It has been an ugly season for Baker Mayfield. He currently sports a sub-60 percent completion percentage and has 15 touchdowns to his 16 INTs. Needless to say, this isn't the ascension into becoming a top-tiered QB as some were expecting. Last week's game against the Cincinnati Bengals was always going to be a run-first mentality, so I wouldn't discredit his prospects this weekend from that showing. The Cardinals have allowed the most fantasy points to QBs this year, and Vegas has slowly been increasing the over/under on the contest. If I am looking for a streaming option, I am ok with giving Mayfield a shot on Sunday.
Kenyan Drake (RB, ARZ)
If I was an owner of Kenyan Drake, I would be encouraged by his performance against the Pittsburgh Steelers. Fourteen total touches and nearly 10 PPR points shouldn't be scoffed at, and that sort of production is starting to feel like his floor because of the strong usage he gets through the air. Drake is well entrenched in the RB2 conversation, and I wouldn't bet against him finding the endzone on Sunday.
Nick Chubb (RB, CLE)
The matchup is great for Nick Chubb, but this does feel like a game where Kareem Hunt will pilfer a plethora of touches. Chubb has averaged 95.6 rushing yards over his past five games, but his seven catches in that time frame have been enough to plummet his value. The second-year back should still be considered as an RB2, but there is some touchdown dependency that is beginning to take place.
Odell Beckham (WR, CLE)
News that Odell Beckham has been dealing with a lingering abdominal injury since camp helps to explain the disappointing production thus far. Last Sunday, Beckham netted his seventh-straight game with fewer than 100 receiving yards, extending the longest streak of his career. The All-Pro wideout's skills are tantalizing and a matchup against the Cardinals is mouth-watering, but fantasy owners should at least consider alternative options. That doesn't mean I am benching him if I don't have multiple WR2 caliber players available, but if you have gotten this far with Beckham on your team, I assume you have already started making those changes.
Larry Fitzgerald (WR, ARZ)
There have been some ups-and-downs for Larry Fitzgerald this year, but the veteran wideout has been able to produce low-end flex numbers on most weeks. I am still not overly enthusiastic about his lack of upside, but a matchup against Cleveland does present him with a higher ceiling than he has seen during most weeks.
David Njoku (TE, CLE)
If fully healthy, David Njoku would be a shoo-in candidate for the love portion of this column. Arizona has allowed a league-worst 19.7 PPR points to the tight end position - nearly eight points higher than league average. I do have some hesitation since Njoku only played 21 snaps last week during his return from injury, but the upside is there if you are looking for a big-play option.
Los Angeles Rams at Dallas Cowboys
Matchups We Love:
Dak Prescott (QB, DAL)
I am clearly more bullish on Dak Prescott than some have shown to be this week. If we exclude his performances on the road at New England and New Orleans Prescott has scored at least 17.5 points in every other outing and hasn't scored under 20.6 at AT&T Stadium this year. Perhaps Ezekiel Elliott sees his usage ramped up, but there is still enough left on the plate for the QB to eat.
Todd Gurley (RB, LA)
It looks as if Todd Gurley has been fully unleashed in time for the fantasy playoffs. And who says players/coaches don't care about your fantasy squad? Gurley has accumulated 20 points per game this season in PPR leagues when receiving at least 20 touches and could be in store for another lofty workload on the road in Dallas. Fire him up as a back-end RB1.
Ezekiel Elliott (RB, DAL)
Ezekiel Elliott's rushing load has been erratic from week-to-week, but his increased involvement through the air has amplified his output. Elliott has averaged 19.9 PPR points during the past four weeks and has regained top-tier RB status. Fire him up with confidence.
Matchups We Hate:
Brandin Cooks (WR, LA)
There's a lot of WR news that is noteworthy for the Rams this weekend, but the one that concerns me most is Brandin Cooks. We can justify and explain why Cooper Kupp saw a decrease in playing time, but Josh Reynolds playing on the outside instead of Cooks is alarming. The 26-year-old has been a colossal bust in 2019 and can't be trusted to produce in Week 15.
Other Matchups:
Jared Goff (QB, LA)
After three straight games of failing to throw a touchdown, Jared Goff has put together back-to-back outings of throwing for two scores. The Cowboys have been leaky on defense in recent weeks, but you still have to be partially concerned that we see a larger usage rate for Todd Gurley. I prefer Goff as a QB2 but won't talk you out of using him as a low-end QB1 either. It just comes down to how risky you want to be.
Cooper Kupp (WR, LA)
Personnel setups. That is what head coach Sean McVay blamed Cooper Kupps 29% snap share to last weekend. The Rams did run 12 personnel setups on 70% of snaps last week, which does exclude the slot wideout, so I wouldn't be overly concerned about the perceived playing time dropoff for Kupp. Keep rolling him out as a WR2.
Robert Woods (WR, LA)
Robert Woods scored for the first time this season as a receiver in Week 14, continuing his recent hot streak with another solid fantasy output. I do think Cooper Kupp and Woods are still interchangeable for production on most weeks, so it will just come down to how often Kupp gets left off the field because of personnel matchups. Consider Woods safer but both men are WR2s on Sunday.
Amari Cooper / Michael Gallup (WR, DAL)
Amari Cooper has put together multiple bust games so far in 2019, but that comes with the territory when owning the former Bama product. Cooper is an elite NFL wideout and should be treated inside the WR1 category in Week 15. As for Michael Gallup, his nine targets per game since Week 10 places him as a flex option with upside in all leagues.
Gerald Everett / Tyler Higbee (TE, LA)
Gerald Everett has missed two straight games but is still considered day-to-day, according to head coach Sean McVay. McVay also said that Everett is making progress in his recovery, but he noted that the third-year tight end is "not ready to get out there and practice with us yet." The discouraging news is that Everett has been day-to-day since suffering his knee injury in Week 13, and this could open up the door for another sizable workload for Tyler Higbee.
UPDATE: Gerald Everett is officially inactive for Week 15.
Jason Witten (TE, DAL)
Jason Witten's low ceiling doesn't make me extremely encouraged to play him in Week 15, although there is a built-in floor for the veteran pass-catcher. I'd prefer to find an option with more upside, but I also wouldn't completely discredit his chances of finding the endzone. Consider him a high-end TE2.
Atlanta Falcons at San Francisco 49ers
Matchups We Love:
George Kittle (TE, SF)
George Kittle is a wrestling fan, so I am sure he would take this as a huge compliment. His 39-yard catch on fourth down against the New Orleans Saints reminded me of Hulk Hogan beginning to "Hulk Up." Given the time of the game and the meaning of the outcome, Kittle's play is probably the moment of the year so far in 2019, and he remains one of the top options at his position.
Matchups We Hate:
Russell Gage (WR, ATL)
I like the idea of stashing Russell Gage for Week 16 now that Calvin Ridley has been ruled out for the rest of the year, but I am not as bullish on his prospects against the 49ers. An opportunity for increased usage is available, but I'm not exactly sold on the idea of using him in a critical playoff matchup if I can avoid taking that route.
Other Matchups:
Matt Ryan (QB, ATL)
To beat the San Francisco 49ers, your best bet comes on the ground. I realize the New Orleans Saints dispelled that notion last Sunday, but a road test in the Superdome and a raucous home environment at Levi's Stadium are two different tests for opponents. Matt Ryan has shown some consistency in four of the last five weeks, but I'd be careful if you are expecting the veteran to match what Drew Brees did in Week 14.
Jimmy Garoppolo (QB, SF)
Despite the fantastic matchup, it is never easy to fully trust Jimmy Garoppolo. We have seen the QB provide some ups-and-downs from week-to-week, but his yearly numbers tend to tell a different story. Garoppolo has thrown for 3,245 yards on a 69.5% completion percentage, adding 25 TDs and just 11 INTs. I lean towards the former Eastern Illinois gunslinger providing back-end QB1 numbers in Week 15 against a paltry secondary.
Devonta Freeman (RB, ATL)
While I wouldn't panic quite yet, Devonta Freeman was a non-participant during Wednesday's practice due to a knee injury sustained against the Carolina Panthers last weekend. With the Falcons playing slightly later on Sunday, managers will need to stay on top of the injury news as it comes in because options will become quickly limited if you don't have a backup plan in place. Assuming he does play, Freeman has shown enough volume through the air to pencil him in as a back-end RB2 - even against a difficult 49ers Defense.
UPDATE: Devonta Freeman looks poised to suit up for Sunday's game.
Raheem Mostert / Tevin Coleman / Matt Breida (RB, SF)
I am not sure too many predicted Raheem Mostert would seize the lead of the San Francisco 49ers backfield without injuries to both Tevin Coleman and Matt Breida, but here we are with the Purdue product looking like the man on the top of the depth chart.  Coach Kyle Shanahan said Tuesday that Mostert has given the 49ers "no choice" but to use him as the leader of the team's backfield, but this is a precarious situation for all three men- even against a weak Atlanta Falcons run defense. If you made me choose, Mostert, Breida and Coleman would be my order of preference, but it is a guessing game at this point.
Emmanuel Sanders / Deebo Samuel (WR, SF)
San Francisco's run-first preference always provides some concern for their wideouts when it comes to consistency, but Emmanuel Sanders and Deebo Samuel should both be considered as WR3/flex option against the 31st-ranked defense in passing efficiency. I am not opposed to ranking either slightly higher, but you do need to realize there is risk involved when dealing with the 49ers' wide receiving core if the team decides to go extremely run-heavy.
Julio Jones (WR, ATL)
Make that nine straight games for Julio Jones without a touchdown. Owners have seen their star wideout receive at least seven targets in every game this year, but the lack of scoring opportunities has kept Jones' season as a bit of a disappointment. With Calvin Ridley now out for the rest of the year, perhaps the 30-year-old finally gets some positive touchdown regression against a difficult 49ers squad.
Austin Hooper (TE, ATL)
In Austin Hooper's first game back for the Atlanta Falcons, the Stanford product received six targets but was only able to bring in two of those passes for 32 yards. The timing of his worst performance of the year was less than ideal in the fantasy playoffs, and if you were lucky enough to survive, a matchup against the 49ers is not going to be any easier. Consider Hooper a TE1 based on volume, but his upside is limited against one of the top-five defenses in the league against the pass.
Matchups Analysis - Sunday Night Football, 8:20 PM ET
Buffalo Bills at Pittsburgh Steelers
Matchups We Love:
None
Matchups We Hate:
Josh Allen (QB, BUF)
Last weekend wasn't an ideal time for fantasy owners to see Josh Allen provide one of his worst games of the season. The second-year QB was only able to complete 43.6% of passes, totaling just 146 yards. The fact that Allen did not throw an INT for his seventh game out of his past eight contests does show the maturity jump he has received between year one and year two, but his season-low nine rushing yards did help to sink a lot of managers out of round one. If we look at the two games Allen has struggled in this year, we see a trend that doesn't him in a positive direction for Week 15. Both the Patriots and Ravens were able to contain him as a runner and eventually minimalized his production through the air. The Steelers' defense is capable of doing just that, so I would downgrade him into QB2 range for Sunday.
Devlin Hodges (QB, PIT)
For as well as Devlin Hodges has done for the Pittsburgh Steelers, he still remains unstartable for fantasy owners. Frankly, head coach Mike Tomlin isn't going to give Hodges enough volume to hurt the team and that will sadly hurt your squad if you start him.
Benny Snell (RB, PIT)
With James Conner trending towards a return this week against Buffalo, Snell's run as the featured early-down weapon is likely over. Keep an eye on the health of Conner as the week progresses, but the matchup is less than ideal in any situation.
JuJu Smith-Schuster / Diontae Johnson / James Washington (WR, PIT)
If you own JuJu Smith-Schuster, congratulations on your stellar managing if you are still alive. Personally, I know my selection of the wideout helped to plummet a handful of my teams, so you deserve a round of applause for fighting through. JuJu's return would help to provide the Steelers with an extra playmaker, but head coach Mike Tomlin isn't going to allow Devlin Hodges to heave the ball all over the field. Unfortunately, there just isn't enough volume for any of the wideouts to find consistent success against a difficult Buffalo Bills secondary.
UPDATE: JuJu Smith-Schuster is now expected to miss this week's game again.
Vance McDonald (TE, PIT)
It is difficult to find too much to like with Vance McDonald in Week 15. McDonald left Week 14's game with a concussion and will need to clear protocol to be active Sunday. On the other hand, Buffalo has allowed just 35.2 yards per game to tight ends, the third-fewest yards in the league. Look elsewhere for production this week.
Other Matchups:
Devin Singletary (RB, BUF)
Coming into the year, Devin Singletary's biggest knock was his lack of involvement in college in the passing game. However, that notion has been quickly dispelled by the rookie, as Singletary has averaged three catches per game during his past seven contests. A matchup against the Pittsburgh Steelers is less than ideal, but Singletary's volume through the air keeps him in flex consideration.
James Conner / Jaylen Samuels (RB, PIT)
It appears as if James Conner will make his long-awaited return from a should injury that has cost him five of the last six games after completing a full practice without limitations on Wednesday. It remains to be seen if Conner will be pushed back into a full workload, but he would most likely see the majority of the touches if Jaylen Samuels is unable to play because of a groin injury.
UPDATE: As of Thursday, it appears as if both men will be active. That would downgrade Conner into more of an RB3/flex play, as where Samuels is nothing more than bench depth.
John Brown / Cole Beasley (WR, BUF)
Still amongst the league leaders in air yardage, John Brown faces a difficult matchup with a Steelers secondary allowing just 25.5 WR PPR points per game since Week 10 - the fourth-lowest clip in the league. Still, though, Brown has only scored in single digits twice this season, providing him with a reasonable floor to render WR3 numbers. The biggest issue for him on Sunday night will be his lack of upside. If you are looking for a higher ceiling, you should look elsewhere. As for Cole Beasley, he continued his magnificent season by catching four passes for 29 yards and a score in Week 14. Beasley is now ranked 25th in PPR leagues at the position but carries the same low-upside designation that Brown does in Week 15.
More Start/Sit Advice