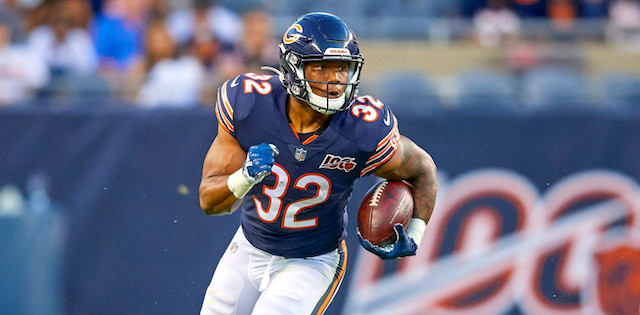 The running back remains the most coveted player in fantasy football. In the Fantasy Football Players Championship (FFPC), nine of the first 14 players drafted on average were running backs. In most leagues, you must start at least two RBs, and you can start a third at a flex spot. The position is regarded as more thin than wide receiver and you only are required to start one QB in many leagues. As injuries and new trends, risers and fallers emerge at the position throughout the season, RBs remain highly sought after in trades and on the waiver wire.
When a prominent fantasy RB or one that was expected to have a lot of upside disappoints or busts, your team can feel like it has a flat tire that needs to be repaired. So should we do with these "flat tire" or punctured RBs that seem to have the air coming out of them? Your first instinct may be to trade them, but it's hard to get a satisfying return. You may consider dropping them, but you'll wonder if you may regret it later. Or they simply will frustrate you as the disappointing weeks mount on your bench.
Is there a solution to dealing with these fantasy RB failures? We have the answers if they exist for these guys. In some situations, though, there may not be a happy way out. Frustrating fantasy football running backs - what are we to do?
Editor's Note: Get any rest-of-season NFL Premium Pass for 50% off. Our exclusive DFS Tools, Lineup Optimizer and Premium DFS Research through the Super Bowl.
Sign Up Now!
Joe Mixon, Cincinnati Bengals
He is the biggest fantasy offender on this list, widely drafted in the second round, and he is the 35th scorer at the position as we head into Week 8. It may be actually getting worse as the season goes on, as he totaled just four yards from scrimmage in Week 7. Mixon has four games with under 20 rushing yards and five with less than 20 receiving yards. He does not even have a rushing TD this season! Opponents are not stacking the box against him consistently and Mixon only has 37 more total snaps than Giovani Bernard as the Bengals have fallen behind every week.
Recommendation: No one really wants him, as it's nearly impossible to trade Mixon for anything of real value. You can't cut him, because he's a starting NFL RB who has succeeded before. Just leave Mixon on your bench and hope for a turnaround at some point. Don't start him until you see some true signs of life.
He was the fantasy rookie darling, and his owners cried out in desperation to see him get more work earlier in the season. But a terrible offense has been dragging him down to the point where Montgomery is not even a top-40 fantasy RB in terms of scoring. Montgomery got the work that was being asked for fantasy-wise in Week 4, as he received a season-high 21 carries, but he only finished with 54 yards. He has only logged 13 carries in the Bears' previous two losses and has averaged 3.3 yards per carry so far. Montgomery has not been a factor in the passing game.
Recommendation: He seems to have minimal trade appeal, but if Matt Nagy can somehow fix his offense there may be potential for better production later in the season. Keep him on the bench unless you see Mike Davis take over as he better producer at some point, if Nagy elects to pull him out of the dungeon.
After rushing for 336 yards and six TDs in three postseason games last season, Michel appeared to be on the verge of possibly becoming a very productive fantasy RB2. He did fall to the fifth round in some drafts because of injury concerns, but his owners mostly expected quality statistics when he was available. Michel has stayed healthy so far, but he has rushed for less than 65 yards in three of his six games and had only three rushing TDs prior to last week. In Week 7 he rushed for three TDs but only had 42 rushing yards. The yardage numbers have been disappointing and he is too TD dependent.
Recommendation: Try to see if you can deal him for anything after the three-TD outing and be accommodating with what you expect in return. If you can get a quality fantasy WR3 for him, accept the offer. Otherwise he is going to have to be a streamer for you.
The holdout was expected to make him a bigger risk, but no one really thought he would be as bad as he has looked so far. Gordon has totaled 115 yards from scrimmage in three games since returning to the team. He did register his first TD in Week 7, so maybe there is some hope?
Recommendation: It's going to be hard to move him in a deal, so hold onto Gordon. If he can stay healthy the production may progressively improve.
After a strong surge down the stretch and in the playoffs last year, Williams appeared to have a good chance of taking over as the RB1 in the Kansas City offense. But the acquisition of LeSean McCoy and a knee injury have destroyed his outlook. Williams has only 70 rushing yards this season and 15 catches in five games and three starts. He was down to 27.9 percent of the snap counts in Week 7.
Recommendation: Cut Williams. The Chiefs are featuring a committee approach in which he is not being prioritized.
He has not been as terrible as some of the guys on this list, but Bell certainly has not returned the first/second round value as hoped to this point. He has been the 17th RB in terms of fantasy scoring. Bell has not rushed for more than 70 yards in a game and has one TD on the ground. He has totaled 90 yards or more from scrimmage twice and he has only one receiving TD. Bell does have three games with six or more receptions, but only two catches in his last two games.
Recommendation: The whole fantasy world knows how friendly the Jets schedule looks from Week 8 to 14. You can try to trade Bell based on the upcoming run of appealing matchups. You should explore the possibilities. If you don't get what you want in return, keep him and hope to enjoy the upcoming matchups yourself.
Many fantasy analysts and players thought a trade to Houston would revive his production. But Johnson has caught more than two balls in a game just once and has only one game with more than 22 receiving yards. Yet I do hear some still predicting quality performances just around the corner for Johnson.
Recommendation: Cut him for sure. After a half-season it's apparent he is wasting fantasy roster space.
The expectations for Sanders were not too high, but many did believe he would emerge as the true lead RB for the Eagles right now. There have been some moments of promise, but Sanders has been unreliable and has looked tentative as a runner at times. Sanders has averaged 3.5 yards per carry but has caught passes of 35 or more yards in three games and is averaging 14.4 yards per catch.
Recommendation: Hold onto Sanders. As he gains more confidence as a pro you'll see his talents become more apparent. He is a really pretty runner who can make defenders miss when he is on his game.
More Fantasy Football Analysis