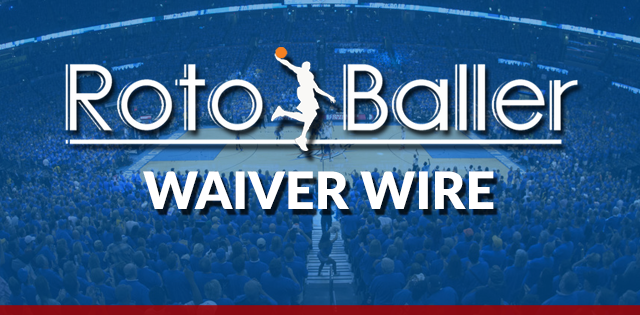 Hopefully everyone had a great week in fantasy hoops. This season has been entertaining with many different story lines, and we're excited for what the rest of the season has to offer. This is a reminder that fantasy basketball is a marathon, not a sprint. In this early part of the season, it's super important to have a roster spot open on your team. The reason being is that you are likely to find hidden gems early part of the first week of the season as opposed to later in the season. For example, Pascal Siakam comes to mind as he was not being drafted in a lot of leagues last season, but he became a top-50 player by season's end.
It's always helpful to see the early rotations of the season, but it's mindful to take all factors into consideration. Players may be off to slow starts, and it may take a week or two to see consistency. Also be mindful players who are off to flaming hot starts may eventually cool off, or eventually fade out. As a reminder for most leagues, it's crucial to plan ahead. Waiver wire adds, scheduling and player injuries are all things to consider. Make an effort to improve your team by maximizing your weekly adds and utilizing streamer spots via the waiver wire. In some cases, preach some patience in the early part of the season if a player isn't busting out of the gates. Be wary of weekly streaming options and stay ahead of your opponents. Our staff at RotoBaller has great insight and daily columns on how to improve your squad and tips to make your team successful, so be sure to check them out!
In this weekly piece, I'll go over some specialists in the peripheral areas where you can target on the waiver wire. These guys are not be must-own players by all means, but these are "specialists" in which you should target if you want a boost in assisting to win your statistical head-to-head match ups for example. Let's take a look at some of the guys in Week 6 that are likely on your waiver wire.
Editor's Note: Get any full-season NBA and DFS Premium Pass for 50% off. Our exclusive DFS tools, Lineup Optimizer and daily Premium DFS Research.
Sign Up Now!
Week 6 Standard Leagues - Waiver Wire Specialists
*Securing your categorical needs at this point is important, especially if you're playing in head-to-head leagues*
I write my columns based on H2H 9-category standard size leagues:
Field Goal Percentage
Kevon Looney, PF/C - Golden State Warriors
Looney (neuropathic condition) has just been cleared for full practice with the Warriors, and he could be making a return in the next week. His return would likely erase any fantasy relevance to Marquese Chriss, and he will likely eventually take the starting role from Willie Cauley-Stein in the foreseeable future. Coach Steve Kerr talked up Kevon Looney this off season and the Warriors are missing a key rim protector who can hold his own when isolated from opposing point guards. Looney's a nice speculative add for those looking for key big man stats with a nice sprinkle of defensive stats.
Jaxson Hayes, PF/C - New Orleans Pelicans
Hayes is really raw in terms of NBA talent, but he's got a lot of nice physical tools that will enable him to have a nice career. He's a big man who can run and jump out of a building, and seemingly never runs out of energy. However, he's got a long way to go in terms of his offensive game, but has been solid with 10.2 points, 5.8 boards and 2.0 blocks per game over the last five contests. That's enough upside to be on a roster in most 12-team leagues and he should be owned at least for the time being until the rest of the Pelicans get healthy.
Nerlens Noel, PF/C - Oklahoma City Thunder
Noel has outplayed Steven Adams (knee soreness) all season and he's doing enough to be on most 12-team leagues. He's going to give you nice defensive stats with nice percentages because he's getting lobs from Chris Paul. Look for Noel to continue to contribute as long he's getting minutes in the 20-25 range. If anything ever happens to Steven Adams in terms of injury or a trade, Noel would be truly unleashed. Get him on your roster if you're looking to handcuff Noel as an Adams owner.
Moritz Wagner, PF/C - Washington Wizards
Wagner continues to shoot lights outs this season, hitting 63% of his field-goal attempts and over 50% from deep. It's highly unlikely to stick but Wagner is doing enough to be rostered in most leagues. The key is that he's still getting minutes next to Thomas Bryant, which will allow him to continue to produce, even in limited minutes. He's currently ranked #100 in just under 19 minutes of action, so he would really blow up if he ever surpassed 23-25 minutes per game.
Three-Pointers
Davis Bertans, PF/C - Washington Wizards
Bertans has been wildly consistent as a sniper off the bench, hitting over 41% of his 3-point attempts. He was also on fire on Sunday, with five more 3-point makes for 15 points. He's not going do much outside of 3-pointers, but he's been so consistent and he's not going hit you in percentages of turnovers. Give him a look if you need a streaming 3-point specialist.
Tim Hardaway Jr. SG/SF - Dallas Mavericks
Hardaway Jr. has suddenly gotten hot with his recent play, hitting 13 three-pointers over his last three games. He's been getting the trust from Coach Rick Carlisle and he can be a nice source of points and 3-pointers of his role can stick. However, it's hard to trust Carlisle's rotation given that he seemingly switches starters based on the match ups. There are going to be nights where he'll tank your percentages, but take the good with the bad and give him a look while he's hot.
Garrett Temple, SG/SF - Brooklyn Nets
Temple has been solid since Kyrie Irving (shoulder) and Caris Levert (thumb) went down, and he'll contribute to provide l0w-end value for those looking for 3-pointers and steals. He's hit over two 3-pointers per game in the month of November, and the minutes continue to climb with four straight games of over 30 minutes played. Give Temple a look if you need a low-end guard to round off your team.
Duncan Robinson, SG/SF/PF - Miami Heat
Robinson has been hot and cold all season, and while it's difficult to trust him on a nightly basis, he should still be on your radar whenever you need a 3-point streamer to maximize the games played. Duncan went off for a career-high 29 points with two rebounds and nine three-pointers in 34 minutes against the Cavaliers on Wednesday, just to demonstrate some of his streaky fantasy game.
More Fantasy Basketball Analysis
By popular demand, RotoBaller has aggregated all of our fantasy basketball NBA waiver wire pickups into a running list of NBA waiver options, so bookmark the page and check back often for updates.