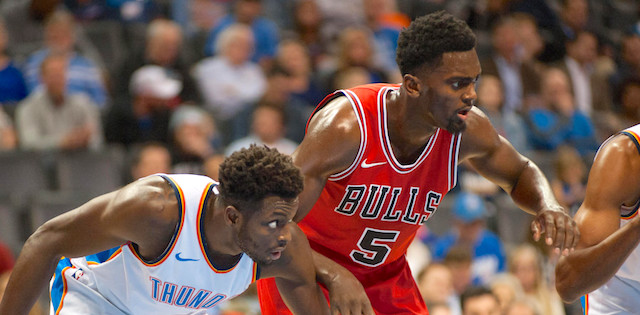 YES! The NBA season is BACK and on behalf of RotoBaller, we're super excited to kick off the 2018-2019 season and bless you all with everything you guys need to stay ahead of your opponents in all your fantasy leagues. Below are our recommended waiver wire pickups for Week 1 of the fantasy basketball season, for those looking to beef up their teams.
These next couple of weeks is absolutely critical to your season, where you can find scoop some waiver wire gems that can be a key part to your team. Some will stick on your team, and some will quickly be flushed back to the waiver wire. NBA teams will reveal their rotations, so pay close attention in the next week or so where teams stand with their players. We wish everyone the best of luck in your leagues and may the odds forever be in your favor!
As a reminder for most leagues, it's crucial to plan ahead. Waiver wire adds, scheduling and player injuries are all things to consider. Drop the dead weight, make an effort to improve your team by maximizing your weekly adds and utilizing streamer spots via the waiver wire. Don't be attached to short-term pickups when there is a hot player on the horizon, especially if a hot player can stick with significant minutes the rest of the season. Be wary of weekly streaming options and stay ahead of your opponents. Our staff at RotoBaller has great insight and daily columns on how to improve your squad and tips to make your team successful, so be sure to check them out! Now let's get prepared for Week 1
Editor's Note: Our incredible team of writers received five total writing awards and 13 award nominations by the Fantasy Sports Writers Association, tops in the industry! Congrats to all the award winners and nominees including NBA Writer of the Year, Best NFL Series, MLB Series, PGA Writer and Player Notes writer of the year. Be sure to follow their analysis, rankings and advice all year long, and win big with RotoBaller!
Read More!
Week 1 Schedule
3 Games -  Sixers, Kings, Knicks, Thunder, Magic, Raptors, Hawks, Celtics, Nets, Hornets, Cavaliers, Warriors, Rockets, Pacers, Clippers, Timberwolves, Heat, Nuggets
2 Games - Bulls, Mavericks, Pistons, Lakers, Grizzlies, Trailblazers, Suns, Spurs, Jazz, Wizards, Bucks, Pelicans
Week 1 Standard Leagues - Waiver Wire Pickups
I write my columns based on H2H 9-category standard size leagues:
Bobby Portis PF / C - Bulls (54% Ownership)

Crazy eye Bobby Portis will have a great opportunity to produce for a Bulls team who will have a tough time scoring the basketball. Lauri Markkanen (right elbow) is still sidelined with an elbow injury and could miss up to two months of action. The Bulls have zero incentive to rush Markkanen back and Portis actually has the second highest usage rate (26.8%) on the team behind teammate Zach LaVine. Look for Portis to flirt with a double-double until Markkanen is cleared. Make sure he's not available in your league.
Alex Len PF / C  - Hawks (31% Ownership)

Len will get an opportunity to open the season as the lone healthy big man in Atlanta and he could very well walk away with the starting gig if he continues to play well. Len has played extremely well this preseason, scoring 16 points with 10 rebounds, five assists, and two 3-pointers in a matchup against the Spurs last week. It's obviously not smart to read too much into preseason, but the upside has always been there. The 3-pointers are not going to be consistent, but his rebounding and shot-blocking upside should have you running to the waiver wire sooner rather than later before someone scoops him up.
Rodney Hood SG / SF - Cavaliers (36% Ownership)

LeBron James is no longer a Cavalier and Hood is a good candidate to be the secondary scoring option in Cleveland after Kevin Love. He's not drafted in a lot of leagues and I'm not sure why. Yes, he's injury prone but someone's going to have to shoot the ball besides Love. I'm taking a flier on Hood and hoping he could carve out late-round value. Hood has said he wants to expand his game and be more of a dynamic scorer, so that's a positive sign for his value if he can get to the charity stripe. However, he could take a hit on your field-goal percentage, so be wary of your expectations.
Al-Farouq Aminu SF / PF - Trailblazers (26% Ownership)

Aminu is more of a specialist, where he's your typical 3-and-D guy. He's a nice late addition to your team because he'll only hurt you in field-goal percentage, but will give you a sprinkle of everything else. The Trailblazers will continue to start him at the 4 spot and he doesn't have much competition for minutes. He was a top-100 player last season in 9-category leagues and there's no reason to think he can't replicate that this season.
Cody Zeller PF / C - Hornets (5% Ownership)

Zeller will open the Hornets season as the starting center, and he's played relatively well in the preseason. He'll try to fight off Willy Hernangomez for the starting gig, and it could eventually turn to an ugly timeshare between the two. For the record, Hernangomez would have a higher upside if he was to start, and I wouldn't recommend hanging on to Zeller if there is someone hot on the waiver wire.
 Jeremy Lin PG / SG - Hawks (14% Ownership)

The Hawks will use Lin at the shooting guard as well, so it gives out some appeal to play next to rookie Trae Young all season. There are health concerns, but chances are he's in and out of your waiver wire all season because of inconsistency. Don't expect him to play heavy minutes out the gates, as he is recovering from a serious knee injury. Give him a look to see if he can flirt with late-round value, and he's a flier to boost your assists and 3-pointers.
Markieff Morris PF / C - Wizards (53% Ownership)

Morris is capable of flirting with top-100 value as long as he's getting minutes. On a Wizards team where they look to play faster this season and combine that with a willing passer in John Wall, Morris should be owned in leagues 12 teams or more. There will be nights where he lays an egg, but take the good with the bad. Even though Dwight Howard (back) practiced in full and is healthy again, it doesn't affect Morris that much since he will have the opportunity to play both the power forward and the center spot.
Week 1 Deeper Leagues - Waiver Wire Pickups
Jordan Clarkson PG / SG - Cavaliers (19% Ownership)

Clarkson will get a chance to average double-figures on a team that desperately needs offense. He's an undersized shoot-first shooting guard, which is why his upside is capped because of his inability to play on the end of the ball. He might be for you if you're in dire need of some extra points and a couple of assists. Clarkson is more suited for deeper leagues.
Robinson will get have a massive opportunity to carve out some value and he's on the brink of standard league adds because of his shot-block ability. Robinson has a whopping 7′ 4″ wingspan and he's a walking pogo stick. Kristaps Porzingis (knee) could potentially be out for the entire year and Joakim Noah was waived, leaving Mitchinson as the only other legitimate big man behind Enes Kanter. He's looking at 20+ minutes per night and only foul trouble could keep him from providing some low-end value.
Bryn Forbes PG / SG / SF - Spurs (9% Ownership)

Dejounte Murray (ACL knee) is done for the year and Derrick White (heel) is looking like he's at least a month away from action, leaving Patty Mills and Bryn Forbes as the only capable guards to start at the point. He doesn't have a ton of upside, but he could hit 3-pointers and give you a trickle of dimes. The Spurs are a very unselfish team, and it wouldn't be surprising to see Forbes flourish in the starting role, especially if he's given close to 30 minutes per night.
Patty Mills PG - Spurs (22% Ownership)
Mills is a 3-point specialist, and that's about all he'll do. I like Forbes more if you're desperate to add a point guard, but Mills is a decent option if you're looking to boost your 3-pointers and steals.
Miles Bridges SF - Hornets (31% Ownership)
Bridges fared well in the preseason, but his path to minutes is capped due to a logjam in the rotation. Bridges will need a Jeremy Lamb or Nicholas Batum injury to really be standard league relevant, so he's a deep league add for now.
Harry Giles PF - Kings (5% Ownership)

The Kings should learn a lesson or two, where they should start to be patient in their draft picks - unlike recent years. Giles has a very fantasy-friendly game, so he's a sneaky add for someone in deeper leagues who may look to reap in the rewards later into the season. He won't produce out the gates, and he's a deep league add at best right now - so keep your expectations low.
Pascal Siakam PF - Raptors (35% Ownership)
The Raptors could look to shift starting lineups all year, and Siakam could start next to Serge Ibaka whenever Ibaka starts at the center spot. He can stuff the stat sheet in a hurry, so he should be added in most leagues before he blows up. Siakam put up 21 points (6-of-14 shooting) with 11 rebounds, six assists, four steals, and one 3-pointer in 28 minutes against the Pelicans during the final preseason tune-up.
More Fantasy Basketball Analysis
By popular demand, RotoBaller has aggregated all of our fantasy basketball NBA waiver wire pickups into a running list of NBA waiver options, so bookmark the page and check back often for updates.