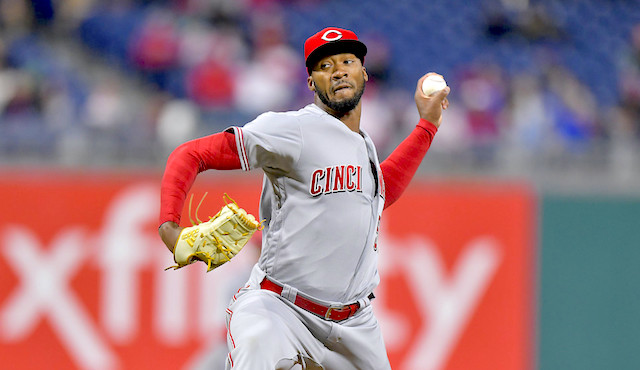 The deeper we get into the season, the more valuable relievers become. They can help you maintain your ratios, rather than streaming risky starting pitchers. Also, saves is an entire category, so grabbing a pitcher that is next in line for saves is never a bad idea. Especially this time of year. 
First, we have already seen a ton of injuries this season. While we do not wish injury on any player, being prepared just in case is never a bad thing. A set up man can be grabbed off the waiver wire for the minimum, but if that set up man is suddenly closing? He may go for 20-30 percent of FAAB budgets. 
Additionally, the trade deadline is coming up and relievers are always a hot commodity. Any team that is out of it could be looking to move their late inning relievers, because the last thing a rebuilding team needs is a good closer. Plus, when a closer is dealt, there is no guarantee they hold that job on their new team. So if you are worried about your closer being traded, grab the handcuff. If you have the bench spot, stash a setup man on a bad team that could look to deal their closer in the next month. 
Featured Promo: Get your 2023 MLB Premium Pass for 50% off. Exclusive access to our preseason Draft Kit, #1 accuracy rankings, #1 ATC projections, Team Sync platform, Live Draft Assistant, 15 in-season lineup tools, customized rankings and much more!
Sign Up Now!
Changing Bullpens 
Cincinnati Reds
This bullpen has been a headache all season and continues to be one. In recent days we have seen Lucas Sims and Amir Garrett both pick up saves for the Reds. In the last two weeks, Garrett has two saves, while Sims has one. With Sims moving to the 10-day IL, it could be Garrett's job alone for the time being.
Tejay Antone will be used in high leverage situations, but they tend to save him for when men are on base or for multi-inning work. Sean Doolittle and Heath Hembree are the other late-inning options, but these two are more for holds, than saves. Their ratios do not make them worth rostering as of now. Garrett and Sims are the top options here, in that order. 
Update: The bullpen that keeps on changing! Since this article came out, Lucas Sims landed on the IL and then the Reds had a save situation on Thursday. In that game we saw Garrett pitch a clean seventh, with Antone struggling a bit in the eighth (three hits, one walk, 2 runs, 1 ER) which then led to Brad Brach of all people picking up the save. He is nearly universally available so you save needy teams should grab him off the waiver wire, but do not spend much. This shows us more that this bullpen will continue to be unpredictable, rather than projecting Brach to pick up a bunch of saves. While he was the first releiver out of the pen on Thursday, Garrett is still the top option here, followed by Antone, who could have been used for two innings had he not struggled. Brach would be the third option here until Sims returns in a month.  
Detroit Tigers
Michael Fulmer has picked up both saves since he returned from the IL. Fulmer now has six saves on the season to go with a 2.84 ERA, 1.22 WHIP and 31 percent strikeout rate. He has thrived out of the bullpen and is a must-own reliever in all formats.
Gregory Soto also has six saves, but his have been fewer are far between as of late. He is worth rostering in deeper formats, but can be thrown back in 12-team or shallower formats. Jose Cisnero is a late-inning reliever, but he only got save chances when Fulmer was sidelined. 
Kansas City Royals
This bullpen is another one that has been unpredictable all season. Greg Holland does have five saves on the season after picking two up in his last three appearances. That puts him tied with Josh Staumont on the Royals, but Scott Barlow and Kyle Zimmer have multiple saves as well. But in the past two weeks, Holland is the only one with any saves. They just have not turned back to Staumont since he went on the IL.
Barlow is always going to be in the picture here, but he rarely gets the save chances. Holland should be added if he was cut in any leagues, as he is the pitcher to trust in this pen, for now at least.  
Tampa Bay Rays
Early in the season Diego Castillo was getting the bulk of the save chances, but that has not been the case as of late. In the last two weeks, while the Rays have been struggling, we have seen Castillo get one save, while Pete Fairbanks has two saves. The issue is both have been shelled in recent outings.
In the last two weeks, Fairbanks has a 6.75 ERA, 1.50 WHIP, 3.56 SIERA and just a 18 percent strikeout rate. Castillo in this span has a 7.71 ERA, 1.71 WHIP, 2.96 SIERA and a 29 percent strikeout rate. These are the two pitchers to roster in this bullpen, with a slight lean towards Castillo, but if they continue to struggle we could poentially see the Rays be in the market for relievers. 
Toronto Blue Jays
Jordan Romano picked up a save on Tuesday, his first since May 30th. While it was his first save in nearly a month, he has been continuously used in the late innings. He is the top option here, especially with Rafael Dolis on the IL. We did see Tyler Chatwood pick up a save when Romano was unavailable this past weekend.
It is also worth mentioning that Julian Merryweather is expected to begin throwing again this week. He could return around the All-Star break and should return to a late-inning role. He could see some save chances and is a solid stash, if you have the spot to do so. 
Relievers with Ratios and Strikeouts 
Drew Steckenrider has been effective for the Mariners this season. He has pitched to a 2.39 ERA, 0.99 WHIP and a 28 percent strikeout rate in 26 innings out of the pen. Kendall Graveman has been lights out and is the primary closer, but we have seen Steckenrider pick up a save in the past two weeks. As good as Graveman has been, the Mariners are not going to compete this year and he is a free agent after the season. There is no reason for them to hold onto him and if he is dealt, we could see Steckenrider be their closer option in the second half. He is a solid ratio add, but a potential save stash as well. 
Kyle Crick is another reliever that could see some saves if the closer is dealt. Richard Rodriguez has been really good for the Pirates, and he is arbitration eligible the next two seasons, but the Pirates are in clear rebuilding mode and Rodriguez could get them a nice haul. Crick has pitched to a 2.79 ERA, with a 0.98 WHIP and 24 percent strikeout rate. He is useful even if the saves don't come.
Ryan Tepera has been great all season. He has pitched to a 2.02 ERA, 2.40 expected ERA (xERA), with a 0.67 WHIP and 30 percent strikeout rate. He is worth rostering alone for the elite ratios, but if anything happens to Kimbrel, Tepera should be next in line for saves. 
Rex Brothers has been another strong reliever for the Cubs this season. He has pitched to a 2.96 ERA, 1.23 WHIP, with a 39 percent strikeout rate. I would add Tepera before Brothers, but he is certainly in play in deeper leagues. 
Nick Sandlin has pitched to a 2.25 ERA, 1.83 xERA, 0.80 WHIP and a 40 percent strikeout rate. He will not get save chances due to Cleveland having two great options, but he certainly will provide strong ratios and a lot of strikeouts. 
Anthony Misiewicz has a 44 percent strikeout rate in the past month. He has a 3.97 ERA and a 1.06 WHIP in that span as well. As discussed with Steckenrider, the Mariners could move Graveman and other relievers. That means Misiewicz could be used in high-leverage situations. 
Daniel Hudson is on the IL right now, but do not overlook him. He has pitched to a 2.59 ERA, 2.64 xERA, with a 0.90 WHIP and a 37 percent strikeout rate. He has been great and while the Nats have played their way back into the race, they are still under .500 and could be sellers at the deadline. Hudson would be a trade candidate himself, but if they move Brad Hand and hold Hudson, he would be the closer down the stretch. 
All stats entering Wednesday, June 23rd. 
Make sure to follow Michael on Twitter, @MichaelFFlorio
Download Our Free News & Alerts Mobile App
Like what you see? Download our updated fantasy baseball app for iPhone and Android with 24x7 player news, injury alerts, sleepers, prospects & more. All free!


More Fantasy Baseball Advice