What Appears In This Article?
hide
With the season winding down and all of the notable promotions probably in the rear view mirror, I figured it'd be beneficial to take a look ahead to 2024 and rank the top prospects who will debut early in the season and potentially provide the most redraft value next season.
Luckily, most of my top-10 is likely to debut early next season, if they haven't already, and we'll even get a top pitcher from Japan as well. This list can also be helpful in keeper leagues as well as some of these guys could probably be picked up right now if you're looking to get ahead of the curve for 2024.
If you're still holding out hope for more prospects to get the call, my top five to stash in order would be Colt Keith, Justyn-Henry Malloy, Coby Mayo, Heston Kjerstad, and Matt Mervis.
Featured Promo: Get any full-season MLB and DFS Premium Pass for 50% off. Exclusive access to our Team Sync platform, Premium articles, daily Matchup Rating projections, 15 lineup tools, DFS cheat sheets, Research Stations, Lineup Optimizers and much more!
Go Premium, Win More!
2024 Fantasy Baseball Prospect Rankings (Redraft)
1. Jackson Holliday, SS, Baltimore Orioles
Picking a #1 right now is tough, but with how Baltimore has fast-tracked Jackson Holliday, it wouldn't surprise me if he's up on opening day next season. If not, the wait should last too much longer after that. Even though he's only 19 years old, Holliday has flown up the organizational ladder and will end the season with Triple-A Norfolk. In 113 games across four levels, Holliday has slashed .326/.444/.504 with 28 doubles, nine triples, 10 home runs, and 23 steals. On top of that, Holliday has nearly as many walks (90) as strikeouts (103).
Truly a phenomenal season for the second-generation star. There's no doubting Holliday's hit tool and he could hit for a high AVG from the get-go. But how much power and speed will he provide? Holliday is still filling out his frame, but it's not like he has a ton of physical projection left. But with that said, I still think Holliday has a chance to flirt with 20/20 in his debut season while providing a high AVG and OBP as well. No prospect is completely "safe", but Holliday is certainly safer than most.
2. Jackson Chourio, OF, Milwaukee Brewers
Seriously, picking a #1 out of these top four is incredibly difficult. After his monster breakout 2022 campaign, the 2023 sequel has been nearly as impressive for Jackson Chourio. In 117 games for Double-A Biloxi, Chourio has racked up 22 home runs and 41 steals with a .276/.329/.467 slash line. What's even more impressive is Chourio's .317/.367/.566 slash line since July 6th to go along with 12 home runs and 18 steals. That's a 650-plate appearance pace of 35 home runs and 53 steals. Not too shabby.
Chourio has always been more on the aggressive side, but he makes solid contact and has the power/speed blend to be an impact player for fantasy purposes from the second he steps on a Major League field. While I'm a bit surprised he hasn't been promoted to Triple-A yet, I'm still anticipating an early-2024 ETA for Chourio.
3. Junior Caminero, 3B, Tampa Bay Rays
Making player comparisons for prospects is not something I enjoy. In fact, I usually try to avoid it unless a comp is so blatantly obvious while also being fairly realistic. With Junior Caminero, I can't help but see a right-handed Rafael Devers. And coming from a Red Sox fan, that's extremely high praise.
Junior Caminero cranked his 30th home run, 412 feet off the bat.

Only Caminero and Luken Baker have hit .300+ with 30+ HR this season in the minors.#RaysUp pic.twitter.com/wSkx1iZjKN

— Eric Cross (@EricCross04) September 11, 2023
In 112 games this season between Hi-A and Double-A, Caminero has cranked 30 home runs with a stellar .330/.394/.604 slash line. And since August 5th, Caminero is slashing .371/.437/.819 with a whopping 14 home runs in 28 games. A strong argument can be made for Caminero having the best blend of hit and power in the minors and both tools should be on display in the Majors fairly early in 2024.
4. Yoshinobu Yamamoto, SP, Japan
It's no secret that Yoshinobu Yamamoto is going to be posted this offseason and will be coming stateside in 2024. It's just a matter of what team signs him and how big the contract will be. And even with my top three pitching prospects having early-2024 ETAs, Yamamoto is my #1 pitching prospect for 2024 given his upside, performance in Japan, and the fact that he'll be in a Major League rotation on opening day.
In each of the last three seasons, Yamamoto has posted an ERA under 1.70 in Japan with a 4.4% walk rate and 27.3% strikeout rate combined across 529.2 innings of work. And in each of the last two seasons, Yamamoto has won the Sawamura Award which is Japan's equivalent to the Cy Young Award.  Oh yeah, he just threw a no-hitter over the weekend as well. Given Yamamoto's blend of bat-missing and exceptional control, he could make the transition more seamlessly than even Kodai Senga did and potentially make an even bigger impact in 2024 than Senga did in 2023.
5. Colt Keith, 2B/3B, Detroit Tigers
If any current top-10 caliber prospects can be considered underrated, Colt Keith might be that guy. Sure, the profile not be as sexy as other top-10 prospects, but Keith has one of the best blends of hit and power in the minors today and has shown that all season. Well, for most of the season. Outside of a sluggish July, Keith has hit at least .286 in the other four full months while eclipsing .325 in April, June, and August.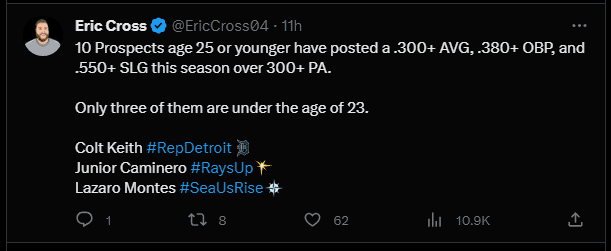 Overall, Keith has slashed .311/.381/.550 for the season and is one of just three players under the age of 23 to reach those three slash line marks. Getting Keith's potential .270/25 profile from second base would be huge. And while it'd be unreasonable to expect that from him in his rookie season, he's one of the prospects I'd feel better about excelling out of the gate next season.
6. Coby Mayo, 3B, Baltimore Orioles
It's nearly impossible to predict how this Baltimore infield will look on Opening Day 2024 given all the talented young options they have at their disposal. However, one thing I am certain of is that Coby Mayo will be in the thick of it all when Spring Training rolls around in February.
Mayo is a middle-of-the-order slugger in the making who currently has 42 doubles and 27 home runs in 128 games with an exceptional .285/.404/.566 slash line. He won't provide more than the rogue steal, but Mayo's bat is special and could make a significant fantasy impact in 2024.
7. Justyn-Henry Malloy, 3B/OF, Detroit Tigers
While I'm disappointed that the Tigers didn't promote Colt Keith and/or Justyn-Henry Malloy this season. we're now set up for this duo to debut very early in the 2024 season. Malloy opened the 2023 season on a high note, but really struggled for a six-week period in May and early June.
Justyn-Henry Malloy is severely underrated and I've been guilty of that myself.

Last 18 G: 86 PA, .419/.581/.855, 9 2B, 6 HR, 24.4% BB, 22.1% K

Season: 547 PA, .293/.431/.510, 24 2B, 23 HR, 18.3% BB, 23.4% K#RepDetroitpic.twitter.com/s3U7QY4zmi

— Eric Cross (@EricCross04) September 5, 2023
However, from June 13th on, Malloy has slashed an impressive .317/.461/.570 with 14 doubles, 14 home runs, and nearly as many walks (61) as strikeouts (64). Long-term, I think Malloy could be a Bryan Reynolds type, and we could see that begin to play out in April of next season.
8. Kyle Manzardo, 1B, Cleveland Guardians
There's no denying that it's been a down season offensively for Kyle Manzardo, but that doesn't change my long-term outlook for him much at all. Especially given what he was dealing with off the field.
Manzardo has displayed a great blend of contact, approach, and power during his time in the minor leagues and still projects as a middle of the order bat in my eyes. And over his last 11 games, Manzardo has slashed .286/.373/.500 with seven extra-base hits. He should be up very early in 2023 and can provide good production across the board outside of steals.
9. Cade Horton, SP, Chicago Cubs
Even though Cade Horton is behind Paul Skenes and Ricky Tiedemann in my overall prospect rankings, I believe Horton will be the first of the trio to debut, hence his inclusion here in the top-10. Horton has dominated all season to the tune of a 2.77 ERA, 0.97 WHIP, and a 34.4% strikeout rate across 20 starts between Lo-A, Hi-A, and Double-A.
Led by a plus or better fastball/slider combination, Horton has consistently shown the ability to miss bats at a high clip with above-average command and control as well. This is going to be one of the biggest impact arms of 2024.
10. Joey Loperfido, Houston Astros
This might seem like a surprise inclusion here at #10, but Joey Loperfido belongs. Even with him struggling a bit since his promotion to Triple-A, Loperfido is slashing .280/.377/.513 in 113 games this season with 26 doubles, 22 home runs, and 25 steals. If you combine the last two seasons, Loperfido has a 650 plate appearance pace of 23 home runs and 39 steals.
Even if he can just hit .250, Loperfido's power/speed blend could make him a valuable fantasy contributor for Houston. This all hinges on whether Houston brings Michael Brantley back this off-season though. If Brantley leaves, there's an open outfield spot in Houston.
Be on the lookout for part 2 (11-25) next week!
If you enjoyed these rankings and want to see additional rankings, analysis, and more, check out Eric's Toolshed Fantasy Patreon.
Download Our Free News & Alerts Mobile App
Like what you see? Download our updated fantasy baseball app for
iPhone
and
Android
with 24x7 player news, injury alerts, sleepers, prospects & more. All free!
More Fantasy Baseball Advice