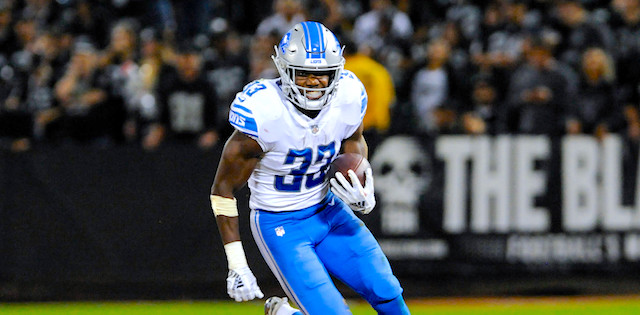 Dynasty is a young man's game. Not for the age of the participant, but the age of the players you want on your team. Especially at the running back position, it is imperative to find the young stud. Frank Gore notwithstanding, the typical RB hits a wall at age 30. The shelf life for a running back is far less than it is for a quarterback or wide receiver. With this in mind, let us look at two backs who are very young and could have a lot of value in dynasty leagues if you choose wisely.
Josh Jacobs is coming into the season with a lot of hype. He was a first-round draft pick, the already-anointed starter and finally signed, so he will be there for all of training camp. What can go wrong? Jon Gruden, that's what. Kerryon Johnson, on the other hand, is entering his second season after being drafted in 2018 out of Auburn. He made strides in his rookie season of 2018 before being hampered by injury. Coming into year two, he will try to prove automobiles are not the only things which can run in Detroit.
The first place to look is what will it cost for me to get the player on my roster? In the case of Jacobs, he is going off the board as the RB29 at the first pick of the seventh round. As for Johnson, he is currently the RB14 at a draft price of 3.05. This could mean you want to get them both on your team but if you do have to decide, who gets the nod? Let's find out.
Editor's Note: Get any rest-of-season NFL Premium Pass for 50% off. Our exclusive DFS Tools, Lineup Optimizer and Premium DFS Research through the Super Bowl.
Sign Up Now!
The Case for Jacobs
The Raiders rookie will have the first chance to show he belongs as the lead man in the backfield. Gruden wants to run the ball and there are no other solid backs on the roster. These all sound like good reasons to wants Josh Jacobs in your draft.
Jalen Richard is a true third-down back. He averaged more than five catches per game over the last half of 2018 and he will have a role in the passing game again this season. Marshawn Lynch has retired again, at least for now, and the other backs are Doug Martin and Chris Warren III.
While Martin had a few good seasons in Tampa Bay, if Lynch had not retired, he would have been gone. If he has any value at all, it will simply be as a fill-in as Jacobs rests for a snap or two.
Chris Warren III is a player Oakland likes. He spent all of last season on injured reserve, so we don't really know what to expect from him coming into this season.
At 5'10" and 220 pounds, Jacobs is big in his own right. Big enough to stand up to the punishment he will face behind an offensive line which is hopefully improved. Tom Cable, despite having an aura of being an offensive line mastermind, has never had a line ranked inside the top 20. His line in Seattle was terrible - a problem which resolved immediately after he left. In Oakland, he inherited a line seen as one of the best, only to take it down the same hole that so many other lines have gone down under his watch.
Add to this the acquisitions of both Antonio Brown and Tyrell Williams in the passing game and the running game might take a step back for a few seasons while Brown is still in his final prime years.
On the other hand, we have Derek Carr, a quarterback who cannot feel very secure in his job after this season. Is he going to use this motivation to ball out? Or just ball?
He loves the dump-off. Jared Cook was the lead receiver in Oakland last season because of this. Well, this season there is no Cook. Darren Waller looks to fill in for him but obviously, it will be the Antonio Brown show, if Carr can get him the ball. On those plays when he can't, it will be up to Jacobs. Whether it be through the run game or on short screen passes, Jacobs will have a big role in the game plan. As a rookie, he could easily finish as a top-20 RB in fantasy. This would establish him as the man going forward and cement him as a top 10-RB pick in a startup role next season.
Getting him now at RB29 is buying him at his floor. He is not going to go anywhere but up in value. If you do get him and he has a massive season, his trade value will go through the roof. If he plays poorly or even just average? Well, he was a rookie and he still takes a slight bump up in value. He is in a win-win situation for dynasty owners.
The Case for Johnson
At 5'11" and 206 pounds, Kerryon Johnson is not the biggest back in the NFL. But after shedding the 247 pounds that is LeGarrette Blount, he should feel much lighter on his feet in 2019.
The common sentiment is Theo Riddick is the pass-catching back in Detroit. This may have been true in past years but Johnson is a great pass-catcher as well and this means Riddick may not be on the roster to compete with him. This is a notion which has been floated out in NFL reports and not just by me.
C.J. Anderson, coming off a rebirth in Los Angeles, comes in as a clear backup to Johnson. He is good enough to take over if needed as he did with the Rams, but be clear, he is the backup and injury protection for Johnson.
In 10 games before an injury forced him to miss the rest of the season, Johnson was off to a great start. In his first season out of Auburn, he played in 10 games while starting seven. In those games, he compiled 118 rushes for 641 yards with three touchdowns. His 5.4 yards per carry was great considering the line he had and the disaster which was the rest of the offense. He also caught 32 of 39 targets for an additional 213 yards and one touchdown in the passing game.
Given these numbers, Johnson was on pace for over 1,300 all-purpose yards and seven total touchdowns. With Blount being gone and Riddick possibly on his way out, these numbers should go even higher for the 22-year old.
A season with a fully healthy Matthew Stafford and Marvin Jones, along with newly acquired T.J. Hockenson and Jesse James, who are ferocious run blockers, mean the sky is the limit. 1,200 rushing yards and 500 receiving yards are highly attainable as he and Stafford both have monster seasons for the Lions.
C.J. Anderson will get some work to spell Johnson when he gets tired. But in today's NFL, all teams have a player to do this. It does not take any of the fantasy production away from the main guy. As long as they remain the guy. Kerryon Johnson is the guy in the Lions backfield. If he stays healthy, he is well worth a third-round draft pick in dynasty drafts as well as in redraft leagues.
The Final Verdict
Both of these players offer great value to a dynasty team. At these prices, I would strongly consider taking both of them if they were there. But for the purposes of this debate, we have to choose.
Do we choose the player on an ascending offense, with a solid receiving group and good quarterback? Or do we go with the guy who has possibly the best receiver in the NFL on his team? A player who will find his way out of the building if he doesn't get his way? Jon Gruden is past his prime. He is just not a good coach. But Matt Patricia is not any better. But he does have a much better supporting cast around him.
His team and their offense will be able to move the ball. Whether they are winning or losing, as the pass-catching back, he will stay on the field. In the case of Jacobs, he will be taken out for Jalen Richard on many occasions when the team is down or needs a big play in the passing game.
For this reason, by the slimmest of margins Give me Kerryon Johnson.
More Dynasty League Strategy
Check out all of RotoBaller's fantasy football rankings. Staff rankings are updated regularly for all positions and include standard formats, PPR scoring, tiered rankings and dynasty leagues.