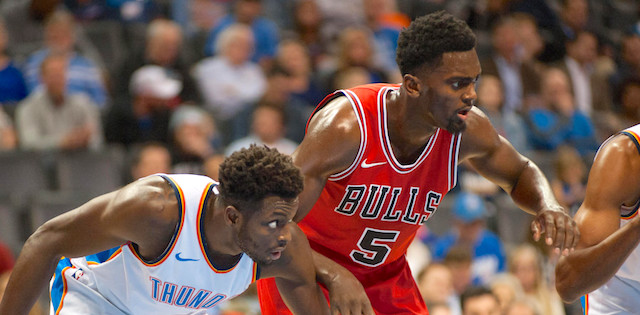 Just like last Friday, the theme for tonight will be playoff positioning as eight of the teams on tonight's nine-game slate is currently in the playoffs. The Pistons, Spurs, 76ers, Rockets, and Clippers have favorable matchups and should win. The Heat, who is the team that is currently in the playoffs that needs a win the worst, has a tough home matchup against the Bucks.
The game that really sticks out is the Hornets (30-37) at the Wizards (29-39). Both teams need a victory if they are going to remain in playoff contention as the Hornets are currently 10th in the Eastern Conference and the Wizards are 11th. However, the Wiz are one-and-a-half games behind the Hornets. This is the fourth and final matchup of the season between the squads. Charlotte, which is just 3-7 in its last 10 games, has won the previous two meetings and lead the season series 2-1. On the other hand, Washington has won five of eight.
In this article, I will be providing you with my daily fantasy basketball lineup picks for DraftKings on 3/15/19. These DFS lineup picks can vary from higher-priced players and elite options to lower-priced players and value picks on DraftKings.You can also check out today's FanDuel lineup picks. As always, don't set your lineups too early. Be sure to check all the NBA starting lineups and player statuses and availability prior to opening tip.
Editor's Note: Our friends at Monkey Knife Fight have the best, most fun, fastest growing DFS props game! It's super simple to play and to win real money. Just choose your NBA, NHL or PGA game, and make your picks! Get a 100% instant deposit bonus up to $50 using promo code: BALLER. That's $50 for free - don't miss out!
Play Now!
DraftKings DFS Guards
Shai Gilgeous-Alexander: PG/SG vs. CHI ($4,000)
The 20-year is having a decent rookie season and has been more consistent lately. He is coming off a 15-point, four-assist, two-rebound and two-steal performance in Tuesday's loss to Portland. It was his sixth double-figure scoring effort in the past seven games and the fourth game of three or more assists. The 6-foot-6 combo guard has also made a three-pointer in seven straight contests.
Gilgeous-Alexander is averaging 13.3 points, three rebounds, 2.8 assists, 1.5 triples, and one steal while shooting 53.6 percent from the floor and 75 percent from beyond the arc in March.
Damian Lillard, Kemba Walker, and Lou Williams are the top plays. Zach LaVine, Chris Paul, De'Aaron Fox, Rajon Rondo, Derrick White, as well as Eric Bledsoe are other high priced options. Tomas Satoransky, Justise Winslow, and Patrick Beverley are mid-priced options. While Kris Dunn, Tyler Johnson, Frank Jackson, Dwyane Wade, Goran Dragic, Emmanuel Mudiay are possible lower price options or punt plays.
Damyean Dotson: SG/SF @ SA ($5,000)
Kelly Oubre Jr., Jeremy Lamb, and Nicolas Batum are mid-priced players who have been playing very well lately, but I have chosen to go with Dotson.
The 24-year-old has made the most of his increased playing time this month. He has scored in double-figures in five of his last six outings as he has continued to stroke it well from beyond the arc. More importantly, Dotson has been a more consistent rebounder and playmaker recently. The second-year pro has grabbed six or more rebounds in four straight games and doled out at least three assists in five consecutive contests.
Dotson has knocked down four three-pointers in three of his last six games. He is averaging 15.3 points, six boards, 3.3 assists, and 2.5 triples while shooting 39.5 percent from long distance in 33.6 minutes in March.
Bradley Beal and DeMar DeRozan are the top plays at shooting guard. Jimmy Butler and Buddy Hield are other higher priced options. Eric Gordon, Luke Kennard, Mikal Bridges, and Pat Connaughton are cheaper options who have solid matchups.
DraftKings DFS Forwards
Marvin Williams: SF/PF @WAS ($4,600)
LeBron James and Giannis Antetokounmpo are obviously the top plays here; however, they are quite pricey and there is no guarantee that they will have value. Williams is a fantastic value play as he has a terrific matchup against the Wizards. The 32-year-old, who sat out Monday's loss to the Rockets as a result of an illness, struggled shooting the ball against Milwaukee in his last outing on Saturday.
Williams has been great against the Wizards this year, though. The 14th-year pro just lit Washington up for 30 points a week ago (March 8) as he made 10 of 16 shots from the floor and seven of 10 attempts from beyond the arc. In three games versus the Wiz, Williams is producing 20 points, 7.7 caroms, 1.7 assists, and 3.7 triples while shooting 59 percent from the floor and 52.4 percent from long distance.
Ben Simmons, Otto Porter, Danilo Gallinari, and Trevor Ariza are possible plays who have injury destinations. Oubre Jr., Lamb, and Batum are also very good plays at forward.
Bobby Portis: PF/C vs. WAS ($6,100)
Portis and Anthony Davis are both intriguing mid-priced players who have solid matchups. I have chosen to go with Portis as he costs $1,000 less than Davis.
The 24-year-old struggled shooting the ball in his last outing against the Magic as he missed eight of 11 shots from the floor including all three of his three-point attempts. Prior to Wednesday's game, Portis had scored in double-figures in five straight games and made at least 50 percent of his shots in four of those contests. He has produced three double-doubles in March and is averaging 16 points, 10.1 rebounds, and 1.7 trifectas this month.
Portis has been great against the Hornets this season. He is averaging 18 points, 9.3 caroms, 1.3 assists along with 1.8 triples while shooting 52.5 percent from the field and 46.7 percent from beyond the arc against them.
Nemanja Bjelica, Frank Kaminsky, and Jeff Green are cheaper options.
DraftKings DFS Centers
Willie Cauley-Stein: C @ PHI ($5,200)
The 7-foot-1 center is an excellent defensive rebounder, which gives him a decent high floor. Cauley-Stein has hauled in five or more rebounds in nine of his last 10 appearances, which includes four occasions of bringing in double-digit rebounds. He also has posted three double-doubles as the fourth-year pro has scored in double figures seven times during this stretch.
Cauley-Stein is averaging 11.8 points along with 9.8 rebounds and 2.7 assists while shooting 60.8 percent from the field this month. His rebounding and shooting percentage are his highest totals this year.
Joel Embiid is the top play here. Andre Drummond, Jusuf Nurkic, and Clint Capella are also solid high priced options. While Hassan Whiteside, De'Andre Jordan, Ivica Zubac, and  Nikola Mirotic are strong mid-priced options. Kaminsky ($4,500) could be an enticing play if Cody Zeller misses the game against the Wizards as expected.
More Fantasy Basketball Analysis