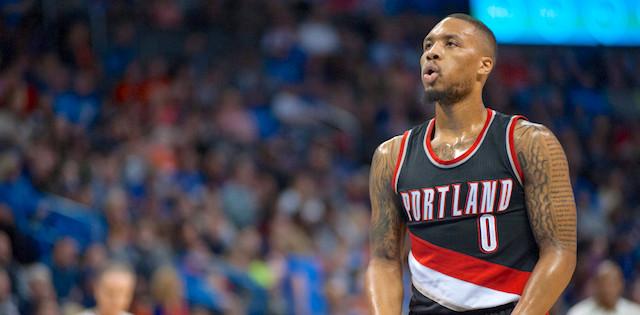 Only five games on today's slate so I'l spend this intro covering the early games and then you know the rest. Unfortunately, all the good games will be over and done with before the main slate even starts, so if you want to watch good basketball today, the games start at 2 pm EST. In his first real game with the Dallas Mavericks, Trey Burke impressed. He literally did a little bit of everything and then some. While that should nearly guarantee him minutes from here on out, I especially like this matchup versus the Trail Blazers. There won't be many options with that low of a price, not to mention that it frees you up to snag someone like Damian Lillard to minimize the risk damage of Burke.
In the other game, there are just too many players to choose from. I'm not saying to fade anyone, it's just that both Jimmy Butler and Tobias Harris have great upside with decent pricing, but can put a slight damper in your overall salary. If you roster Burke and add in someone like Reggie Bullock, who might be the riskiest play of the night seeing how he's already a boom or bust prospect who is just meshing with his new team. There is a lot of bad juju there, but it very well could pay off as long as Bullock actually plays. Aim for Joel Embiid tonight, but don't feel bad if you have to settle for Jusuf Nurkic.
Below I will be providing you with my daily fantasy basketball lineup picks for DraftKings on 2/10/19. You can also check out today's FanDuel lineup picks. As always, don't set your lineups too early. Be sure to check all the NBA starting lineups and player statuses and availability prior to opening tip. Find me in the NBA Chat Room or @HalfCourtJester on Twitter.
Editor's Note: Our friends at Monkey Knife Fight have the best, most fun, fastest growing DFS props game! It's super simple to play and to win real money. Just choose your NBA, NHL or PGA game, and make your picks! Get a 100% instant deposit bonus up to $50 using promo code: BALLER. That's $50 for free - don't miss out!
Play Now!
DraftKings DFS Guards
Alec Burks - PG/SG vs. PHO ($3,900)
As one of the cheaper options, there are some positives to take from his first game. He spaced the offense perfectly, and when he got the ball he converted. If he can continue to establish this type of trust with his teammates then they won't hesitate to find him in his spots. After scoring nine points on five shots, there is much more to be desired, but mind you this is also his first game with a brand new team. His efficiency is actually a surprise and it should lead to a similar performance against the Suns. I don't have to tell you where Phoenix struggles, but it's on defense and against scorers like Burks.
Terrence Ross - SG/SF at ATL ($5,300)
Are there any better players than Terrence Ross right now?...
Outside of that game against Brooklyn, he has been playing like he was doused in kerosene and walking through a barn fire. There is almost no reason NOT to play him against Atlanta and hopefully he puts together another strong outing. He has been the go-to bench scorer for the Magic and it's hard to see why they would want to mess with that. His usage rate right now is incredibly high so it's just furthers the point that they shouldn't mess with how they are using Ross right now. He has been great off the bench and I think tonight he introduces himself to the casual fan with another big performance.
DraftKings DFS Forwards
Kelly Oubre Jr. - SG/SF at SAC ($5,900)
This almost seems like an obvious pick, but his price is a tad higher than what I would like it to be. Granted, he has been producing at an entirely different level lately, but that doesn't change his inconsistency. With the Suns, he seems like a new player. He is playing with more confidence and is doing whatever he can to actively get better and keep defenses honest. He has been hitting from the outside, playing solid off-ball defense and more importantly, doing the little things that need to be done. His rebounding has improved and these little adjustments to his game are being highlighted with his amazing box score numbers. If this continues, I'll gladly accept another price increase, but right now, I want my inconsistent, sleeper pick Kelly Oubre back. Mainstream Oubre is getting too cocky and I don't like it.
Kevon Looney - PF/C vs. MIA ($3,800)
There aren't many statistically impressive games under Kevon Looney's belt, which brings up the question, why isn't he cheaper? There have been games where he scrapes at double-doubles, but he has yet to really convert that into that extra DraftKings bonus. While I would love for that to happen tonight, and against the Heat it's totally possible for Hassan Whiteside and Looney to split rebounds, I am iffy in general about taking Looney. He might provide value and he should produce, he does have a tendency to slide under the radar without necessarily playing badly. He's a role player who knows his role, I just assume that against the Heat his role is expanded.
DraftKings DFS Centers
Dewayne Dedmon - PF/C vs. ORL ($4,800)
I advised playing against the Orlando frontcourt yesterday and it didn't turn out as expected. A lot of that was the lack of spacing from Giannis Antetokounmpo sitting, but an equal amount was from the Bucks shooting horrendously. Not much can be credited to the Magic frontcourt and Dewayne Dedmon should have no problem with the toughness aspect of this particular game. He is going to get to his spots and create chaos in the paint on both ends of the floor. I always like the matchup versus Nikola Vucevic because while his defense is solid and technical, but he won't be able to account for the length of Dedmon. With the Magic ranking in the top half against opposing frontcourts, I do expect this game to go in favor of Orlando, but not after Dedmon, Trae Young and the Hawks do some damage of their own.
More Fantasy Basketball Analysis