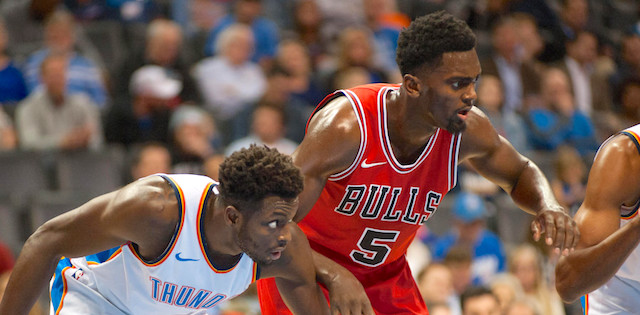 What is this?! A five-game slate on a Thursday? Technically six, but the Knicks and Wizards are in London for a game which tips off at 3:00 PM EST and isn't on the slate. But, still... Five games?! My excitement over finally having options is likely to result in failure, but do pardon me for basking in the glory.
Unsurprisingly, the matchup between the Hornets and Kings -- neither of whom are among the most stifling defensively -- produced the highest opening point total of the evening at 230. The 76ers head to Indianapolis to take on the Pacers in what should be an entertaining game. And, there's plenty of star power elsewhere with Russell Westbrook, Nikola Jokic, Kawhi Leonard, and Devin Booker all in play.
This is not about these upper-tier cats, however, as I find no value in detailing the ways in which Ben Simmons is good at playing basketball. This is an effort to produce as many guys that are good at playing basketball in your lineup, as the mid-to-lower priced options provide us the essential lineup fillers required for optimal DraftKings lineups... Damned salary cap.
Editor's Note: Our friends at Monkey Knife Fight have the best, most fun, fastest growing DFS props game! It's super simple to play and to win real money. Just choose your NBA, NHL or PGA game, and make your picks! Get a 100% instant deposit bonus up to $50 using promo code: BALLER. That's $50 for free - don't miss out!
Play Now!
DraftKings DFS Guards
Jeremy Lamb - SG/SF, vs. SAC ($5,700)
There's this riddle we've likely all heard. The riddle goes like this, if a tree falls in a forest and no one is around to hear it, does it make a sound? I'll do you one better, if Jeremy Lamb puts up career numbers and no one is talking about it, is it really happening?
Yes. Yes, it is.
In fact, he's seen his numbers increase in each of his four years in Charlotte, is second to Kemba Walker at 15 points per game, third in rebounds at six per game, and second in steals averaging a swipe per contest. After missing three games to start the new year with a hamstring injury, Lamb has picked up right where he left off over the Hornets last four. And while his one "down" game of these four came just five days ago against these same Kings, nothing about this matchup suggests he won't bounce back with a solid performance this time around. Like most young teams, the Kings defensive numbers are noticeably worse on the road.
Darren Collison - PG, vs. PHI ($5,400)
Collison's inconsistent scoring numbers present cause for concern; especially with Indiana now at full strength. However, more scoring options available mean more opportunity for him to pick up assists, and he's among the league leaders in that regard. So, seeing how assists hold more value than points in DraftKings scoring, his baseline projection is relatively high - regardless of whether or not he gets buckets.
DraftKings DFS Forwards
Marvin Bagley III - PF/C, at CHA ($5,200)
Any rust stemming from his 11-game absence appears to have dissipated rather quickly as Bagley has averaged 11 points with nine rebounds over his last three games. Charlotte's frontcourt isn't exactly their strength, Marvin Williams won't be able to keep him off the glass, and Willy Hernangomez and Frank Kaminsky lack the foot speed to keep him from having his way scoring-wise. He'll likely see Bismack Biyombo as well, Charlotte's best interior defender, but that's about as scary as an overly amped up chihuahua. For the DVP advocates, there isn't a much better matchup to be had for power forwards than the Hornets who've allowed 50.6 DraftKings fantasy points per game to the position, and Bagley is actually averaging slightly better numbers on the road during this rookie campaign. Not to mention, all of this comes to us before we even factor him seeing more minutes than starter Nemanja Bjelica since returning to the lineup.
Jabari Parker - SF/PF, at DEN ($3,600)
The weird, new head coach Jim Boylen, Parker benching situation appears to have run its course. Thankfully. And while he hasn't seen a gang of court time over the Bulls last two contests, 18 > 0. Also, Wendell Carter Jr. (thumb) is out tonight, so it seems likely Parker will see 15-plus minutes for a third-straight game by default and he's proven that he still knows how to play basketball by averaging 15 points, five rebounds, and two assists over his last two appearances. I'm not expecting a monster number, but at $3,600, you could do far worse.
DraftKings DFS Centers
Bobby Portis - PF/C, at DEN ($4,600)
Portis won't be priced this low for much longer, so I'm going to enjoy the ride while it lasts. Yes, he went 1-for-11 Tuesday night against the Lakers. And yes, he's seen just 18 minutes of court time since returning to the lineup. However, he's one of the rare guys who doesn't need much run to produce with his 1.1 DraftKings fantasy points per minute trailing only Paul George (1.37) and Kawhi Leonard (1.36) among forwards on tonight's slate. Let's also not glance over the fact that he's pulled down an average of six boards while putting up nearly 10 shots in those 18 minutes, or that other semi-important factor, he's not likely to shoot nine-percent from the field again tonight.
More Fantasy Basketball Analysis