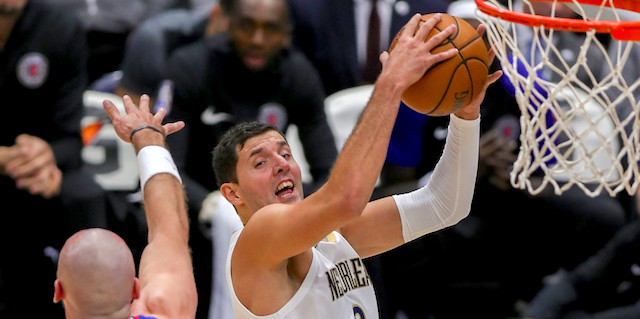 We rebound after Tuesday's slate with eight games on Wednesday. Some of us expected another game of the season last night with two of the league's best teams playing, but instead the Warriors proved once again just how much better they really are. Tonight, they play at home against Anthony Davis. While Davis is always an interesting play versus the Warriors, tonight I'm expecting a duel between both Davis and Kevin Durant. Another must-play option I'm seeing while overlooking tonight's matchups is Rudy Gobert versus the Clippers. Montrezl Harrell should be productive as well, but not because he got the better of Gobert. Gobert is going to get his share of production and against the Clippers he should see extended minutes.
In this article, I will be providing you with my daily fantasy basketball lineup picks for DraftKings on 1/16/19. These DFS lineup picks can vary from higher-priced players and elite options to lower-priced players and value picks on DraftKings.
You can also check out today's FanDuel lineup picks. As always, don't set your lineups to early and check player statuses prior to opening tip. Find me in the NBA Chat Room or @HalfCourtJester on Twitter.
Editor's Note: Our friends at Monkey Knife Fight have the best, most fun, fastest growing DFS props game! It's super simple to play and to win real money. Just choose your NBA, NHL or PGA game, and make your picks! Get a 100% instant deposit bonus up to $50 using promo code: BALLER. That's $50 for free - don't miss out!
Play Now!
DraftKings DFS Guards
Ish Smith - PG, vs. ORL ($3,300)
Believe it or not, Ish Smith plays better at home. Despite calling 10 other arenas "home" at one point or another, Smith has been significantly better at Lil' Ceasers Arena than when he goes on the road. The overall productions remains the same, he plays the same type of basketball that earned him a spot in this league, but he is more efficient from everywhere when playing in Detroit. The Magic have been up and down all season, so they might have the talent to keep some games competitive. While this is looking more and more like one of those games, the Pistons still have Blake Griffin and Andre Drummond. The Magic have young bigs that will hopefully want to play against the Pistons talented frontcourt, but I think they will be too much to handle, giving Smith more spacing and upside in assists. This could be the sleeper pick of the night if Smith get's the minutes.
Joe Ingles - SG/SF, at LAC ($5,900)
You can go with either Jae Crowder or Joe Ingles here, and I'm fairly confident both will be getting a fair share of shot attempts. Crowder will have more upside because the Clippers will put a weaker defender on him hoping he misses. Ingles on the other-hand, is a known sharpshooter who you can't let get to their spots. They play two different styles and I think rostering both is perfectly fine since they shouldn't directly pull from each others production. The Clippers defense doesn't scare me away from picking either, but if I had to choose one based on who will be more productive, I'd go Ingles for safety. Crowder still needs to hit shots to be productive and seeing how he's my favorite player, you don't have to talk about how many wide-open three's he has missed, and how many DFS point's he notoriously leaves on the table each game.
DraftKings DFS Forwards
Wesley Matthews - SG/SF, vs. SAS ($4,500)
His most recent string of games is exactly why his price is so low, but Wesley Matthews is one of those quirky veterans that struggles to produce against the team's he should dominate, while having his best night's against his stiffest competition. The Spurs are not the same monster they have been in previous years, but they do have the same defensive schemes that cause problems for unorganized teams. I wouldn't consider the Mavericks unorganized, but they do only have one or two sources of production, one being Luka Doncic, the other being out for the season with a torn tendon. Wesley Matthews will need to start hitting the shots he takes and while he will have bad nights in the future, I think tonight is a perfect night for him to crush his projected.
Nikola Mirotic - PF/C, at GSW ($5,500)
Some shooters I can't stand to play when on the road. They struggle to hit shots and literally crumble under the pressure. Nikola Mirotic isn't one of those players, but he has a tendency to disappear in games he should be the most prevalent. The Warriors live by hitting threes and the Pelicans will absolutely need Mirotic to soften some of the pain of those. Mirotic only needs to hit one or two shots before the entire arena knows that something bad could be brewing in favor of the Pelicans. He is easing his way back into the rotation and against the Clippers, he barely played, only taking three total shots. This will change against the best team in the league and Mirotic, even with minimal minutes will be forced to pull from the outside at an alarming rate. Expect New Orleans to try and use this game to help Mirotic get back into form.
DraftKings DFS Centers
Brook Lopez - C, at MEM ($4,700)
My favorite thing about Brook Lopez is his game logs. They can be so horrendous that it's almost like he is trying to set people up. The best example is Lopez versus the Pistons this season. The first two games against Detroit, Lopez took a combined 11 shots, only making three total three-pointers. The third game between the Bucks and Pistons included seven threes from Lopez, scoring 25 points on THIRTEEN shots. Just because Lopez struggles in one game, or against a type of team with a certain pace, doesn't mean he will continue to struggle against all teams like that. What I'm saying is, Lopez doesn't thrive against team's that play at a slower pace, but seeing how the Grizzlies lack the interior defense to keep up, the spacing Lopez offers is going to eventually lead to wide open shots. D.J. Wilson is up-and-coming, but Lopez versus Gasol is the perfect matchup for both to have equal upside.
More Fantasy Basketball Analysis