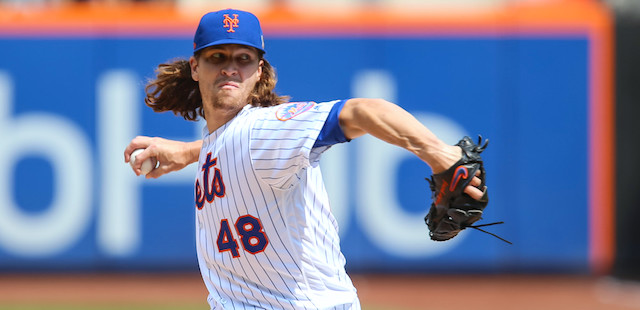 The MLB has blessed up with a huge Friday slate, consisting of 15 games. We have plenty of things to go through, but will be focused on one expensive and one affordable pitcher. The bats are varied as well, with 30 different pitchers on the slate. With so much variance, it's going to be important to nail your pitcher. The Mets are the biggest favorite of the last few days at -260 and it will only grow. The Marlins are especially terrible vs righties, and it's likely a big determining factor on this slate. If deGrom is able to dominate, you're going to need him in your lineup to cash. If he struggles, you will probably need to NOT have him because of the price.
In this article, I will be providing you with my daily fantasy baseball lineup picks for DraftKings on 5/17/19. The lineup picks will range from some of the elite players to mid-priced options and value plays.
Be sure to also check out all the Vegas Odds for today's slate. You can also read more DFS advice and lineup picks for sites like FanDuel, and other sports too. If you have any questions or comments, feel free to hit me up on Twitter @VarneyDFS.
Editor's Note: Get any full-season MLB Premium Pass for 50% off, with exclusive access to our season-long articles, 15 in-season lineup tools and over 200 days of expert DFS research/tools.
Sign Up Now!
DraftKings DFS Starting Pitchers
Jacob deGrom, NYM (@ MIA) - $11,400
Jacob deGrom faces this same Marlins team five nights ago and pitched 7 innings with 8 K's and a win. He now travels to Miami to face this team in an even friendlier ballpark for pitching. Marlins Park has ranked 28th since 2016 for power, and it's really the only thing deGrom struggles with. He's striking out well over 10 batters per nine innings and has played a sub .300 wOBA against. The Marlins are the absolute worst hitting team in baseball and it's not even close. deGrom is the top option in all formats, no matter the price.
Joey Lucchesi, SDP (vs. PIT) - $8,200
Joey Lucchesi isn't the sexiest play with all these stud names on the slate, but the match-up and price work. There some expensive bats to pay up for and Lucchesi helps you do that while maintaining upside. He's a southpaw that strikes out 10+ batters per nine innings and has some of the nastiest "stuff" of any youngster in baseball. He struggles against righties, but that's why we love this match-up. The Pirates best bats, as well as their glue guys, struggle vs lefties. As a team, they rank 28th in baseball with a .266 wOBA. Lucchesi is affordable on DK and should give you five or six innings of strikeout-filled pitching, with a good shot at the win.
DraftKings DFS Infielders
C - Alex Avila, ARI (vs. SF - Jeff Samardzija) - $4,000
Whichever catcher gets the start for the diamondbacks is a solid play. Whether it's Avila or Vogt, both offer up a solid bat against right-handers and the D-Backs have been hitting them in the top of the order. Samardzija is terrible vs lefties and Vegas thinks the Diamondbacks fill up the score card. This is a team we're all over tonight and it starts at the weakest position of all. If you'd rather pay down, wait for lineups to come out and see what catcher is taking the night off. Take his backup.
1B - Paul Goldschmidt, STL (@ TEX - Jose Leclerc / Adrian Sampson) - $4,500
Jose LeClerc is technically getting the start here, but the Rangers are hoping Adrian Sampson takes up most of the innings. LeClerc is an opener to break up the lineup. Sampson has been absolutely atrocious and they're trying anything they can to limit runs. I doubt it works against a patient Cards team, though. Goldschmidt has raked righties to the tune of a .371 wOBA and Sampson is going to get dominated by these guys. The Cardinals will hopefully go overlooked as one of my favorite stacks of the night. Goldy is too cheap for a lineup that should put up at least five runs.
2B - Max Muncy, LAD (@ CIN - Anthony DeSclafani) - $5,000
It's typically a good idea to play a first baseman at second. DraftKings has given us this opportunity with Max Muncy, who's eligible in both spots. The Dodgers are heading into Cincinnati and will be facing Anthony Desclafani. He's not a bad pitcher, but struggles against lefties. Prior to this year, Desclafani has posted a .351 wOBA to opposing lefties. Muncy on the other hand, takes righties, hitting for a .371 wOBA last season. The Dodgers are a top stack of the night and Muncy gives you tons of power at a terrible position.
3B - Matt Carpenter, STL (@ TEX - Jose LeClerc / Adrian Sampson) - $4,000
Matt Carpenter is one of the best pure swingers in baseball. He demolished right-handed pitching and gets to face some terrible examples of it tonight. Sampson has allowed a .400+ wOBA to both sides of the plate and has given up seven home runs in just 35 innings. Carpenter hasn't been the same dynamic self he was last year, but his peripherals suggest a bit of unluckiness. His price is too low and you have to love him if you like the rest of the offense.
SS - Francisco Lindor, CLE (vs. BAL - Dylan Bundy) - $
Lindor is swinging a hot stick right now, hitting safely eight times in the last four games. He's seeing everything at the plate and now faces off with Dylan Bundy, who's been a pitching machine all year. He's been worse against righties, but his peripherals suggest the opposite. Lindor is a menace to right-handed pitching (.407 wOBA) and not only has power, but base stealing and base-clearing speed. Lindor is the top SS on the board.
DraftKings DFS Outfielders
Cody Bellinger, LAD (@CIN - Anthony Desclafini) - $5,500
If you have all the money in the world, Cody Bellinger is the top outfielder on the slate. We've looked at the Dodgers already, who face Anthony Desclafani in Great American Ballpark. This Dodgers team has a lot of upside going from Dodgers Stadium to GAB, where the ball absolutely flies. Bellinger doesn't need to be touted as good against righties, we know that. He's posted a stupid .500+ wOBA and while it's not something he can maintain, it's obvious that he's one of the three best hitters in baseball. If you can afford to fit him, by all means do it. He has a solid shot of banging out two.
David Peralta, ARI (vs. SFG - Jeff Samardzija) - $4,900
If you can't make it all the way up to Cody Bellinger, David Peralta is a prized rebound. Posting a .387 wOBA vs righties over the last 2 seasons, Peralta has made his mark as a guy not to cross with right-handed pitching. Especially in Chase Field. Jeff Samardzija will be going from the Spacious AT&T Park to Arizona, where the ball flies. This is a team that I'm hoping will go overlooked as I think they have as good of a shot as any to go off. Jarrod Dyson is in. A solid spot as well, but his price is insane.
Carlos Gonzalez, CLE (vs. BAL - Dylan Bundy) - $3,300
Its looking like Carlos Gonzalez May stick in Cleveland. He's had 10 hits in the last eight games and has shown off his power twice. He's not the same hitter or even close to it that he was in Colorado, but he has a lot of power and is clearly better vs righties (.371 wOBA). He's far too cheap in the outfield and will help you pay up elsewhere while still giving you huge upside. Good luck tonight!
MLB DFS News and Injury Alerts