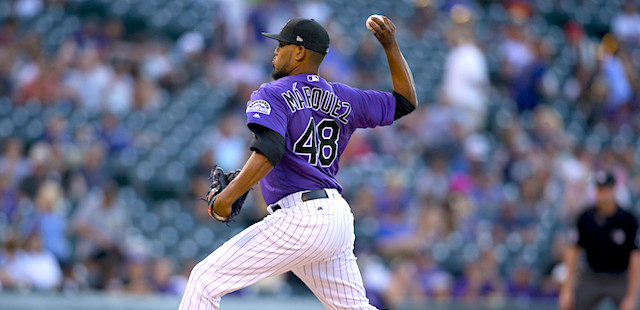 After a full day of baseball, we have an eight-game slate to start our weekend and a solid amount of options at each position. For player stats, we'll be looking at last season until we have a solid sample size this season for pitchers and hitters.
In this article, I will be providing you with my daily fantasy baseball lineup picks for DraftKings on 3/29/19. The lineup picks will range from some of the elite players to mid-priced options and value plays.
You can also read more DFS advice and lineup picks for sites like FanDuel, and other sports too. If you have any questions or comments, feel free to hit me up on Twitter @DFS_Tom.
DraftKings DFS Starting Pitchers
German Marquez - P, COL @ MIA (DK - $9,200)
Marquez is looking to be one of the more popular pitching options on tonight's slate for a number of reasons, so let's take a look. First off, the easy one is that he is away from Coors Field and in Miami, which is one of the best pitcher's parks in the league. He is facing off against the Marlins who had a 22.9% strikeout rate versus right-handed pitchers last season, along with a team wOBA of .291, which was the second worst in the league. Marquez owned a 35% strikeout rate versus righties last season, along with a 21.9% strikeout rate versus lefties last season, which should set him up for plenty of success tonight.
Joey Lucchesi - P, SD vs SFG (DK - $7,900)
Lucchesi looks to be in a good spot tonight and isn't expensive which gives your lineup a bit of flexibility and allows you to spend on hitters. He is facing off against the Giants tonight, who he faced two times last season for a total of only 11 innings, but was able to post 17 strikeouts in that span. Yes, that is a small sample size from last season, but the Giants didn't make any drastic improvements to their lineup and with the Padres coming in as -145 home favorites, he has a decent amount of win equity tonight.
DraftKings DFS Infielders
Danny Jansen - C, TOR vs DET (DK - $3,500)
Jansen is by no means a safe option on this slate but he is very cheap and has a great matchup. We have this game coming in with an over-under sitting at nine, which is the highest on the slate, so the expectation for runs is certainly high here. This matchup isn't so much about Jansen, but rather the pitcher for the Tigers, Matthew Boyd, who is not good. Boyd allowed 1.44 HR/9 to righties last season, along with a 36% hard contact rate, setting the Blue Jays' righties up for a big night.
Kendrys Morales - 1B, OAK vs LAA (DK - $3,900)
Morales is newly acquired by the Athletics and should be seeing some time at first-base with Olson out with an injury. He will be facing off against Matt Harvey today, who allowed a .341 wOBA to lefties last season along with a whopping 1.94 HR/9. Morales comes in with a very solid .220 ISO vs right-handed pitchers from last season, which should put him on home run watch tonight.
Wilmer Flores - 2B, ARI @ LAD (DK - $3,800)
Flores showed to be a reverse splits hitter last season, meaning he has better numbers versus right-handed pitchers compared to left-handed pitchers. That is shown by his .344 wOBA vs RHP and a .264 wOBA vs LHP. This lines up nicely for him since he is up against Ross Stripling, who is a reverse splits pitcher and struggles against right-handed hitters more with a .334 wOBA and allowing 1.50 HR/9 last season.
Manny Machado - 3B, SD vs SFG (DK - $4,900)
Machado didn't have a hit in his first game as a Padre, so hopefully, he can get on the board tonight and we can rake in the fantasy points. He will be up against Derek Holland, who is bad versus right-handed hitters. Just bad. There is really no other way to put it, but if you must know, he gave up a staggering 45.4% hard contact rate to righties last season 1.34 HR/9, and a .337 wOBA.
Xander Bogaerts - SS, BOS @ SEA (DK - $4,300)
The Red Sox got their doors blown off yesterday, but if you can expect any team to bounce back tonight, it's probably them. Bogaerts will have the platoon advantage tonight against Yusei Kikuchi, who is making his second career MLB start. We want to rely on Bogaerts and his 118 wRC+ from last season versus left-handed pitchers, along with the Red Sox righties in a stack, in this spot over a young pitcher.
DraftKings DFS Outfielders
Niko Goodrum - OF, DET @ TOR (DK - $3,600)
As mentioned above, this Tigers at Blue Jays game has the highest over-under on the slate, so the scoring should be here. Goodrum is a cheap option to get into your lineups tonight who hit out of the fifth hole yesterday. He had a very solid .215 ISO vs right-handed pitchers last season but only a .314 wOBA, which means he is more of a power hitter and not as consistent, which is also shown by his 30% strike rate vs RHP.
Eric Thames - OF, MIL vs STL (DK - $4,700)
Pure speculation here, but Thames is going to get the start today and Ryan Braun will head to the bench, to limit his overall play time, just like they did last season. Thames also comes in with the platoon advantage today and boasts a .338 wOBA and .268 ISO versus right-handed pitchers from last season.
MLB DFS News and Injury Alerts