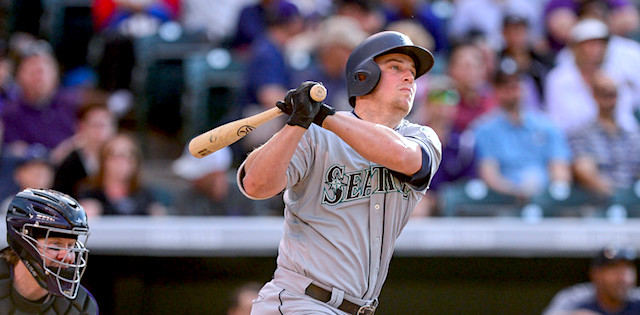 Welcome to the Wednesday, August 14th edition of Daily Slivers of the Fantasy Soapbox.
Discussing baseball is as fun as the game itself. It has a way of bringing people together to share different opinions about the sport we all love. A similar action can be done with fantasy baseball where we not only discuss topics but also look to improve our teams as well as the teams of our fellow fantasy baseball enthusiasts. Everyone has their own perspectives which are not to be cast off as frivolous. They should be used as a method of expanding our own knowledge.
In this article, I review the previous day's boxscores and provide my opinion on a variety of topics. Some will be random, some will be fun, and some will be stat-driven. It's a soapbox so I may rant from time to time as well. So without any further delay, below are my thoughts on August 14th. Enjoy them. You can even respond with your own thoughts on Twitter @EllisCan2.
Editor's Note: Get any full-season MLB Premium Pass for 50% off, with exclusive access to our season-long articles, 15 in-season lineup tools and over 200 days of expert DFS research/tools.
Sign Up Now!
Daily Musings
Rafael Devers 6-for-6 w/4 doubles. Record! He leads MLB in hits(158), 2B(43), # of balls hit 95mph+(192); among leaders in Runs(third), RBI(fourth), &AVG(fifth). Adds 24HR & eight SB. STUD!
Zack Greinke starts the win tally again. Sits at 12. The Astros will provide.
Adalberto Mondesi has not played since 17 July & he still has a share of the triples lead(nine)
Andrew Benintendi might benefit from pre-AB breathing program instead of showing frustration after each pitch.
George Springer(26HR) marches towards his PR of 34, despite missing a month of action.
Jose Altuve may not give double-digit five-finger discounts, but power(21) is appreciated from those that believed.
Second base got fairly deep real quick. 13 players w/WAR above 2.0.
Ivan Nova (CG) is usually the clearest definition of the word. Five-straight games w/one run or less allowed vs MIA, MIN, PHI, DET, HOU.
"Nicholas Castellanos can't play in Wrigley"? HA! 13R, 5HR, 7RBI, .380 in 12 games.
Jose Quintana found mamas secret youth elixir. 14K vs PHI. Wow.
With two more HR stamps, Mr. Javier Baez, you'll get your second 30HR/10SB-club card.
J.T. Realmuto w/highest WAR(4.0), but ninth-best HR total among catchers(16).
Have we become spoiled when we feel disappointed that there's not a HR next to Aristides Aquino in the box scores?
Juan Soto is locked into the 2nd round in 2020 drafts. 25HR, 10SB, .288AVG. He should have been my pick. Blinded by Benintendi.
No Combo For You, Brian Dozier(17th tater chip)
...& it is German Marquez to cut the ribbon on the 16-Win club. (Psst. it was O's.) Shh, he's had weak competition most of the year. Don't tell anyone.
People always want a cheap OF. 7HR, 20RBI, .331AVG last 30 days. Anthony Santander. 29% owned. Why you running? Just because it is the O's?
Hey Renato Nunez! I ain't seen you around these HR parts in roughly 15 games. Welcome back. (26).
DJ LeMahieu w/19 dingers. You've got to be kidding me.
Randal Grichuk can do back-to-back HR games. Can he make it three?
Will Smith (catcher) is a machine. 6HR, 20RBI, .333AVG last 15 games.
Cerberus is ferocious! Cody Bellinger brings the HR-monster to a three-headed beast of 39.
Dustin May gets first W. Many more to come.
The Seagers decided to do something. Corey Seager w/10th bloop into the crowd. Kyle Seager brought his own party w/three shots(14)
Travis Demeritte still getting feet wet but keeping 'em moving. Third SB.
Cause you're once, twice, three times a HERO & we love you, Carlos Santana. Three games in a row w/crowd-pleaser(27).
There was one pitch that had me thinking Ronald Acuna might not get a HR this game. HA! #34.
MF gets 14W. Who?! Max Fried.
"Excuse me boys. They need a real savior around here." ~ Mark Melancon(two).
Mitch Garver(22HR) is saving some teams.
Mike Moustakas has cooled off. Four dingers in 135AB.
Matt Carpenter (10HR, 6SB, .218), it might be time.
Have I whispered Nick Ahmed-nothings in your ear recently? Oh yeah, you're hard o' hearing. (homer in three-straight games).
Raimel Tapia. Seven percent owned. It costs nothing to have a piece of Coors.
Jeff Hoffman is not the ninth-overall pick in the 2014 draft-caliber player.
Madison Bumgarner should still be a value in 2020 drafts unless he goes to Houston.
Josh Bell rings them in bunches. Four blown kisses in the last three games.
Stop the press. Felipe Vázquez w/a save(22). Did he have to pay Clay Holmes to give up a couple of runs to give him a chance? Yep, Vazquez has been hurting my SV category.
Bryan Reynolds w/20R, 6HR, .390AVG last 15 games. 53% owned is ok.
I want Austin Meadows in all my 2020 leagues. Just stop right now at 20HR, 9SB, .286AVG. That might be a discount.
Jose Alvarado is back & he set up for Emilio Pagan.
Have a great Wednesday. It's not halfway leaving or arriving. It's just a day. Enjoy it for what it is & dominate.
No Fear, Just Fantasy.
More Fantasy Baseball Analysis