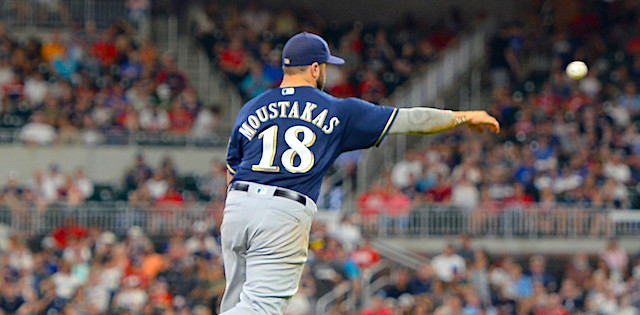 Welcome to the Monday, June 10th edition of Daily Slivers of the Fantasy Soapbox.
Discussing baseball is as fun as the game itself. It has a way of bringing people together to share different opinions about the sport we all love. A similar action can be done with fantasy baseball where we not only discuss topics but also look to improve our teams as well as the teams of our fellow fantasy baseball enthusiasts. Everyone has their own perspectives which are not to be cast off as frivolous. They should be used as a method of expanding our own knowledge.
In this article, I review the previous day's boxscores and provide my opinion on a variety of topics. Some will be random, some will be fun, and some will be stat-driven. It's a soapbox so I may rant from time to time as well. So without any further delay, below are my thoughts on June 10th. Enjoy them. You can even respond with your own thoughts on Twitter @EllisCan2.
Editor's Note: Get any full-season MLB Premium Pass for 50% off, with exclusive access to our season-long articles, 15 in-season lineup tools and over 200 days of expert DFS research/tools.
Sign Up Now!
Daily Musings
David Ortiz was shot. Terrible. Not just because he's Big Papi, but because of my presumption that he's a good dude as I don't know him personally. Good dudes don't deserve to be shot.
Lowe-Power. Brandon Lowe w/two HR showing that two Lowes (not big box store) are better than one. Bring up his non-brother Nathaniel Lowe so B-Lowe doesn't have to carry the Lowe'd. Dad joke of the day. Check.
Danny Jansen, again you tried to perform on Sunday before FAAB. Fool me once, shame on you. Fool me twice, shame me. & you'll probably fool me the rest of the year w/a resurgence.
Austin Dean w/his second HR. 3-for-4. Marlins have new magic touch? No, don't be fooled.
Nelson Cruz…THUNDER!! four straight games w/HR. Making up for lost time quickly.
Anyone need a streaky old man? Todd Frazier is your answer. 12R, 4HR, 11RBI, .356AVG in last week. Those are past stats though. Don't rush out assuming you'll get those this week against the Yankees & Cardinals.
Brett Gardner learned valuable wisdom of physics with energy given to helmet to split his lip. Used same knowledge to smack HR(nine) Sunday.
Ouch. Shane Bieber looks like that outside banana bruised and beat up from protecting the family when dropped. 1.2IP, 5ER. It's ok, Bieber. Take your medicine. It's a family elixir passed down from generation to generation: 5 days rest, followed an outing against the Tigers. You'll feel better in no time.
Shhhh. He's owned in only 64% of leagues. He was highly touted and increasingly hyped in the preseason. He's heating up. two HR, .316AVG in last week. Eloy Arturo Jimenez Solano. It's worth it to go check now. If he's owned, buy low. It's ok, you can go. Don't worry, you won't miss anything.
Mike Moustakas and Christian Yelich. THUNDER!!! The HR-escapades continue w/20 & 24, respectively. Who didn't believe in Moustakas (not me)? Who didn't think Yelich could repeat, let alone improve (me). Moose & I throwing eggs at others…and I get hit in the face w/one by Yelich entourage.
Don't forget about Asdrubal Cabrera…a warm two weeks w/HR, 11RBI, .409AVG. 2B, SS, 3B eligible. More than serviceable.
I'm disappointed, good people. Ramon Laureano had a great couple of weeks (3HR, 2SB, .319AVG). Only 26% owned. Well, don't feel embarrassed and rush to grab him now. He has a tough matchup against the Rays. However, after that, he gets Seattle & Baltimore. Oh yeah. Make sure he's on your watch list.
The Orioles are at home this week. Start your collection.
Big Swingin' Mariners. If you need power at any cost, grab one of their guys. They lead the league in HR (126), but also in strikeouts (682). Hmm, but the Twins are next & they're in the bottom third of HR allowed.
Cesar Puello, you intrigue me. Three HR. .452AVG. .525BABIP? Holy Cow! 63% ground-ball rate? Wow! Wild stuff you're doing, but to show you my support, I might pick you up next week against the Blue Jays.
Hip Hip Hooray. Golf Clap. Crowd goes wild. Four straight Nats batters hit HR. Even more impressive when they include Howie Kendrick, Trea Turner, and Adam Eaton.
Ever go to an auction to buy something expecting to pay a pretty penny. Then the auctioneer throws out a juicy nugget about the item, "This 1972 split-bumper Chevy Camaro was once driven by Dale Earnhardt." The price skyrockets. Well, Yordan Alvarez, with the flip of his wrists, jacked up the price of the FAAB commitments. Send the offering plate around a few more times for collections for this auction.
Enjoy the Monday games, all nine of them. How was your FAAB night?
More Fantasy Baseball Analysis