Welcome to Contact Rate Risers and Fallers for Week 7! Our premium tools allow us to get out ahead of trends in player performance, including contact rate. Every Wednesday, we'll be looking at some players that have seen an increase in contact rate and some that have seen it decline.
Contact rate can foretell a player's batting average and general hitting statistics, and any drastic change could signal a shift in performance. Contact rate shifts often act as a precursor to hot streaks and slumps.
Here is a breakdown of some of the biggest fantasy relevant risers and fallers in contact rate over the last seven days.
Editor's Note: Get our 2020 MLB Premium Pass for 50% off, with exclusive access to our draft kit, premium rankings, player projections and outlooks, our top sleepers, dynasty and prospect rankings, 20 preseason and in-season lineup tools, and over 200 days of expert DFS research and tools.
Sign Up Now!
Contact Rate Risers
Data current as of 5/15/2019 and taken from RotoBaller's Premium Tool.
89% contact rate last seven days (+16%)
2019 has been a fascinating season for McCutchen. One hand he already has five stolen bases, 28 runs and 14 RBI. However, on the other side he is hitting for just a .237 batting average. Hitting at the top of the Phillies lineup is doing wonders for McCutchen's numbers and he is walking enough to ensure he remains hitting at the top of the order. The batting average is a concern and it is born out or a reduced contact rate this season. In his career, McCutchen has a 79.3% contact rate, but is down at 75.1% this year. That is despite having a Swing% (35.3%) lower than we have ever seen in his career (average: 42.9%). That drop in Swing%, and especially a 17.3% O-Swing% (compared to a 23.4% career average), is indicative of why we are seeing McCutchen walk at a higher rate than we have ever seen him do previously in his career (16.5%).
The problem currently is coming when McCutchen tries to hit the ball. McCutchen's O-Contact% and Z-Contact% are both down on his 2018 numbers and his career numbers. Those drops are causing his batting average to sit lower than we have ever seen before. However, if you are in OBP leagues, then McCutchen is still pretty valuable, despite the batting average falling out from underneath him. Hopefully the increase in contact rate in the last week can lead to McCutchen starting to increase his batting average, and provide more value in standard roto leagues. Hopefully, that will also serve to boost his OBP as well, and not come at a cost to if he starts swinging more.
80% contact rate last seven days (+15%)
Owning Soler has become a fun roller coaster in 2019. The right-handed slugger already has 10 home runs on the season, but is pairing that with a 31% strikeout rate. Despite the strikeout rate being up slightly on his career numbers, Soler is actually making contact at a better rate than we have seen since his rookie year in Chicago. That contact rate is driven largely on success at crunching the ball when it is in the zone, where he has a career high 86.4% contact rate.
Outside of the zone is still an issue. Soler has an O-Swing% of 30% and a O-Contact% of 40.7%. These numbers suggest that Soler is going to remain a roller coaster ride. When he sees pitches in the zone, there is a good chance we continue to see him succeeding and providing home runs. However, with a just a 7.5% BB%, and low O-Contact%, there is a concern that Soler could have some extremely cold streaks if pitchers get it right to him. As always with any hitter like this you take the rough with the smooth. Therefore, when he is having a spell of good contact, that is the time to get him in your lineup and hope for a barrage of home runs!
85% contact rate last seven days (+12%)
It has been a really tough start to 2019 for Castellanos. After back-to-back 20 home run seasons in 2017 and 2018, he has managed just three so far this season. However, all three of those home runs have come in the last three weeks and there are signs that Castellanos may be finally about to come good. On the surface of it Castellanos' numbers are pretty mystifying. His overall Contact% is up on his career numbers, his O-Contact% is 6% above his career numbers at 58.1% and his Z-Contact% is actually a little up on his career. Additionally, his hard hit rate does not suggest any major concerns.
It is down a little on 2018, but only just below the 2017 numbers, when he really broke out with 26 home runs. All of those numbers suggest things are fine, but his HR/FB rate is struggling, down at 6.1%, the lowest of his major league career. Additionally, his infield hit percentage is up, which is a surprise for someone whose launch angle is up to career high levels. The most obvious reason for concern is that Catellanos is pulling less balls than at any point in his career. It is generally harder to hit home runs to center and to opposite field. However, given the contact rate, hard hit rate and launch angle, if he can get back to pulling the ball there is a good chance we could see a glut of home runs coming from Castellanos. The recent increase in contact rate could be an indicator that the glut is coming soon, so now might be a good time to try and buy Castellanos before his value comes back up off the floor.
Contact Rate Fallers
Data current as of 5/15/2019 and taken from RotoBaller's Premium Tool.
29% contact rate last seven days (-25%)
Unsurprisingly Gallo has finally made it onto this list. The chances that he could keep hitting as well as he had been were always slim with a 35% strikeout rate. However, there is still a lot to be positive about, despite the recent struggles. Over the course of this season so far Gallo has cut his O-Swing% by a whopping 9.2% from 2018. That change has seen his SwSt% drop down to a career low 15.6%. In fact he has simply just been swinging a lot less, with a Swing% below 40% for the first time in his career. When he does decided to swing he has been absolutely destroying the ball, with a 58.8% hard hit rate on the season.
So far in May he is still being extremely watchful, with a Swing% of 36.5%. However, it has been the quality of contact which has been suffering recently, with the hard hit rate dropping below 40%. This dip in Contact% should be noted as Gallo is a hitter who is prone to hot and cold streaks, and this might be the start of a cold spell. However, the numbers are so good so far it would be hard to do anything other than ride it out and at worst bench him.
44% contact rate last seven days (-17%)
There was always some question marks over Lowe's start to the 2019 season. Having hit .233 in his major league debut last season, the pace he came out of the gates with was surprising. His regression does have an air of inevitability about it when you look at his season long contact profile. Lowe's overall Contact% this season is down at 61.6% this season, after being at 64.5% last season.
Additionally, thanks in part to the combination of a 35.3% O-Swing% and a 38.9% O-Contact% he owns a season long SwSt% of 21%. His success up until this point had been n large part thanks to an impressive 47.6% hard hit rate, which was helping to fuel a .405 BABIP and a 26.7% HR/FB rate. The struggles of the last seven days could be the start of a rough stretch for fantasy owners who have been leaning on Lowe so far this season.
59% contact rate last seven days (-17%)
It has been a fascinating start to this season for Vilar, who owns a .261 batting average, four home runs and eight stolen bases. The most impressive part of Villar's performance so far has been the drop in K% from 26.8% last year, to 21.7%. Part of the reason for that has been Villar cutting his SwSt% to 11.6 this season. However, that has largely been driven by an improved contact rate in the zone, as Villar has a Z-Contact% of 83.5%.
The concerning element for Villar is that he is only just matching last seasons numbers batting average wise, despite improved strikeout numbers and a better contact profile. The issue comes to BABIP and his batted ball profile. While Villar has upped his launch angle an incredible amount, from a career average of 3.3 degrees to 9.2 degrees he is not making good enough contact to make it work. This season, Villar has seen his barrel% drop from over 5% to just 3.9%.
The situation with Villar has two elements. On one hand, he is doing everything to suggest that if he does improve his quality of contact then there could be some solid rewards coming his way. However, at the same time he is only matching last years numbers, despite having a much improved overall contact profile. Which one of those elements changes first could determine whether Villar is a valuable fantasy option down the stretch, or if the last week is to be a believed, a massive pain in the backside for fantasy owners.
Contact Rate Risers and Fallers - Premium Tool
Identifying top batting average surgers for each week can help you spot the best pickups before your competition. RotoBaller's Premium Contact Rate Risers and Fallers tool has you covered every day. As thoughtful fantasy baseball players, we won't lead you astray. Here is a small sample: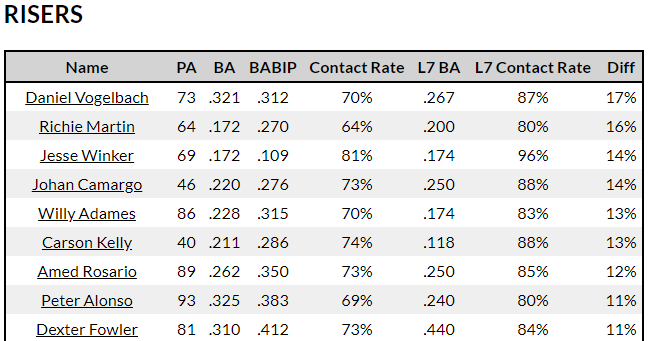 This type of data is available as part of our Premium MLB Subscription and launched on April 22nd for the 2019 season. Don't settle for basic stats and surface-level advice from other sites. RotoBaller brings you advanced statistics and professional analysis that you need to win your fantasy leagues and DFS games because we're ballers just like you. We are your secret weapon!
More Fantasy Baseball Advice and Analysis