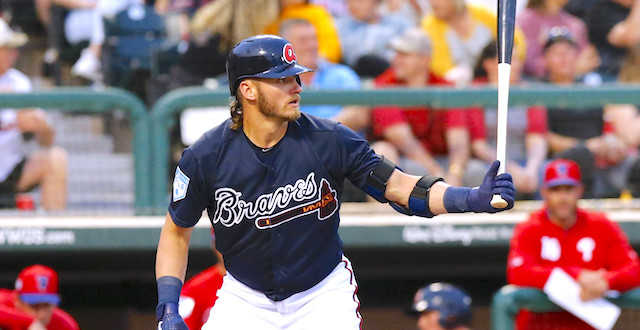 Welcome to Contact Rate Risers and Fallers for Week 21! Our premium tools allow us to get out ahead of trends in player performance, including contact rate. Every Wednesday, we'll be looking at some players that have seen an increase in contact rate and some that have seen it decline.
Contact rate can foretell a player's batting average and general hitting statistics, and any drastic change could signal a shift in performance. Contact rate shifts often act as a precursor to hot streaks and slumps.
Here is a breakdown of some of the biggest fantasy-relevant risers and fallers in contact rate over the last seven days.
Editor's Note: Get our 2020 MLB Premium Pass for 50% off, with exclusive access to our draft kit, premium rankings, player projections and outlooks, our top sleepers, dynasty and prospect rankings, 20 preseason and in-season lineup tools, and over 200 days of expert DFS research and tools.
Sign Up Now!
Contact Rate Risers
Data current as of 8/21/2019 and taken from RotoBaller's Premium Tool.
90% contact rate last seven days (+19%)
It has been somewhat of a strange season for Donaldson in Atlanta. Power-wise he is back close to his best with 29 home runs and his batting average has rebounded up above .250. However, his strikeout rate remains at 24%, making it three straight years above 20%. This year has backed up the trend of Donaldson struggling to make contact on pitches in the zone. Having regularly sat above 80% for most of his career since his rookie season he down below 78% for the second year running.
Unfortunately, this season that has combined with him swinging more at pitches in the zone, with a Z-Swing% above 70% for just the second time in his career. is O-Contact% is up nearly 10% from last year, but the dip in Z-Contact% combined with the increase in Z-Swing% has seen his SwStr% remain above 12% this season. However, production-wise he has made up for it by hitting the ball cleaner than ever and harder than ever, with career-highs in barrel% and exit velocity. He may no longer be as reliable as he was in at the beginning of his time with Toronto, but Donaldson is still a fantasy viable option as long as he is hitting the ball this clean.
85% contact rate last seven days (+14%)
It has been a mixed season for Jimenez in his first year in the majors. Having hit over .300 in every level of the minors he has played at since 2017, he has hit just .240 this year. Additionally, he has struck out more this year than at any other time in his professional career, with a K% at 26.7%. The problem becomes clear when we look at his contact profile. There is not much information when it comes to contact profiles in the minor leagues so we can only compare Jimenez to the rest of the majors this year.
This season he has the 19th highest SwStr% of hitters with more than 300 PA. His 69.2% Contact rate also places him 19th worst in the majors. The problem is nothing in particular, it is just simply that he is mediocre at making contact with pitches both inside and outside of the zone. Jimenez has alternated good and bad months this season, but it currently hitting .265 in August. Hopefully, he can finish his rookie season strong and carry the momentum into 2020, where he could be a very valuable commodity with the raw power he possesses.
96% contact rate last seven days (+14%)
Meanwhile, Jimenez's teammate Tim Anderson is having a really nice year. Having hit .240 in 2018, his batting average is soaring at .331 in 2019, and he is on pace to match his power and speed totals from last season as well. A big part of the change has been getting his BABIP up to .390, but cutting his strikeout rate to 20% from a career average of 25% has made a big difference as well.
His contact profile this season has shown a massive improvement. All three of his O-Contact%, Z-Contact%, and Contact% are up on the rest of his career. This has, in turn, pushed his SwStr% down below 14% for the first time. Realistically it is only even that hight because he has swung at nearly 45% of pitches he has seen outside the zone, and if he could improve his discipline there then he could cut that even further. His batted ball profile also shows improves, as he is driving the ball more, increasing his line drive percentage and his hard-hit rate enough this season to make a difference. These changes are really positive for Anderson and something he can hopefully continue into next season. Right now he is a valuable commodity in dynasty baseball leagues.
Contact Rate Fallers
Data current as of 8/21/2019 and taken from RotoBaller's Premium Tool.
47% contact rate last seven days (-24%)
It has been a good season for Brian Goodwin, averaging over .280 for the first time since his rookie season and hitting 12 home runs. However, that batting average comes despite some struggles at the plate when it comes to striking out. His 27 K% is much improved on the 3! number from last year, but it is still pretty poor. Strangely part of his problems may come from not swinging at enough pitches in the zone. He swings at just over 50% of pitches in the zone, meaning he takes a lot of called strikes. His SwStr% is a little on the high side at 10.4%, but it nowhere near as bad as the likes of Jimenez. His 83% Z-Contact% suggest that if he can improve his eye for identifying the balls in the zone his batting average has the ceiling to go even higher. Goodwin is an interesting player to observe next spring as he could potentially offer sleeper value if he can get better recognizing pitches in the zone to hit.
50% contact rate last seven days (-23%)
2019 has been a mixed year for Renfroe, as he has hit 31 home runs, but they have come with a .233 a batting average, a soaring 29.1% strikeout rate, and a woeful .249 BABIP. After he cut his strikeout rate down to 24% there was a lot of optimism that he might be able to take another step. However, 2019 has shown that 2018 may well have been a fluke.
When we look at his contact profile things get more interesting. His SwStr% is actually lower than 2018 and his contact numbers are similar across the board to what we saw in 2018. It is hard to pinpoint exactly what has caused his K% to soar again this season, but it could be interesting to observe his performance in 2020. His underlying numbers this year are a long way from the frankly ugly numbers he posted in 2017, but the output has been the same. Meanwhile, his underlying numbers look similar to last year, but yet he has been unable to repeat that drop in strikeout rate. Renfroe is never likely to be a .270 hitter but there is a reason to think that next year he could get back close to .250. This little slump could be a chance for you to buy-low on him in dynasty formats and stash him ready for the future.
48% contact rate last seven days (-17%)
I will not lie, Odor is driving me insane. Everything you think he is working it out he slumps yet again. His K% has gone through the roof and currently sits at over 30% for the first time in his career. His batting average is at risk of being the worst we have seen in his career, and could yet dip under .200. His contact profile this year is pretty ugly, with his Contact% sitting over five percent below his career average. That comes thanks to a Z-Contact% slightly below his norm, but an O-Contact% nearly 10% below what we have come to expect from him. All of this has led to 13.2% SwStr% and a massive headache for his owners in all formats about what to do with him. At this point in his career you just simply cannot trust him to provide reliable production, which is a massive shame.
Contact Rate Risers and Fallers - Premium Tool
Identifying top batting average surgers for each week can help you spot the best pickups before your competition. RotoBaller's Premium Contact Rate Risers and Fallers tool has you covered every day. As thoughtful fantasy baseball players, we won't lead you astray. Here is a small sample: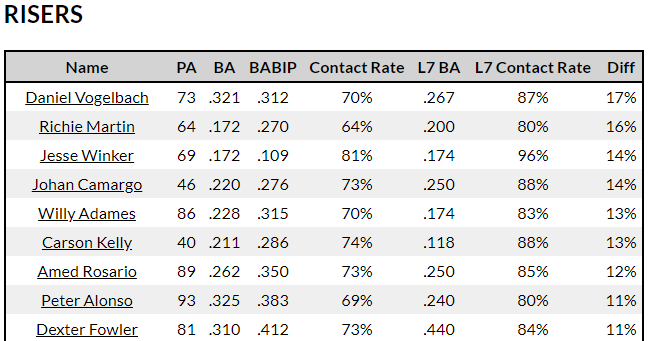 This type of data is available as part of our Premium MLB Subscription and launched on April 22nd for the 2019 season. Don't settle for basic stats and surface-level advice from other sites. RotoBaller brings you advanced statistics and professional analysis that you need to win your fantasy leagues and DFS games because we're ballers just like you. We are your secret weapon!
More Fantasy Baseball Advice and Analysis