Welcome to Contact Rate Risers and Fallers for Week 16! Our premium tools allow us to get out ahead of trends in player performance, including contact rate. Every Wednesday, we'll be looking at some players that have seen an increase in contact rate and some that have seen it decline.
Contact rate can foretell a player's batting average and general hitting statistics, and any drastic change could signal a shift in performance. Contact rate shifts often act as a precursor to hot streaks and slumps.
Here is a breakdown of some of the biggest fantasy-relevant risers and fallers in contact rate over the last seven days.
Editor's Note: Get our 2020 MLB Premium Pass for 50% off, with exclusive access to our draft kit, premium rankings, player projections and outlooks, our top sleepers, dynasty and prospect rankings, 20 preseason and in-season lineup tools, and over 200 days of expert DFS research and tools.
Sign Up Now!
Contact Rate Risers
Data current as of 7/17/2019 and taken from RotoBaller's Premium Tool.
87% contact rate last seven days (+19%)
It has been an interesting season for Schwarber. Realistically he is doing nothing different to any other season, hitting for around .230 with a high .400 slug and a .250 ISO. However, he is on pace to shatter his season-high of 30 home runs simply because he has been on the field more this year than those previous seasons. However, the concern for fantasy owners is that there is no improvement in his batting average or strikeout rate to go with those extra home runs.
When we look at his contact profile, his Contact% is up 2.2% from last year, thanks to an increase in O-Contact% of 6%. However, his SwStr% is only 0.2% below what we saw in 2018 and there simply is not enough improvement to drive a batting average spike. What is interesting to see is that he had turned some of his ground balls into fly balls, while still maintaining a similar HR/FB ratio. Therefore, even if he tops out at similar PA number to last year (510) he should still top those 26 home runs. In a baseball world filled with home runs, a 30 home run season with a poor average is far less valuable. However, Schwarber has the ability to get hot, as we saw in June (eight home runs, .262 batting average), and this little surge in the last week may be the start of a hot spell.
100% contact rate last seven days (+15%)
So far 2019 has been extremely disappointing for Ramirez and his fantasy owners. With close to 400 PA the third baseman is hitting just .226 with a mere eight home runs. However, things have been looking up recently, with a .310 batting average and three home runs so far in July, his highest home run total of any month this season. Interestingly some of this may have been predictable. In the second half last season, Ramirez hit just .218 with just 10 home runs in 279 PA.
If we look at his contact profile for last season as a whole, just the second half and for this season there makes for some interesting reading. Overall, Ramirez's numbers this year are very similar to 2018 as a whole. His SwStr% is up a fraction and his O-Contact% has dipped, in conjunction with a rise in O-Swing%. However, in the slump at the end of last season, his contact profile was actually better than in 2018 as a whole.
The problem lies in the quality of his contact. This season his Barrel% is down 3% and his launch angle is up three degrees. He is hitting the ball higher, but not as well, meaning those balls that left the field last year are being caught in the outfield. That is not the sole reason for his dip in batting average, but it certainly is not helping, but a 5.7 HR/FB% is woefully low for a player many expected 25-plus home runs from. Hopefully hot streak since the All-Star break can be a sign that Ramirez is going to hit as he did in the first half last season in the second half of this season. If you took him in the top half of the first round you can only hope that is the case.
94% contact rate last seven days (+9%)
2019 has been a bit of rollercoaster for Murphy and his fantasy owners. After an early injury, he struggled in March, April, and May, before picking things up in June and July. He now owns a .293 batting average with nine home runs, having hit over .340 in each of the last two months. His Contact% initially dipped, but like the batting average has recovered in the second part of the first half. Now this hot streak to start the second half can hopefully be the start of a second-half that sees him reach an overall .300 batting average 20 home runs in 2019.
Contact Rate Fallers
Data current as of 7/17/2019 and taken from RotoBaller's Premium Tool.
40% contact rate last seven days (-28%)
Yuck yuck yuck! What was supposed to be another big year for Carpenter is currently crashing and burning in spectacular style. The 10 home runs so far are bad, but the .215 batting average, partnered with another increase in K% is dreadful. Ironically his contact profile is actually better in some ways than last season, with his O-Conatact% up 6.5%. However, a 3% increase in Swing% combined with just a 1% increase in overall Contact% has driven a slight increase in SwStr%. Even with the increase in Contact%, he is still 4.5% below his career average, which normally sits above the 80% mark.
The other problem this season is the batted ball profile. His HR/FB has dropped over 9% as he has a seen a two miles per hour dip in exit velocity and a 10% dip in hard-hit rate. That is largely due to a massive 6% drop in Barrel%, and he simply is not able to get the ball into play as much, driving his xBA down to a lowly .228. Right now with this cold start post-All-Star break, there is no upside to Carpenter, and if you have not already it is time to cut bait and hope you can recover with someone else in your lineup.
47% contact rate last seven days (-19%)
It took until June but Upton is finally on a baseball field and is essentially doing the same as we saw last season. He has a .257 batting average, with four home runs and a steal in 79 PA. His K% is up a fraction, at a career-high 30.4%, but his BB% is also up slightly as well. The reason for the elevated K% can be seen in his early contact profile, as he has a 4.8% higher O-Swing%, but an 8.8% lower O-Contact% compared to last season. A 7% increase in Z-Contact% has kept his overall Contact% fairly flat, but his SwStr% is up slightly at 12.9%. It is still early in the season for Upton, but the initial returns suggest he could be on to have a similar season as we saw in 2018.
60% contact rate last seven days (-16%)
If you just look at the surface numbers then Josh Bell is having an amazing season. So far in 2019, he has 27 home runs, a combined 154 runs and RBI and a .294 batting average. However, his K% is up 3.5% on the season, and his first-half numbers break down into a tale of two halves. In March, April, and May he hit over .300 with 18 home runs. However, in June and July that slumped to just nine home runs and a sub .240 batting average.
The reason for the K% jump is that Bell is not only swinging at more pitches (Swing%: +6%), but his Contact% is also down 1.6% on the season, leading to a SwStr% increase of 1.8%. His contact profile in the first half has generally looked similar, even with the split in production. This season Bell's exit velocity is up at 93.3 mph, which is fueling a seemingly unsustainable 27.3 HR/FB%. The numbers here suggest there is a reason to be concerned about how Bell will perform in the second half of the year, especially with this slow start coming out of the All-Star break.
Contact Rate Risers and Fallers - Premium Tool
Identifying top batting average surgers for each week can help you spot the best pickups before your competition. RotoBaller's Premium Contact Rate Risers and Fallers tool has you covered every day. As thoughtful fantasy baseball players, we won't lead you astray. Here is a small sample: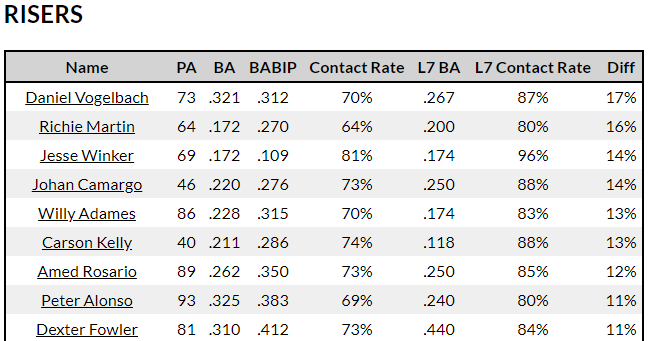 This type of data is available as part of our Premium MLB Subscription and launched on April 22nd for the 2019 season. Don't settle for basic stats and surface-level advice from other sites. RotoBaller brings you advanced statistics and professional analysis that you need to win your fantasy leagues and DFS games because we're ballers just like you. We are your secret weapon!
More Fantasy Baseball Advice and Analysis