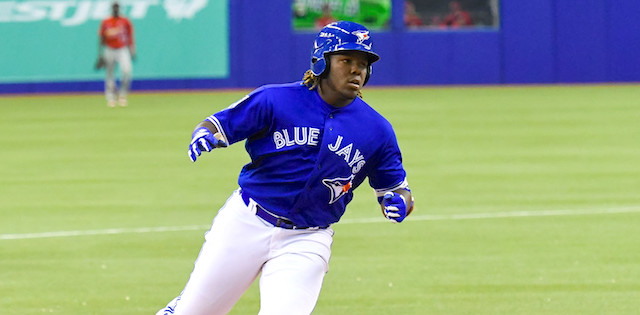 Today's piece covers a set of players who either should not be available on waivers or will return back there soon. Most of the earlier editions of this recurring buy or sell article have included several universally owned players whose values have been manipulated enough by early season performances. Unfortunately, as we get deeper into the year, the regression fairies come to ruin every savvy owner's fun.
Nevertheless, there is nothing worse than seeing one of your guys continually underperform. However, if that is the case, eight times out-of-ten it is most prudent to hold on until they at least get hot to then sell. Contrarily, do not buy high, unless it is in your best interest to win now and that player fills a particular need.
Anyway, these buys and sells are where your focus should be for this upcoming week. Best of luck dealing.
Editor's Note: Get any full-season MLB Premium Pass for 50% off, with exclusive access to our season-long articles, 15 in-season lineup tools and over 200 days of expert DFS research/tools.
Sign Up Now!
Undervalued Players - Week 15
These players could be worth trying to add or acquire as long as you're not paying for preseason value. Ideally, they are just lying around on your wire and you can add them straight up or for a few extra FAAB dollars.
96% owned
Justin Smoak is a trade candidate on a rebuilding Toronto team with an influx of youth on the way. His contract is up at the end of the year and there is really no reason for them to keep him along if they can get any sort of asset in return. Leaving Rogers Centre's hitter-friendly confines is less than ideal, however, an opportunity to bat in a more potent lineup could offer Smoak the run/RBI upside he currently lacks.
Smoak's batting average is down this season but his OBP is still very respectable at around .350. His expected stats show potential for a strong second half due to his quality batted ball profile and a change of scenery just might unlock that. Pick him up if he was dropped or consider trading for him in a deeper league. He is probably a better own in OBP/OPS leagues than roto/standard.
40% owned
Vladito is off to a rough start to the year fantasy-wise but should be a bounce-back candidate for the second half like Smoak. The batted ball profile is monstrous, it just has not translated to much offensive production. Given the Jays shortage of hitting talent, Vlad's run/RBI numbers will not overwhelm any owners, however, the average and home runs should be trending up. His BABIP is around .275 which is pretty far off from where a hitter of his caliber should be and his slugging should be closer to .500 than .400 as it currently stands.
His xstats point to some positive regression as well and there may be even more on top of them given his pedigree. Maybe the home run derby gets him into some groove, who knows. Given the potentially decent price that he could be bought at in redraft leagues right now, Vlad's worth inquiring about. Keeper/Dynasty owners are probably still holding on tight, but there may be a buy low-ish opportunity as well.
30% owned
Last weekend, Rockies' manager Bud Black mentioned that they were evaluating incumbent closer, Wade Davis's role and were open to a change. Davis has been atrocious this season, and Coors is not even an excuse given the overinflated WHIP and sunken strikeout rate. Davis's leash has been long this season, but with another blow-up in the near future, the job may be up for grabs.
Oberg's season is going exactly the opposite of Davis's and he has shown the ability to close out games this season during the aforementioned's IL stint. Oberg's strikeout rate is at a career high (and unfortunately so are his walks) but he is having a great season nonetheless. The 1.27 ERA is a bit of a mirage but the 0.94 WHIP is extremely promising (although partly due to a .202 BABIP. He would immediately be a top-15 closer if given the opportunity to overtake the role. Grab him and hold if you need saves. It's very possible that the job is already his, we just haven't seen yet this week given Colorado's current losing streak.
Overvalued Players - Week 15
Overvalued does not always mean SELL. Players here are just showing enough red flags that warrant the overvalued tag and could even be dropped if they have not produced enough.
95% owned
Contreras has more than made up for his bust of a 2018 season. With 18 home runs at the break, he's nearly doubled his total from last season. Although he is featured in this section of this piece, there should be solid ROS value in Contreras, just not to the degree of his first half. He has frankly outperformed his peripherals by a decent margin and still plays a position that requires multiple off-days and mediocre performances compared to that of other position players.
Try to package Willy in a trade to a catcher-needy owner and see if one of Christian Vazquez or Roberto Perez is available on your wire to replace him. Catchers really do not matter THAT much, you could even pass with an empty slot in certain formats. Do not just give Contreras away. Get yourself something nice back like Andrew Benintendi or maybe even Vlad Jr.
Wade Davis - RP, COL
79% owned
Stated most of the reasons against Davis in Oberg's part. Long story short - he stinks. Free yourself.
More 2019 Fantasy Baseball Advice