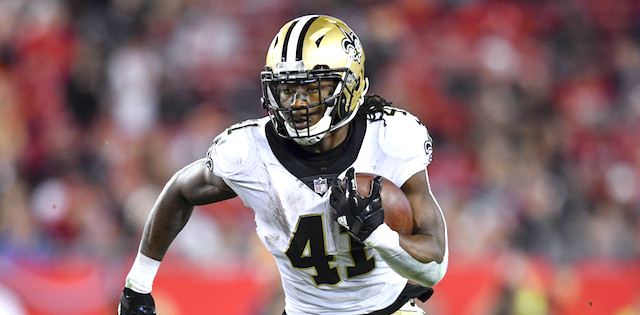 The Fantasy Football trade market is certainly heating up in Week 3, as injuries have created some true areas of need on many rosters. As soon as it was announced that Drew Brees was going to miss a significant amount of time, aggressive fantasy owners who had two quality starter types at QB reached out and made offers to the needy target team. The process of feeling out the current Brees owner and exchanging offers with him will continue throughout the week in many leagues. It is very likely the guy who lost Brees does not truly feel comfortable with who he may have grabbed off the waiver wire.
Some other WRs are going to miss time, and a few RBs are banged up. When fantasy participants suffer bad luck and need to fill their injury holes, their first hope is to go to the waiver wire for reinforcements. If they don't find who they want there, which is often the case, then they will be more open to accepting your offers. If you were able to evade the injury bullets of Week 2, then you are likely in an advantageous position in your trade talks. Of course, do remember to preserve your own depth when making and considering offers. You could easily have a guy go down in Week 3 and then be in the same position as the owner you are trying to trade with now.
If you have a position that is deep beyond your starters, feel free to keep those e-mail exchanges and texts flowing. But if your bench is not very deep with options you could utilize comfortably, you should structure a package deal where you are getting a depth piece in return. This is often the best approach to get who you want from the other team while not weakening your reserve field too much. For example, if you have Tom Brady and Lamar Jackson and want to offer the Brees owner a trade in which he gets Brady, because he does not trust Jimmy Garoppolo as his starter, get the 49ers QB in return in addition to the other player you targeted. Don't leave yourself scrambling for a QB if Jackson suffers an injury at some point. You should be pretty comfortable with Garoppolo even if the owner you are trading with is not. Getting a depth player back is even more important when trading running backs. You should always try to get a WR in return when trading one if you can, too.
Editor's Note: Get any rest-of-season NFL Premium Pass for 50% off. Our exclusive DFS Tools, Lineup Optimizer and Premium DFS Research through the Super Bowl.
Sign Up Now!
Buy 'Em
Alvin Kamara, RB, NO: After he finished with just 60 total yards, caught one ball and did not score against the Rams, you should gauge the mental state of his current owner. He may be panicking, thinking that Kamara is going to get a ton of defensive attention now that Brees is out. Teddy Bridgewater is definitely a downgrade from Brees, but he may be able to maintain some defensive respect for the passing game going forward. If he continues to dink and dunk, though, Kamara will still get a large amount of touches. His appeal has dipped for sure, but you should still target him as a possible RB1. Remind his owner that Kamara faces a strong Seattle defensive front this week, and that may be the clincher.
Mark Ingram. RB, BAL: He totaled 77 scoreless yards from scrimmage in Week 2. You have to feel out the Ingram owner to see if he is starting to feel a little nervous. Convince him that Lamar Jackson is going to be the team's top rusher and you may be able to walk away with Ingram, who is versatile and should still be a prime TD option for an improved offense.
Chris Carson, RB, SEA: After Carson fumbled twice and Rashaad Penny tore off a sizable TD run in a road win at Pittsburgh, some less informed Carson owners may be worried that he is danger of losing touches to Penny. I can confidently tell you that the Seahawks coaching staff will go right back to Carson as their top guy this week in an effort to get him stabilized again. Even after his two turnovers last week, they still handed him the ball for a game-sealing run on fourth and short.
Allen Robinson, WR, CHI: After a stellar opener, Robinson caught four passes for 41 yards in Week Two. Mitch Trubisky is playing so badly that the current Robinson owner surely is doubting his top WR. Pounce on that anxiety, as the wideout is fully healthy again and can still have good games even when Trubisky looks awful, as evidenced by Robinson's Week 1 outing. Even a bad QB throws the ball to someone. He may turn out to be the only Bears skill position player worth starting on a regular basis.
Robert Woods, WR, LAR: Targeting Woods in a possible trade is all about taking advantage of a reactionary owner. The guy who rosters Woods watched him catch two passes for 33 yards in Week 2 while Cooper Kupp re-established himself. Woods finished Top 10 in PPR leagues last year. Now may be the best time to try and get him before he bounces back with a string of solid performances.
Josh Gordon, WR, NE: He was instantly outshined by newcomer Antonio Brown against the lower than lowly Dolphins. But who knows how long Brown may actually stay on the Patriots' active roster? If you can nab Gordon in a minor deal he may be worth stashing. You will at least consider using him during bye weeks.
Philip Rivers, QB, LAC: If you lost Brees, this guy should be a prime trade target. He is coming off a down outing in which he still threw for almost 300 yards, and he is annually underrated.
Aaron Rodgers, QB, GB: He has yet to deliver a true Rodgers Fantasy performance coming off two tough matchups while adjusting to a new coaching regime. His owners may be more willing to move him now, especially if they also drafted another QB like Jackson or Dak Prescott. Even if he does not provide regular superstar numbers going forward, you still will be able to win with him.
O.J. Howard, TE, TB: He has become a notorious disappointment already, but if you can pry him away, he may be in for the old cliched squeaky wheel treatment this week in a great matchup vs. the Giants.
Sell 'Em
David Montgomery, RB, CHI: He rushed for 62 yards and a TD on 18 carries in Week 2 and the excitement is building. But he is also stuck in a bad offense and could get a lot of defensive attention and may not score consistently. The upside is apparent, but the buzz surrounding him indicates you should at least see what you can get for Montgomery.
Rashaad Penny, RB, SEA: Building on the Carson theme from earlier, reactionary types may want him, believing he may be on the verge of gaining more touches and threatening for RB1 consideration in Seattle.
D.J. Chark, WR, JAC: He already has a 100-yard game and two TDs, and a seven-catch outing. But tougher times are ahead working with Gardner Minshew, who will be exposed more as the season progresses.
Antonio Brown, WR, NE: You simply have to see what you can get for him after he performed well in his Patriots debut. You could eventually be looking at a dilemma where he is not available for your usage at all.
Josh Allen, QB, BUF: We're not saying he is a sell-high candidate, but you may have rostered him as your backup and he has significant appeal to a Brees owner as a passing/running Fantasy producer. Turn a QB2 into a viable trade return here.
Kyler Murray, QB, ARI: Like Allen, he does not have a sell high profile. But you can remind a Brees owner that he already has two 300-yard games and we have not seen the best of him yet, and he may buy into your pitch. You likely drafted Murray as a late backup.
Bonus Note: There are no specific TEs to sell this week, because at such a thin position, you want to keep who you have if you are rostering a top guy. But if you drafted Evan Engram and then landed Mark Andrews late, you obviously have a real nice advantage in making deals right now.
More Fantasy Football Analysis