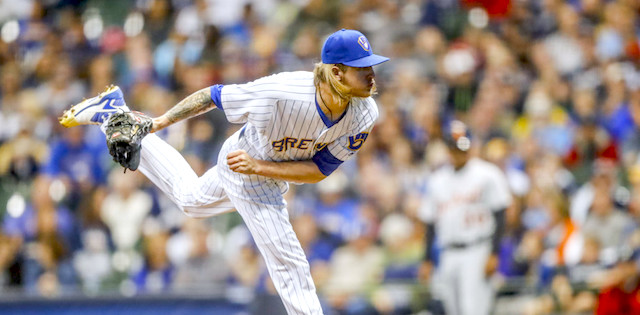 "Don't pay for saves." That has always been the advice repeated ad nauseum by veteran fantasy baseball players and while that sentiment is true on the surface, dealing with bullpens in fantasy baseball is a lot murkier in 2019 than it was in 2009.
With specialized pitching roles leading to starters being left in the game for fewer innings now more than ever before, the elite ratios an ace reliever can put up will have an overall larger impact on your bottom line. This means that letting top-tier closers drop in the draft just because you don't want to pay for saves is dangerous advice in the modern game. The price tags on the truly elite come from their ratios, not their save totals, and as long as you keep that in mind, it's sometimes OK to spend a mid-round pick on a relief arm.
With that said, it's time to take a look at a few bullpen guys who broke out last year who are expected to continue to improve and build off the promise they showed last year.
Editor's Note: Our incredible team of writers received 13 award nominations by the Fantasy Sports Writers Association including Baseball Writer of the Year, Football Writers of the Year, Golf Writer of the Year and many more! Be sure to follow their analysis, rankings and advice all year long, and win big with RotoBaller!
Read More!
Current ADP: 50
Diaz broke out in a big way last season, posting a ludicrous 1.49 SIERA with a 44.3 K%. Those numbers and the fact that he cut his walk rate in half from 11.5% to 6.1% are reasons to believe in the breakout, not the 57 saves he managed to get.
With a trade to the Mets, there may be some who may think that the possibility of fewer save opportunities may be a reason to draft him later but make no mistake - Diaz is the number one reliever in fantasy, pretty much Craig Kimbrel from a few seasons back, and he should be drafted as such.
Current ADP: 60
Treinen's 0.78 ERA from last season is obviously not sustainable but most of what he flashed in his first full year as the A's closer should stick. That ERA is held down quite a bit by a .230 BABIP that is likely to normalize up, but his 42.8% O-Swing rate is enough proof that his stuff is good enough and that is backed up by a solid 31.8 K% and 2.46 SIERA.
I'd expect an ERA closer to 2.00 than 1.00, but that still makes him a top-five closer with those peripherals. I'd take Treinen over guys like Kimbrel and Chapman at this point and that's saying a lot.
Current ADP: 121
Kirby Yates hadn't really done much in his previous four or so years in the majors but last season he broke out in a big way. Posting an insane 16.7% SwStr rate overall off the back of a newly added split-change, Yates should be viewed as a top-10 option with a full year in the closer role for an improved Padres team.
His improvements last season are backed up by an excellent 2.46 SIERA and 36.0 K% and he's managed to cut his walk rate down to a solid 6.8% too.
Current ADP: 117
Leclerc is another guy with a low save total last season due to him not getting the job until quite late in the year. However, the step forward he took is real and should be looked at as something that he can maintain going into 2019. Leclerc finished the season with a 2.60 SIERA backed up by a 38.1 K% as well as an excellent 17.1% SwStr rate.
He's a well-balanced pitcher with positive marks across all four of his pitches and his swing and miss stuff will lessen the impact that Arlington would have on guys that pitch to contact. Trust him as a top-10 option similar to Yates, and he should be taken over more well-known options like Brad Hand, Corey Knebel, and Wade Davis.
Current ADP: 118
Hader was one of the craziest stories of the first half of last season, striking out almost two batters per inning all the way up through July. He tailed off at the end of the year, but still put up a great season overall finishing with a 1.70 SIERA and a 46.7 K% over 81.1 innings as a versatile relief ace for the Brewers. Hader won't be getting that many saves due to Corey Knebel still being the nominal closer in Milwaukee, but he pitches more innings than a typical closer.
This means his stellar ratios and strikeouts will have a bigger impact on your team, and those peripherals are so good that I consider him to be a better pickup than the bulk of low-to-mid-tier closers, even if they are in line for saves. You can value Hader around guys such as Ken Giles and his bullpen buddy Knebel for reference, as he can provide some excellent value to your team if you can ditch the notion that relievers need to get saves to have fantasy value.
More Fantasy Baseball Sleepers and Breakouts