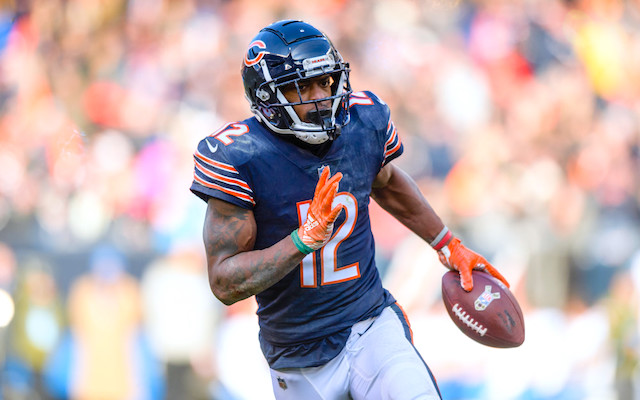 Every fantasy football draft is littered with landmines each fantasy manager is trying to avoid. These busts can be found in almost every round and at every position. Avoiding these players, especially in the earlier rounds, can be the difference between a playoff appearance or an early-round pick the following season.
Everyone seems to have a different opinion as to what a bust is. For the purpose of this article, we're going to be focusing on those players who actually played last season. This is to say, injured players do not count as busts. We are, after all, talking about football here – injuries are going to happen. They're completely unpredictable. For that same reason, players such as Calvin Ridley and Henry Ruggs who had their own, unpredictable issues off the field will not count as busts because there was simply no way anyone could have reasonably foreseen those outcomes.
Fantasy managers often talk about all the busts at running back, but really the busts at running back are mostly injury-related. Unfortunately, it tends to be a position with a high injury rate, but make no mistake, receiver had plenty of names to choose from here. There were seven receivers in the top-35 of ADP who have plenty of reason to be included in such a list – that's 20%. Not exactly smooth sailing either. Who were the biggest busts this season?
Editor's Note: Our incredible team of writers received five total writing awards and 13 award nominations by the Fantasy Sports Writers Association, tops in the industry! Congrats to all the award winners and nominees including Best NFL Series, MLB Series, NBA Writer, PGA Writer and Player Notes writer of the year. Be sure to follow their analysis, rankings and advice all year long, and win big with RotoBaller!
Read More!
Robinson wasn't just a huge bust at receiver, he was the bust of the fantasy football season. He was routinely drafted in the top-12 at the position. Over at Yahoo! he was drafted as the WR10 and he was WR11 at Sleeper. Fantasy managers were expecting WR1 production and there was a good reason for that. The past two seasons he was extremely effective and consistent. In the two seasons prior, he finished with 151 and 154 targets – consistent. He ended up with stat lines of 98 catches, 1,147 yards and 7 seven touchdowns in 2019 and then put up 102 catches, 1,250 yards and 6 touchdowns in 2020. Fantasy managers were expecting more of the same.
What they got was something else entirely. In fact, I cannot think of anyone who busted as hard as the former Nittany Lion did this year. He ended up as the WR86, and even though he missed four games due to injury, his PPG standing wasn't much better – WR81. That's a 70-spot difference from his ADP to where he finished. Ladies and gentlemen, that is a BUST!
1 top-36 WR finish in 2021.

WOOF.

— Andrew Erickson™ (@AndrewErickson_) January 28, 2022
His targets per game fell by 42%, catches by 51%, yards by 57% and touchdowns by 79%. In hindsight, there were plenty of reasons to be concerned, right? The Bears were bringing in Andy Dalton who struggled in Dallas filling in for Dak Prescott despite having CeeDee Lamb, Amari Cooper and Michael Gallup at receiver. But even then, big deal. He had caught passes from Blake Bortles, Nick Foles and Mitchell Trubisky. Was Dalton really that much worse than those three guys to believe the former Jaguar receiver would disappoint in such a manner? Fantasy managers certainly didn't think so.
And then there was the fact he was playing on the franchise tag, something he was vocal about being disappointed in. Still, if he wanted the big payday, he needed to produce one more time. At least, theoretically. There were some red flags looking back at it, but nothing that would have precipitated fantasy managers fading him even remotely close to where he ended up finishing.
Busts happen all the time, it's part of the game. That being said, Allen Robinson's 2021 will go down as one of the biggest bust seasons of all time and quite honestly, he might just be the biggest bust of all time.
It was hard not to be excited about Claypool's sophomore season. After all, he finished as a top-20 receiver as a rookie. Sure, a big part of that was the fact that he scored nine touchdowns and four of them came in one game, but still, that takes some talent. Especially with how quickly he became a difference-maker. There was plenty of reason to expect an improvement on his rookie season even if the touchdown numbers dropped a little bit. That did not happen.
He was drafted as the WR25 on Yahoo! and WR27 on Sleeper and honestly, he would've gone even higher had JuJu Smith-Schuster's injury happened in the preseason. He missed 12 games in 2021, which theoretically should've opened up a bigger target share for Claypool, which was really the biggest thing fantasy managers were hoping for as he entered his sophomore season. He was extremely efficient as a rookie on a per-target basis, but factoring in some obvious regression, he needed more targets. After such a rookie season, there was no reason to think he wouldn't earn them. Then when JuJu went down, his opportunity was endless. Or so it seemed.
He ended up as the WR37 in both overall and PPG, which represents an 11-spot decrease from what fantasy managers were expecting and what they received. He finished with six games with under seven points in half-PPR points, which to be fair, is the same number he had in 2020. The biggest difference was in the ceiling games he provided. He had just four double-digit games in 2021 and just two with more than 15. In 2020, he had eight double-digit games and five games with over 15.
Chase Claypool had the exact same statistical season as last year, he just scored 9 fewer TDs.

— Akash (@YZR_Fantasy) January 13, 2022
His lack of touchdowns certainly impacted his ability to provide his fantasy managers with the type of ceiling they were expecting from him. The worst part is what the second-year player gave his fantasy managers in the playoffs. From Weeks 15–17, he scored a total of 11.2 points, 3.7 PPG. Like Robinson, looking back at it, there were reasons to be apprehensive. Ben Roethlisberger's ability to threaten a defense downfield had significantly decreased in 2020 and there wasn't any reason to think that was going to get better in 2021. Then there are the touchdowns where fantasy managers should have been expecting a decrease. In the end, fantasy managers couldn't hold back from Claypool's rookie season and his imposing athletic traits and they got burned for it.
There was a lot of excitement around Jeudy as he entered his second season. He earned 113 targets as a rookie and finished with 856 yards. Fellow teammate Courtland Sutton missed the entire 2020 season after he suffered a torn ACL in Week 1, but his return meant the former Alabama receiver wouldn't have so much defensive attention given to him. There was plenty of reason for optimism, and after all, Sutton was still coming back from a torn ACL. He might struggle to shake the rust, allowing Jeudy plenty of time to cement himself as the No. 1 receiver. Plus, there was the quarterback change to Teddy Bridgewater who isn't known for his deep ball. He's generally been a low aDOT thrower who played it safe – that kind of game appeared to mesh more with Jeudy's playstyle as opposed to Sutton's. Have I missed anything? No? Well, all of that sounded good in the preseason, but hindsight is a real pain.
He was drafted as the WR27 on Yahoo! and WR30 on Sleeper. He was not at all close to providing fantasy managers with that kind of return. He finished as the WR89, largely due to missing seven games early in the season. His PPG ranking was better, but not good. He was tied for WR67 in terms of PPG, a decrease of 30 spots between where he was drafted. That isn't Allen Robinson bad, but trust me, it's bad. Real bad.
Jerry Jeudy has played 26 games in his career.

He's finished in the top-20 of weekly FF WRs twice.

— Ryan McDowell (@RyanMc23) February 16, 2022
Like Robinson, Jeudy didn't even provide his fantasy managers with any usable weeks. He had just one game where he scored in double-digits and in that one game, he finished with 10.2 half-PPR points. In Week 15, the first week of the fantasy football playoffs, he scored as many points as you and I. Assuming you didn't catch any passes in the NFL this season, which feels like a pretty good bet.
One of the biggest reasons Jeudy failed to capitalize on a solid rookie season was the low number of targets he saw in his sophomore season. After averaging 7.06 targets per game in 2020, that number dropped to 5.60 in 2021. He also failed to find the end zone one time in his sophomore season, a number fantasy managers should expect to improve in his third season, but the targets are still a big question mark. With Courtland Sutton, Noah Fant, and Tim Patrick all back in 2022, there are major questions as to what kind of target share fantasy managers can expect to see from Jeudy in year three.
Anderson was coming off his best year in his five seasons and fantasy managers were hopeful that getting away from the Jets was enough to help him turn the corner to a dependable fantasy asset. He had shown glimpses of being a good player, but he was often defined as a boom-or-bust player because there simply was no consistency in New York. In 2020, he finished with 136 targets and the Panthers didn't make any big-time additions at receiver that made anyone worry about his target share. Sure, Christian McCaffrey was due back after missing a large chunk of the previous season, but Anderson was still going to be heavily involved in the passing game. Fantasy managers saw what they wanted to see and drafted him as the WR28 on Yahoo! and WR33 on Sleeper.
There were red flags that should have been seen. Well, actually there was one red flag that should have been seen – Sam Darnold. Teddy Bridgewater is often described as boring, but at least he was dependable. At least he wasn't awful. Even though Anderson got out of New York with the Darnold trade, the Panthers, unfortunately, brought the New York to Anderson and it negatively Anderson's fantasy value in a big way.
Anderson finished as the WR50 in overall scoring and tied for WR67 in PPG, but it wasn't for a lack of trying on Carolina's part. He still finished with 110 targets, but his catch rate fell from 69.9% in 2020 to 48.2% in 2021 – a monstrous 21.7% decrease. Welcome to New York, Carolina-style.
Robby Anderson is the first player in NFL history to have 95+ targets converting them for fewer than 45 rec and 460 yards.

He is on track to have one of the worst receiving seasons in NFL history, and yet he still somehow has 99 targets. 🤯

Can't tell me Marshall is worse.

— Chase Vernon (@ff_intervention) December 28, 2021
What went wrong is anyone's guess. Surely, the quarterback play played a big role in Anderson's demise. The other aspect is simply that Anderson likely put together a career year last season and fantasy managers unwisely believed he was actually that caliber of player. His yards per target of 4.7 was the worst of his career by a wide margin – his previous low was 7.5. Well, fantasy managers should've never bought into Anderson being a borderline WR2 receiver, the dramatic fall was certainly unexpected and it cost a lot of fantasy managers.
The last time fantasy managers saw Golladay play – really saw him play – was in 2019 when all he did was lead the entire NFL in touchdowns. He missed 11 games in 2020, his last season in Detroit, and signed with the Giants prior to the 2021 season with the expectation he'd be able to give Daniel Jones a true No. 1 receiver. In reality, while he certainly was the No. 1 receiver for the Lions, he never earned targets at an elite rate. Despite the Lions often having to revert to throwing the football because they were losing so many games, Golladay never had more than 120 targets in his four seasons. in Detroit. Still, fantasy managers flocked to the former Lions' upside and the price of admission wasn't too expensive. On Yahoo! he was drafted as the WR31 and on Sleeper, he was WR29.
Despite missing the majority of his 2020 season, being it his first year in a new system and catching balls from a significantly less-talented quarterback, fantasy managers were (incorrectly) still drawn to his upside. This was unwise and obviously, that's easy to say now, but receivers have historically struggled in their first season after switching teams. Then there's the fact he really hadn't played football since 2019, at least not regularly. The Giants coaching staff left plenty to be desired, as did the play of Daniel Jones. Unfortunately, all the reasons that existed in the preseason to not buy into Golladay make sense now that we've seen the 2021 season play out.
Kenny Golladay:

4 years
$72 mil
$40 mil guaranteed

14 games
37 receptions
521 yards
0 TD#ClownShowOrganization

— Chris Raybon (@ChrisRaybon) January 10, 2022
He finished as the overall WR84 and it was even worse on a per game basis, WR92. He played in 14 games, but he seemed like he was rarely healthy. Those 14 games that he played in were UGLY! In 10 of those 14 games, he didn't even score five points and there was another one where he scored just 5.3 points. He scored in double-digits just one time and it was a measly 11.6 points. His second-best performance was 6.4 points and his third-best, yup, it was that 5.3 point performance referenced before. Anytime you're talking about a player who was drafted as high as he was finding his way to the waiver wire by the mid-way point of the season, you've got yourself a bust.
Honorable Mentions
Laviska Shenault Jr., Jacksonville Jaguars

Shenault was drafted as the WR41 on Yahoo! and WR42 on Sleeper. He finished as the WR60 and WR75 in PPG.

Courtland Sutton, Denver Broncos

Sutton was drafted as the WR34 on Yahoo! and WR32 on Sleeper. He finished as the WR46 and WR60 in PPG.

Brandon Aiyuk, San Francisco 49ers

Aiyuk was drafted as the WR23 on both Yahoo! and Sleeper. He finished as the WR36 and WR45 in PPG.
Download Our Free News & Alerts Mobile App
Like what you see? Download our updated fantasy football app for iPhone and Android with 24x7 player news, injury alerts, rankings, starts/sits & more. All free!


Win Big With RotoBaller
Be sure to also check out all of our other daily fantasy football articles and analysis to help you set those winning lineups, including this new RotoBaller YouTube video:


More Fantasy Football Analysis