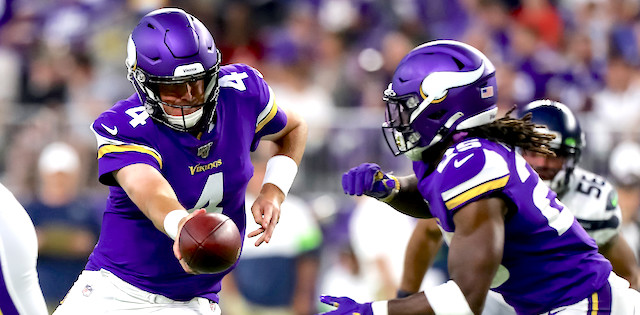 A grand total of 33 running backs have been drafted inside the first three rounds of the NFL draft from 2015 to 2018. We've come to know the likes of David Johnson, Ezekiel Elliott, Alvin Kamara, and Saquon Barkley among many other great rushers. As you see, there have been a lot of hits between those selected, but there have also been quite a few big whiffs. Be it because of injuries, or lack of production, someone must be scratching his head about deciding to draft guys as Ronald Jones II or C.J. Prosise too soon. But one thing is shared among all of the running backs selected inside the 102-first picks every year: they're drafted to play and see the field as much as anyone—24 of those 33 RBs logged 100+ touches as rookies, and 29 of the 33 featured in 10+ games. The last player to join this select group: Alexander Mattison, 102nd draft pick by the Minnesota Vikings.
Sometimes, when talking about sleepers, we lose sight of things. I have seen players called "sleepers" that shouldn't be even remotely close to that label. To me, Lamar Miller is not a sleeper. Sony Michel isn't one, neither. Those guys may provide limited production and have low ADP values combined with high upsides, but they can't be considered sleepers. We know what they have done and what they could potentially achieve. In the case of Mattison, though, we're looking straight into a sleeper by definition.
Mattison, who is entering the league this season, has an ADP of around 150. You will find him ranked even behind some team defenses in most boards. And all of this for someone who is not only part of a backfield that has no depth (Ameer Abdullah is basically a roster-filler now), but also one which features Dalvin Cook as the leading RB. What do I mean, you say? Well, remember Cook has missed more games than he has played in his career (17 to 15), and you might start to understand where I'm going with all of this.
Editor's Note: Get any rest-of-season NFL Premium Pass for 50% off. Our exclusive DFS Tools, Lineup Optimizer and Premium DFS Research through the Super Bowl.
Sign Up Now!
One Timely Injury Away of Breaking Through
Although only owned in 11% of Yahoo leagues right now, Mattison stock is rising by the day. Minnesota moved on from Latavius Murray this offseason, opening the door to Mattison to become the clear-cut backup of Cook. And that is what he is and will be for the season if Cook can stay healthy. But that, my friends, is the biggest if ever. While Mattison is not a household name nor comes from posting huge numbers at Boise State, he finished his last year of college ball with 4.7 YPC. While that is not a huge number (14th percentile among players with at least 6.25 Att/G), he also finished the 2018 season with 27 receptions for 173 yards. All things considered from the line of scrimmage, his total numbers ended at 1,588 yards for an average of 6.0 Yds/Play and 17 TD. His 302 rushing attempts were the second-most in the nation only behind Jonathan Taylor, so Mattison comes as a proven asset in terms of heavy load-carrying potential. He won't eat touches from Cook straight away, but he could do so without any problem.
To say Mattison is a good handcuff is falling short. He poses one of the best cases out there when purely considering having a plan B in case your RB1 (in this case Dalvin Cook) gets injured through the season. Back in July, FantasyPros' experts had Mattison ranked 220 overall. Today, he's risen to the 172nd spot and keeps going up and up, almost reaching his ADP of 150. Keep in mind Mattison is only the RB62, ranked below other rushers such as Jamaal Williams (RB58), Chris Thompson (RB53) or Ronald Jones II (RB45). None of those, and many others being picked before Mattison offer more upside than he does or is in a more optimal situation than the Vikings backfield offers.
The slightest of concerns about Cook's health will give Mattison the opportunity he needs. Per Sports Injury Predictor, Cook currently has a 56.8% chance of injury in 2019, and projects to miss at least 1.8 games this season. On a 1 to 5 scale, Cook's durability is at a ground-level 1 value. It's been almost a year since Cook got injured for the last time (back in September of 2018), but Mattison has enough ability and potential of breaking into the scene as any backup out there.
As a late-round flier, I can't think of many more players worth taking. I wouldn't take a defense nor a kicker above him, obviously, so if you play on a 16-spot league I'd strongly advise taking Mattison into serious consideration as your "last" pick on round 14 if he is still available. Seeing how he's getting more and more attention, though, a 13th or even 12th-round pick may enter the conversation at some point, although it might be too much of a risk to draft him that high.
More ADP Values and Sleepers
Check out RotoBaller's famous fantasy football draft sleepers and waiver wire pickups list, updated regularly!