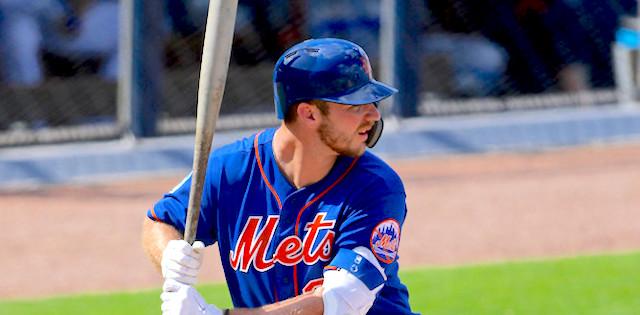 Peter Alonso was a hyped name heading into the 2019 MLB season. FanGraphs was optimistic, giving him a perfect 80 grade on raw power along with a 70 future grade for game power. He was ranked as the top first-base prospect (and 51st overall) by MLB Pipeline, with scouts noting an advanced ability to access his 60-grade power in games that could lead to a Rookie of the Year award.
That prediction proved correct, as Alonso beat out strong contenders like Fernando Tatis Jr. and Mike Soroka for the award with a .260/.358/.583 line and 53 HR. The fantasy community has taken notice, taking Alonso at an ADP of 25.8 per FantasyPros. However, some analysts have expressed skepticism whether Alonso's 2020 will be as strong as his 2019 was.
It's tough to hit 50+ HR, so some regression in raw power numbers is likely. His critics are also quick to point out that Alonso was much better in the first half (.280, 30 HR) than the second (.235, 23 HR). That said, Alonso's MiLB track record and MLB peripherals suggest that New York's 25-year-old first baseman has room to grow in other aspects of his game. Will it be enough to earn his draft-day price?
Featured Promo: Want a free RotoBaller Premium Pass? Check out these sports betting promo offers from the top sportsbooks! All new sign-ups get a free bonus offer on their first deposit, and a free year of RotoBaller's Premium Pass for all sports ($450 value)!
Sign Up Now!
An Impressive MiLB Resume
Alonso first reached the High Minors in 2017, logging an impressive .311/.340/.578 line over 47 PAs for Double-A (Binghamton). Alonso returned to Binghamton in 2018 and performed even better, hitting .314/.440/.573 with 15 HR over 273 PAs. Those numbers look great, but are actually even better than they appear. Binghamton is a strong pitcher's park, ranking in the 48th percentile for home runs and 22nd for BABIP in 2019. Putting up eye-catching numbers there is very impressive for any young hitter.
Likewise, Alonso's peripherals with Binghamton make his performance even more noteworthy. His 15.8 BB% was nearly equivalent to his 18.3 K%, suggesting an advanced plate approach at a young age. His 8.5 SwStr% was also elite for somebody with power as his calling card. His 44.2 FB% suggested that Alonso understood the value of airborne batted balls, helping him tap into his power. Of course, Alonso's raw power was on full display with a 20.5% HR/FB despite his pitcher-friendly home park.
The performance earned Alonso a crack at Triple-A (Las Vegas), where he hit .260/.355/.585 with 21 long balls in 301 PAs. Las Vegas is the biggest bandbox in a Pacific Coast League full of them, ranking in the 100th percentile for HR and 93rd for BABIP in 2019. Still, the combination of a 40.4 FB% and 28.4% HR/FB was impressive. His 25.9 K% was significantly higher than at Double-A (Binghamton), but his 11 BB% suggested that he still had a plus eye. Similarly, his 10.4 SwStr% wasn't bad at all for a slugger.
Alonso's BABIP declined dramatically at Triple-A (Las Vegas), going from .344 at Double-A (Binghamton) to just .284 at the higher level. He is not fast and posted below-average LD% marks of 18.8% and 17.5% on the farm, so he probably played over his head at Double-A. Of course, that doesn't necessarily mean that his Triple-A number is his true talent level either.
A Rookie of the Year Campaign
When you hit over 50 HR, any analysis of your season will begin with power numbers. This is just fine for Alonso, as his Statcast power metrics were all very strong. His 90.6 mph average exit velocity was solid, but his average airborne exit velocity of 96.5 mph ranked 20th among all qualified players last season. His 9.5% rate of Barrels per Plate Appearance was even better, ranking 11th. However, Alonso truly shines when you measure his contact quality by Brls/BBE. Check out the kind of company he's keeping in the table below:
Alonso ranks eighth, sandwiched between the AL HR champion and a guy who was on track to win another NL MVP before an injury derailed his season. Alonso's 32.4 Pull% on fly balls was also excellent, helping a few extra flies go over the fence. Between Alonso's Statcast numbers, pull tendency, and the scouting consensus on Alonso's power potential, there may be no better bet to produce at least a 40 HR pace this season.
Fantasy owners are probably willing to absorb a batting average hit for power like that, but you may not need to in this case. Alonso's BABIP was only .280 with the Mets last season, a number his critics cite with his Triple-A performance to paint him as a potential batting average liability. Alonso's 41.5% fly-ball rate was high enough to adversely affect his BABIP, as flies have the lowest BABIP of any batted ball type. His 13.3 IFFB% was also high, so Alonso might want to try to limit the number of pop-ups he hits.
Some of the other arguments against Alonso do not hold as much water. While his overall Pull% of 45.8% was a little higher than the 40.7% league-average mark, his 59.8 Pull% on ground balls wasn't substantially higher than the league's 58.2% rate. Alonso's overall Pull% masks the fact that more of his pulled batted balls are flies (32.4% vs. a league-average of 21%), something that the shift doesn't affect. As a result, Alonso was able to hit .304 in 173 PAs against the shift versus .263 in 191 PAs where it wasn't in play.
Considering that Alonso doesn't care about the shift and posted an average exit velocity on ground balls of 85.9 mph last year, he may have deserved better than his .237 BABIP on grounders a season ago. Likewise, his airborne contact quality would seem to support higher BABIPs on both flies (.100) and line drives (.667) in the future. Alonso's 18 LD% last season, fly-ball tendencies, and MiLB history of the same will likely keep his BABIP below .300, but he might be able to reach .290.
Alonso's plate discipline metrics tell a similar story. His 26.4 K% was a little high, but his 10.4 BB% suggests that he still had the strong eye he showcased in the minors. Alonso's 34.6% chase rate could also decline considering the elite walk rates Alonso put up on the farm. Furthermore, his 12.4 SwStr% was almost perfectly league-average despite an elite power performance. Alonso's reasonable 83.4 Z-Contact% echoes this sentiment, suggesting that Alonso could improve his average to the .270 range in 2020 just by cutting down the Ks.
Parting Thoughts
Baseball Savant's xStats suggest that Alonso deserved a .257 average and .542 slugging percentage last season, and both figures have room to grow if he strikes out less often. His power potential is elite, and he appears to be a fixture in the heart of the Mets lineup to rack up counting stats. Alonso won't steal bases, but he has the potential to be an asset in the remaining four roto categories.
Surprisingly, no other player offers the same profile at first base for a comparable price. Guys like Bryce Harper (21.6 ADP) and J.D. Martinez (22) might produce at a 40 HR pace, but 1B appears to be shallower than the outfield this year. Meanwhile, neither Freddie Freeman (16.8) or Anthony Rizzo (57.4) are close enough to Alonso in price to draw a fair comparison. If you need power in the second or third round, Alonso is very likely the best option on the board for you.
Verdict: Champ (based on elite power potential and batting average upside from a 1B)
More 2020 Fantasy Baseball Advice