The 2023 NFL Scouting Combine marks a critical milestone in the journey of aspiring NFL players. Each year, the combine provides an opportunity for college football prospects to showcase their athletic abilities and catch the attention of NFL coaches, scouts, and executives. This year, the event promises to be an exciting and competitive one, with top prospects from across the country eager to prove their worth on the field.
The NFL Scouting Combine consists of a series of physical and mental tests designed to evaluate players' athletic abilities, football skills, and mental toughness. From the 40-yard dash to the bench press, the combine tests players in a variety of ways, providing valuable insight into each player's strengths and weaknesses. Additionally, players are interviewed by NFL teams to assess their character and football IQ.
The 2023 NFL Scouting Combine is expected to draw a significant amount of attention from football fans and analysts alike. With several high-profile prospects expected to participate, there will be no shortage of drama and intrigue as NFL teams look to identify the next generation of football stars. This article will provide an in-depth look at what fans and enthusiasts can expect from the 2023 NFL Scouting Combine, including the top prospects to watch at the running back position as things begin to shake out for the NFL Draft.
The Bijan Tier
Coming into this draft cycle, the conversation about the running back position begins and ends with Bijan Robinson. He is widely considered to be one of the best prospects at the position in years. He checks all the boxes that you want from an elite running back. He has size and speed at any level, exceptional vision behind the line of scrimmage that allows him to find a hole and hit it, and elusiveness in the open field that is second to none (104 missed tackles forced in 2022, 1st in NCAA). His nose for the end-zone (35 touchdowns over the last two years) and ability as a pass catcher out of the backfield (60 receptions over three years) make Robinson the three-down back that fantasy owners salivate over. No matter what we see at the combine from Robinson, he is locked in as the RB1 in this class.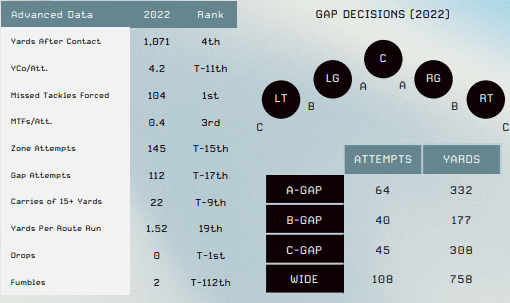 From a fantasy perspective, many in the dynasty community are already labeling him as the RB1 before stepping on the field. It's hard to debate against that knowing that there will be a good chance that he lands with a team that will be drafting out of luxury. With the running back position becoming more replaceable in recent years, Robinson will likely slide in the draft and be scooped up by a team that will hand the keys to the backfield to him. This will put Robinson in the conversation as the dynasty RB1, a top pick in rookie drafts, and also a player that could warrant 1st round consideration in 2023 seasonal drafts.
Second Tier
With Robinson being a tier unto himself, Jahmyr Gibbs finds himself in the second tier all to himself as well. I see quite the divide between the two prospects heading into the draft as Gibbs does not show the all-around talent that Robinson does. But where Gibbs might lack in the running game, his ability as a pass catcher is second to none in this class. His versatility, once he gets the ball, is a thing of beauty. He has plus vision and instincts that allow him to feel and evade pressure easily. His foot quickness and agility can get him to the second level where he is most dangerous, using his burst to pull away from defenders. His playmaking ability and route-running skills should allow a creative offensive mind to put him in winnable situations to create chunk plays. What to watch for at the combine with Gibbs will be what he measures in size-wise. If he can come it at the listed 200 pounds, adding to his frame could be Gibbs in line for three-down work at the next level.
Looking at Gibbs from a fantasy standpoint is fairly simple coming into the draft. His value will be carried as a PPR asset and his landing spot will be vitally important. If you put him in an offense like the Philadelphia Eagles, he instantly climbs up the dynasty and seasonal ranks. For rookie drafts, Gibbs will be a player worthy of mid-first-round capital. He will eventually become a back that will carry RB1 value for years and a cornerstone to a dynasty backfield.
Players to Watch For
Sean Tucker may be the running back that I like the most after the top two off the board. He is a player that you are seeing many different opinions on as we head into the combine. Some see his production numbers taking a step back in 2022 as a downgrade, but what he lost from a rushing standpoint, he showed chops as a receiver of the backfield (37 receptions). Tucker has a sprinter's speed that will allow him to separate in the open field, but also runs with a toughness where he can be a factor between the tackles. If he tests well at the combine, I believe you will see his name become more of the consensus as the nest running back off the board behind Robinson and Gibbs.
Projected Dynasty Value - RB2 with RB1 ceiling based on the landing spot.
Israel Abanikanda is not a name that you are seeing mentioned highly among this year's class, but he quietly offers a skillset that transfers well to the next level. He has the prototypical size that you want from an early down back, but what's not talked about is his burst and speed in the open field. Getting to the second level can be a problem at times for Abanikanda if there is congestion in the offensive line. But overall he shows plus vision for a back of his stature. To add to his rushing abilities, he has shown the ability to be utilized as a pass catcher out of the backfield with 36 receptions over the last two years. At the combine, I'm looking at Abinakanda's speed in the 40-yard dash specifically. If he clocks an impressive time, you will undoubtedly see him rise in the rookie rankings out of the combine and heading into the NFL Draft.
Projected Dynasty Value - An early RB3 with an RB2 ceiling.
Tyjae Spears was one of the standouts from the Senior Bowl and can continue his ascent up the board with a strong performance at the combine. He showed at Tulane that he can be an explosive runner with a breakaway speed among the best in this class. His contact balance through hits along with his elusiveness in the open field can be an asset to any team needing a boost to their running game. But his size (5'10" 190 lbs.) could be a hit on his potential to obtain a heavy workload at the next level. Spears will be viewed as a complementary back in the NFL that could garner more work in a committee backfield.
Projected Dynasty Value - RB3/Flex play
Eric Gray is another back that came out of the Senior Bowl drawing rave reviews. As a runner, Gray is very elusive and uses his balance well as he puts together moves to avoid tackles. His vision could be among the best in this year's running back class as he has a great feel for manipulating defenders to create space. He is also a very disciplined runner that has shown a knack to be utilized as a pass catcher out of the backfield as well (86 receptions over the last three years). If he can improve upon his shaky pass-blocking skills, Gray could develop into a quality RB at the next level.
Projected Dynasty Value - RB3/Flex play with an RB2 ceiling depending on his landing spot.
I'll end things up with a player that I am lower on than many other analysts in the industry and that is Zach Charbonnet. The production over the last two seasons has been great, to say the least. He has been impressive against the Pac-12 as both a runner and receiver (51 receptions in the last two years). He has prototypical size and strength and uses that combined with his downhill running style to his advantage. He uses his contact balance to his advantage as he gains speed to the second level. But from what I saw quite a bit on film he is too often taken down in the open field. Once he gets to the next level, NFL talent could limit his ability to gain a head of steam and limit his chunk plays. It makes me think of Brian Robinson in that aspect. From a fantasy perspective, he will need to land in a position where he garners most of the early-down work to truly be effective.
Projected Dynasty Value - RB3/Flex play
Download Our Free News & Alerts Mobile App
Like what you see? Download our updated fantasy football app for iPhone and Android with 24x7 player news, injury alerts, rankings, starts/sits & more. All free!


Win Big With RotoBaller
Be sure to also check out all of our other daily fantasy football articles and analysis to help you set those winning lineups, including this new RotoBaller YouTube video:


More Fantasy Football Analysis
Check out all of RotoBaller's fantasy football rankings. Staff rankings are updated regularly for all positions and include standard formats, PPR scoring, tiered rankings and dynasty leagues.