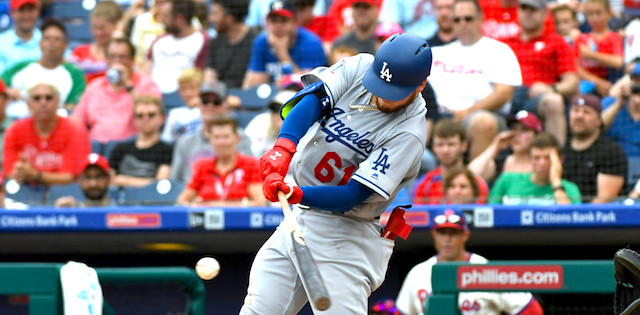 Hello everyone, and welcome to my weekly Top-30 Fantasy Rankings for Impact Rookies! In this series, I will be going over the top prospects in baseball and discussing which ones figure to have an impact for the rest of this fantasy baseball season.
It just doesn't seem right. The rain comes in and ends Michael Kopech's start early. He was absolutely electric during his first two innings of work, even if not particularly pitch efficient. The movement on his fastball was insane and the slider looked filthy. It is going to be so much fun to continue to watch him up in the majors and see him dominate big-league lineups for years to come.
As for the rest of the prospects, you will notice all the ETAs for the players are now September. Barring any surprises, there shouldn't be any major promotions before rosters expand. While the ETA is all the same, the rankings are still based on a number of different factors and not just talent. So while Vladimir Guerrero Jr. is certainly not the 20th best prospect, the likelihood of a promotion is low enough that he can't be too high on the list.
Editor's Note: Get any full-season MLB Premium Pass for 50% off, with exclusive access to our season-long articles, 15 in-season lineup tools and over 200 days of expert DFS research/tools.
Sign Up Now!
Top MLB Prospects - Fantasy Baseball Power Rankings
To be clear, this list is not the top 30 prospects in baseball. This is a list of the top 30 prospects who are likely going to rise to the major leagues and provide fantasy baseball value this season. The qualifications are simple: a player must not be on an active roster, they must have a clear path to the majors, and while they may have played in seasons prior to 2018, they must still have rookie eligibility. If a player is moved to the active roster of their team, they will be removed from this power rankings list and replaced.
1. Eloy Jimenez (OF, CWS, AAA)
Stats: 398 PA, .326/.374/.580, 21 HR, 0 SB, 7.0% BB%, 15.3% K%
ETA: September
The White Sox have already promoted one of their top prospects, why not make it another? Jimenez has given the Sox no reason to keep him down in the minors and it's clear his bat is ready for the majors. He has been rumored to be a September call-up and if that happens, he might warrant ownership in nearly all leagues. Jimenez has the hit tool to bat at or around .300 with the power to bash plenty of home runs even in just a month of work. If he does join Kopech in the majors, he could really help playoff contenders looking for some outfield help.
2. Austin Meadows (OF, TB, AAA)
Stats: 247 PA, .292/.336/.478, 7 HR, 12 SB, 6.1% BB%, 13.4% K%
ETA: September
Since joining the Tampa Bay organization, Meadows has found power like he's never found power before. In 17 games at Durham, he has as many home runs as he hit in 49 games in the majors and already three more than he hit in 42 games at Indianapolis. The slash line? .328/.382/.705. That's not too bad. He should already be in the majors starting over Carlos Gomez in right field and almost certainly will in September when rosters expand. He brings an exciting power/speed combination with a great hit tool to boot and should really help fantasy owners down the playoff stretch.
3. Christin Stewart (OF, DET, AAA)
Stats: 478 PA, .248/.343/.459, 21 HR, 0 SB, 12.1% BB%, 20.9% K%
ETA: September
Stewart has not been able to turn his fortunes around too much at the plate lately, but he is the team's top hitting prospect and a likely starter in 2019. He also has done enough to show overall improvements in 2018 to at least warrant a look in the majors. The 24-year-old slugger looks like one of the team's best up-and-coming power hitters and should be an Opening Day starter in left field in 2019. With improved plate discipline and maintained power, Stewart should be able to have an impact on fantasy owners and the Detroit Tigers down the stretch if he's promoted in September.
4. Peter Alonso (1B, NYM, AAA)
Stats: 517 PA, .276/.393/.548, 30 HR, 0 SB, 13.5% BB%, 22.4% K%
ETA: September
Somehow Dominic Smith was promoted to the majors again despite the fact he has not produced any promising number either in Triple-A or in the big leagues. While he was once considered the franchise first baseman, Alonso has certainly passed him in that regard. Alonso crushed Double-A pitching and after a cold spell to start off his time in Triple-A, he has mashed there too, slashing .296/.378/.646 with six home runs in his past 18 games. He could be kept down for service time considerations, but beyond that, there's little reason for Alonso not to be in the big leagues. If he does get called up, he would be worth adding in nearly all leagues despite playing first base.
5. Luis Urias (2B, SD, AAA)
Stats: 507 PA, .290/.393/.444, 8 HR, 2 SB, 12.6% BB%, 21.1% K%
ETA: September
Urias has reportedly already been identified as someone who will be promoted when rosters expand. For fantasy owners, Urias is someone who will likely receive plenty of playing time and if nothing else, will almost certainly be guaranteed to provide a high batting average. The power could also be there given the juiced ball. He offers a high enough floor for fantasy owners in some shallow leagues to want to grab him for some middle-infield depth.
6. Alex Verdugo (OF, LAD, AAA)
Stats: 346 PA, .335/.390/.481, 9 HR, 6 SB, 8.1% BB%, 12.7% K%
ETA: September
Since July 24, Matt Kemp has been abysmal. He is slashing just .137/.244/.192, good for a 28 wRC+. The All-Star outfielder had been one of the biggest reasons Verdugo remained in the minors, but now it's looking like the Dodgers will need to consider a new option in the outfield. With the team still 2.5 behind the Diamondbacks in the NL West race, the Dodgers need to go all in to win the division and that move might be to plug in the scorching hot Verdugo, who since July 1, has a .340/.412/.462 slash line. He is an exciting prospect with a plus hit tool and some solid power and speed. If given a chance to see regular at-bats in September, Verdugo could be a reliable contributor to owners of 12-plus-team leagues.
7. Austin Riley (3B, ATL, AAA)
Stats: 390 PA, .291/.362/.490, 12 HR, 1 SB, 8.7% BB%, 27.9% K%
ETA: September
Riley appeared to start to turn things around Tuesday, launching two home runs between the games in his team's doubleheader. It has been a bit of a struggle lately for Riley and it hasn't helped that Johan Camargo continues to hold his own at third base. However, Riley is overall the more explosive offensive player if all things go right for him. He has the chance to be a middle-of-the-order presence and offer the Atlanta Braves a right-handed power bat they need. If he gets a chance to play in September and free Camargo up to be more of a utility player, Riley could help give fantasy owners a needed boost in the home run department. But in order to get that chance, Riley will have to continue to show he's turning things around at the plate.
8. Francisco Mejia (C/OF, SD, AAA)
Stats: 423 PA, .286/.337/.440, 10 HR, 0 SB, 5.7% BB%, 17.0% K%
ETA: September
Since coming over to San Diego, Mejia has continued his hot-hitting he showed before he left Cleveland's organization. He has recorded a .316/.368/.494 slash line with three home runs in 21 games since joining the Padres. The future at catcher in San Diego could be interesting with Mejia offering the best bat in the system and Hedges showing the best glove. The two could split time in September so the Padres can get an idea of who will be the better option moving forward. Even in a situation where playing time is split, Mejia's bat is good enough that he would be worth starting in two-catcher leagues.
9. Justus Sheffield (SP, NYY, AAA)
Stats: 108.2 IP, 2.48 ERA, 2.95 FIP, 26.0% K%, 11.2% BB%, 3.3% HR/FB
ETA: September
The New York Yankees might not be able to catch the Boston Red Sox in the AL East, but they're still a near lock for the playoffs thanks to the two wild cards. They would be first in any other division in baseball by at least three games and have a healthy lead over the Seattle Mariners in the Wild Card race. With that said, there's always room for improvement and the one area the Yankees could improve is in the starting rotation. Sheffield could help provide a quality option over some other struggling starters like Sonny Gray and Masahiro Tanaka, who could benefit from some rest to try and get better before the playoffs. If he does get a chance to start some in the majors, Sheffield should immediately be viewed as one of the best starting pitching options off the waiver wire in plenty of 12-plus-team leagues.
10. Kolby Allard (SP, ATL, AAA)
Stats: 109.1 IP, 2.80 ERA, 3.41 FIP, 19.6% K%, 7.4% BB%, 4.8% HR/FB
ETA: September
The Atlanta Braves need some rotation stability in its fifth spot. It has been shuffling through pitchers at that spot and while Kevin Gausman has helped bring more balance to the rotation as a whole, Atlanta would certainly like to even everything out. Allard certainly hasn't made the most compelling MLB case, but his Triple-A success at least makes him the most compelling minor-league option. He won't offer a ton of strikeouts and doesn't miss a bunch of bats, which has resulted in him being knocked around in his MLB stints. But if he can locate his pitches effectively and find some consistency on the mound, Allard could be a quality starting option in September for both fantasy owners and the Braves.
11. Ryan Mountcastle (3B/OF, BAL, AA)
Stats: 367 PA, .302/.351/.485, 12 HR, 1 SB, 6.8% BB%, 17.7% K%
ETA: September
Last year, the surprising Baltimore Orioles' promotion came in the form of Austin Hays, who crushed Double-A pitching in his first full season of professional baseball. This year, Hays has underperformed while Mountcastle has dominated Double-A pitching since returning from his injury. As one of the top prospects in the system, Mountcastle is a building block for the franchise and is almost certainly among the top 25 players in the organization. Service time considerations could prevent the team from calling him up, but Baltimore might opt to give the top prospect a look in the majors to see if he's ready for an early 2019 assignment. If called up, Mountcastle would be one of the best bats to own off the waiver wire.
12. Victor Robles (OF, WAS, AAA)
Stats: 161 PA, .254/.365/.313, 1 HR, 15 SB, 13.0% BB%, 14.3% K%
ETA: September
Bryce Harper did not get traded, but several other key players in Washington's lineup did including second baseman Daniel Murphy. This does not directly affect Robles, but it does signal that there could be a shift in the front office's thinking of this season. The Nats might've kept Harper hoping it would make signing him to an extension easier while overall looking beyond this season. If that is the case, Robles should be a candidate to receive some at-bats in September. While he hasn't lit up Triple-A pitching since returning from his injury, Robles is certainly going to be one of Washington's starting outfielders if Harper does in fact leave the team in the offseason. He would offer fantasy owners a plus hit tool and near top-of-the-scale speed, which could be plenty of valuable given the low total of stolen bases this season.
13. Luiz Gohara (SP, ATL, AAA)
Stats: 52.1 IP, 4.99 ERA, 4.65 FIP, 23.9% K%, 7.5% BB%, 14.8% HR/FB
ETA: September
Gohara has been the exact opposite of Allard. Gohara misses plenty of bats where Allard misses few. Gohara doesn't give up a ton of hits while Allard often can. But when Gohara does give up hits, they go a long way while Allard can typically keep the ball in the yard. Gohara has gone through a lot this season — both on an off the field — that has led to some struggles, but there's no doubt he can be an exciting pitcher when he is on the mound. If he can start limiting the home runs again and see a start or two in the majors in September, he could really help boost the strikeout totals on some fantasy teams making the playoff push.
14. Enyel De Los Santos (SP, PHI, AAA)
Stats: 116.0 IP, 2.56 ERA, 4.10 FIP, 21.6% K%, 8.3% BB%, 9.5% HR/FB
ETA: September
The Philadelphia Phillies certainly don't have a starting pitching problem, but De Los Santos seems as likely as anyone on this list to return to the majors in September. Whether he pitches out of the rotation or is a long-man out of the bullpen, De Los Santos offers some intriguing strikeout upside and could help out some fantasy owners looking for a boost in Ks for the playoffs. His role will determine what leagues could use him, but with his stuff, he offers enough intrigue to at least warrant consideration in some mixed leagues.
15. Franklin Barreto (2B/SS, OAK, AAA)
Stats: 286 PA, .255/.360/.510, 15 HR, 5 SB, 12.2% BB%, 31.8% K%
ETA: September
The two positions Barreto plays primarily are both occupied by two of the team's three position players with a WAR above 3.0 in Jed Lowrie and Marcus Semien. However, he has found playing time in the past and could play a role as a utility man for the Athletics during the final stretch of the season. He has had his struggles in the big leagues, but with his power and speed combination, he will warrant consideration in some deeper fantasy leagues if he garners even semi-regular playing time when he returns to the roster in September.
16. Nick Kingham (SP, PIT, AAA)
Stats: 67.1 IP, 3.88 ERA, 3.47 FIP, 22.0% K%, 6.0% BB%, 6.7% HR/FB
ETA: September
Kingham was not outstanding in his MLB debut. He made 12 starts and though he showed promise at times, the 5.02 ERA and 5.23 FIP don't look great. He also has not been great since returning to Triple-A, recording a 9.00 ERA and 7.09 FIP across his three starts. The strikeout upside is there and he should make a couple starts in September, but he will need to start to turn things around before owners can really trust him.
17. Jesus Luzardo (SP, OAK, AAA)
Stats: 106.1 IP, 2.29 ERA, 2.76 FIP, 30.3% K%, 6.6% BB%, 6.7% HR/FB
ETA: September
The Oakland Athletics have been one of the surprises of the summer, but the rotation has only been alright. It ranks 16th in Fangraphs WAR this season with only two starters owning a WAR above 1.0. Luzardo has been exceptional this year and while the Athletics might be reluctant to call up their top prospect, he could really boost this team's chances of winning the AL West. He has the chance to be one of the game's best up-and-coming young arms and could really help fantasy owners down the stretch if he makes a few starts in Oakland.
18. Kevin Newman (SS, PIT, AAA)
Stats: 477 PA, .302/.350/.407, 4 HR, 28 SB, 6.5% BB%, 10.5% K%
ETA: September
Newman is not the most exciting player on this list, but he has put together some promising numbers at Triple-A. He has been a major threat on the bases and has at least proven himself capable of driving the ball out of the park at times. He looks like he could be a future top-of-the-order hitters, boasting a promising hit tool with the ability to get on base at a high clip. It's unclear if he will take many starts from Jordy Mercer in September (or even if he gets the call-up at all), but he's not a prospect where service time issues would seem to play a major factor and he's probably worth at least giving some looks at short for Pittsburgh.
19. Brendan Rodgers (2B/SS, COL, AAA)
Stats: 437 PA, .270/.333/.474, 17 HR, 12 SB, 6.9% BB%, 19.5% K%
ETA: September
Like the next player on this list, it's not super likely Rodgers will be promoted this year. Though he has put together an exceptional season, service time considerations could keep the Colorado Rockies from calling him up. However, DJ LeMahieu has only been OK at second base this season and Rodgers would almost certainly be an offensive upgrade at the keystone. For a team in a playoff hunt, that could be important. It will be interesting to see what the Rockies decide to do with Rodgers, but if he is promoted to the majors, he's as worthy of a pickup in fantasy leagues as anyone on this list.
20. Vladimir Guerrero Jr. (3B/OF, TOR, AAA)
Stats: 351 PA, .389/.446/.650, 18 HR, 3 SB, 9.4% BB%, 10.0% K%
ETA: September
As mentioned earlier, it's not super likely Guerrero will be promoted in September. Despite the fact he has crushed pitches at every level this season, Guerrero seems unlikely to receive a promotion due to service time considerations. Still, the odds aren't at zero and if he does receive a call to the majors, he will need to be added in all fantasy leagues. He has the chance to be exceptional if given the opportunity to appear in the big leagues in September.
21. Matt Thaiss (1B, LAA, AAA)
Stats: 515 PA, .278/.332/.470, 15 HR, 8 SB, 7.4% BB%, 18.3% K%
ETA: September
22. Forrest Whitley (SP, HOU, AA)
Stats: 26.1 IP, 3.76 ERA, 3.38 FIP, 31.5% K%, 10.2% BB%, 7.1% HR/FB
ETA: September
23. Griffin Canning (SP, LAA, AA)
Stats: 98.2 IP, 3.74 ERA, 3.63 FIP, 26.0% K%, 10.1% BB%, 7.2% HR/FB
ETA: September
24. Drew Dosch (3B, BAL, AAA)
Stats: 337 PA, .271/.335/.419, 7 HR, 1 SB, 8.3% BB%, 27.3% K%
ETA: September
25. Carson Kelly (C, STL, AAA)
Stats: 316 PA, .285/.389/.423, 7 HR, 0 SB, 13.3% BB%, 12.3% K%
ETA: September
26. Sean Murphy (C, OAK, AAA)
Stats: 277 PA, .291/.359/.506, 8 HR, 3 SB, 7.6% BB%, 16.2% K%
ETA: September
27. Justin Dunn (SP, NYM, AA)
Stats: 121.0 IP, 2.83 ERA, 3.04 FIP, 26.7% K%, 8.5% BB%, 5.7% HR/FB
ETA: September
28. Myles Straw (OF, HOU, AAA)
Stats: 544 PA, .293/.380/.352, 1 HR, 63 SB, 11.8% BB%, 17.5% K%
ETA: September
29. Spencer Adams (SP, CWS, AAA)
Stats: 139.0 IP, 3.88 ERA, 5.01 FIP, 14.4% K%, 9.1% BB%, 5.7% HR/FB
ETA: September
30. Jake Robson (OF, DET, AAA)
Stats: 507 PA, .299/.385/.448, 10 HR, 16 SB, 11.8% BB%, 25.0% K%
ETA: September
MLB Rookie Rankings
1. Ronald Acuna (OF, ATL)
2. Juan Soto (OF, WAS)
3. Gleyber Torres (2B/SS, NYY)
4. Shohei Ohtani (DH, LAA)
5. Harrison Bader (OF, STL)
6. Miguel Andujar (3B, NYY)
7. Jack Flaherty (SP, STL)
8. Walker Buehler (SP, LAD)
9. Lourdes Gurriel (SS, TOR)
10. Shane Bieber (SP, CLE)
11. Dereck Rodriguez (SP, SF)
12. Josh Hader (RP, MIL)
13. Seranthony Dominguez (RP, PHI)
14. Michael Kopech (SP, CWS)
15. Colin Moran (1B/3B, PIT)
16. Willie Calhoun (OF, TEX)
17. Brian Anderson (3B/OF, MIA)
18. Joey Lucchesi (SP, SD)
19. Willy Adames (SS, TB)
20. Danny Jansen (C, TOR)
More 2018 MLB Prospects Analysis