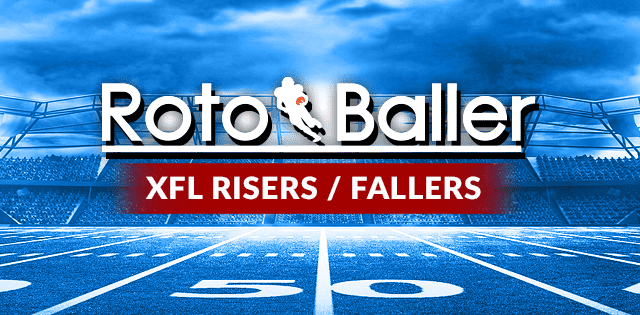 Welcome to the Week 6 edition of RotoBaller's XFL Risers and Fallers, where we'll aim to identify multiple players at each skill position each week that appear to be either be trending toward an expanding or shrinking role.  After you're done here, be sure to also read all our other weekly XFL fantasy football articles.
Naturally, the participation and success level of many players can vary from week to week. However, the goal will be to spotlight players that have clear-cut reasons to support a continued ascension or decline while factoring in conditions such as the offensive system they're in, injuries around them, and the roles of other teammates at their position.
One note about the general protocol I'll try to follow with the selection of players for this article – once a player has been designated as either Riser or Faller in a particular week, I'll usually refrain from assigning them the same designation the very following week. The rare exception will be when an additional factor that makes them even more of a Riser or Faller surfaces during that specific time frame.
For a look at who was featured in the Week 5 edition of Risers and Fallers, click here.
XFL Quarterback Risers         
Luis Perez, Vipers | Week 6 matchup: vs. Battlehawks (Sat.)
Perez left no doubt as to his grip on the Vipers starting quarterback job with his Week 5 performance, as he completed 20 of 28 passes for 269 yards and three touchdowns against the Guardians. The spring league vet continues to cultivate excellent chemistry with Jeff Badet, but he also encouragingly got Geronimo Allison back into the mix in Week 5 and has a host of other talented pass-catching options.
Perez has the added benefit of an excellent backfield trio of Rod Smith, John Lovett and Deandre Torrey to support him. All three backs can also catch the ball effectively, and Lovett and Torrey can especially make plays in space. Factor in that a highly experienced play caller in long-time NFL coach Ray Sherman is now the voice in Perez's headset, and the quarterback's stock is in rock-solid shape going into Week 6.
Quentin Dormady, Guardians | Week 6 matchup: vs. Sea Dragons (Sat.)
Guardians head coach Terrell Buckley hasn't been shy about making changes on offense over the first five weeks as he tries to coax a long-awaited first win out of his squad. That was evident again in Week 5, when Buckley pulled veteran signal-caller Paxton Lynch late in the first half and inserted Dormady with great success.
The Central Michigan alum led a touchdown drive on his first possession and finished 22 of 25 for 256 yards and two touchdowns. He displayed very good rapport with an array of underrated pass catchers that includes Cody Latimer, Charleston Rambo, Lance Lenoir and Eli Rogers. Given Orlando's desperation for a victory, there's no reason for Buckley to turn back to Lynch following Dormady's upside.
XFL Quarterback Fallers
Brett Hundley, Vipers | Week 6 matchup: vs. Battlehawks (Sat.)
Hundley's inclusion in this spot is in direct relation to what was said about Perez above. The NFL veteran was thought to have an excellent chance of remaining the starter once he learned the playbook following his late arrival in camp. However, given how Perez has exceeded expectations in the last two games, it's clear Hundley is relegated to the No. 2 spot for now.
XFL Running Back Risers  
Rod Smith, Vipers | Week 6 matchup: vs. Battlehawks (Sat.)
Smith has had a couple of down games, but if his usage under Sherman's playcalling in Week 5 is any indication, the veteran could be headed for a stellar second half of the season. The former Dallas Cowboy logged a season-high 18 carries in Week 5 and recorded a pair of short touchdowns along the way. That followed strong results with limited opportunity in Weeks 2-4, when he'd put up 102 yards on 21 carries.
Smith's Week 6 matchup against the Battlehawks, which just allowed 218 rushing yards to the player we'll profile next, Abram Smith, gives the Vipers' lead back a chance to keep the momentum going. Additionally, Smith's proven ability to handle a hefty workload and Sherman's clear comfort level with him gives him a bright fantasy outlook for the time being.
Abram Smith, Defenders | Week 6 matchup: vs. Roughnecks (Mon.)
Smith's just alluded-to breakout Week 5 performance also included three touchdowns and a season-high 23 carries. The Baylor product had also logged 22 rush attempts in Week 4, however, so his ability to handle a true workhorse role on a team that is intent on operating a run-heavy gameplan is corroborated.
Smith has just six receptions on the season, but that's not to say he can't get involved in the passing game more often as the second half of the campaign unfolds. Given Washington is averaging a league-high 174 rushing yards per contest and Smith has double-digit carries in each game, there's plenty to like about his prospects.
ON THE RADAR: De'Andre Torrey, Vipers | Week 6 matchup: vs. Battlehawks (Sat.)
XFL Running Back Fallers
Mataeo Durant, Battlehawks | Week 6 matchup: @ Vipers (Sat.)
Brian Hill was profiled as a Riser heading into Week 5 and responded with 14 carries for 79 yards and three receptions for 29 yards. Meanwhile, Durant was limited to two carries, his third straight game in single digits and fourth overall in the first five contests. The only exception was the Week 2 game Hill sat out, and as long as his veteran teammate is healthy, Durant appears destined for a minimal role.
XFL Wide Receiver Risers
Charleston Rambo, Guardians | Week 6 matchup: vs. Sea Dragons (Sat.)
Rambo offered a glimpse of his talent during his final college season in 2021. The speedy wideout finished with 79 receptions for 1,172 yards and seven touchdowns on 118 targets, averaging nearly 15.0 yards per catch. While his XFL career hasn't quite gotten off to as auspicious a start, Rambo is clearly a player on the rise after the last two weeks.
The former Miami Hurricane has put together a combined 7-158-2 line on seven targets in the last pair of contests. With Dormady apparently taking the reins of the starting quarterback job for now and showing some nice chemistry with Rambo already, it would be wise to have the 23-year-old in starting lineups moving forward.
Travell Harris, Roughnecks | Week 6 matchup: @ Defenders (Mon.)
The Roughnecks lost talented downfield threat Jontre Kirklin to a season-ending shoulder injury in Week 5, which sets the rest of the receivers in Houston's pass-centric offense up for plenty of opportunity. Consequently, the likes of Deontay Burnett and Cedric Byrd arguably have a case for inclusion in this category as well, but we'll focus on Harris this week.
To begin with, the Washington State alum was already displaying plenty of upside prior to Kirklin's injury. Harris had put together a 10-179-2 line over his first three games. Harris then managed to record five receptions for 58 yards on six targets in the Week 5 loss to Seattle, and his well-established rapport with quarterback Brandon Silvers should allow him to hit the ground running in helping make up for Kirklin's absence beginning Week 6.
ON THE RADAR: Justin Smith, Roughnecks | Week 6 matchup: @ Defenders (Mon.) // Damion Willis, Sea Dragons | Week 6 matchup: @ Guardians (Sat.)
XFL Wide Receiver Fallers
Kelvin McKnight, Sea Dragons | Week 6 matchup: @ Guardians (Sat.)
The Sea Dragons may have the deepest wideout corps in the league, and that naturally works to McKnight's detriment. With Josh Gordon, Jahcour Pearson, Blake Jackson and Damion Willis among those in front of him, McKnight remains lost in the shuffle. The Samford product put up some eye-popping numbers in college and even came into the XFL with eight games (five starts) of CFL experience, but his 4-19 season line thus far with Seattle was exclusively produced in Week 1.
XFL Tight End Risers  
Logan Carter, Guardians | Week 6 matchup: vs. Sea Dragons (Sat.)
The Renegades' Sal Cannella and the Brahmas' Alize Mack continue to likely be the most reliable week-to-week fantasy assets in the league at tight end. However, don't lose sight of Carter, who's put together a 9-73 line through five games. While those numbers aren't earth-shattering by any stretch, Carter's involvement has been progressively creeping up.
After producing just three catches for 10 yards over the first two weeks, Carter progressed to recording a 13-yard reception in Week 3, two catches for 19 yards in Week 4, and most recently, three grabs for 31 yards in Week 5. The Oklahoma State product has shown an ability to make some chunk plays downfield and is therefore an intriguing pick-up and/or streaming option for the time being.
XFL Tight End Fallers
Deon Yelder, Brahmas | Week 6 matchup: @ Renegades (Sun.)
As alluded to, Mack has been the clear-cut top tight end in San Antonio thus far. That's left Yelder out in the cold for the last several games, as the one-time Kanas City Chief has been held without a reception on three targets over the last three games. With no tangible sign of that changing anytime soon and Brahmas quarterback Jack Coan seemingly regressing in the last couple games, Yelder's stock is trending firmly down for the moment.
Download Our Free News & Alerts Mobile App
Like what you see? Download our updated fantasy football app for
iPhone
and
Android
with 24x7 player news, injury alerts, rankings, starts/sits & more. All free!
Win Big With RotoBaller
Be sure to also check out all of our other daily
fantasy football articles
and analysis to help you set those winning lineups, including this new RotoBaller YouTube video:
More Weekly DFS Analysis