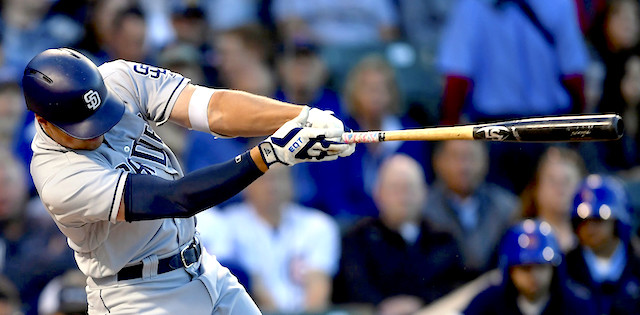 Power is perhaps the best fantasy baseball attribute (and is all the better in OPS leagues) because it's also the best way to pick up runs and RBI--a home run guarantees at least one of each, naturally. So you will want to be on top of power trends throughout the season. For this first 2019 edition, all stats are full season through Monday, April 8th.
Statcast will come up a lot in discussions about power, for obvious reasons. It's better to hit a baseball at 100 miles per hour than 90, at 25 degrees than five. Statcast divides exit velocity into that on ground balls in one category, and that on fly balls and liners in a second category. Only the second has power relevance, of course. Sometimes in this column, the latter category will be referred to as "air balls" - just know we haven't suddenly started discussing bad basketball shots when that comes up. This also allows "exit velocity on air balls" to be expressed as the pronounceable acronym "EVAB" ("EVFBLD" is a bit of a mouthful).
Ten batted ball events are currently the default for Statcast rankings, and there are 305 qualified hitters right now. Without further ado, here are some players that have started the season either particularly hot or cold in the power department.
Editor's Note: Get any full-season MLB Premium Pass for 50% off, with exclusive access to our season-long articles, 15 in-season lineup tools and over 200 days of expert DFS research/tools.
Sign Up Now!
Power Risers
Cody Bellinger (OF, LAD)
Bellinger followed up his 39 home runs and .933 OPS as a rookie in 2017 with just 25 homers and an .814 OPS in his sophomore campaign. Still pretty good, but clearly a decline. If the early 2019 returns are any indication, however, the 23-year-old right fielder will return to his initial Major League form this season, as Bellinger leads MLB with seven home runs. He hasn't hit the ball harder than anyone, but he's hit it plenty well enough: seven barrels for a 14th-ranked 13.7% barrels per PA, and a 99.1 exit velocity on his flies and liners that ranks 26th. If you're Joey Gallo or Giancarlo Stanton, that EV can be maintained in a full season, but Bellinger was at 96.6 in his 2017 campaign. That would still be really good, and Bellinger should easily return to the 30 homer mark with his head start this year, with a chance at setting a new career high at 40-plus. To get as high as 40, however, he may have to lift his 10.6 average launch angle so far in 2019 somewhat.
Gary Sanchez (C, NYY)
Despite a down 2018, Sanchez remained a top fantasy catcher option heading into 2019, and he is absolutely killing the ball early on, already with 10 barrels for a 25.0% per-PA rate, both of which lead all hitters. It has led to six homers, which trails only Bellinger through Monday. Both Sanchez's air ball exit velocity (100.8) and launch angle (22.9), as with his barrel count, are better than Bellinger's. Sanchez's home run pace will come down, naturally, but if anything he's off to an even more legitimate power start than the one player with more bombs so far. It's looking good for Sanchez's chances at being this year's #1 catcher.
Hunter Renfroe (OF, SD)
There are several players with five home runs, and we'll get to some of them, but first there are a few interesting names with fewer. Despite starting only one of San Diego's first five games, Renfroe, who hit 26 homers in each of the past two seasons, has three longballs so far this year. His 13.8% barrel rate is almost identical to Bellinger. There's a real foundation here that also includes 95.3 mph average velocity on his flies and liners, and it's allowed Renfroe to start more games. If he gets the playing time, Renfroe will once again produce the power.
Kolten Wong (2B, STL)
Wong is going to be the example here of a power riser with a shaky foundation. He has fewer barrels (two) than homers (three). That should always be a warning sign; yes, some home runs aren't quite barreled up, but also some barrels won't escape the park. His 87.5 exit velocity on flies and liners puts him a tenth of a mile per hour short of Ian Kinsler and Yolmer Sanchez; Sanchez is slugging .042 so far. Wong's launch angle of 10.4 isn't going to be conducive to continuing to hit homers on less than impressive exit velocity. Wong hit last year's nine homers on a 91.1 mph fly/liner EV. The early returns this season indicate little chance of doing much better than matching that mark despite the head start.
Seemingly the entire Seattle Mariners offense
Who had Jay Bruce, Daniel Vogelbach, Domingo Santana and Tim Beckham at 19 combined home runs through the team's 12th game? Let's take them all at once; each player will benefit from the others' success. At least, in terms of getting extra at-bats; if everyone's literally homering all the time, you only get one RBI when your turn to hit a solo shot comes up!
Kidding aside, here's the Statcast numbers for the Four Seamen so far in 2019:
| | | | | | | |
| --- | --- | --- | --- | --- | --- | --- |
| Player | PA | HR | EVAB | LA | Barrels | Bar/PA |
| Bruce | 50 | 6 | 98.0 | 26.7 | 7 | 14.0 |
| Vogelbach | 24 | 5 | 100.7 | 19.5 | 4 | 16.7 |
| Santana | 59 | 4 | 93.2 | 15.8 | 5 | 8.5 |
| Beckham | 47 | 4 | 93.3 | 13.1 | 3 | 6.4 |
Unsurprisingly, Beckham seems to have had the flukiest start, but respectable power campaigns have been built on the foundation of a 6.4% or lower barrel rate. The career-high 22 home runs he hit in 2017 could well happen again.
The beginning of Vogelbach's season has been simply incredible, with a bomb every five plate appearances, and even more astoundingly, he has already set a career-high in homers. He's perhaps the one Mariner adversely affected by the team's white-hot start, since it would be easier to gain playing time at the expense of a struggling teammate. That said, by hitting baseballs at 100+ mph and barreling them up often in the early going, Vogelbach is at the very least a home run play in daily fantasy when he does line up.
Domingo Santana is doing alright for himself, and when he hit 30 home runs in 2017, he had an identical 93.2 mph exit velocity but with a lower launch angle and barrel rate. Another 30-homer campaign is not out of the question.
And then there's Jay Bruce. Bruce, like Santana, and indeed many of the power risers we have discussed, was great in 2017 and not so much in '18. Now, in 2019, he's tied for second in the Majors in homers. Bruce's EVAB was 92.5 mph in 2017 and 92.6 in 2018, and his early barrel rate is nearly double the 7.1% he put up in '17. It's a nice early recovery from the injury troubles Bruce faced last season, but Bruce's history also leaves questions about whether the 98.0 velocity can continue. Additionally, he's been less impressive than his fellows at the top of the home run leader board, Bellinger and Sanchez. Still, it's time to ride the hot hand, one that has a chance at putting up the sixth 30-homer campaign of his career.
Power Fallers
Jose Ramirez (2B/3B, CLE)
Of all the players yet to hit a home run in 2019, Ramirez had the most in 2018 with 39. Ramirez has barreled up a couple baseballs so far, including this one that was simply hit to too deep a part of the ballpark. He could be pressing a little, with a walk rate so far one-third of what it was last season, but he has also maintained a similar strikeout rate this year. With a middling 93.2 mph exit velocity on his balls in the air, Ramirez's lack of homers isn't entirely bad luck, but it's too soon to sell your shares low. That said, a repeat of 39 bombs is already too optimistic.
Teoscar Hernandez (OF, TOR)
Hernandez hit 22 home runs last season and impressed with a .314/.407/.451 spring, hitting third on Opening Day. The Blue Jays haven't settled on a batting order but continue to hit Hernandez near the top or in the middle of the lineup. However, Hernandez has yet to do much this season, including a zero in the home run column. One good sign is his six walks against nine strikeouts, much better than his 41-163 ratio last year. Like Ramirez, Hernandez does have two barrels, so he hasn't been utterly incapable of good contact. As a player who was ninth in barrel rate in 2018 and is currently exhibiting solid, improved plate discipline, there is still chance despite only a 92.0 fly/liner EV currently that Hernandez can break out. On a poor Blue Jays offense, he ought to get a long leash to try and do just that. Be prepared to jump on signs of life when they come.
Franmil Reyes (OF, SD)
Reyes was one of two players in the faller section who hit his first home run on Monday, doing so in a pinch-hit performance. He was really only falling in the first place thanks to bad luck and his teammate Hunter Renfroe threatening more playing time. Reyes is hitting his air balls at 97.8 mph, even better than the 96.4 mark he posted last year while putting his name on the power map. With three barrels so far this season, Reyes ranks 42nd at a 10.3% rate. Because Renfroe is off to a much stronger start in the box scores, and the Padres can only start both of them if giving Wil Myers a start in center field or the day off, there's a real dilemma here. We're still very much in wait-and-see mode as to how San Diego ultimately resolves the situation. From a pure power perspective, however, Reyes has still got game despite only the one homer so far.
Brian Dozier (2B, WAS)
Like Reyes, Dozier finally entered the home run column Monday night. Unlike Reyes, it was Dozier's only barrel of the year so far. When Dozier hit 42 homers in 2016, he did so with only a 5.8% barrel rate and 94.1 mph velocity on balls hit in the air. He posted very similar marks of 5.7% and 94.4 mph in his 33-homer follow-up campaign in '17. So, Dozier is capable of strong power numbers without eye-popping Statcast figures. His 92.6 fly/liner exit velocity in 2019 is thus less alarming than it could be. Already infamous for late starts, this could be another one for Dozier. That said, it would be no surprise either if 2018 had truly been the start of a decline. It's just a little to soon to decide which outcome we get.
Seemingly the entire Cincinnati Reds offense
Who had Joey Votto, Eugenio Suarez, Yasiel Puig, and Jesse Winker at two combined home runs through the team's ninth game?
| | | | | | | |
| --- | --- | --- | --- | --- | --- | --- |
| Player | PA | HR | EVAB | LA | Barrels | Bar/PA |
| Suarez | 32 | 1 | 97.9 | 9.0 | 2 | 6.3 |
| Votto | 35 | 1 | 91.8 | 22.4 | 2 | 5.7 |
| Puig | 32 | 0 | 92.4 | 9.7 | 1 | 3.1 |
| Winker | 26 | 0 | 87.2 | 15.0 | 0 | 0.0 |
If you were hoping for positive signs, I sincerely apologize. At least Suarez appears just a launch angle adjustment away from regaining his power, and he had a 14.7 launch angle last year. Save your concern for the other three, who are in a bit of a pickle.
Votto had a 92.6 exit velocity in the air to go with a 6.2% barrel rate in his 36-HR season in 2017 followed by 92.5 mph and 4.7% in last year's 12-homer campaign. If he stays below 92 now that he's 35 years old, he's going to end up a lot closer to 12 than to 36 by the end of this season.
Puig's slow start isn't entirely undeserved via Statcast, but he probably shouldn't be a .167 slugging percentage bad. If he's going to enter the 20-homer club for a third straight season in 2019, however, it would behoove him to get the launch angle back to double figures and the exit velocity closer to 94, which are the marks he hung around at in 2017 and '18.
Winker is the most depressing case of these four Reds. You just hope the shoulder he had surgery on isn't bothering him. He did go long four times in spring training, so it would be hard to believe the shoulder is only now getting to him. Either way, the anemic exit velocity and utter lack of barrels are bad signs for a Winker power breakout. He should probably focus on regaining his .400 OBP form first, before trying to break the seven-homer threshold. [Note: Naturally, Winker homered Tuesday night.]
The good news for Winker, and all the players struggling with their power stroke so far, is the youth of the 2019 season, with about 150 games left in which to overcome the first 10 or so.
More 2019 Fantasy Baseball Advice