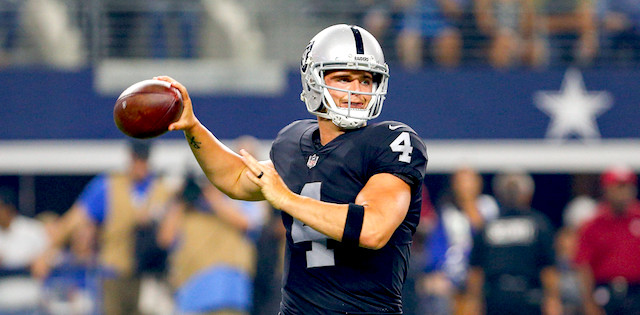 Through two weeks of the NFL season, my hit rate on projecting non-quarterback busts has been pretty strong, but when it comes to predicting which quarterbacks would struggles...man, it's been tough. Ryan Fitzpatrick in Week 2 and Patrick Mahomes in Week 1...
Still, it's Week 3, and we're starting to get some better data to help us figure things out. One of the toughest things about the NFL is that small sample size that we have to work with as opposed to the NBA, where an 82 game season makes things like "Ryan Fitzpatrick becomes the NFL's best quarterback" fairly impossible.
Below are 10 lineup busts and avoids for Week 3 of NFL action.
Editor's Note: Get any full-season NFL Premium Pass for 50% off. Our exclusive In-Season Lineup Tools, Lineup Optimizer and over 150 days of Premium DFS Research.
Sign Up Now!
Top 10 Busts - NFL Week 3
Derek Carr (QB, Oakland Raiders)
The Dolphins are allowing the third-fewest fantasy points to quarterbacks through two games this year. While they allowed 334 yards to Sam Darnold last week, they also picked the rookie off twice. The week before, they picked off the Marcus Mariota/ Blaine Gabbert tandem three times. This is a defense that's looked much improved this season from last year thanks to improved play from a talented defensive backfield. They get the Raiders this week. Despite completing over 90 percent of his passes last week, Carr only found the end zone once in a loss to Denver. I'm not sure if it's too early to consider his lack of touchdown passes a trend, but just one of them through two games is concerning.
Philip Rivers (QB, Los Angeles Chargers)
We get our first meeting of the two Los Angeles teams this week, with 1-1 Chargers heading to the Coliseum to play the 2-0 Rams. The Rams have allowed the fewest fantasy points to quarterbacks this year thanks to two factors. First, they played the Cardinals last week, which will make any defense look really good, but also they added a pair of top corners this offseason, bringing in Marcus Peters and Aqib Talib. That's done wonders for them through two games as the team has scored more defensive touchdowns than they've allowed passing touchdowns. There's a good chance Rivers gets the Chargers into the end zone through the air this week, but his ceiling is severely limited by this matchup.
David Johnson (RB, Arizona Cardinals)
You play David Johnson this week. You picked him in the top four, he's one of the NFL's most talented offensive weapons, and it's too early to write him off.
But you start him with some trepidation. The Cardinals offense has been a disaster so far and the Bears defense has been shutting down running games. Sure, Green Bay and Seattle aren't rushing attacks that set the world on fire, but the Bears defensive front looks scary. Pro Football Focus ranks the Cardinals offensive line as the NFL's worst after two weeks, while RotoBaller's Stephen Halupka is slightly kinder, ranking them as the league's 30th best unit. This matchup has disaster written all over it for Arizona.
Royce Freeman (RB, Denver Broncos)
Phillip Lindsay has quickly become the player to own in this backfield, with no better evidence than the fact that Lindsay has double the fourth quarter touches of Freeman through two games. Freeman is also a non-entity in the passing game. While that latter fact was to be expected coming into the year, Lindsay's ability to gain yardage in runs to the outside has cut into Freeman's share of the carries. Freeman was only on the field for 24 percent of Denver's offensive plays in Week 2. He's a touchdown-dependent play against the Ravens this week and I'd turn elsewhere if possible instead of betting on another one-yard touchdown dive.
Derrick Henry (RB, Tennessee Titans)
Jacksonville's run defense has been fairly average this year, but aside from allowing a long touchdown run to Saquon Barkley they've been fairly strong. Where there have been some struggles is against passing backs, with having already allowed 111 receiving yards to backs. Dion Lewis could be set for a good game this week, but Jacksonville's front seven plus the game script don't have me feeling good about Henry, who hasn't had a single one of his 28 carries go for 10 or more yards.
Tyler Lockett (WR, Seattle Seahawks)
It's been surprising that the Dallas Cowboys haven't allowed a touchdown pass to a wide receiver this season. It's also been surprising that the best individual performance they've allowed to a wideout was Odell Beckham Jr.'s 4/51 line last in Week 2. With Seattle's offensive line struggling and center Justin Britt day-to-day, this weekend doesn't look great for Seattle. It'll be a surprise if Lockett finds the end zone for the third straight week.
Corey Davis (WR, Tennessee Titans)
Chris Hogan had a pair of touchdown receptions last week for the Patriots against Jacksonville, but through two games no wide receiver not named Odell Beckham Jr. (who feels like an acceptable exception to the following statement) has reached 50 receiving yards against this defense. After James White exposed some vulnerability, I'd expect the Titans to focus on the short passing game with Dion Lewis, leaving Davis as another guy on this list whose value is tied up in his ability to get into the end zone. Considering he's still never done that in a regular season NFL game, I'm not putting much faith in this being the week he finally does.
Will Fuller (WR, Houston Texans)
The Texans have been a mess to start the season, but Will Fuller's first game back after a hamstring issue that forced him to miss Week 1 ended 113 yards and a touchdown. Fuller was 11th for the week in air yards and while this calculation is obviously imperfect, multiplying his air yards by two would give him 226 if he'd played both of Houston's game. That would rank 16th in the NFL. Like teammate DeAndre Hopkins (who is second in the NFL in air yards), Fuller is at his best when quarterback Deshaun Watson has the time to get him the ball. Unlike Hopkins, Fuller is more susceptible to struggling when that doesn't happen. Only eight teams have allowed fewer air yards this season than the Giants, who should be able to generate enough pressure to get the ball out of Watson's hands quickly, limiting Fuller's ability to take advantage of his speed.
Austin Seferian-Jenkins (TE, Jacksonville Jaguars)
Five targets in Week 1 resulting in three catches for 25 yards. Five targets in Week 2 resulting in three catches for 23 yards and a touchdown. A matchup against the Titans, who have allowed four catches for 51 yards and no scores to the tight end position this season. With quarterback Blake Bortles showing much more faith in Keelan Cole, Dede Westbrook, and Donte Moncrief early this season, it might be time to jump ship on ASJ.
David Njoku (TE, Cleveland Browns)
The David Njoku breakout has not happened yet. Could it in Thursday's meeting with the Jets? Well...the Jets have allowed just three receptions to tight ends all season, though one of those was a touchdown by A.J. Derby last week. Njoku has bee targeted 14 times this season, but he's only caught seven passes for 33 yards as the Browns haven't used him as a downfield weapon. You can see this in the huge drop in yards per catch, from 12.1 as a rookie to 4.7 this year. It's a small sample, but this could just be life for Njoku with Tyrod Taylor at quarterback. I'm fading him against the Jets.
More Weekly Lineup Prep