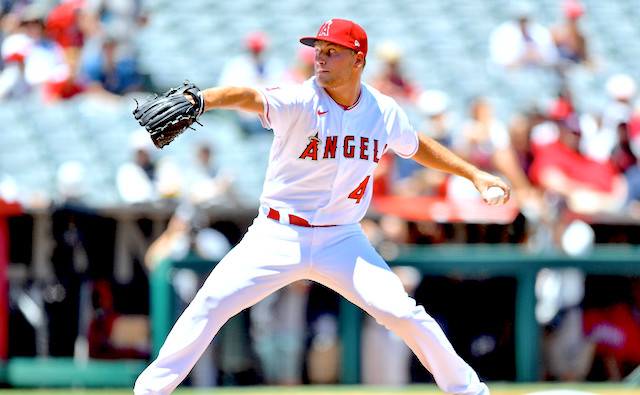 Most of our drafts are in the books, and that means it is time for RotoBallers to punch it into waiver-wire gear. I'm here to help highlight the top pitching options at both starter and reliever as the 2022 fantasy baseball season barrels down upon us. Are you ready!?
For our purposes, we'll examine players with fantasy potential that are rostered in roughly 30% or fewer of Yahoo leagues. The usual caveats apply that available options will vary according to your league size and settings.
Now, let's review the top Week 1 fantasy baseball waiver wire pickups and adds for pitchers to consider after your drafts have already been completed as injury replacements or high-upside stashes.
Editor's Note: Our incredible team of writers received five total writing awards and 13 award nominations by the Fantasy Sports Writers Association, tops in the industry! Congrats to all the award winners and nominees including Best MLB Series, NFL Series, NBA Writer, PGA Writer and Player Notes writer of the year. Be sure to follow their analysis, rankings and advice all year long, and win big with RotoBaller!
Read More!
Starting Pitcher Waiver Wire Adds
Jesus Luzardo, Miami Marlins - 30% rostered - Luzardo has been pumping 97-98 mph this spring after 2021 saw him in the 95-96 range. I realize his MLB career thus far has been largely disappointing but he's had a full offseason away from the Oakland era and the midseason trade to reset. He still has a strong slidepiece to complement the fireball and if he can bring that walk rate down towards 8% or so then I'd be thrilled.
Matt Brash, Seattle Mariners - 27% rostered - Brash is only RP-eligible on Yahoo but rest assured, he'll get that sweet SP tag in short order. One of the buzzier pickups this preseason, Brash earned his roster spot by mowing down the Rockies' regulars to give him a 12/2 K/BB over 9 ⅓ IP this spring. I don't love being this results-oriented, but one run allowed in that window surely influenced Seattle's decision. Bold and Brash fantasy team names are ready! Recall Brash's 10 Double-A starts last season gave us this: 55 IP, 2.13 ERA, 1.00 WHIP, 80 strikeouts (36% K rate). Can the control hold up? Don't let this distract you from stashing George Kirby either!
Matt Brash's fifth strikeout victim, Brendan Rodgers, came via⚔️ ... an 87 mph knuckle curve with 3,015 RPM spin (league average last year on curves was 2,512) pic.twitter.com/SDy8cKFMyW

— Daniel Kramer (@DKramer_) April 2, 2022
Nestor Cortes, New York Yankees - 25% rostered - Cortes showed off with a 2.90 ERA/1.08 WHIP alongside 103 strikeouts across 93 frames for the Yanks in 2021 and now enters '22 with a full-time starting role. I know the AL East is frightful but Cortes never really faded in '21, proving effective as both reliever and starter in the Bronx. In 73 ⅓ IP as a starter, the 27-year-old only issued 17 walks. If we get anything like that 5.8% clip in '22 then a WHIP below 1.20 and a strikeout per inning will have us dancing.
Drew Rasmussen, Tampa Bay Rays - 20% rostered - Rasmussen has a fancy new sweeper in his arsenal, which should help beef up the strikeouts after he only got 28 K's in 42 IP as a starter in 2021. In general, he was a better whiffer than the results showed and he did have 45 K's in 34 IP as a reliever. It's always different when you need to preserve some stamina though, but he got six strikeouts (with no walks) over 3 ⅓ IP against Pittsburgh last Sunday and should not be overlooked in draft rooms. Don't expect many 6 IP quality start chances, however, as TB likely continues to shield him from a third time through the order.
Nick Lodolo, Cincinnati Reds - 14% rostered - Lodolo will reportedly make his MLB debut on April 13 against the Guardians according to The Athletic's C. Trent Rosecrans. The prized southpaw walked only one hitter in 7 ⅓ IP of spring action, racking up nine strikeouts in the process. I know the Reds aren't good and the ballpark isn't ideal, but Lodolo (and Hunter Greene) still demand our attention.
Tylor Megill, New York Mets - 12% rostered - Injuries have kicked down the rotation's door for Megill, who will look to put last year's horrid 1.91 HR/9 in the past. Pitching in Citi Field should assist on that front, and a modest 7% walk rate at least limits the damage done by said longballs. Look for a solid fastball-changeup-slider combo to keep batters on their toes and deliver more than a K per frame.
NYM: Tylor Megill (P, ADP: 312)

Plus whiffs, can build on rookie 12.1% SwStr rate. Control never been a red flag, but fly balls can be trouble.

2021's gaudy 1.91 HR/9 should chill, esp. at Citi, with 3.92 xFIP and 3.85 SIERA behind that 4.52 ERA. Cheap K+ w/ modest ratios.

— Nick Mariano (@NMariano53) February 3, 2022
Reid Detmers, Los Angeles Angels - 10% rostered - Detmers is part of the Angels' six-man rotation after a glowing spring with 11 strikeouts and zero walks in 5 ⅔ IP. The southpaw's fastball got torched in last year's small sample (.708 SLG against) but his curveball and slider remain stellar offerings. Let him find his footing in the bigs, but this is a man who tortured minor-league hitters at 21 years old with 108 strikeouts in just 62 innings across Double- and Triple-A last year. Aim high with those bench fliers.
Merrill Kelly, Arizona Diamondbacks - 8% rostered - Kelly isn't flashy but he's been shutting bats down this spring, flexing more cutters and offspeed pitches rather than his fastball. Look, I don't think anyone is jumping up and down to add Kelly based on seven spring frames, but he's only yielded one hit alongside 13 strikeouts and zero walks, which is about all you can do to make seven innings count. Monitor his pitch usage once the real games begin and don't simply wave off a hot start if the underlying approach is holding strong.
Mitch Keller, Pittsburgh Pirates - 6% rostered - A darling of spring training, Keller has caught many an eye thanks to improved velocity splashing across social media. Statcast had him sniffing 100 mph this spring but he still needs to consistently throw strikes with that fire. The career 1.73 WHIP in the majors has a bloated 10.6% walk rate that sat above 10% in 2021. Will the increased firepower give him the confidence needed to attack hitters? Again, it costs very little to find out and the 2014 second-round pick has enough tools to justify a breakout dart. If the velo drops back to the 94-95 mph range then raise those eyebrows and bail if the walks follow.
Reiver Sanmartin, Cincinnati Reds - 2% rostered - Sanmartin made two excellent starts down the stretch last year and has little competition for a rotation slot in 2022. Okay, so both of the 2021 starts came against Pittsburgh, but he still delivered with only two runs allowed and an 11/2 K/BB in 11 ⅔ IP of work. He has a track record of walk rates hovering around 6% throughout his pro career and is free in drafts. If Great American Ballpark swallows him whole then so be it, but Sanmartin has only surrounded 24 total home runs in 486 ⅓ IP of professional play. Can he conquer those hot summer days?
#Reds Reiver Sanmartin

2021 Pitch Quality ⭐️

Horizontal Break (Top 9% MLB) ✅

Fastball (Top 3%)
ChangeUp (Top 11%)
Sinker (Top 12%) pic.twitter.com/YjD1l8Eksn

— MLB Quality of Pitch (@qopbaseball) March 29, 2022
Relief Pitcher Waiver Wire Adds
Robert Suarez, San Diego Padres - 30% rostered - Suarez was the Hanshin Tigers' closer in both 2020 and '21, logging 67 saves with a glowing 108/27 K/BB in 114 ⅔ IP of work. I know, less than a strikeout per inning in Japan means even worse rates here, right? Even if that transpires, Suarez stands at 6'2" and can sit in the upper 90s with a fastball that he locates well. He works with a four-seamer, a two-seamer, a cruel changeup, as well as rare splitters and sliders. And if the magic that led to a lowly 1.2 BB/9 last year carries over into the MLB with his groundball ways,then his smashing as a high-leverage arm won't shock anyone. Reports have emerged that he's a favorite for the closer role, so place your bets.
Art Warren, Cincinnati Reds - 10% rostered - Warren has a chance to grab the closer role and never give it up with Lucas Sims on the injured list to begin 2022. While skipper David Bell named several players in the wake of Sims' unavailability, Warren and his 1.29 ERA (1.84 FIP) from last year, as well as the 41.5% strikeout rate, in 21 innings of action is the most intriguing. If he's not the guy, you'll know in short order and can shuffle the roster slot to another early upside grab.
Bummed I didn't look into Art Warren after hearing folks discuss him.

Small sample, but Warren's slider is nasty.
👀.104 BA, .125 SLG, .123 wOBA
🔥47.2% O-Swing%, 56.9% Contact%, 25.1% SwStr%

He uses the 4-seam up in the zone, & throws the slider for called strikes & whiffs. pic.twitter.com/lgdn51hLib

— Corbin (@corbin_young21) March 26, 2022
Jordan Hicks, St. Louis Cardinals - 6% rostered - We went from Hicks being stretched out to potentially enter the rotation to his operating as a reliever in '22. The injury to Alex Reyes means Hicks is likely the second-best option next to Giovanny Gallegos in this open-ended 'pen that won't anoint any single closer. These fluid roles mean Hicks and his dynamic triple-digit heat could be a great high-upside, low-cost option for FrankenAce builders. We'll hope to avoid any elbow inflammation and look to recapture the 3.14 ERA/0.94 WHIP from 2019.
Update: after this article was published, the Cardinals announced Hicks will serve as the 5th starter.
Chris Stratton, Pittsburgh Pirates - 5% rostered - Stratton will mix in with David Bednar at the back end of Pittsburgh's bullpen for those of you in the nitty-gritty on saves. We all want Bednar to be "the guy" but we don't make the rules, clearly. In fairness to Stratton, the 31-year-old's 3.63 ERA (3.76 FIP) and 9.76 K/9 are plenty serviceable. I'd rather target big talent rather than half of a role, but needs are needs.
Daniel Bard, Colorado Rockies - 3% rostered - I know, I know. However, Bard brings the heat and Rockies' skipper Bud Black would prefer a closer who can rack up the punchouts. Rockies beat writer Thomas Harding said on Monday that "Bard's performance in Spring Training and familiarity in the role points to him receiving the opportunity to protect ninth-inning leads." Thus far, Bard's four appearances have been clean with six strikeouts to one walk. Harding reports Alex Colomé is expected to serve as the primary setup man.
Daniel Bard #Rockies threw 24 pitches (18 strikes - 75 Strike%) producing three whiffs (12.5 SwStr%), and recorded a 33.3 SwStr% with the slider (two whiffs of six thrown). In the outing, he tossed a scoreless frame giving up a walk with two strikeouts ⤵️ https://t.co/ak5YfqCyn4

— Greg Jewett (@gjewett9) March 30, 2022
Dillon Tate - 1% rostered & Jorge Lopez, Baltimore Orioles - 0% rostered - Lopez is my target if I have to choose one to be Baltimore's favorite for saves following the trade of both Cole Sulser and Tanner Scott to Miami. SASAGNOF, baby. My first choice is to avoid BAL altogether and I'll say that Tate is having the best spring (3 ⅓ IP, 0 ER, 0 BB, 3 K). Paul Fry is solid but suffers from being left-handed (damned southpaw bias) and Lopez has been named as a candidate as well despite five earned and an uninspired 4/3 K/BB in 6 ⅓ IP this spring. If you'll recall, Lopez had a brief stint in relief for BAL last year (8 ⅓ IP, 2 ER, 2 BB, 10 K) while Tate posted a mid-4's ERA. Do what you must.
Andres Munoz, Seattle Mariners - 1% rostered - Munoz has scattered two hits across four otherwise perfect innings this spring, striking out three and back to toting his usual triple-digit flamethrower. With Ken Giles on the shelf for at least the first month of play, the path to high-leverage innings is that much shorter. The Mariners aren't shy about their committee approach and we could see the 23-year-old capitalizing in short order next to Paul Sewald and Diego Castillo throughout 2022.
Download Our Free News & Alerts Mobile App
Like what you see? Download our updated fantasy baseball app for
iPhone
and
Android
with 24x7 player news, injury alerts, sleepers, prospects & more. All free!
More Fantasy Baseball Analysis