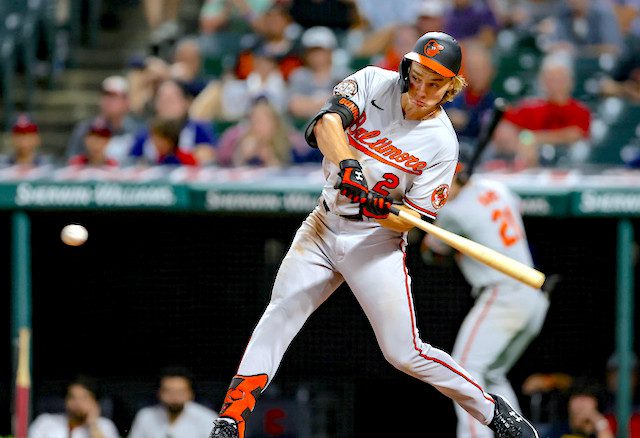 It is September and MLB rosters have expanded to 28 players, up from 26. It is also the time of year when MLB prospects can come up, play for the rest of the season, and still be considered a prospect/rookie heading into next year.
Below is a ranking of the players who will likely make the greatest impact down the stretch for your fantasy teams as we head into the last month of the Major League Baseball season. This is not a comprehensive list of everyone that was called up but these are the guys who have the chance to make the biggest impact either due to their situation or their skill-set.
For those who are not familiar, this is the September installment of our fantasy baseball prospects rankings series, reviewing MLB prospects to make fantasy impacts in 2022. This is our updated list of the top fantasy baseball prospects rankings to make an impact for the 2022 fantasy baseball season, which RotoBaller will be updating regularly.
Featured Promo: Get any full-season MLB and DFS Premium Pass for 50% off. Exclusive access to our Team Sync platform, Premium articles, daily Matchup Rating projections, 15 lineup tools, DFS cheat sheets, Research Stations, Lineup Optimizers and much more!
Sign Up Now!
Impact MLB Prospects - This Week's Call-Ups
1. Corbin Carroll, OF, Arizona Diamondbacks
If you haven't heard of Corbin Carroll, you haven't been following the MLB. Carroll was a 2019 first-round pick and has had a great season in the minors. He had a .430 OBP, hit 16 home runs, and had 20 steals in 277 plate appearances in Double-A.
He then moved up to Triple-A where he had a .408 OBP, hit seven home runs, and stole 11 bases in 157 plate appearances. He has five RBI and four runs scored in his first 10 plate appearances for the Arizona Diamondbacks. He will be an expensive FAAB add this weekend.
2. Gunnar Henderson, SS, Baltimore Orioles
Who is the better-ranked prospect between Carroll and Gunnar Henderson? That's a matter of opinion. Henderson had a .452 OBP, eight home runs, and 12 steals in 208 plate appearances in Double-A. He then moved up to Triple-A where he had a .390 OBP, 11 home runs, 10 steals, and 60 runs scored in 295 plate appearances.
He now finds himself in Baltimore and hit a home run in his Major League debut. This was a player I had hoped would come up sooner but here we are. He will be expensive in FAAB this week but could very well be worth it if you are in contention down the stretch and are in need of some middle infield help.
3. Ken Waldichuk, SP, Oakland Athletic
Ken Waldichuck was traded from the New York Yankees to the Oakland A's, and him pitching for New York would be so much better than Oakland but that's the way it goes. He made his major league debut and went 4.2 innings, struck out six batters, had four walks, allowed five hits, and allowed one run.
He should start every five games here down the stretch. He had a 4.25 xFIP in Oakland's AAA team and a 3.91 xFIP for the Yankees' AAA team as well. He could provide some help if short on arms but tread carefully.
4. Spencer Steer, 2B, Cincinnati Reds
Spencer Steer has been called up by Cincinnati after posting a good Triple-A season in both Minnesota and Cinncinnati's organizations. In Triple-A, he had 15 home runs and an OBP north of .350 this season.
He should get regular at-bats and could help with a team looking for help at middle infield, as long as they are not hoping for steals.
5. Spencer Torkelson, 1B, Detroit Tigers
Spencer Torkelson went down to Triple-A and played in 35 games. He posted a .348 OBP, five home runs, 18 home runs, and 18 steals in the minors. His production in those 35 games was almost the same as his production in 83 games in Detroit.
One concern is in the minors his strikeout rate was 26.5% -- higher than his 25.5% rate in Detroit. He will play regularly but it is unclear how much of an impact he will make down the stretch here.
6. Oswald Peraza, SS, New York Yankees
Isiah Kiner-Fafela has been a player that Yankees fans that I follow on social media have been wanting to see replaced. He has a .310 OBP and a 0.053 ISO, with 15 stolen bases this year.
In Triple-A, Oswald Peraza has a .329 OBP but a .182 ISO with 18 home runs and 33 stolen bases in 427 plate appearances. He would appear to be an offensive upgrade over Kiner-Fafela, but how much will he play down the stretch?
7. Miguel Vargas, 3B, Los Angeles Dodgers
Miguel Vargas has had a fantastic season in Triple-A this season. He had a .404 OBP, 17 home runs, 16 steals, 82 RBI, and 100 runs scored in 520 plate appearances this season. Additionally, he showed good plate discipline with a 13.7% walk rate and a 14.6% strikeout rate.
The issue here, is how often does he play? Max Muncy is bat .261 with seven home runs and 19 RBI in August. Justin Turner is batting .316 but with just one home run and 15 RBI in the second half this season. I imagine he gets at-bats but he may not get them every day, which is disappointing.
8. DL Hall, SP, Baltimore Orioles
DL Hall has the talent but he is inconsistent and struggles with control at times. He can go out there and strike out 14 guys and then come back and get blown up a little bit.
I imagine he gets four starts the rest of the year and has an innings cap of no more than 20 innings as he is at 88 innings pitched this year and has never reached 100 innings. How much can 15-20 innings help you out though?
Prospects That Weren't Called Up Yet: Keep An Eye On
Josh Jung, 3B, Texas Rangers
He has a .363 OBP, six home runs, 23 RBI, and a .324 ISO in 17 minor league games. What are the Rangers doing here?
Triston Casas, 1B, Boston Red Sox
He has a .385 OBP, a .203 ISO, 10 home runs, 44 runs scored, and 36 RBI in 309 Triple-A plate appearances. Why did he not get called up yet?
Download Our Free News & Alerts Mobile App
Like what you see? Download our updated fantasy baseball app for
iPhone
and
Android
with 24x7 player news, injury alerts, sleepers, prospects & more. All free!
More Fantasy Baseball Prospects and Rookies