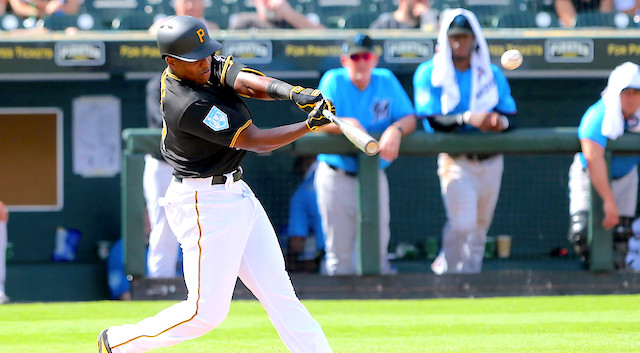 Welcome back RotoBallers to Part 2 of my dynasty prospects list, breaking down the 51-150 ranked prospects. You can also read Part 1 and Part 3 from a few days ago, looking at the 1-50 and 151-250 ranked prospects. RotoBaller's Top 250 Dynasty Fantasy Baseball Prospects list is back and refreshed for the 2021 season. Baseball has undergone a lot of change over the past 12 months due to the pandemic and no area of the game has been more heavily impacted than the minor leagues. Since this time last year, Minor League Baseball has significantly shrunk in size, there have been no competitive games, and most top-rated MLB prospects spent the 2020 regular season stuck in purgatory at their clubs' alternate training sites.
For MLB prospect watchers like yours truly, the lack of competitive games has made prognosticating more challenging than ever before. Instead of picking and choosing what video to watch — because there is simply too much to keep up with on a part-time basis — it's been a desperate search to scrape together valuable snippets of video, the parsing of interviews with scouts and player development staff, and the analysis of the small bits of data available. This past year has been the most unique experience I've had in the past 15 years while writing about MLB prospects on the internet — and ranking prospects is never an easy task.
With the list below, you'll find that I put a lot of emphasis on experience. More than ever, MLB prospects with an ample number of professional games under their belts have significant advantages over the high-ceiling, non-established players. You'll also find that my prospect rankings are heavily influenced by a player's makeup — how coachable they are, how open to change they are, etc. I've worked in people management in a corporate environment and I can assure you that a person's makeup goes a long way to helping them achieve great things — and sports is no different. OK, let's get to it.
Featured Promo: Get any full-season MLB and DFS Premium Pass for 50% off. Exclusive access to our Team Sync platform, Premium articles, daily Matchup Rating projections, 15 lineup tools, DFS cheat sheets, Research Stations, Lineup Optimizers and much more!
Sign Up Now!
Updated Dynasty Prospect Rankings: 51-150
My review of the Top 250 Dynasty Prospects for 2021 has been broken into three parts. Today, we continue the review with the prospects ranked 51-150. You can also read part one (prospects 151-250) and part three (the top 50 prospects).
Players with fewer than 130 MLB at-bats and 50 innings pitched were considered eligible for this list. Service time was not taken into consideration. Foreign players with significant professional experience were also not considered.
Prospects 51-75
51. Garrett Crochet, SP/RP: If you read my recent Top 50 prospects for 2021 redraft leagues then you know that I expect Crochet to utilize his 100 mph fastball out of the bullpen as a multi-inning (but high-leverage) reliever. That may not be his long-term role, though, and he should eventually find his way into the starting rotation where he has No. 2 starter upside.
52. Edward Cabrera, SP: The Marlins have some upper-level arms ready to impact the big league club and Cabrera has one of the highest ceilings -- after Sixto Sanchez and Max Meyer. He can tickle the upper-90s with his heater and has three pitches that could end up as better-than-average offerings. But he also needs to polish his command before he realizes his full potential.
53. Matthew Liberatore, SP: Liberatore has long been one of my favorite under-the-radar arms. He's not overpowering but he has great size, a good delivery, and a chance for above-average command and control. He also has three pitches that should be plus offerings and a fourth that gives him another useable weapon.
54. Emerson Hancock, SP: I had Hancock ranked a little lower than the consensus heading into the 2020 draft because I'm not a huge fan of his delivery. The lower arm slot could give him some trouble against left-handed hitters unless the changeup really becomes a good pitch for him. The effort in his delivery could lead to command (and possibly injury) issues.
55. Kody Hoese, 3B: The 2019 draft had a significant number of intriguing third basemen and Hoese was one of my favorites. He doesn't have the most raw power of the group but I see 20-homer potential with the ability to produce good on-base numbers and a solid batting average.
SLEEPER ALERT: 56. Noelvi Marte, SS: Marte has shown an impressive bat from a young age and he hit nine home runs in the Dominican Summer League as a 17-year-old two years ago. He's gotten bigger since that time and has 25-30 homer potential at maturity. Marte may not steal many bases when he finally reaches the majors but he should be a beast nonetheless.
57. Nick Madrigal, 2B: Madrigal reached the Majors in 2020 but a shoulder injury cut into his season. He also underwent offseason surgery on the shoulder and may not be ready for the start of the 2021 season. Madrigal has almost no power to speak of so his value is tied to his high batting average and stolen base ability.
58. Brendan Rodgers, 2B/3B: Rodgers is likely running out of chances with the Rockies, although the trade of Nolan Arenado could afford him another opportunity. He's shown a strong bat in the minor leagues but he has never been able to get going at the big league level. There is 25-homer pop in his bat if he can stay healthy and his shoulder issues are a thing of the past.
59. Ke'Bryan Hayes, 3B: Hayes had an eye-opening 2020 season but there are some reasons to proceed cautiously. The first concern is the .450 BABIP, which is highly unsustainable. The other concern is the 25% HR/FB rate, which is Mike Trout territory and nowhere near the norm for Hayes.
60. Alejandro Kirk, C: Opinions on Kirk's future are all over the place but he's a natural hitter who produces easy power. His conditioning is a concern but it sounds like Toronto has made strides with getting him to take it more seriously. He could be one of the top offensive catchers within one to two years.
61. Brandon Marsh, OF: Marsh has been slow to translate his raw athletic ability to the baseball diamond but he reportedly had a very impressive showing at the alternate training site in 2020 which could help push him past Jo Adell on the depth chart. He could eventually turn into a 20-20 player with solid on-base numbers -- perhaps as a George Springer in the making.
62. Cristian Pache, OF: Pache's strongest skills are tied to his defence but he's always been young for the leagues he's played in. He's also shown steady growth in the power department and could eventually produce 20 home runs while playing a gold glove center field.
63. Hunter Greene, SP: Greene has missed almost two years of development time due to Tommy John surgery and the pandemic. He can reportedly still hit 100 mph with his heater and appears to have strong desire/makeup so I have faith that he'll make up for the lost time. There is No. 2/3 starter upside if he can polish his secondary offerings and show improved command.
SLEEPER ALERT: 64. Quinn Priester, SP: Priester was a highly-regarded amateur arm when he was selected 18th overall in 2019 and he had an impressive showing during the downtime in 2020. The 20-year-old hurler has strong makeup and the makings of at least two plus offerings.
65. J.J. Bleday, OF: Bleday was a strong college performer but he hasn't had much chance to showcase his abilities in the pro ranks due to the pandemic. The power potential is for real but there is noticeable swing-and-miss to his game.
SLEEPER ALERT: 66. Shane McClanahan, SP: McClanahan is not talked about enough. He has an upper-90s heater with a power slider. He's made huge strides with his off-speed offering as well as his control, which was previously below-average. He has No. 2/3 starter upside.
67. Forrest Whitley, SP: Whitely has the talent to be one of the top arms in the game but injury issues and makeup concerns have dogged him for the past couple of years. I'm not ready to give up on him completely but the 2021 season is a huge one for him.
68. Jackson Rutledge, SP: Rutledge continues to have some reliever risk but he's the most talented arm in a thin Washington system so he'll no doubt get every opportunity to stick in the starting rotation. He needs to improve his command and find a reliable third offering.
SLEEPER ALERT: 69. Tyler Stephenson, C: Stephenson's bat has shown more consistency over the past two seasons and he may have already broken out in a big way if not for the pandemic. He doesn't have the same offensive upside as Adley Rutschman, Joey Bart, or Alejandro Kirk but he's at the top of the next tier.
70. Michael Busch, 2B/1B: An amateur first baseman, Busch also has experience playing in the outfield and at second base. He'll likely never be a strong defender unless he's moved back to first base but there are no questions that he'll hit for average and take a healthy number of walks. He also has the potential to hit 15-20 home runs.
71. Xavier Edwards, 2B/SS: The Padres had some impressive (and very fast) middle infield depth between CJ Abrams and Edwards prior to the latter's trade to the Rays. Edwards doesn't possess much power but he has the potential for 40 stolen bases, strong on-base numbers, and a high batting average.
72. Brennen Davis, OF: Davis is a strong athlete with good makeup. He has yet to play a full season in pro ball due to the pandemic but he has 20-20 (HR-SB) upside. I'm expecting a big breakout season for Davis if the minor leagues can get in a full year.
73. Kristian Robinson, OF: Robinson is another toolsy, athletic outfielder with the potential for both power and strong stolen base numbers. Unfortunately, he's a below-average hitter with significant swing-and-miss to his game which lowers his ceiling. I see a little bit of Justin Upton in him.
74. Josiah Gray, SP: Gray is an athletic hurler who has really taken off since moving from the Reds' system to the Dodgers'. He has a lot of depth ahead of him but Gray has No. 3 starter potential.
75. Alek Thomas, OF: Thomas is a strong hitter who should provide a good batting average but he doesn't produce much over-the-fence pop and he doesn't steal many bases despite strong speed. Thomas' future looks to be a .280-.290 hitter with 30-40 doubles, 12-15 home runs, and 15 steals.
Prospects 76-100
76. Ryan Mountcastle, OF/1B: Mountcastle spent his time wisely in 2020 while working out at the alternate training site. He looked like a very different player when he arrived in the Majors. He had a more mature approach at the plate and was less aggressive. Still, he had a BABIP of nearly .400 at the MLB level and is likely a future .260-.270 hitter with modest one-base numbers and 20-30 homer potential.
77. Clarke Schmidt, SP: The Yankees' front office spent the winter improving the starting pitching depth but Schmidt has the highest ceiling of any of the arms vying for the No. 4 and 5 spots in the rotation with the possible exception of Domingo German.
78. Shane Baz, SP: Baz comes with some reliever risk due to his lack of consistent command/control and so-so delivery but if any organization can turn things around for a talented pitcher, it's the Rays. His stuff is electric.
SLEEPER ALERT: 79. George Kirby, SP: Kirby isn't flashy and his fastball usually sits in the low 90s. However, he has a chance to develop four average-or-better offerings with plus-plus control, which gives him mid-rotation potential.
80. DL Hall, SP: Hall has shown flashes of brilliance but the Orioles' development system doesn't have a great track record for developing pitchers. His control is below-average right now and he lacks reliable secondary offerings. He's also become an extreme fly-ball pitcher. There is No. 3 starter upside if everything clicks.
81. Brice Turang, SS: Turang has a chance to be a very well-rounded player. He's an advanced hitter for his age and has 30+ stolen base potential. He'll likely never be a big home run hitter but he could pop 12-15 long-balls with 30+ doubles.
82. Jazz Chisholm, SS: Chisholm's ranking might seem low given his enticing power-speed combination but I'm just not convinced that he's going to make enough contact to be an impact, everyday player. I see his upside as Rougned Odor.
83. Pete Crow-Armstrong, OF: Crow-Armstrong was among an impressive collection of talented prep outfielders taken early on during the 2020 draft. He is a strong defensive outfielder but I love his swing and approach at the plate and believe he's being underrated as a hitter.
84. Heliot Ramos, OF: Ramos is a player that really needed to play a full season in 2020. He has massive raw power but needs significant work to improve his contact issues -- something that requires a lot of at-bats against varied/quality pitchers. He'll look to get off to a fast start in 2021 and make up for the lost time.
85. Deivi Garcia, SP: Garcia slips down the rankings a bit compared to last year's ranking due to the reliever risk that he carries. He lacks ideal size for a starting pitcher and he's homer-prone due to his fly-ball tendencies. When he's on, though, he can generate swings-and-misses by keeping hitters off-balance.
86. Jeter Downs, 2B/SS: Downs will likely end up at second base but he has the makings of a .280 hitter with 15 home runs, double-digit steals, and 30+ doubles.
87. Luis Campusano, C: Campusano is developing into a strong offensive catcher who has a chance to hit for average, power, and produce strong on-base numbers.
88. Mick Abel, SP: Abel was one of my favorite prep arms that were available in the 2020 draft. He's flashed plus velocity as an amateur and has a lot of room to add further weight/muscle to his slender frame.
89. Jared Kelley, SP: Kelley is another pitcher that I thought was among the best available prep arms in the 2020 draft. He has a mature body but already reaches the upper-90s with a plus changeup. If he can find a reliable breaking ball, watch out.
90. Matthew Allan, SP: One of my favorite prep arms from the 2019 draft, the Mets got a steal with him. Allan is intelligent and has the makings of a No. 3 starter.
91. Andres Gimenez, SS/2B: Gimenez is a gifted fielder who has a chance to be a better-than-average hitter. However, I have concerns that he's trying too hard to be someone he's not by chasing home runs. He's at his best hitting for average, stealing bases, and producing gap pop.
92. Triston Casas, 1B: Casas has a chance to develop into a power-hitting first baseman with strong on-base numbers. It remains to be seen how well he'll hit for average.
93. A.J. Puk, RP: Puk finds himself quite a way down in the rankings because I just don't have faith that he'll be able to hold up as a long-term starter. His stuff is filthy when he's healthy -- but that's a rarity.
94. Tanner Houck, SP: Houck really surprised me in 2020 after looking like he was destined for a future as a reliever or a No. 4/5 starter. The rejuvenated hurler now has No. 3 starter upside after showing improved secondary offerings last season.
95. Simeon Woods Richardson, SP: Woods Richardson has an advanced feel for pitching, a good frame, and a deep repertoire. He has mid-rotation potential for the up-and-coming Blue Jays club.
96. Trevor Rogers, SP: Rogers ended his MLB debut with an ERA of 6.11 but was the victim of some bad luck. He has the ceiling of a No. 3/4 starter if he can improve his command and the breaking ball.
97. Leody Taveras, OF: Taveras is known mostly for his defence and speed so he could be the source of cheap steals in 2021 with potential offensive upside. The power he showed in the Majors was unexpected and his HR/FB was significantly higher than he'd ever shown in the minors.
98. Jeremiah Jackson, 2B/SS: Jackson tapped into his raw power more quickly than expected but he sacrificed contact to clear the fences. If he's going to find success at the upper levels, he needs to find a happy medium between power and contact.
99. Brett Baty, 3B: Baty has the ingredients necessary to succeed but he needs to make more consistent contact. If he can do that, he'll be a solid performer in on-base leagues with a willingness to walk and plus raw power.
100. Luis Toribio, 3B: Toribio is another young third baseman that could turn into an offensive stud. He shows a great idea of the strike zone but can be too passive at times and let good hitter's pitches pass him by.
Prospects 101-125
101. Royce Lewis, IF/OF: An athletic player with strong makeup, Lewis has struggled to live up to the hype from being the first overall selection in the 2017 draft. He has the makings of a solid offensive contributor if things click -- but he may not be a star.
102. Brendan McKay, SP: On talent alone, McKay deserves to be higher on the list but 2020 shoulder surgery casts an ugly shadow on his future on the mound. If he doesn't return with the same stuff, the former two-way player could always shift back to hitting. If healthy, he has No. 3 starter upside.
103. Braxton Garrett, SP: Garrett has the makings of an innings-eating, left-handed No. 4 starter but he suffered a loss of velocity in 2020 which impacted his effectiveness.
104. Michael Kopech, SP: Kopech is talented and has a blazing fastball but he also has questionable maturity -- something that has dogged him since his amateur days. The right-hander is coming off a two-year layoff due to Tommy John surgery and personal issues. He could end up as a multi-inning reliever for the White Sox in 2021.
SLEEPER ALERT: 105. Jordan Walker, 3B: In my pre-draft rankings in 2020, I had Walker listed as a mid-first-round talent which was significantly higher than others had him ranked. The Cardinals then surprised a lot of people by taking him 21st overall. He has an excellent feel for hitting at a young age and should produce plus power as he matures.
106. Ronny Mauricio, SS: Mauricio is an athletic but raw prospect who projects to hit for both average and power as he matures.
107. Jordan Balazovic, SP: A raw Canadian pitcher when signed out of high school in 2016, Balazovic has gotten significantly stronger and can dial his heater up into the mid-90s. The secondary stuff is average with a curveball that flashes plus. He has the makings of an innings-eating No. 3/4 starter.
108. Alek Manoah, SP: Manoah is a beast on the mound at 6-foot-6, 270 pounds with a fastball that sits in the mid-90s. He backs it up with a promising breaking ball. There is some reliever risk here because of Manoah's size and the need to refine the third offering.
109. Reid Detmers, SP: Detmers possesses fringe-average fastball velocity but he has a solid overall repertoire that plays up due to his above-average command/control.
110. Drew Waters, OF: Waters is athletic and, like teammate Cristian Pache, has been pushed aggressively through the minor leagues. But unlike Pache, Waters doesn't have the same natural feel for hitting and possesses significant swing-and-miss to his game.
SLEEPER ALERT: 111. Wilman Diaz, SS: Diaz was one of the top hitting prospects among the 2020 international free agents and he landed with an organization (Dodgers) that has a great player development system.
112. Cade Cavalli, SP: Cavalli was a solid college performer whose stuff has ticked up since turning pro. He also reportedly has great makeup. The Nationals prospect has mid-rotation potential if he can show improved command/control and stay healthy.
113. J.T. Ginn, SP: Ginn had Tommy John surgery in college and slipped into the second round of the 2020 draft. He has two plus pitches, premium velocity, and good athleticism so, while there is some reliever risk, I think he'll be a long-term starter.
114. Austin Hendrick, OF: Hendrick has a powerful bat but there are swing-and-miss concerns so he likely won't hit for a high average in pro ball.
115. George Valera, OF: Valera is a solid hitter who has battled injury issues and can be too passive at the plate leading to high strikeout rates. He could be an on-base-league stud if he realizes his full potential.
116. Hunter Bishop, OF: Bishop is very athletic but was considered raw at the plate for a college hitter. Still, his talent enticed the Giants enough to take him 10th overall. He has a chance to be a 20-20 player, albeit with a low batting average perhaps along the lines of former outfielder Chris Young.
117. David Peterson, SP: Peterson just barely maintained his eligibility for this list and had a solid MLB debut in 2020. He looks like a solid No. 4 starter.
118. Brennan Malone, SP: I'm a big fan of Malone. He has above-average fastball velocity, a great pitcher's frame, and could eventually have four average-or-better offerings.
119. Seth Corry, SP: Corry is a hard-throwing left-hander with some reliever risk. He needs to improve his command/control and polish his secondary offerings.
120. Bo Naylor, C: Naylor has an advanced bat for his age (and position) despite being drafted out of Canada less than two hours from where yours truly resides. The catcher should hit for a solid average and could be a star if the power develops. He's also the brother of Josh Naylor.
121. Diego Cartaya, C: Cartaya has the raw ingredients to possibly be the best hitting catcher in baseball someday but he's also just 19 years old and hasn't played above rookie ball. Prior to the pandemic layoff, he showed an advanced feel for hitting and intriguing raw power.
122. Tucker Davidson, SP: Davidson is a hard-throwing southpaw who's flashed a potentially-plus breaking ball but his repertoire lacks depth and he struggles with his command/control. He may end up as a long-term reliever.
123. Bryan Mata, SP: Mata has a promising fastball/slider combo but needs to watch his conditioning, find a third reliable offering, and improve both his command and his control to stick as a starter.
124. Jhoan Duran, SP: Duran has two plus offerings but lacks a third reliable offering and his command can waver at times. He could be a stud out of the bullpen if he doesn't stick in the starting rotation.
125. Taylor Trammell, OF: Trammell is an ultra-athletic outfielder with excellent makeup but he's struggled to polish his approach and tap into his power potential.
Prospects 126-150
SLEEPER ALERT: 126. Joshua Lowe, OF: Lowe is an intriguing athlete who has a chance to develop into a Kyle Tucker type of player with 20-20 potential.
127. Keibert Ruiz, C: Ruiz might seem low on the list but I have concerns with his overall drive to succeed. Although still young, he stalled at Double-A for a while and seemed to sulk a bit after he was passed on the depth chart by Will Smith. Ruiz likely needs a change of scenery.
SLEEPER ALERT: 128. Brent Rooker, OF: I thought Rooker could make an impact at the MLB level in 2020 and he was on his way (.960 OPS in seven games) but a broken arm ended his season early. He may not hit for a high average but he has plus power.
129. Bryson Stott, SS: I didn't like Stott as more than a late first-round pick in the 2019 draft but the Phillies took him 14th overall. He looks stiff in the field which could force him to second base or third base and he may top out offensively as a .270 hitter with 20 home runs.
130. Robert Puason, SS: Puason was one of the top players available on the international market in 2019. He is very raw but shows flashes of the ability to hit for both average and power -- and he also has good speed.
131. Liover Peguero, SS: Peguero has the makings of a strong hitter with plus speed. If he can add home-run pop then he could be an above-average hitter.
SLEEPER ALERT: 132. Kyren Paris, 2B/SS: I loved Paris' feel for hitting, athleticism, and solid makeup. I projected him as a late first-round talent in the 2019 draft and he went 55th overall to the Angels. He should hit for a solid average with 20-steal potential.
133. Maximo Acosta, SS: Acosta is an advanced hitter for his age and, if the power develops, he could develop into an above-average regular shortstop.
134. Nick Lodolo, SP: A former first-round pick, Lodolo isn't flashy and projects as more of a future innings-eating No. 4 starter at the MLB level.
135. Chris Rodriguez, SP: Rodriguez has the stuff to be a No. 2 starter but command/control issues and injuries have derailed his career to date. Since being drafted in 2016, he's thrown just 77.2 competitive pro innings.
136. Luis Garcia, SP: The Astros always seem to develop pitching gems out of thin air. He has a solid fastball-changeup combination and, if he can find a reliable breaking ball, he has mid-rotation potential.
137. Dane Dunning, SP: Dunning has been one of my favorite under-the-radar pitching prospects over the past few years despite Tommy John surgery. He has No. 3/4 starter upside.
138. Mark Vientos, 3B: Vientos has 20-homer pop but he struggles to make consistent contact and may not hit for a high average.
139. Isaac Paredes, 3B: Paredes lacks impact power at the hot corner and may not age overly well but he should be an above-average hitter.
140. Michael Toglia, 1B: Toglia was a solid college performer who has the makings of developing into a plus defender at first base with the ability to hit for a high average. If he can tap into his raw power more consistently, he will move swiftly up the rankings.
141. Aaron Bracho, 2B: I really like Brancho's feel for hitting. He has a chance to get on base a ton with 15-20 home runs a year at maturity.
142. Cole Wilcox, SP: Wilcox has power stuff but the lack of a reliable third offering and persistent command/control issues could push him into a high-leverage relief role.
143. Francisco Morales, SP: Morales has two plus pitches and a big, powerful frame but he lacks a reliable third offering and he struggles with his command. There is notable reliever risk here but he also the ceiling of a mid-rotation starter.
144. Bryan Abreu, SP/RP: Abreu has electric stuff but his serious lack of command/control could push him into a long-term relief role unless things click soon.
145. Luis Gil, SP: Gil has a power fastball but he lacks reliable secondary offerings which could shift him to a long-term relief role.
SLEEPER ALERT: 146. Nick Bitsko, SP: One of the youngest arms available in the 2020 draft, Bitsko is an advanced pitcher for his age and landed in an organization adept at developing hurlers.
147. Garrett Mitchell, OF: Mitchell is a raw, toolsy athlete who needs significant work on making consistent contact. If things click, he has an intriguing power-speed mix.
148. Ethan Hankins, SP: Hankins has a great pitcher's frame and should eventually have three average-or-better offerings. If he can maintain good command/control, he has mid-rotation potential.
149. Daniel Espino, SP: On the smaller side for a pitcher, Espino nonetheless has a power fastball and promising breaking ball. If he throws strikes, he has mid-rotation potential.
150. Hudson Head, OF: Traded from the Padres to the Pirates in the offseason, Head is an athletic outfielder with the potential to develop into a power/speed threat.
Download Our Free News & Alerts Mobile App
Like what you see? Download our updated fantasy baseball app for
iPhone
and
Android
with 24x7 player news, injury alerts, sleepers, prospects & more. All free!
More Dynasty Baseball Articles