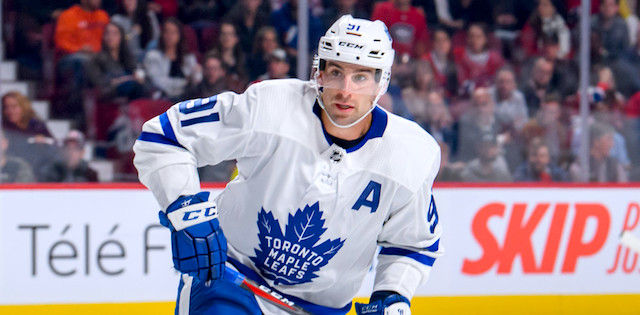 Welcome, RotoBallers! If you do not know me, my name is Brandon and I write both The First-Serve and The Kick-Off for Tennis and Soccer respectively. If you have not checked those out, make sure you do! It is the return of the NHL season which means it's time to sharpen our MLB skills and partake in NHL DFS! As always, I'll give you the best tools to succeed and the info you need to build the best lineups possible for your GPP and cash game NHL contests on both DraftKings and FanDuel.
Today I'll be bringing you my NHL lineup picks, analysis, and advice for NHL DFS contests on DraftKings and FanDuel Saturday, April 22, 2023 at 7:00 PM EST. Be sure to also check out our awesome NHL tools including our Lineup Optimizer, Research Station, Projections, and DFS Cheat Sheets!
If you have any questions on today's slate, bankroll management, GPP strategy, Cash game strategy, or anything else don't hesitate to email me at [email protected] or via Twitter @df_solutions or in our premium slack chat. Good luck, RotoBallers!
NHL DFS Analysis and Picks for 4/22/23
The 2022-2023 National Hockey League regular season has come and gone. We had our fair share of surprise teams failing and succeeding, as well as a few big trade splashes throughout the season. With the closure of the regular season, we welcome another run of postseason play and content. During the playoffs, it is much more common to find low-scoring and heavy-hitting games. Keep in mind that teams that showcase a high aptitude to score goals, will play much tighter and be a bit pickier with their shots. Tonight we have a 3-game slate with no teams playing on a back-to-back. The currently live top-3 highest implied team totals are Toronto with 3.4, Colorado with 3.4, and Tampa Bay with 3.2. I will do my best to guide you through this three-game slate on DraftKings and FanDuel starting at 7:00 p.m. EST.
DISCLOSURE: Make sure to monitor the news feed and play at your own risk
Playoff Series Standings:
Tampa Bay Lightning 1 vs Toronto Maple Leafs 1
New York Rangers 2 vs New Jersey Devils 0
Seattle Kraken 1 vs Colorado Avalanche 1
Goalies
Philipp Grubauer - DK $7.7K || FD $7.1K
Opponent - Colorado Avalanche
Grubauer is putting on a show in his postseason with the Kraken. In two games, he has made an average of 38 saves per game, while averaging two goals against. Now Grubauer and the Kraken get to make history, by hosting the first-ever postseason game at Climate Pledge Arena. Being the 'cheapest' goalie on the slate in a big narrative and in great form makes it extremely hard to pass up.                                                                        
Others To Consider (Cash/GPP): Shesterkin (DK $8.3K || FD $8.4K), Samsonov (DK $7.4K || FD $7.8K)
Centers
Mika Zibanejad - DK $6.7K || FD $7.3K
Opponent - New Jersey Devils
Zibanejad still has yet to make a big impact production-wise through two games with 1 assist, 3 shots, and 2 blocked shots. However, the Rangers now return to the Big Apple to host the next two games and a possible chance to clinch the First Round at home. In both games in New Jersey, the Devils conceded 5 goals and it is only a matter of time until Zibanejad finally blows up, especially with linemate Patrick Kane hitting playoff form.                                                                                       
John Tavares - DK $6.7K || FD $7.9K
Opponent - Tampa Bay Lightning
The Maple Leafs continue to tinker with the lines and they may have finally found a set that works. In the 7-2 victory in Toronto, Tavares had 3 goals and 6 shots. Toronto's second line compared to Tampa's second line is drastically different when assessing skill levels. It has shown through two games in the First Round and it wouldn't be surprising for Toronto's second line to have another strong game in Game 3. In the two games, Tavares has 3 goals, 1 assist, and 10 shots.                                                                           
Others To Consider (CASH/GPP): MacKinnon (DK $9.8K || FD $9.5K), Gourde (DK $3.4K || FD $4.4K)
Wings
Patrick Kane - DK $5.7K || FD $5.7K
Opponent - New Jersey Devils
Patrick Kane is about to feel what it is like to play at Madison Square Garden in the playoffs as a Rangers player. The ex-Blackhawk has struggled at times to produce since coming to New York, however, he has found playoff form and he will be a running freight train the rest of the way. In two games so far this series, he has 1 goal, 3 assists, 7 shots, and 1 assist. As mentioned above, the Devils have conceded 5 goals per game so far and with a possible First Round sweep at home on the cards, Kane and company will be full throttle.                                                  
Evan Rodrigues - DK $4.6K || FD $4.4K
Opponent  - Seattle Kraken
Rodrigues's salary stayed the same from Game 2 despite having 1 assist and 1 shot, making him a very 'viable' option once more. However, he and the rest of the Avalanche will have an uphill battle heading to Climate Pledge Arena for their first-ever postseason home game. Seattle has done rather well to quiet MacKinnon and the Avalanche stars thus far. However, if MacKinnon can find a way to break the Kraken defense down early, Rodrigues should get another share of the points. In two games this series, Rodrigues has 1 assist and 7 shots.                                  
Others To Consider (CASH/GPP): Killorn (DK $4.5K || FD $4.3K), Jarnkrok (DK $3.9K || FD $3.8K)
Defense
Jamie Olesiak - DK $2.7K || FD $3.8K
Opponent - Colorado Avalanche
Oleksiak can be confused for a two-way defenseman at times, however, he is naturally a shutdown defenseman. The statistics back it up too with 1 assist, and 5 blocked shots in the first two games of the First Round. With other spots to pay up at tonight and not many 'middle of the pack' options at defense, it may be wise to punt both spots. In a big game against a powerful offense, Oleksiak will be busy.                 
Darren Raddysh - DK $3.1K || FD $3.7K
Opponent - Toronto Maple Leafs
Victor Hedman was ultimately ruled out for Game 2, however, it was not Nick Perbix who took over Hedman's responsibilities as expected. Instead, Darren Raddysh was the lucky contestant and he may be again for Game 3 with Hedman once again questionable. In three games without Hedman, Raddysh has seen an 8 minutes uptick in ice time and has 6 shots and 7 blocked shots. Dating back to his junior days with the Erie Otters, Raddysh was always more of a shutdown defenseman than anything else. In a fast-paced game at home, Raddysh has to do very little to maintain value. 
Others To Consider (CASH/GPP): Makar (DK $7.2K || FD $7.1K), Trouba (DK $4.9K || FD $4.5K)
NHL DFS Top Power Plays and Stacks
Brandon's Stack of the Day
TOR: Jarnkrok-Matthews-Marner
Chalk Stack
NYR: Panarin-Zibanejad-Kane
Sneaky Stack