Welcome to another edition of "The Tape Tells All," where I break down some film of an NFL's player performance and try to draw some fantasy football conclusions from that film.
This week, I'm looking at New York Jets wide receiver Robby Anderson, who's shaken off a slow start to the 2019 season by going over 100 yards in back-to-back games and catching three touchdowns in the last four games. Anderson was becoming an afterthought, and now he's suddenly back to being the "WHOA LOOK AT ROBBY ANDERSON GO" player that he's looked like in the past.
Is it sustainable? Can Anderson be a league winner for you as the year ends? Let's take a dive into all the different aspects of Anderson's game.
Editor's Note: Get any rest-of-season NFL Premium Pass for 50% off. Our exclusive DFS Tools, Lineup Optimizer and Premium DFS Research through the Super Bowl.
Sign Up Now!
Background Information
Robby Anderson is 26 years old, which weirdly feels both much younger and much older than he should be. I partially view him as some old, grizzled veteran because four years with the Jets is actually the equivalent of eight years with any other NFL franchise, but also he hasn't really had a breakout breakout yet, and for that reason he feels like a kid.
(brb having an existential crisis over realizing how much older I am than Robby Anderson and that I'm now the "if you were a running back, no one would sign you" age)
Anyway, Anderson's one fast wide receiver, with PlayerProfiler having him listed as running a 4.41 40-yard dash, which ranks in the 91st percentile.
This year, Anderson is fourth among wide receivers in deep targets with 23, with his average target distance of 15.8 ranking sixth. Despite a catch rate that ranks 90th at his position, Anderson's ability to make plays down the field have helped him to a solid year -- or, at least, to a solid three-game stretch.
Because while Anderson has played in every Jets game, he's been a non-factor numerous times. Four times this year, Anderson's caught just one pass. Eight times he's had under 50 receiving yards.
And he's done that while taking 80 percent or more of New York's snaps in all but one game, so it's not like Anderson's just now getting an increased role. His numbers and targets are up, but he's still roughly playing about as much as he has all year.
So, what gives?
Quarterback Sam Darnold might be the key here. For the year, he's 11th in average intended air yards, but in Week 14 he was first, and in Week 13 he was seventh. Darnold finally seems to be comfortable making those long passes again like he did last year, when his 9.3 average intended air yards ranked fourth in the NFL.
Can we count on Darnold to keep looking deep for Anderson?
The Game Tape
Let's see what the film of Anderson's Week 14 performance can tell us about the wideout and his chances to help you win down the stretch in the fantasy playoffs.
Here are four selected plays from Sunday's game that we can talk about.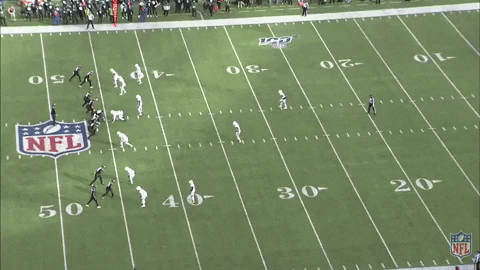 We think of Anderson as a "run down the field and get open" guy, but on this play he ends up making a tough short catch.
The Jets spread the field out here, with Anderson on the outside. He quickly cuts inside, and is able to create just enough separation to snag this one for a short gain. This is obviously not Anderson's bread and butter and he isn't able to do anything post-catch here because he hasn't had time to get space, but it's good to see the Jets using him more like this.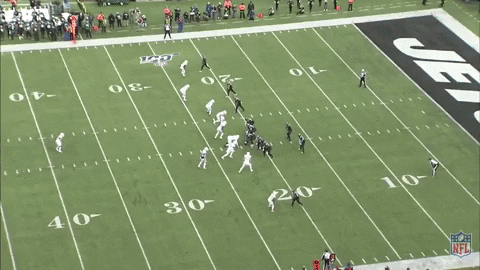 Here's something much more Robby Anderson.
Lines up on the outside again, but this time just runs the streak route. The Dolphins only have one safety back in deep coverage here, and Darnold's able to drop the ball into Anderson's arms before that safety is able to get over there to help out the corner. Sure, Anderson doesn't get to showcase his game-breaking speed on this one, but he gets far enough past his main defender to make this go.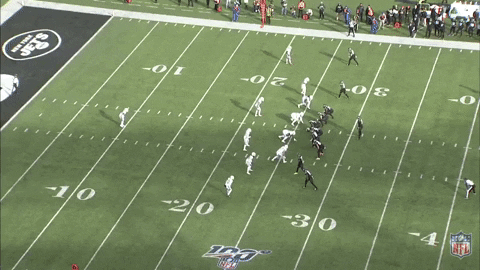 Here's his touchdown, which I found to be an interesting one. Anderson is lined up in the slot here, which doesn't happen a ton. He engages the initial defender at the line of scrimmage and then gets free, at which point whatever zone the Dolphins had going just has a huge hole in the middle of it for Anderson to find. No one's close to him when he gets the ball, and while Darnold's pass is a little off and Anderson can't catch it in stride, he's still got so much space and is able to turn up the field and slide into the end zone even as the defenders are converging on him.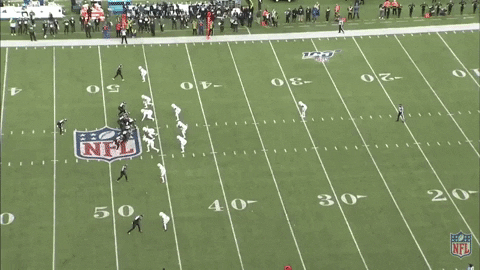 They say you learn just as much about a player from the plays that don't work as you do from the ones that work, so let's look at Anderson not making a catch.
This looks a lot like that other long play by Anderson, just with him on the opposite side of the field. The Jets run play action to try to free up space for the receivers, but the Dolphins do a good job sticking with their men downfield. Still, Anderson starts to get some separation from the defender -- though not a ton, as Miami doesn't just let him run past them -- but like the play earlier, there's a safety up top. This time, he's caught up to Anderson by the time the ball gets there, and he's unable to make the catch with both of those guys on him.
And that could be a downfall of Anderson going forward. As he gets more involved, defenses can scheme ways to beat him, and that scheming seems to be "keep a deep safety around to go over and double him if he's running the streak."
Fantasy Impact
But am I that worried about the possibility of defenses just walling off the side of the field Anderson is on on every play?
Nah. Because we're seeing that he isn't exclusively just a deep ball threat. It's a big part of his game, but he's not getting double-digit streak route targets. The Jets are trying to find ways to get Anderson involved, and as long as they keep doing that, I see him being a guy I want in fantasy right now.
I don't love his upcoming matchup against the Ravens, but I also don't hate it, as they're allowing 15th-fewest fantasy points to wide receivers, which is basically the exact middle of the pack. But that's actually his easiest matchup going forward, with the Steelers in Week 16 and the Bills in Week 17, if you're the kind of person who plays in leagues that are still doing stuff at that point.
That schedule means that while I like Anderson, I'm not treating him too different than I already was, which is to consider him a high-upside WR3 when it comes to lineup building. That probably means that he's going to be in most of my lineups if I own him, but it also means that if I've got a league where I'm treating him as my WR2, I'm going to be very worried about my roster construction.
More Fantasy Football Analysis