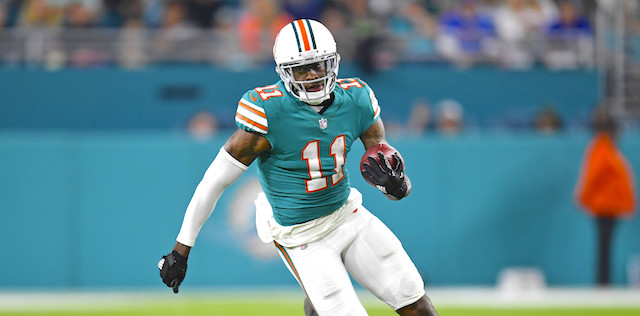 Welcome to another edition of "The Tape Tells All," where I break down some film of an NFL's player performance and try to draw some fantasy football conclusions from that film.
This week, I'm looking at Miami Dolphins wide receiver Devante Parker. Parker's been trending up for weeks, but remains incredibly undervalued and underowned for some reason.
Wait, that reason is that he plays for the Dolphins, and this season has conditioned us all to hate the Dolphins from a fantasy perspective. But while that's true of the quarterbacks and running backs and tight ends there, Parker at least has value, right? Let's see what the numbers and the film say about his season.
Editor's Note: Get any rest-of-season NFL Premium Pass for 50% off. Our exclusive DFS Tools, Lineup Optimizer and Premium DFS Research through the Super Bowl.
Sign Up Now!
Background Information
Want to see a surprising fact that I saw on Twitter?
Alright, here it is:
I'm not sure you're prepared to read this...

... but DeVante Parker has finished as a top-32 fantasy WR in 7-straight games Gets CLE, PHI, NYJ next.

— Graham Barfield (@GrahamBarfield) November 19, 2019
Parker's been one of those "yeah, maybe he's going to break out" guys for what seems like a decade now, though he's only been in the NFL since 2015, somehow. Before this year, he'd never averaged more than 51.5 receiving yards per game and had nine touchdowns in four years. His 2018 season was especially disappointing, with Parker playing in 11 games and finishing with 24 catches for 309 yards and a single touchdown.
But this year, he's blossomed for the Dolphins. In 10 games, Parker's been targeted 72 times, catching 40 passes for 604 yards and four touchdowns. His 60.4 yards per game are a career high.
Parker's advanced metrics aren't all great, though. Among wide receivers, he ranks 81st in true catch rate, 82nd in catch rate, 34th in production premium, 61st in fantasy points per route run, and 48th in fantasy points per target. Those are some pretty meh numbers, and the catch rate numbers in particular are worrisome.
So, if his raw numbers look fine and advanced numbers don't, what do we do?
Eye test time!
The Game Tape
Parker had his first 100-yard game of the season on Sunday, catching seven of his 10 targets for 135 yards. While he failed to record a touchdown for the second week in a row, Parker saw double digit targets for the second consecutive game. He played 62 offensive snaps, good for 90 percent of the available offensive snaps for the Dolphins.
Here's the link to a video of all of Parker's Week 11 catches. (I've been having some computer trouble, so wasn't able to get everything clipped and GIFed this week. Sorry!)
Let's talk about those catches:
First catch: Parker lines up outside and runs the slant. Ryan Fitzpatrick does a good job getting him the ball. Not the most exciting play I've ever seen, as it's mostly just Parker...catching a football. Which, yeah...there's value in a guy being able to make routine catches like this one.
Second catch: Parker is lined up inside here and Fitzpatrick delivers a good ball to him in space in the middle of the field, about 15 yards down the field. Parker getting the ball in space -- not a common thing, as he ranks 59th among wide receivers in target separation -- is fun, because as soon as Micah Hyde falls down on defense, there's room for Parker to turn on the jets and remind you that he's very fast. Maybe don't let Parker exploit your zone coverage like this, Buffalo!

Also, like...what was that defensive look, Buffalo? Miami has four receivers on the field and you get your linebackers all up on the line like that? I know they dropped back into zone right at the snap, but clearly Miami was able to exploit this.

Third catch: Quick little screen here. Gets a few yards. Worth trying sometimes, even if it didn't work.
Fourth catch: Parker's on the left side of the formation. Crosses, gets the ball in the middle of the field, breaks some tackles, and gets the first down.
Fifth catch: Another one where Parker runs like five yards and then cuts towards the center of the field.
Sixth catch: Parker runs what looks like a hitch route for the first down.
Seventh catch: Dolphins go for it on fourth down. Parker does a nice little sidestep to get past TreDavious White, who slips up and then doesn't get back defensively, which gives Parker a huge cushion down the field. Look at this screenshot of the moment he catches the ball:

He's so open! It might not be great that both of Parker's big plays left me thinking "huh, what's Buffalo doing here???," but I also don't want that to sound like I'm being too critical of what Parker did do, which was take advantage of defensive lapses and use his abilities to make things happen.
Fantasy Impact
So, fantasy-wise, what are we talking here?
I guess it comes down to this: Here, per RotoViz, are the splits this year when Preston Williams did and didn't play:
And while that sample size is very small and so is the one-game sample of Parker playing without Kenny Stills in Miami (that one game saw Parker score 19.4 PPR points), the three games do start to suggest something to us, which is that Parker performs better when he's the unquestioned top receiver. That makes sense, as he's not the world's most consistent player; Parker's a guy who needs opportunities so that he can bust out a big play on one of those opportunities.
The good news then is that he's in that role for the rest of the season in Miami. Allen Hurns, Albert Wilson, and Jakeem Grant are all third or fourth receivers ideally. They aren't guys who'll step on the floor and have some instant, negative impact on Parker's fantasy day.
I think it's safe to think of Parker as an upside WR3 moving forward. He'll continue to get chances. He'll continue to have some plays where he does nothing with that chance and then some other plays where the defense falters and he breaks off some big YAC. It should all balance out to a string of solid fantasy outings over the next few weeks.
More Fantasy Football Analysis