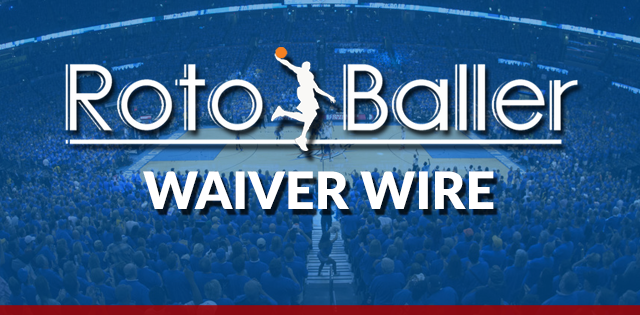 What Appears In This Article?
hide
Another week of NBA basket is behind us. Some things are starting to make sense, like the Lakers being good. Some things aren't making sense, like the Cleveland Cavaliers currently being in the playoff hunt and the Warriors being the first 10-loss team of the season.
That's what I'm here to help with in my weekly fantasy basketball drop list, a look at players who are can be dropped in some or all formats. Every Friday, we'll look at why it's fine to move on from certain players based on their recent play.
Let's look at players who you can consider dropping so far. Remember: every league is different and we're working on a pretty small sample size this early in the year, so make sure you evaluate what options you have to replace these players before you actually drop them.
Featured Promo: Get any full-season NBA Premium Pass for 50% off. Win big with our exclusive DFS lineup tools, matchup rating projections, powerful Research Station, Lineup Optimizer, daily DFS lineup picks/cheat sheets and more!
Go Premium, Win More!
The Fantasy Basketball Drop List
Ky Bowman - (PG, Golden State Warriors) - 3% Owned
Bowman looked like someone who could rise up the fantasy rankings and provide some solid deep league value with Stephen Curry out, but he's played under 20 minutes in four straight games and doesn't have a super solid role in this offense now that D'Angelo Russell is healthy. Unless Bowman is starting for this team -- and unless there's another D'Lo injury, he won't be -- he holds zero fantasy value.
There's also the two-way factor. Bowman is on a two-way contract and the G League season has started, which will limit how much he's allowed to play with the Warriors. I remember recommending Kadeem Allen in a column last year and then seeing him immediately get sent back down to the G League for contract reasons.
Meyers Leonard - (PF/C, Miami Heat) - 9% Owned
Yep, I got suckered into picking up Leonard when he was putting up double-digit scoring games, but that was a mistake.
Leonard had 10 total points in the last three games heading into Thursday's contest against Cleveland, when he scored 12 points. He's been an absolute zero on the boards, which is something you can't afford to have from a center unless you've gone heavy on a punt rebound build, but Leonard also doesn't do enough anywhere else to justify rostering him. If you grabbed Leonard in hopes his expanded role was real, you're good to kick him to the curb, because for every game he has like Thursday, he'll have a handful more where he has four points and no rebounds.
Caris Levert - (SG/SF, Brooklyn Nets) - 77% Owned
LeVert had thumb surgery on Thursday and should miss several weeks. He wasn't setting the world on fire before the injury either, as he was shooting a career-low 42.1 percent from the field and averaging 3.4 turnovers per game. A healthy LeVert does enough offensively to justify a role in the starting lineup of most fantasy teams, but in shallow leagues I'm not sure he really does enough to justify keeping through the injury. If you don't have an open IR spot and need to use that bench spot to roster someone who can help you win now, you should consider dropping LeVert.
Kevin Huerter - (SG, Atlanta Falcons) - 43% Owned
Just when the second-year guard had started to put some things together and gotten into Atlanta's starting unit, injuries struck. Huerter has a rotator cuff injury and will be re-evaluated in two weeks. He was finally getting into a groove as a scorer and had scored double-digit points in four straight games, with three or more three-pointers in three of those.
But I don't think Huerter was doing enough from a fantasy perspective to make him worth keeping through the injury in 12-team leagues. He isn't really giving you much outside of points and threes when he's healthy, and we haven't really seen him performing at a high level for long enough to be sure that he's going to be a viable option once he returns. I like Huerter, but just not enough to hold onto right now.
Delon Wright - (PG/SG, Dallas Mavericks) - 55% Owned
Wright's another player who was a popular sleeper pick before the year started but who has really underperformed.
Over the past five games, Wright is averaging just 5.0 points, 3.8 rebounds, and 3.6 assists per game while attempting just five shots per game. He's struggled immensely from three and on the season has the lowest usage rate of all Mavericks who've appeared in every game. With Luka Doncic blossoming into an elite player, Wright's not getting much run at the point, and he's not playing well enough off-ball to provide help there. I wouldn't be shocked if Wright just completely fell out of the rotation at some point based on how he's looked.
More Fantasy Basketball Analysis