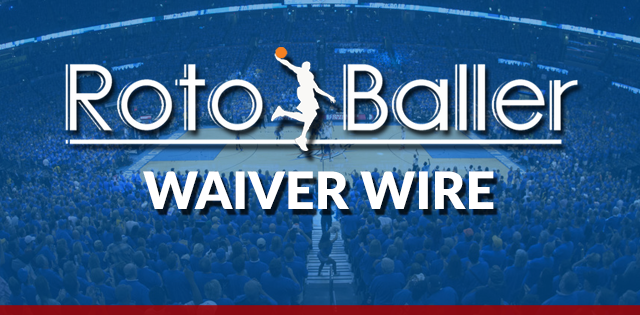 Hey, y'all! Feels like it's been forever since we talked about fantasy basketball, doesn't it? The All-Star break is over though, so it's time to get ready for the second half.
As always, the best way to win in fantasy basketball is to actually do things with your roster. But to add someone, you've also got to drop someone, so we're going to chat about the dropping.
Below is our weekly fantasy basketball drop list, a look at players who are can be dropped in some or all formats. Every Thursday, we'll look at why it's fine to move on from certain players based on their recent play. Remember: every league is different, so make sure you evaluate what options you have to replace these players before you actually drop them.
Editor's Note: Our incredible team of writers received five total writing awards and 13 award nominations by the Fantasy Sports Writers Association, tops in the industry! Congrats to all the award winners and nominees including NBA Writer of the Year, Best NFL Series, MLB Series, PGA Writer and Player Notes writer of the year. Be sure to follow their analysis, rankings and advice all year long, and win big with RotoBaller!
Read More!
Players to Consider Dropping or Replacing
22% rostered
It sounds like Caris Levert will be making his Pacers debut soon:
And if that's true, minutes for Jeremy Lamb are about to dry up.
The Pacers sit 10th in the Eastern Conference right now at 16-19, which doesn't really put them very far away from a playoff spot. LeVert -- assuming he's mostly healthy -- will give this team a shot in the arm that should enable them to make a second-half playoff push. He has the talent to be the best wing player on this team.
Where does that leave Lamb? Well, he hasn't started a game for the Pacers since February 10th, and has played under 20 minutes in his last five appearances. Over those five games, Lamb is averaging 7.8 points, 1.6 rebounds, and 1.6 assists on 34.3 percent shooting. And I'm supposed to believe he's worth keeping on a fantasy roster when his future outlook includes even more playing time uncertainty? Nope. Can't do it.
54% rostered
The second-year forward has started every game he's played in Washington, but starting doesn't always been productivity, and in the second half of the NBA season, fantasy managers are going to need to cut guys who aren't producing, even if they're on the floor a lot.
The problem with Rui is the efficiency and the lack of numbers outside of points and rebounds, neither of which are high enough to really justify holding him. Over his past five games, Hachimura is averaging 7.0 points, 4.6 rebounds, 1.0 assists, 0.6 steals, 0.0 blocks, and 0.6 threes on 32.4 percent shooting, as well as a 25 percent mark from three.
Not good!
And now, combine that growing minutes and production from rookie Deni Avdija, and it's fair to wonder just want Hachimura is capable of on this team at this moment. In my eyes, his current ceiling isn't high enough to keep him on my roster.
83% rostered
Here's a strange case!
Aldridge is the latest in a series of bigs who are being traded or bought-out and won't play for their current team until that happens. It happened with Blake Griffin, who is now in Brooklyn. It happened with Andre Drummond, who is still nowhere. And it's happening with Aldridge.
His numbers are down this year, but there was still some fantasy relevance in a guy averaging 13.7 points, 4.5 rebounds, and 0.9 blocks with 1.3 threes per game. Not a ton of relevance, but there was something there. But now, he's out until his situation gets figured out, which means up to two more weeks of Aldridge languishing on your bench as an unplayable guy before he gets moved somewhere where he'll likely just be frontcourt depth. Aldridge is at the stage in his career where the only move that makes sense is to send him to a contender, but no contender has a ready-made starting spot for the seven-time All Star. So when he does land somewhere, what then? He'll wind up producing even less than he was in San Antonio. At that point, he'd probably just be a situational streamer in fantasy rather than an every-day, must-start player. If you can find someone who'll help you over these next couple of weeks, don't be afraid to get rid of Aldridge.
31% rostered
Jones struggled in the lead-up to the All Star Game, averaging 6.3 points and 3.7 rebounds over the three prior games. At his best, Jones is an entertaining scorer who can drain a couple of threes, but it's hard to see too much upside when a lot of Portland's scoring duties are soon set to go to someone who's very good at that: C.J. McCollum.
McCollum hasn't played since January 16th because of a fractured foot, but he's been cleared to return to practice. Guys like Jones and Gary Trent Jr. will see a drop in usage once McCollum is back, with Portland's scoring settling back into the two-headed monster of McCollum and Damian Lillard, with Carmelo Anthony pouring things in off the bench. We're also a couple weeks away from a Jusuf Nurkic return, which further complicates the scoring situation in Portland.
Download Our Free News & Alerts Mobile App
Like what you see? Download our updated fantasy basketball mobile app for
iPhone
and
Android
with 24x7 player news, injury alerts, lineup notifications & DFS articles. All free!
More Fantasy Basketball Analysis