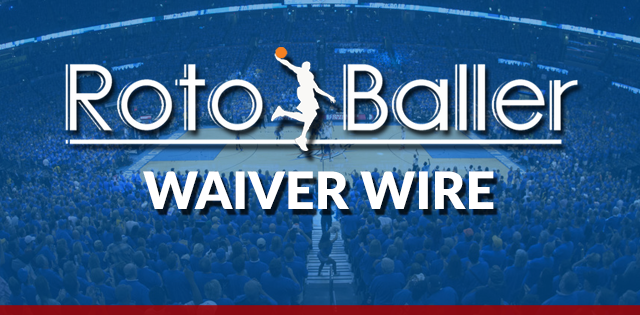 What Appears In This Article?
hide
What's up, RotoBallers! We are now in the home stretch of the season as some leagues already start their playoffs and others only have a couple of weeks left. Fantasy basketball playoffs can be a tricky time with teams resting some players that may already clinch a playoff berth soon and others could just get some more rest days to make sure they remain healthy enough for a championship push. So, we're here to help you with all of that!
The Drop List returns for another week, and it might not be kind to some of your rosters. Each week, I'll take a look at a handful of NBA players that can be dropped from your fantasy team.
Without further ado, let's get to the fantasy basketball drop list. Every Saturday, we'll have a list of NBA players and a small dive into why they can be cut from some or all fantasy formats. Please take into account: each fantasy league is different. Make sure you check out the waiver wire and have a player in mind to replace one of the following players that you may drop.
Editor's Note: Our incredible team of writers received five total writing awards and 13 award nominations by the Fantasy Sports Writers Association, tops in the industry! Congrats to all the award winners and nominees including NBA Writer of the Year, Best NFL Series, MLB Series, PGA Writer and Player Notes writer of the year. Be sure to follow their analysis, rankings and advice all year long, and win big with RotoBaller!
Read More!
Players to Consider Dropping or Replacing
LaMelo Ball (PG/SG, CHA) - 74% rostered
Let's just kick things off with the most obvious of all of the drops. Hopefully, we can see LaMelo Ball return to full strength next season after the Hornets add someone from the draft and maybe retool the roster a little bit.
For this season though, fantasy managers should have already switched their sights to Dennis Smith Jr., Kelly Oubre Jr., or maybe another option from a different team.
Malaki Branham (SG/SF, SAS) - 27% rostered
The 19-year-old rookie had a nice little run while Tre Jones and Devin Vassell were both sidelined and Josh Richardson was shipped off to the New Orleans Pelicans. Unfortunately, for Branham, the former two are getting healthy again, and Devonte' Graham is getting a healthy dose of minutes.
Before all of the injuries, Vassell and Jones were averaging 31.3 and 29.4 minutes per game respectively. They both occupied the starting backcourt roles while Branham only saw 19.7 minutes per contest. Due to the fact that the San Antonio Spurs aren't competing for anything, Branham should still see some action, but not enough for fantasy teams that are in the playoffs.
Over the last two weeks, the 20th overall pick was ranked as low as 227th in terms of per-game value in nine-category leagues. It was even worse in just the last week at 229th.
Those in dynasty leagues should hang on to him for another season or two, but everyone else should drop him off at waiver wire school.
Caleb Martin (SF/PF, MIA) - 12% rostered
The surprising part of Caleb Martin being on here is the fact that 12% of fantasy managers are hanging on to hope that he's going to produce enough through the fantasy basketball playoffs to win a championship. Yikes!
Let's just point out a couple of things so that maybe that 12% will also move on unless they're in some sort of 20+ team league. As a starter across 49 games, he averaged just 10.1 points, 5.2 rebounds, 1.6 assists, 1.0 steals, and 1.3 threes per game. That was good enough to get him ranked around 140th in per-game value in nine-category leagues. Now that Kevin Love has entered the mix, Martin moves to the bench and in those five games, he's averaged 9.8 points, 3.2 rebounds, 1.4 assists, and 1.2 threes per contest.
In conclusion, Martin's value was already low and it keeps getting lower as he was ranked just 171 over the last week in those same fantasy rankings. Drop him like a bad habit and maybe grab Love who is only taken in 39% of leagues right now.
John Collins (PF/C, ATL) - 89% rostered
How the mighty have fallen! Long gone are the days when John Collins was captivating everyone with amazing dunks and wearing t-shirts of his poster over Joel Embiid.
While he may be rostered in 89% of leagues, he sure isn't producing like it. For those who love interesting facts, he's regressed every season in per-game value in nine-category leagues. Three years ago, his value was good enough to be ranked in the top 10, then it went down to 47th, then 50th, and now it's at 81st. That doesn't even account for the fact that he has only played more than 63 games in a season once, back in his rookie campaign.
On top of that, he's experiencing career lows in field goal percentage, three-point percentage, rebounds per game, and assists per game. The Atlanta Hawks have also been in the news cycle quite a bit with rumors of dysfunction and they just fired their head coach.
None of that is a formula for fantasy success down the stretch.
Patrick Williams (PF, CHI) - 31% rostered
If anyone is in very desperate need of threes, rebounds, and a couple of blocks, then Patrick Williams may actually have some value. For everyone else, his value is better left on the waiver wire.
The Chicago Bulls have been somewhat of a black hole for fantasy value outside of their big three in DeMar DeRozan, Zach LaVine, and Nikola Vucevic. After those three, the next highest-ranked player is Alex Caruso at 116, then Williams at 136, and Patrick Beverley at 190.
Williams' only positive values compared to the league average come from his blocks, free throw percentage, and turnovers. The rest is such a minuscule addition to fantasy teams that it isn't really noticeable. Over the last week, his rank has dropped to 149 so you might as well follow suit and drop him like his rank.
Download Our Free News & Alerts Mobile App
Like what you see? Download our updated fantasy basketball mobile app for
iPhone
and
Android
with 24x7 player news, injury alerts, lineup notifications & DFS articles. All free!
More Fantasy Basketball Analysis