Welcome back to The Cut List for Week 15. This is our weekly article looking at players who fantasy managers might be considering cutting from their teams and struggling players who need a closer look. We'll look at players who are worthy of a drop, players who are worth monitoring for replacing, and someone on the hot seat who is worth holding on to...for now.
This week saw us hit the midway point of the season and with the All-Star Break looming, we're also seeing more players appear on The Cut List for a second time this season. Some have improved, many have not and it's time to start making some tougher decisions on certain players.
Those of you experienced Cut List readers will know I'm a strong advocate for not making knee-jerk reactions. A bad week or two shouldn't be a reason to push the panic button and dump someone. As the year continues to progress, there will be different reasons and stronger cases to drop underperforming players. All stats and rostered rates (taken from Yahoo!) reflect when this piece was written.
Featured Promo: Get any full-season MLB and DFS Premium Pass for 50% off. Exclusive access to our Team Sync platform, Premium articles, daily Matchup Rating projections, 15 lineup tools, DFS cheat sheets, Research Stations, Lineup Optimizers and much more!
Go Premium, Win More!
Worth Dropping and Replacing?
Tim Anderson - SS, Chicago White Sox - 68% rostered
Anderson found himself on the Week 10 edition of The Cut List, at which point I said (rather reluctantly) that Anderson was worth holding on to for a while. Since then, he's barely done anything and is now at a point where I'm cutting ties with him.
Since May 28 when I covered Anderson last, he's hit .182/.226/.222 with just two RBI, eight runs and two stolen bases to his name (25 games). On the season, Anderson has no homers, 11 RBI, 25 runs and eight stolen bases with a .226/.267/.263 (60 games).
My reasoning for keeping Anderson was that he could still reach 20 stolen bases, have a decent batting average and score a good number of runs as the leadoff hitter. Things aren't quite working out that way.
After starting exclusively as the leadoff hitter, Anderson has slipped down to second in the batting order. Hardly a big downgrade but indicative of his struggles. But that isn't the only issue we're facing.
After going on the IL earlier this season (for the fifth consecutive season), Anderson suffered shoulder soreness two weekends ago and missed a couple of games. He then pinch hit and still experienced soreness but rather than going on the IL, the White Sox agreed to let Anderson play second base a couple of days later.
Here's #WhiteSox manager Pedro Grifol on the decision late this afternoon to play Tim Anderson at second base tonight @cbschicago pic.twitter.com/SExJEK4OXa

— Matt Zahn (@mattzahnsports) June 23, 2023
So we are now in a position whereby Anderson has shown zero power, is hitting a career-high number of ground balls (64.9% GB%), is slower than ever (27.0 ft/sec Sprint Speed) and is possibly playing with shoulder soreness. None of that seems like a recipe for success.
The White Sox have played down Anderson's shoulder soreness and he returned to the shortstop position on Monday, where he's played all week. But for a player who has spent so much time on the IL, how much do we trust Anderson's ability to continue playing through this and not get hurt any time soon?
It reminds me of a situation the Yankees had with DJ LeMahieu not that long ago where an arm injury prevented him from playing third base so he could only play second or first. Needless to say, LeMahieu didn't hit close to what you would expect and what he has shown before.
Even if we believe there's no shoulder issue and Anderson is perfectly healthy, his numbers haven't warranted him being rostered. I do still believe he can end the season with ~five homers, ~20 stolen bases and a .250 batting average if he doesn't miss more time.
But even that's very pedestrian and there will need to be a change in approach and improvement in his performance for that to happen.
Verdict: Given the number of exciting young middle infielders being called up this year, I'd much rather play for the upside with one than hope Anderson can get healthy, stay healthy and turn his season around. I just don't see a scenario whereby Anderson is a viable option in anything but the deepest of leagues.
Jorge Mateo - SS, Baltimore Orioles - 39% rostered
Mateo's inclusion in the week nine Cut List was a Reddit Request after concerns he was slumping and since then, he's plummeted from being on 80% of rosters to less than half of that.
At that time, Mateo had a solid .244/.288/.433 slash line with six homers, 22 RBI, 26 runs and 14 stolen bases (39 games). Since then (May 21), Mateo has played 32 games and hit .184/.237/.230 with no homers, five RBI, 11 runs and eight stolen bases.
It was alluded to back in the week nine edition that Mateo would continue to see regular playing time despite offensive struggles due to his excellent defense and the speed being a threat. That hasn't changed and Mateo now ranks in the 92nd percentile for Outs Above Average (he ranked in the 80th percentile in week nine).
As we can see above, Mateo has two things going for him; great defense and blistering speed. Obviously, it's the speed that fantasy managers are interested in but it's still important to note his defense as that will keep him in the lineup.
The Orioles did call up Jordan Westburg on Monday and he's played second and third base with Gunnar Henderson and Ramon Urias both able to move around the infield a bit so we'll see how much that impacts on Mateo too.
We know the speed is legit as it's what Mateo was drafted for but the issue now lies with his bat as it's doing nothing and is starting to negatively impact his fantasy value. The other reason Mateo's Statcast Profile is notable is those expected stats.
While they are better than his actual numbers (.243 xBA, .390 xSLG and .299 xwOBA with a .270 wOBA), they are still well below the league average. Mateo doesn't need to hit at league average to provide value if he can steal bases but, as his batting average gets closer to .200, any value will be drained away.
A fantasy comparison I use for Mateo is Joey Gallo. Swap the speed for power and it's the same quandary. Yes, the one category he excels in is great but the negative impact on your team's batting average is basically going to nullify that value.
Gallo needs to hit ~40 homers to be worthwhile if he hits .200 and it's a similar story for Mateo. The nearer to a .200 batting average he has, the more stolen bases he needs to provide value.
In 2021, Gallo had 38 homers, 77 RBI, 90 runs and six steals with his .198 batting average. That saw Gallo rank as the 98th hitter in fantasy. Despite being tied-10th in homers, tied-64th in RBI and tied-38th in runs, Gallo barely cracked the top 100.
As of now, only five players have more stolen bases than Mateo yet he ranks 90th among all hitters. And that is largely down to the homers, RBI and runs tallied in the first few weeks of the season. Now they're dwindling, there isn't much left.
Over the last 30 days, Mateo is 13th in stolen bases (seven), yet is 208th overall among hitters. He's got a .196 batting average in that time. Mateo is basically a situational fantasy option.
What I mean by that is if you need steals and that's an area you can make up or lose the most ground in, he's still worth holding if you can afford the hit to your other stats. If you don't need his stolen bases and he's starting to harm you elsewhere, then move on.
However, just keep in mind if you do drop him, there's a chance someone in your league might need those steals and can make up ground on you so you have to weigh up the pros and cons. Of course, there's been no shortage of talented rookie middle infielders available in recent weeks to replace him.
Verdict: Unless you need steals and can offset the damage done to other categories, Mateo is still rosterable. But overall, he's having a negative impact on your fantasy teams and will need to at least hit for a better average to remain helpful. Mateo's worth comes down to your own team and league specifics, although sometimes it's best to just cut ties, move on and not have to deal with the headache.
James Outman - OF, Los Angeles Dodgers - 35% rostered
Just four weeks ago I listed Outman as someone you should be dropping in redraft leagues and looking to replace. I don't generally like to include a player again so soon unless there has been a change in circumstance, however, his name has cropped up a few times in the last fortnight so I'll feature him again.
The reason for Outman's inclusion before was his struggles led to a drop in playing time. While the playing time has picked up lately, the production hasn't matched what he did earlier in the season and his issues remain.
Back in the week 11 edition, we looked at how Outman's strikeouts have increased while his quality of contact has regressed. Neither has gotten any worse lately but neither has shown signs of improvement, as we can see below.
Back in week 11, Outman had a 40.6% Whiff% which was the highest in the league. Now, Outman has a 39.7% Whiff% which is the second highest in the league, behind only Brent Rooker (39.8%).
In April, Outman's 33.0% K% was masked by his production but in May, he struggled and his 37.0% K% in the month was highlighted as a result. In June, Outman had a 35.1% K% and his 8.1% BB% last month is down from the 9.5% BB% he had at the end of May.
It seems as though pitchers have better scouting reports on Outman and as we see with many rookies, he'll need to adapt and improve if he is to be a Major League hitter. While I believe he can and will do that, it's hard to see him doing it this year to the point he'll be a fantasy asset.
Evidence of that can be seen in the below graphic which shows the percentage of each pitch type Outman has faced per month.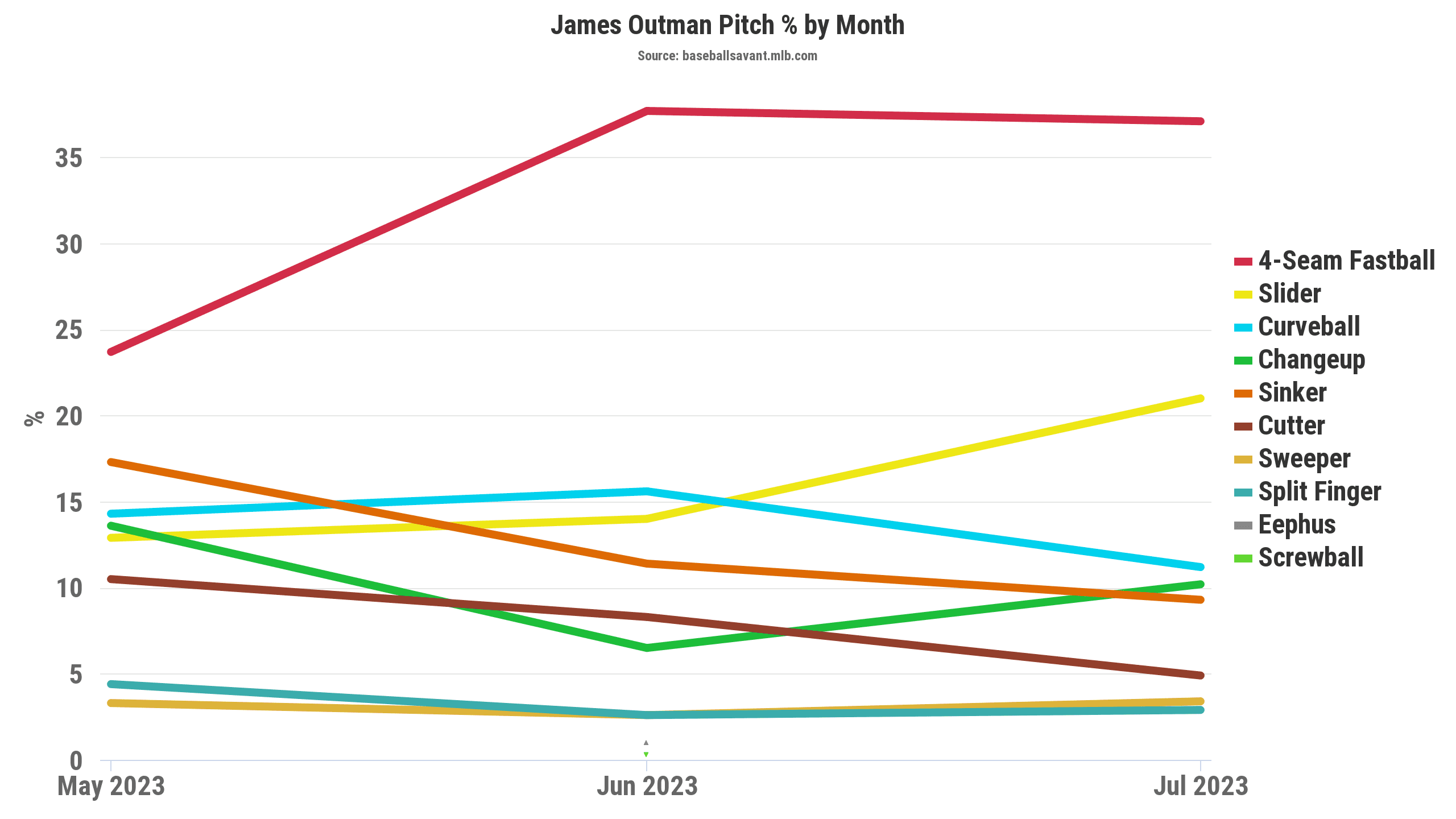 Firstly, please note that for whatever reason, Baseball Savant has the bottom axis titles wrong as they should read April, May and June.
But what we can see is the increase in four-seam fastballs has been maintained after Outman had .104 xBA and .189 xSLG against them in May. Also in May, Outman had a .113 xBA and .146 xSLG against sliders. And in June, he faced 22.0% of sliders after seeing 14.0% of sliders in May.
Of course, in a smaller sample, we need to factor in how Outman may face more or fewer pitchers with a slider but the ~50% increase in sliders thrown to him is telling and does suggest teams and pitchers have more information on Outman to better attack his weakness.
Where does that leave us in regard to Outman's fantasy outlook? Well, he's not homered since May 17 (33 games) but has nine RBI, 11 runs and three stolen bases. That's also come with a .196/.270/.216 slash line.
There is a case that everyday at-bats will help Outman but he only has a .256 batting average during the 11-game starting streak since June 18. He's only got one extra-base hit since then and in such a small sample, it's more clutching at straws than anything else.
Verdict: I still believe in Outman's talent long-term so I'm definitely holding in dynasty leagues. But in redraft leagues, all but the deeper ones I'd still be dropping Outman. Don't be surprised if we see a little streak of production again if he does continue playing every day but I don't expect it to be that impactful or prolonged and we'll end up being back here soon after, wondering if he's droppable.
Hold For Now
Cristian Javier - SP/RP, Houston Astros - 98% rostered
It's amazing what a couple of bad starts can do. After posting a 2.84 ERA in his first 12 starts and being one of the best starting pitchers in baseball, Javier has a 7.27 ERA over his last four starts and some fantasy managers are worried.
In truth, three of his last four starts have been bad with one good outing sprinkled in, as he completed six shutout innings three starts ago. It still seems a bit excessive to worry about him. And while that is somewhat true, there is a little note of caution.
Javier is currently sporting a 4.94 xFIP and 4.63 SIERA which suggests regression was forthcoming. However, you're about to read something I don't think I have ever written before or ever uttered. In the case of Javier, I'm not using xFIP or SIERA as a determinant of luck.
And the reason for that can be seen in the below table, whereby we look at Javier's numbers each season as a Major Leaguer.
| | | | | | | | |
| --- | --- | --- | --- | --- | --- | --- | --- |
| Year | IP | ERA | xFIP | xFIP diff | SIERA | SIERA diff | BABIP |
| 2020 | 54.1 | 3.48 | 4.86 | -1.38 | 4.43 | -0.95 | .194 |
| 2021 | 101.1 | 3.55 | 4.35 | -0.80 | 3.93 | -0.38 | .234 |
| 2022 | 148.2 | 2.54 | 3.53 | -0.99 | 3.14 | -0.60 | .228 |
| 2023 | 87.0 | 3.72 | 4.94 | -1.22 | 4.63 | -0.91 | .274 |
We don't have a huge amount of data on Javier and it is worth noting that the difference between his ERA and xFIP and SIERA this year is greater than in previous full seasons, so regression is still expected. But he's managed to outperform both metrics in each of his Major League seasons.
And it's also worth noting that Javier's BABIP is higher than ever so maybe the regression won't actually happen. Javier's numbers certainly throw up some interesting wrinkles, all of which lead me to the same conclusion; I'm not considering dropping him in any league.
He's on track for a career-high in innings but at 26 years old, Javier isn't a youngster needing protecting from too many innings and including the postseason, he totaled 161.1 IP last year. A workload of 160-180 innings this year wouldn't seem over the top.
Sometimes, pitchers do run out of steam later in the season if they're setting career highs in innings pitched but that's not something we need to really worry about at this stage so just accept there may be some regression, a couple of bumps in the road and be happy you drafted a healthy starting pitcher who has performed well for most of the first half.
Michael Kopech - SP, Chicago White Sox - 60% rostered
It's been an up-and-down season for Kopech so far. He had a horrendous April, putting up a 7.01 ERA in his five starts to begin the year but since then, Kopech has a 2.84 ERA (11 starts).
On the year, Kopech has a 3-7 W-L record, 4.08 ERA, 1.36 WHIP and 97 Ks (86.0 IP). While Kopech has improved as the season has progressed and his numbers have made him look like a frontline starter, there are some concerns.
Firstly is the walks. Kopech has walked 16 batters in his last three starts (12.1 IP), with a 25.0% BB% and just an 18.8% K%. He's only allowed six earned runs in that period but failing to get through five innings due to a high pitch count caused by excessive walks is not conducive to fantasy value.
In Kopech's five prior starts, he walked five batters (30.1 IP), so seemed to have the walks in check. However, his last three outings have seen his BB% balloon to 13.2% on the year, which is in the sixth percentile.
My second concern is Kopech's underlying numbers. He has a 4.95 xFIP and 4.62 SIERA on the year and even if we just look at his last 11 starts, Kopech has a 4.81 xFIP and 4.44 SIERA, so only marginally better despite his ERA being over 4.00 better in his last 11 starts compared to his first five starts.
Those numbers are slightly skewed by the walks but that's still indicative of where Kopech is right now and the harm the walks can do to his numbers if they don't begin to come back down to something resembling a manageable number.
The reason I remain bullish on Kopech moving forward is his fastball. The good news is, he's continued to lean heavily on it and it has a 62.4% usage so far this year.
Kopech hasn't thrown fewer than 50% fastballs in any outing this year and the reason that's good is it's one of the best fastballs in baseball.
Of the 69 qualified starters, Kopech's fastball has a 121 Stuff+ rating which is the sixth best. The .220 xBA against it is the sixth-best among four-seam fastballs (75 players ranked), yet the .438 xSLG is tied 24th and .377 xwOBA is 57th which highlights how inconsistent Kopech has been.
Kopech isn't a must-start and isn't even a must-roster in shallower leagues but he's flashed his potential at times and is someone I'd look to start in the good matchups, assuming he can get the walks under a modicum of control (pardon the pun).
It's not inconceivable for Kopech to find his control again and maximize his fastball in the second half of the season and if he does, Kopech has SP3 potential. If he doesn't, he will remain a fringe option and a spot starter in most leagues.
Seiya Suzuki - OF, Chicago Cubs - 60% rostered
Someone made a solid point last week and that was: Why are people so enamored with Suzuki? If we look at his numbers since joining the Cubs, they're quite pedestrian. He's got a .258/.337/.418 slash line with 20 homers, 72 RBI, 79 runs and 10 stolen bases in 174 games.
Since the start of last year, 241 players have had at least 500 plate appearances and Suzuki's 111 wRC+ ranks tied-98th among them. And this year, Suzuki is hitting .250/.337/.392 with six homers, 26 RBI, 25 runs and one stolen base (63 games). Again, pretty pedestrian.
The major concern I have with Suzuki is his one stolen base has come in six attempts. If he's not got a permanent red light on the bases already, it's certainly going to impact the number of chances he'll get to steal moving forward.
But here's the main reason why I'm still a believer in Suzuki and still feel like he can be more than just a decent fantasy option. Few players have made as consistently good contact as Suzuki has this year.
You know one of my mantras about a player's Statcast Profile not being the whole part of a player's assessment and while that is still true for Suzuki, he's been making excellent quality of contact. So why are his expected numbers so average, you might ask?
Well, he's hitting too many groundballs and not enough flyballs. Of the 153 qualified hitters according to Statcast, Suzuki's 44.0% GB% is the 58th highest while his 28.6% LD% (Line Drive Rate) is tied 17th highest. While line drives aren't a bad thing, it's the flyballs we want more of given his HardHit%.
And Suzuki's 23.2% FB% is 111th highest among those 153 hitters. When Suzuki does hit a flyball, they're not clearing the fences as regularly as they should. His 10.5% HR/FB is tied-101st of the group.
It just feels like when Suzuki makes excellent contact, they're line drives or groundballs and not flyballs often enough. If Suzuki can find a way to hit the ball as hard as he does in the air more regularly, I don't see any reason why he can't hit .270-.280 with 25-30 home runs each year.
And there are some other factors with Suzuki. Last year he missed more than a month with a finger sprain and he started this year with an oblique strain that landed him on the IL, not making his season debut until April 14.
Suzuki has also missed time with a neck issue this week, returning to DH on Saturday. That may explain why he went 0-for-13 prior to that. And the injuries are becoming a little worrisome but we're still talking about someone in only his second MLB season.
Suzuki's mediocre numbers are actually something I like in fantasy. Someone you can just plug into your lineup and pretty much forget about all season. In deeper leagues, that can actually be a godsend.
At this stage of the season, I view Suzuki as an OF4/5 that has more upside, so depending on your league rules and size, he may not be worth rostering.
But in standard leagues and especially deeper ones, I'm more inclined to not only hold Suzuki but like him as a buy-low option too. If he can put things together, the upside offers a route to significant fantasy value.
On the Hot Seat
Yu Darvish - SP, San Diego Padres - 96% rostered
When the Padres gave 36-year-old Darvish a six-year contract this offseason, it certainly raised some eyebrows. And the first year of the contract hasn't gone how either party envisaged.
After 14 starts, Darvish has a 5-6 W-L record, 4.84 ERA, 1.23 WHIP and 85 Ks (80.0 IP). Darvish didn't have a bad start to the year with a 3.16 ERA after his first seven starts. His last seven starts have tallied a 6.75 ERA. Darvish started June with seven shutout innings before things unraveled further.
His last three starts have gone for 14 earned runs in 16.1 IP (7.71 ERA) and Darvish has not started since June 21 due to an illness, although there's an expectation he may start today, and if not, then early next week.
So what has been the cause of Darvish's struggles and can he turn things around? Yes, I certainly believe he can and will. A look at his underlying numbers offers immediate hope. Darvish's 3.73 xFIP and 3.84 SIERA suggest he's been unlucky.
Darvish's 0.97 difference between his ERA and FIP is the sixth highest among the 74 pitchers with at least 80.0 IP. And if we look at some of Darvish's numbers since joining the Padres in 2021, we can see that actually, he's got similar numbers to last year.
| | | | | | | | | |
| --- | --- | --- | --- | --- | --- | --- | --- | --- |
| Year | IP | ERA | xFIP | SIERA | xERA | xBA | xSLG | xwOBA |
| 2021 | 166.1 | 4.22 | 3.75 | 3.49 | 3.32 | .208 | .376 | .282 |
| 2022 | 194.2 | 3.10 | 3.58 | 3.39 | 3.49 | .226 | .388 | .291 |
| 2023 | 80.0 | 4.84 | 3.73 | 3.84 | 3.61 | .233 | .374 | .299 |
The other notable difference between Darvish this year and previous seasons is his Left On Base Rate (LOB%). His 65.9% LOB% is a career-low and 10.0% lower than his career mark. It's also the 10th lowest among the 74 pitchers with at least 80.0 IP.
That's also not looking at Darvish's .304 BABIP, which is tied-24th highest among that group, despite his 44.2% GB% being 32nd highest and better than his GB% in the previous three seasons.
There are other factors that have led to Darvish's disappointing numbers this year. After his strikeouts dropped last year (25.6% K%), they have stayed at that level this year (25.7% K%). But he had success last year so it can't just be that.
The walks have been highlighted as a problem but his 7.6% BB% is in the 62nd percentile so although higher than he's had since 2019, Darvish's walk rate is still better than the league average.
After walking 12 batters in his first four starts (12.2% BB%), he's dropped it down to a 5.6% BB% over his last 10 starts. He's only walked more than one batter in three of those 10 starts.
One thing that has been notable this year is Darvish's reduced use of his slider. If we look at the numbers against his slider in recent times, we'll see why that's a good thing.
Last year, the slider had a .300 xBA, .473 xSLG and .379 xwOBA against it, all of which were higher than any other of his pitches. And the 31.5% usage meant it was thrown more than any other pitch.
This year, Darvish's slider hasn't been any better. The .337 xBA, .568 xSLG and .432 xwOBA against it are all higher than his other pitches but he's throwing it only 16.6% of the time now.
Darvish has done everything we could have wanted this year. He's increased his GB%, almost halved the usage of his most-hit pitch and maintained a better-than-league average K% and BB%.
That doesn't offer comfort to Darvish's fantasy managers as he's not offered value on his ADP and hasn't been the SP2/3 he was drafted as. But that doesn't mean he isn't worthy of rostering still. However, we'll want to see an improvement in his numbers over his next few starts if we are to maintain patience.
Reddit Requests
As in previous years, we're keen to hear who you want us to analyze. If there is anyone who you want to include here on next week's Cut List, drop their names on the Reddit thread and there's a good chance they will feature. Alternatively, you can reach out to me on Twitter (@Baseball_Jimbo) and we'll ensure to cover at least three requests each week.
Sonny Gray - SP, Minnesota Twins - 90% rostered
Gray has been one of the best pitchers in baseball this year, with a 4-2 W-L record, 2.67 ERA, 1.29 WHIP and 89 Ks (87.2 IP). He's ranked as the 49th starting pitcher on Yahoo! and would be considerably higher if he had more wins from his 16 starts.
So why would anyone consider dropping him? Well, I don't think it's a case of considering dropping Gray but there are concerns about him regressing which would mean he'd be a sell-high candidate with his value likely to slide a bit.
Let's look at what Gray's done so far and try to ascertain how concerned (if at all) his fantasy managers should be about Gray moving forward.
If we look at his season in two parts, Gray had a measly 1.39 ERA from his first eight starts. His last eight starts have combined for a 4.04 ERA. Gray also had a 30.8% K% in his first eight starts and a 17.6% K% over his last eight starts.
Gray hasn't been bad lately, but nothing close to his early form and he's only been about a league-average starting pitcher over his last eight outings. So can we expect improvement or is this his actual level moving forward?
This does look like natural regression as Gray had a 3.07 xFIP and 3.39 in his first eight starts and a 3.70 xFIP and 4.07 SIERA overall. But I do want to look at Gray's pitch usage as an area of concern and also something that could lead to success again.
As it does for the graph showing the pitch mix Outman has faced, Baseball Savant has the bottom axis titles wrong as they should read April, May and June.
We can see that Gray has significantly increased his fastball usage which isn't a good thing. It's currently sporting a .304 xBA, .422 xSLG and .351 xwOBA against it.
Gray has increased his sweeper usage, which is a good thing given the .177 xBA, .270 xSLG and .192 xwOBA against. Ideally, we'll see that usage creep up even more with a drop in Gray's fastball usage which might lead to improved results.
This shouldn't be a new thing for Gray either as last year, his fastball was his worst pitch with a .272 xBA, .358 xSLG and .310 xwOBA against it. Yet, it was his most used pitch last year, throwing it 28.3% of the time.
I'm not dropping Gray as even if he stays at his current level, he's not a bad option and it doesn't appear to require much change in his arsenal to get improved results so fantasy managers will just need to remain optimistic. If Gray's last eight starts are his floor, it's not a bad starting point at all.
Nathaniel Lowe - 1B, Texas Rangers - 94% rostered
You may be wondering why the predominant number three hitter in the league's best offensive lineup is even mentioned here and you'd be right to question that. For whatever reason, Lowe's name has cropped up as someone fantasy managers aren't sure about.
That likely stems from the lack of power Lowe has displayed, this year. In 82 games, he has eight homers, 43 RBI, 52 runs and no stolen bases along with a .272/.365/.418 slash line. After hitting 27 homers last year, being on track for ~16 this year is a letdown.
But Lowe (and the Rangers) have more than made up for it with the RBI and runs. The Rangers lead the league in runs scored and only three first basemen have scored more runs than Lowe. There are 12 first basemen who have more RBI than Lowe but he still ranks 13th at the position according to Yahoo!.
If we look at Lowe's fantasy stats as a whole, only eight other players can match or better him, leaving Lowe in pretty elite company. The only negative is the lack of stolen bases.
However, only 12 first base eligible players have five or more stolen bases this year and only five of them rank above Lowe. The 12 first basemen who rank above Lowe have combined for 68 stolen bases so it's not a position you generally get much return from in the stolen base category.
Lowe isn't the power hitter you generally associate with being a first baseman. But as we can see from his Statcast Profile, he still makes better contact than the majority of hitters in the league.
What really stands out from this are Lowe's expected numbers, all of which are very similar to his actual numbers and the batting average especially is very good.
Lowe has a .272 xBA, .420 xSLG and .348 xwOBA (.347 wOBA) so there's no reason to believe regression is coming and the Rangers offense hasn't shown much sign of slowing down, ranking fourth in runs scored (140) in June.
The only slight against Lowe is if the Rangers offense does struggle at any point, there's not much left for Lowe to provide fantasy value. But that's not something that looks particularly likely and not something fantasy managers should be worried about at this stage.
If anything, Lowe should be rostered on more than the 94% of leagues he currently is in and has the profile of being an ideal corner infielder who you can just put into your lineup and forget about.
Lowe's 130 wRC+ in June shows that last month was his best month of the year and there's no reason to think he won't continue to be a considerably better-than-average hitter over the remainder of 2023.
Giancarlo Stanton - OF, New York Yankees - 79% rostered
Start hot, get hurt, return, struggle, get hot, get hurt again. Rinse and repeat. That is basically Stanton's Yankees career, at least the majority of it and it is certainly trending that way again this year.
In Stanton's first 13 games of the season, he hit .269/.296/.558 with four homers. He then got hurt and missed seven weeks. Since returning on June 2, Stanton has hit .151/.235/.301 with three homers in 21 games.
That's left Stanton's season line as .200/.259/.408 with seven homers, 19 RBI, 14 runs and no stolen bases (34 games). If my theory is correct, we're set to see a Stanton hot streak that will be cut short by an injury.
Considering Stanton has gone 4-for-11 with a homer, five RBI and two runs in his last three games, this may be the beginning of a hot streak that culminates in an IL stint.
While that might all seem a bit simplistic and somewhat harsh (also said slightly tongue in cheek), there is some truth behind it. During the 2021 and 2022 seasons, Stanton stayed relatively healthy, playing a total of 249 games.
But his volatility remained as we can see from the below graph showing his AVG, SLG and wOBA on a 20-game rolling average during those two seasons.
If we start by going back to the 2021 season, Stanton hit .282/.347/.534 with nine homers in his first 33 games. He then missed time, returned and hit .138/.242/.138 over his next nine games.
Later that season, Stanton had a 31-game period in which he hit .320/.336/.721 with 15 home runs. Stanton had a 29-game stretch of hitting .238/.350/.343 with two homers prior to that torrid spell.
And it was a similar story last year, with Stanton starting hot, hitting .284/.323/.552 with 10 homers in the first 30 games of the season. He remained on the field until late May before a calf injury sent him to the IL.
On Stanton's return in June, he hit .122/.317/.347 with three homers (16 games). He then hit 10 home runs in his next 24 games before a hamstring injury saw Stanton head to the IL again.
On his next return, Stanton hit .130/.231/.232 with two homers in 19 games. He finished the season strong, homering in each of the last three regular-season games last year.
What we're seeing from Stanton this year is no different from what we've seen before. Start hot, get hurt, return, struggle, get hot, get hurt again. Rinse and repeat.
If you believe that, then you'd probably want to hold Stanton for the impending hot streak (which may have begun). Otherwise, you're just holding on to a player that can almost single-handedly cost you a fantasy title as what he's producing now is about as bad as having an empty spot in your lineup.
Download Our Free News & Alerts Mobile App
Like what you see? Download our updated fantasy baseball app for
iPhone
and
Android
with 24x7 player news, injury alerts, sleepers, prospects & more. All free!
More Fantasy Baseball Advice