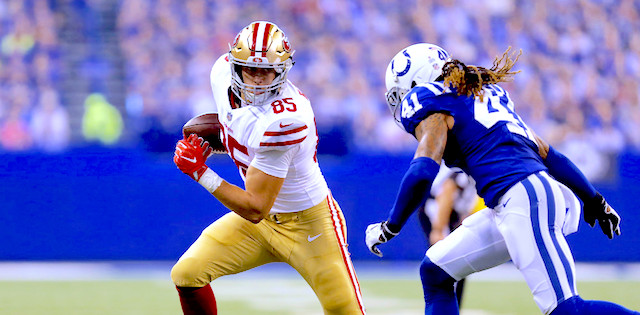 Tight end has a legitimate claim as the most volatile position in fantasy. You may want to give that award to running backs but tight ends will run them pretty close. Playing tight end is a complex business and it shows up in fantasy. It can easily be a case that a tight end is required to block more as part of the game plan, and that can lead to a seemingly random low scoring week for fantasy. Additionally, the toll the position takes on the body can mean that even the brightest of talents can flame out and be unable to provide any production at all.
For that reason, the tight end position may be the most important position in fantasy to identify the breakouts. Gambling on a tight end late is a much-used strategy among fantasy owners. Hitting on one of those guys, or finding them with in-season pickups can be a championship-deciding factor.
The list below are all tight ends which were drafted outside of the top-10 at the position. Three of the four ended up within the top five when it came to fantasy options, and the fourth may well have if he could have stayed healthy down the stretch. The question with any breakout is not just why it happened but can he sustain that success again the following season. Let's take a look at the four breakouts and some of the factors which may dictate their success in 2019.
Editor's Note: Get any rest-of-season NFL Premium Pass for 50% off. Our exclusive DFS Tools, Lineup Optimizer and Premium DFS Research through the Super Bowl.
Sign Up Now!
2018 ADP: 129
When I was preparing this article I very nearly missed Kittle altogether. It sounds daft but by the end of the season it just felt like Kittle had always been a good tight end. Perhaps it was the preseason fantasy hype he was receiving prior to the injury? Before he got injured Kittle was a fantasy darling at the tight end position, thanks in large part to his performances to end the 2017 season with Jimmy Garoppolo under center. You could even argue that those three games were the real breakout, with Kittle having 194 yards and one touchdown on 11 receptions.
However, in 2018 he took it to another level. Kittle finished the season with 136 targets, 1377 yards and five touchdowns. On a 4-12 team that is extremely impressive production, especially when you consider the fact he played with three different quarterbacks in 2018. Kittle also demonstrated the ability to have the odd monster game; in Week 4 he had 125 receiving yards and a touchdown, Week 9 it was 108 yards and a touchdown. However, the two most incredible games once again came late in the season. In Week 13 against Denver, he had 210 receiving yards and a long touchdown, and then in Week 17 he put up 149 receiving yards and a touchdown to cap off another impressive end to the season. The good news is that Kittle was nearly always a part of the offense. He never received less than four targets, he had over five targets in 14 games, and double-digit targets in four outings.
Heading into 2019, with Garoppolo back under center, there is a real chance that Kittle can build on his breakout season and become a legitimate stud at the tight end position. You are going to have to pay for him, as I have seen him going alongside the likes of Zach Ertz and Travis Kelce, but my belief is that he will be worth it and possibly more.
2018 ADP: 167
When Ebron arrived in Indianapolis there was a lot of hope. Ebron had flashed the ability to be a receiving threat in Detroit, catching 61 balls for 711 yards with a catch percentage of 71.8%. However, the 2016 season, where he had just 574 receiving yards on 53 receptions with a catch percentage back at 61.6% was concerning. The belief was that if Ebron could demonstrate the hands he had in 2016 then he could become one of Andrew Luck's most trusted weapons.
Unfortunately, Ebron was actually no more reliable catching the ball in Indianapolis than he was in Detroit. Ebron caught just 60% of the balls thrown his way. The difference was he was targeted 111 times by Luck, with 66 receptions and 750 yards. That is 25 more times than he was ever targeted in Detroit. A big part of why he saw those targets was the near constant injuries to Jack Doyle, who was shut down during the season, and the inconsistency the Colts had at wide receiver. Given the amount of cap space the Colts have going into 2019 it is hard to believe they will not find a way to get more consistency from their pass catchers this season. That is bad for Ebron, who is unlikely to see that number of targets again in that scenario, especially if he only catches 60% of them.
However, the thing that really set Ebron apart was his touchdowns. Ebron caught a whopping 13 touchdowns and even rushed for another one. Ebron was a major part of the Colts red zone offense. In fact, he was the most targeted receiver in the red zone for the team, seeing 22 targets in all. Again conversion rate was an issue, as Ebron caught just 12 of them, but the fact he received that many targets is crucial. However, as I discussed above, if the Colts do bring in another reliable receiver we could also see those numbers drop this year.
Ebron is a tight end I have a lot of concerns about going into 2019. 2018 was a great year but it was built upon injuries and inconsistency across the pass-catching group. Next season, it is hard to believe that the Colts will see the same level of inconsistency from their pass catchers, and if Ebron cannot up his catch rate then he could quickly find himself being used more as a decoy than a legitimate receiving threat.
2018 ADP: 193
For as long as I can remember now Jared Cook has teased us with his potential. The issue is that he has never really put together back-to-back consistent seasons. We saw a hint of his talent in Tennessee in 2011, but he failed to back it up in 2012. The same happened in St. Louis in 2013, before he had a major issue turning targets into receptions in 2014. In Green Bay, he never really got going and by the time he arrived in Oakland in 2017, he was a guy many people had given up on. Once again 2017 was promising, Cook caught 62.8% of his targets for 688 yards and two touchdowns. Now the question was could he back it up in 2018?
The answer is fairly emphatically yes. Despite a bad year for the Oakland Raiders, Cook looked incredible at times. Yes, there was inconsistency but at the tight end position, you will always get that. The most important thing is that Cook caught a career-high 67.3% of the balls thrown his way, and that led to career highs in receiving yards and touchdowns. Cook had over four receptions per game for the first time in his career and managed to break through the 50 yards per game barrier. Much like Ebron, a big part of his success is due to a career high in targets, thanks in large part to a lack of other options. However, I do not suddenly see the Raiders adding a ton of receiving talent. They are likely to build through the draft and those guys take time to earn the trust of an offense.
The biggest concern for me is if the Raiders decided to move on from Derek Carr, who Cook has clearly built a rapport with. If that happens then there will be question marks entering the season. However, if Carr is the man under center for the Raiders in 2019, then Cook has a real chance to be a top-five tight end once again in the 2019 season.
2018 ADP: 147
Howard had a promising start to his career in 2017. In his rookie season, he caught 26 of his 37 targets (66.7%) for 432 yards and six touchdowns. Unfortunately, his targets (2.8) and receptions (1.9) per game ratios were far below what you would like to see from a tight end of his considerable talent. As always with any promising rookie, it was intriguing to see how he could build on that start in 2018.
Despite playing in just 10 games, and starting in just eight, Howard had another promising year in 2018. His catch rate increased from the already impressive 66.7% to an even better 70.8%, demonstrating to his quarterbacks that he is a player they can trust with targets. More promisingly his receptions per game (1.9 to 3.4) and yards per game (30.9 to 56.5) almost doubled across the season. Generally across the 2018 season, Howard put up consistent production. He had two games where he was held to just one catch combined on five targets but those games were generally the exception to a pretty nice year. Even when he had just two receptions in Week 1 he put up 54 receiving yards, which would have been a solid return for a tight end on many weeks.
Howard's season was cut short due to foot and ankle injuries. The good news is that neither seems significant enough to keep him out of much of 2019. The bigger unknown for Howard this season is the arrival of Bruce Arians. Arians did not get much production out of tight ends in his final season with the Cardinals. However, Arians was operating with Jermain Gresham as his main option, and Howard is a significantly better football player than Gresham. The bigger issue is that Cameron Brate is still in the locker room, and if Howard fails to impress in training camp then he could quickly find himself playing catch up in the eyes of his new coach. The positive is that the narrative on Arians is that he does not really use the tight end in his offense. That belief could mean that Howard becomes a cheap option on draft day in 2019.
More Fantasy Football Year-in-Review