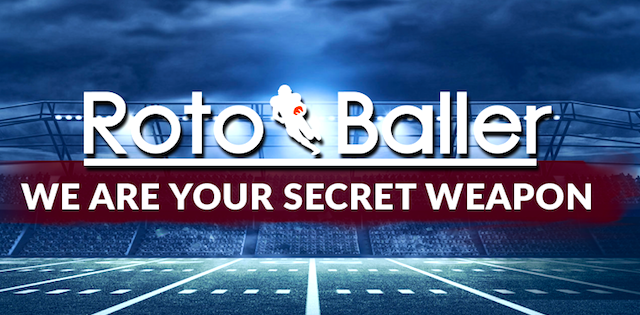 As the playoffs progress in the NFL every season, media coverage ramps up. By the time we get to Super Bowl week, it's become a full-blown circus. There are microphones and recorders being shoved in players' faces at every waking moment, and the questions never stop.
As the fantasy football playoffs move ahead, there is a different kind of pressure that its participants experience. Sure, there are no reporters needling fantasy owners about their teams, but it may feel like there's a media circus inside your head, firing multiple questions at you about your next matchup and closely examining every move you make.
The amount of extra pressure -- even though it's created internally -- feels just as overwhelming as it is real-life players and coaches. At some point, you may realize your biggest opponent is not the team you are facing, but yourself. To stay sane and survive, you need to extinguish your own anxieties so you can focus on setting the best possible lineup. It's time to tune out the extra noise inside yourself and confidently prepare for your next matchups.
Editor's Note: Get any rest-of-season NFL Premium Pass for 50% off. Our exclusive DFS Tools, Lineup Optimizer and Premium DFS Research through the Super Bowl.
Sign Up Now!
Surviving the Fantasy Football Playoffs, and Yourself
Fantasy football decisions create a lot of anxiety, from draft day to championship week. But the uncomfortable decision-making process becomes more unnerving when you get to the postseason, as there is limited roster maneuverability and much less room for surviving disappointing performances. One loss, and it's all over.
So you start becoming more indecisive than ever before. You start second, third, and fourth-guessing yourself on tough decisions. You call SiriusXM Fantasy Sports Radio and ask RealTalk Raph, Josh Hayes, and Anthony Aniano for lineup advice. And you still question their responses.
You overthink things, and that can be dangerous. You may make a decision you might regret, but if you've made it this far, now is not the time to start waffling. Make the most informed decision you possibly can, and don't panic about what you cannot control.
Not Everything Is Within Your Control
You must accept that you cannot control certain elements of fantasy football, and when you come to terms with that realization, you can make calm and rational decisions. Make the best decisions you can based on player track records, matchups and whatever other information you can find. Once the games start, just sit back and hope it all works out for the best.
Consistent athletic execution during NFL games is too difficult to fully predict and project. Know and accept that, and you'll have a healthier, more confident approach to setting your lineups. You cannot control if a player slips, a ball bounces off his hands, a blown coverage, or anything else that happens on the field. We can only forecast a certain percentage of what will actually go down during those 60 minutes.
Don't Overanalyze Matchups
Another playoff pothole you may encounter in your mind is matchup overanalysis. That is when you strongly consider using a lower-tier player over a more proven and established guy based only on matchups. Those who started Nick Foles over Deshaun Watson in Week 13 know what that is. And they know the disappointment that comes with it. More often than not, your star players will still deliver in tough matchups. After all, they became star players by more frequently providing quality numbers when facing challenging defensives.
Stop Worrying About Your Opponent's Lineup
Once you get past the mental land mines of overthinking and overanalyzing matchups, you must stop concerning yourself with another element out of your control: Your opponent. You have zero control over who the other team starts. Don't constantly compare your lineup to the opposing one in the days leading up to the game. It will just make you crazier.
You cannot game plan to limit or stop your opponent. When reviewing the opposing lineup, you are just creating more anxiety that you don't need. There is nothing you can do to affect the other team's players, you have enough to think about regarding your own squad.
If you make the best possible decisions regarding your own lineup, you can be in an optimum position to simply outscore the other team, and it won't matter who they started. You can only guide your own destiny, so focus on that more than anything else.
Also, never make a lineup based on who your opponent has. Starting Matt Ryan will not cancel Julio Jones out. The scoring is different at each position, and Ryan can have a bad day while Jones still produces good numbers. Ryan can throw for 250 yards, a TD and three interceptions, while Jones still catches his only TD pass and gains 90 yards on six catches, for example.
Be Cautious Using Site Projections
Don't put too much stock in pregame projections on whichever site hosts your league. Sure, those projects are fun to look at, but they're not necessarily a true reflection of how the matchup will play out.
As for injury-related decisions, try to keep yourself out of guessing games. If you aren't sure whether a player will be ready to go, always side with the definitely healthy player in a tight decision. If a player is cleared to start and has no reported limitations, don't create extra worries in your mind about re-injury or limited reps. If the coaching staff deems a player ready to go, that should be the end of your worries.
Remember It's A Long Day
Once the games start, let them play out fully before getting panicky about outcomes. If one of your key performers has not done much by the end of the first quarter, do not start to assume the worst. Big numbers will come often come in spurts rather than over an entire game. Be patient and the points will hopefully come in time.
Win or lose, though, it's a much healthier approach to block out all the internal stress on your way to a fantasy championship. You'll have a sharper focus and won't waste mental energy on unnecessary speculation and indecision. You will have more mental space to focus on the things that really matter. Clean out the stressful trash in your mind and make more room for quality info.
With all that said, the "media" should hopefully be cleared out of your head for your upcoming matchup.