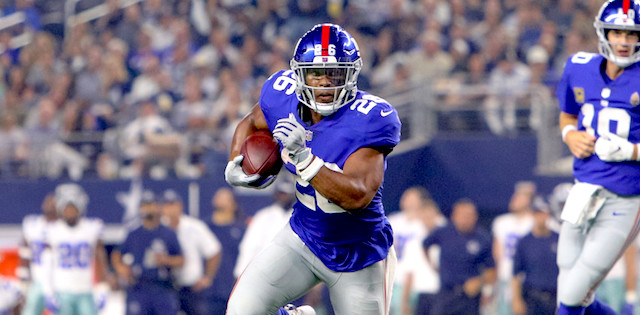 What Appears In This Article?
hide
This might come off as crazy but hear me out. Yes, Christian McCaffrey had one of the best fantasy running back seasons in PPR history last season but Saquon Barkley should still be drafted ahead of him in 2020.
2019 was tumultuous for Barkley and the New York Giants. They officially transitioned from the face of their franchise to a first-round rookie QB midseason and Barkley sustained a high-ankle sprain in the third game of the year. Barkley missed the next three games and performed uncharacteristically from Weeks 7-14. He carried the ball 117 times for 373 yards, resulting in a meager 3.19 yards-per-carry and caught 30 passes on 42 targets for 218 yards. He scored twice during this stretch and the Giants lost every single game (albeit, due to more important factors like a mistake-prone rookie QB, mediocre O-Line, and porous defense).
The most damning performance throughout this abysmal two month period was a 13-carry, ONE-yard game against the New York Jets. The Jets had one of the best defenses versus the rush last year (2nd in DVOA) but that is no excuse for Barkley's performance. But 2020 can be a bounce-back campaign for Barkley. Here's why he should be the first pick in 2020 fantasy drafts.
Featured Promo: Get any full-season NFL Premium Pass for 50% off and win big in 2023. Exclusive access to our Premium articles, 15 lineup tools, new Team Sync platform, Lineup Optimizer, Premium DFS tools and cheat sheets, and much more!
Sign Up Now!
Saquon Barkley: The Real 1.01
By no means is it incorrigible to select Christian McCaffrey first-overall. He has not missed a game throughout his illustrious three-year career and has seen at least 100 targets (with an incremental increase) each season. McCaffrey is also the lone-wolf in that backfield. The Panthers do not have a true back-up RB who steals opportunities. Reggie Bonnafon, a former QB, is listed on their depth charts as the RB2 but it would not shock me if Curtis Samuel took over for a chunk of opportunities if need be. Nevertheless, CMC is a premier option and by no means am I suggesting to pass on him further than the first pick.
The issues that come to mind with CMC are the changes to the offense and the overall outlook for the Carolina Panthers heading into 2020. They have officially moved on from former league MVP and first-overall pick, Cam Newton to Teddy Bridgewater (more like Bridge-QB-Water lol). Furthermore, the Panthers acquired a brand new coaching staff from the college ranks by signing Baylor Head Coach Matt Rhule to a long-term deal and bringing in young phenom Joe Brady from National Champion LSU to coordinate the offense.
Joe Brady comes from Sean Payton's tree and will instill a pass-heavy offense to Carolina, which will look incredible when they have the proper personnel to properly run it. Did McCaffrey perform well with Kyle Allen of all people? Absolutely. But there was a stretch of a month in 2019 where teams were essentially blind-sided by Allen and he flukily did not turn the ball over and played relatively well.
At the moment, the Panthers have one of, if not the worst offensive line in the NFL. They let go of both starting guards Trai Turner and Greg Van Roten while trading for oft-injured LT Russell Okung. For the time being, their Matt Paradis signing is looking poor given his only season in town last year and their guard replacements are John Miller and Dennis Daley, both downgrades from last year's starters (who in their own right were just average at best).
Taylor Moton is the only above-average piece on the line unless 2019 second-round pick Greg Little steps up or soon-to-be 33-year-old Okung returns to form. The Panthers did not draft a single lineman this year and while CMC's best work is not done between the tackles, his rushing ceiling is lower. Carolina's OL ranked 11th in adjusted line yards (via Football Outsiders) in 2018 and 17th in 2019. This year will most likely be even worse.
The poor offensive line mixed with Teddy Bridgewater's immobility is a huge concern. While Bridgewater will be forced to get the ball out of his hands ASAP to short-area receivers like McCaffrey, there is certainly a concern that the offense as a whole will be towards the bottom of the league despite having several talented receivers on the field in D.J. Moore, Curtis Samuel, and Robby Anderson. It is difficult to pinpoint how effective this offense can be along with the upside. Brady will certainly spread things out well with plenty of 11-personnel and motioning McCaffrey out wide like he did Clyde Edwards-Helaire but will any of that matter given Bridgewater's personal limitations and low time to throw? Bridgewater's passes had the lowest air yards per target in the league last year and that was behind a top-five Saints offensive line.
Lest we forget, just two years ago, in Barkley's rookie year (McCaffrey's sophomore season), he was the RB1 in PPR formats right ahead of McCaffrey. Barkley was basically the entire Giants' backfield that year and ranked 1st in open-field yards (gains at least 10 yards beyond the line of scrimmage). That was with an immobile Eli Manning and significantly worse offensive line. According to Football Outsiders, the Giants' adjusted offensive line yards ranked 25th in 2019 and 29th in 2018. They just drafted NFL-ready tackle Andrew Thomas fourth-overall and added upside in rookies Matt Peart and Shane Lemieux. Lemieux is rumored to be in the mix to start at center, which would fill the biggest hole at the moment. If there's one thing general manager Dave Gettleman can get right, it's finding talent across the offensive line over time.
Barkley was the second-overall pick in the 2018 draft for a reason. He was rightfully heralded as a "generational talent" given his elite mix of speed, size, athleticism, pass-catching, route-running, and vision/ability as a rusher. That did not go away overnight. While the sprain may have lingered throughout a chunk of 2019, he should be fully healthy heading into this season. Barkley started to look a LOT more like running back that was coveted going into last season in the last month after he was more comfortable on his ankle. Re-aggravation is a risk though and probably the most valid reason to keep him ranked 2nd across fantasy drafts but you play to win the game and Barkley has the highest upside of any running back year in, and year out moving forward if healthy for the next half-decade at least.
If you have the chance, take Barkley first overall and do not look back.
More Fantasy Football Analysis