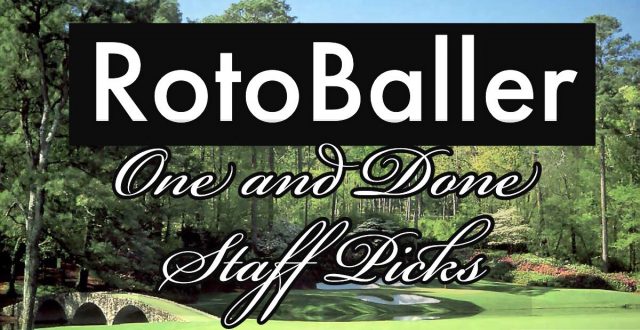 Here at RotoBaller, we are always searching for ways to give our readers the best fantasy sports content possible. With that goal in mind, we are very proud to announce the addition of a weekly PGA "One and Done" column. In this feature, our golf staff of Joe Nicely, Spencer Aguiar and Gianni Magliocco will provide their weekly golf picks every Wednesday. The purpose of this article is to present you with alternative options to consider and hopefully make your selection a much easier process weekly. With that plan in mind, let's get started!
The Valero Texas Open was a slow weekend for all three of us. Joe and Gianni were only able to net $16,275 from Tony Finau's share of 61st place, but as has been the case for me far too often this season, I wasn't able to put much of a dent into Gianni's enormous lead. Rickie Fowler's share of 17th place and $112,500 payday was respectable, but something has continually gone wrong for me during one of the four rounds to halt my golfer's progression up the leaderboard. Last weekend, it was a third-round performance from Fowler that saw him lose 2.805 strokes putting and plummet from second place to out of contention.
While Joe and I are running out of time to catch Gianni, we still have all four majors, and anything can happen with a few big cashes in a row. With 11 million dollars up for grabs at the Masters, the time to make a move is now, so let's so how aggressive the guys will be at Augusta National.
For an in-depth breakdown of the top DraftKings and Fanduel plays, check out Joe Nicely's weekly Horse For The Course that highlights the best fits for the week's course.
And you can also find out who the smart money is on by checking out Spencer Aguiar's PGA DFS: Vegas Report every week.
Editor's Note: Our friends at Fantasy National have built some incredible DFS Golf lineup tools including a Lineup Optimizer, Stat Engine, Ownership Projections and Course Breakdowns. They are by far the best daily fantasy Golf tools in the industry. Seriously. You can read all about them here and see screenshots. 
2019 Masters - Augusta National
7,435 Yards - Par 72 - Greens Bentgrass
Ah, yes. The first major of the year is finally here, and there is no arguing that the Masters is 'a tradition unlike any other.' 87 players will tee it up for the first grand slam event of 2019, and everyone will have their eyes on the coveted green jacket. However, in order to earn the rights to wear golf's greatest prize, golfers will need to traverse every part of the facility, and that includes making it through Magnolia Lane and into Augusta National.
That may seem like a foregone conclusion, but Dustin Johnson showed in 2017 that making it to the first tee isn't always a given, as he was forced to withdraw after slipping down the stairs where he was staying and hurting his back the night before teeing off. Assuming that we don't experience any freak accidents this time around, the tournament appears to be as wide open as it has been in years. Rory McIlroy is the betting favorite and is going for the career grand slam, but he hasn't been immune to slipups of his own at the Masters, and it feels as if most of the best players in the world have a realistic shot of walking out of Augusta as the champion.
There are a few key statistics that will prove vital this weekend. For starters, distance off the tee will be a huge separator since fairways are wide and the rough is non-existent. Par-five scoring also becomes necessary with all par-fives playing as the easiest holes at the venue. If we add in touch around the green, strokes gained off the tee, strokes gained approach and three-putt avoidance, we get a pretty good understanding of what will be needed to find the winner's circle on Sunday. While I am far from a course history matters guy, experience at Augusta is very important. A first-timer hasn't won since Fuzzy Zoeller in 1979, and older players can compete just by knowing where they can and can not miss certain shots.
One and Done Selections
Joe Nicely - Tiger Woods
Alternate - 
Since we decided to start writing this OAD article over the winter, I've had two players in mind for the Masters...Jordan Spieth and Justin Rose. My fascination with Spieth at Augusta National is, admittedly, a problem. Rose is a very sensible selection in any tournament, but especially in the year's first major, an event where he hasn't finished outside of the top-25 in a decade.
In the end, I decided to forego both Spieth's 'Masters magic' and Rose's rock-solid Augusta resume in favor of a player that's always in the back of any golf fan's mind. Tiger Woods has won four green jackets, with the last coming in 2005. In the time between then and now, Tiger's life and career has burned to the ground and been rebuilt, only for it all to happen all over again. Through all the personal tribulations, swing changes, and surgeries...when Woods has been able to play in the Masters, he's played exceptionally well. Since that last win in 2005, he's recorded six top-five's at Augusta and that's with him missing both 2014 and 2016.
The 14-time major champion heads to Augusta National this week with both his life and his game seemingly in great places. Woods has been solid if unspectacular in limited appearances this year and it - somewhat unbelievably - feels like he's a little under the radar this week with all eyes fixed on a Rory McIlroy grand-slam coronation. His runs in the Open and PGA Championships last season were great experiences for this 'New Tiger' and those outings might have re-ignited a competitive fire that still lingers inside of him. I think the old guy still has a little roar left, at least enough for one last magical Sunday afternoon at Augusta. - Joe Nicely
Yearly Earnings - $1,235,943

Yearly Cuts Made - 11/13
Spencer Aguiar - Bubba Watson
Alternate - Rory McIlroy
Hello, friends. Welcome to the Masters, the primary location of Bubba Watson's happy place.
As many of you already know, the American can be extremely temperamental from week-to-week. Put him at a venue that he fancies, and the sky is the limit. However, when Watson finds a course that doesn't suit his eye, watch out!!!! Mood swings, poor play and a lack of effort will all come into play, and it is one of the many reasons why we see the 40-year-old experience so much variation weekly. AHHHH!!! THE FRUSTRATION OF BACKING BUBBA!!!!!
But there is no need to stress when Watson enters Magnolia Lane and heads down to Augusta National. The birds chirp a little louder, the sky shines a little brighter, and most importantly, all of this doesn't make Watson want to tomahawk a Ruby-throated Hummingbird into the atmosphere.
Part of the reason Watson continually finds success at the course comes from the fact that it suits left-handed golfers and allows players with creativity to thrive. There isn't one specific way to play the venue, and Watson can use his vivid imagination to shape shots. If we add in that distance is needed off the tee, it becomes abundantly clear why the Masters is a place where the 12-time PGA Tour winner has flourished. It was a tough decision to pass on Rory McIlroy, especially considering that I was the only one that still had the option of using him, but the man from Northern Ireland is going to be the chalkiest selection of the week, and I like going against the field when the situation presents itself. - Spencer Aguiar
Yearly Earnings - $2,479,271
Yearly Cuts Made - 12/13
Gianni Magliocco - Rickie Fowler
Alternate - 
Here's the situation. I have a $3 million lead over two of the best fantasy writers in the business, and a win this week at the most significant event in golf puts this contest to bed in my eyes. To achieve that, I'm taking Rickie Fowler to slip on the green jacket on Sunday evening and to put Joe and Spencer both to the sword.
Fowler putts better than any of his main rivals, has a win in Phoenix earlier this year and he looks good in green. What's not to love? He's been knocking on the door at the majors for some time, and on the best greens in the world, taking the best putter in the world is the play.
I have almost $5.5 million banked, and it's only April. I've picked the winner at the fifth major, as well as at Pebble Beach where my choice was 33/1. A win at the Masters will likely put me on as high a total as any other one and done player for 2019, and there will be no sweeter location for that to happen than Augusta National. It's Rickie's time. - Gianni Magliocco
Yearly Earnings - $5,416,663
Yearly Cuts Made - 11/13
Running Totals
Joe Nicely

Spencer Aguiar

Gianni Magliocco

Sony Open

Gary Woodland 

$11,520

Justin Thomas

$99,200

Kevin Kisner

$12,864

Desert Classic

Jon Rahm

$212,400

Jon Rahm

$212,400

Patrick Cantlay

$159,300

Farmers Insurance

Marc Leishman

$21,158

Patrick Cantlay

$0

Charles Howell III

$79,804

Waste Management

Hideki Matsuyama

$113,600

Webb Simpson

$76,917

Justin Thomas

$482,800

Pebble Beach

Chez Reavie

$31,160

Phil Mickelson

$1,368,000

Phil Mickelson

$1,368,000

Genesis Open

Xander Schauffele

$100,788

Hideki Matsuyama

$177,600

Dustin Johnson

$177,600

WGC Mexico Championship

Justin Thomas

$201,000

Xander Schauffele

$128,000

Tommy Fleetwood

$103,750

Honda Classic

Adam Scott

$0

Gary Woodland

$25,346

Adam Scott

$0

Arnold Palmer

Rory McIlroy

$294,613

Justin Rose

$19,474

Jason Day

$0

Players Championship

Sergio Garcia

$125,000

Tiger Woods

$77,625

Rory McIlroy

$2,250,000

Valspar Championship

Patrick Reed

$0

Sergio Garcia

$15,209

Henrik Stenson

$54,270

WGC-Match Play

Ian Poulter  

$108,429

Haotong Li

$167,000

Francesco Molinari

$712,000

Valero Texas Open

Tony Finau

$16,275

Rickie Fowler

$112,500

Tony Finau

$16,275
Golf DFS News and Player Outlooks
Premium DFS Golf Tools and Lineup Optimizer
Our friends at Fantasy National have created some game-changing DFS Golf tools, and you can read all about them here. They are hands-down the best daily fantasy Golf tools in the industry.