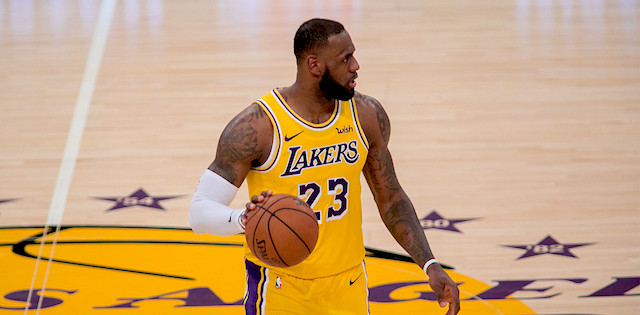 Welcome to the RotoBaller NBA Recap. In this feature, we highlight three fantasy basketball takeaways from last night's slate of NBA games. Saturday was a bit of a letdown, at least when comparing it to Friday's exciting 10-game slate. However, the night still provided some fascinating fantasy nuggets for us to examine. Sadly, though, the Boston Celtics versus the Chicago Bulls was not one of those games that told us much. The Celtics obliterated the Bulls on the road by a score of 133-77. I wouldn't look too much into anybody's performance, and if there is anything to take out of the game, it would be that a buy-low window might open up for a handful of Chicago players with the collective poor effort. Kris Dunn and Bobby Portis are due back shortly for the Bulls so look for head coach Jim Boylan to get them infiltrated back into the mix when he can. If either player is sitting on your waiver wire, you should heavily consider adding them.
The Los Angeles Lakers picked up their fifth win in the past six games, destroying the Memphis Grizzlies on the road 111-88. I always want to make sure I add information that is slightly more advanced for these articles, but LeBron James is unbelievable, and it is difficult to discuss much else when talking about the Lakers. I've gone on this detour once before regarding James, but it is ridiculous that someone can be this much more talented than other supremely gifted individuals. James looks like he is playing chess versus a bunch of children playing checkers. I included this poll on my Twitter when watching the game, asking how far would LeBron be able to carry the worse team in college basketball this season? I honestly don't know the right answer but find it incredible that a national championship doesn't even seem that outlandish. Let's stop comparing him to other players and enjoy his last hurrah.
And the Miami Heat dismantled the Los Angles Clippers on the road by a score of 121-98. The Clippers have now lost three of their past four contests and have slid from the top spot out West to the fourth seed currently. The West will indeed be wild all season, so I anticipate we will see a ton of jockeying for position as the year goes on. As far as the Heat are concerned, the win takes them within a half-game of the last playoff position out East. The victory is even more impressive considering that they were able to capture it without Josh Richardson and Hassan Whiteside. Miami should be near the playoff bubble all season, and it will be an interesting next couple of months for them. Our three main takeaways of the night are still to come, so without further ado, let's dive a little deeper into Saturday's offerings.
Editor's Note: Get any full-season NBA and DFS Premium Pass for 50% off. Our exclusive DFS tools, Lineup Optimizer and daily Premium DFS Research.
Sign Up Now!
Tristan Thompson put together a marvelous performance on Saturday, scoring 23 times on the night to go along with 19 rebounds grabbed, five assists dished out to his friends and two rejections on an 11-for-18 conversion rate from the dance floor. What is most impressive is that could very well be his stat line from the club on the night also. Maybe that joke is coming too soon, but I haven't seen him score this much since his escapades off the court.
Thompson has been excellent during Kevin Love's absence, grabbing 15 or more rebounds eight times this season -- including 19 boards in three of his last five games. The five assists matched his career-high, and his two blocks tied his season-high. The 27-year-old is posting career numbers in most categories, but the return of Love will hurt his value in mid-January. Thompson's contract is going to make him nearly impossible to trade, so it seems likely that the Cavs will be forced to hang onto the seven-year pro. Love's deal isn't any better, but there will be more of a market for him as the deadline approaches. With all the uncertainty involving the team, I think Thompson makes for a prime sell-high candidate between now and the start of 2019.
Juan Hernangomez finds himself in a situation to produce for the Denver Nuggets for the next few weeks with injuries to Paul Millsap (toe), Gary Harris (hip) and Will Barton (groin). The 23-year-old scored 17 points to go along with 10 rebounds, one assist, one block and three three-pointers during Saturday's road loss to the Atlanta Hawks.
Most impressively, Hernangomez logged 40 minutes on the night, and it appears like he will get all the work that he can handle going forward due to the aforementioned injury issues that Denver is experiencing. The 15th pick in the 2016 draft provides a luxury to the team with his ability to play either forward position and has recorded back-to-back double-double showings on Friday and Saturday. On the week, Hernangomez is presenting averages of 35 minutes played with 15.2 points, 7.2 rebounds and 2.2 threes during the four contests. His defense has left a little to be desired, displaying totals of 0.7 blocks and 1.0 steals, but he has risen to an add in almost all standard league formats.
I would recommend him more as a short-term streaming option, but once you have him on your team, you can allow the situation in Denver to play itself out and go from there. If he is on your waiver wire, grab him because he won't last long.
Luka Doncic: Manifests Heroics Down The Stretch
The freshmen class this year has been magnificent with multiple players exhibiting gargantuan career ceilings. But barring an injury to Dallas Mavericks forward Luka Doncic, the Rookie of the Year award is his to lose.
Donic was incredible towards the closing stretch of Saturday's game, scoring 11 of the teams final 13 points -- which included outscoring the entire Rockets unit 11-2 in the last three minutes. His heroics propelled Dallas to a 107-104 victory at home, notching the 11th conquest inside their building in 13 games this year.
While the 19-year-old has been one of the most exciting players to watch and own, I will fall on my sword regarding my stance on him in category-based leagues, especially those of you in nine-category leagues. Doncic is shooting 43.6 percent from the floor this season with high volume and producing 3.6 turnovers per game. Those two statistics are obliterating his nine-category value, which currently sits just inside the top-100. I've never advocated giving him away, and his points league generation is much more appealing, but I still believe Doncic is one of the best sell-high candidates in the league. Fantasy owners are enamored by the rookie and have been overpaying for him in many situations. If I owned him, I would shop him around and see just how much I was able to get in return.
More Fantasy Basketball Analysis