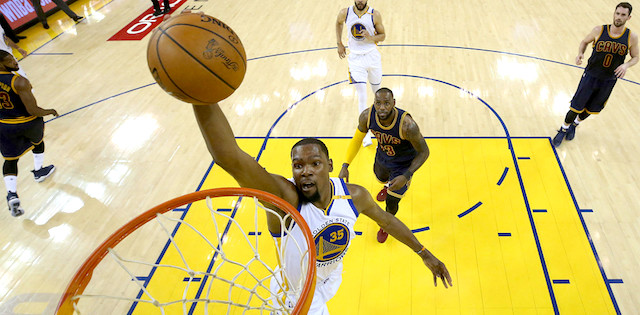 Welcome to the RotoBaller NBA Recap. In this feature, we highlight three fantasy basketball takeaways from last night's slate of NBA games. Saturday featured a potential NBA Finals preview between the Golden State Warriors and Boston Celtics and an under the radar battle starring the Denver Nuggets and Philadelphia 76ers.
The Warriors were able to escape out of Boston with a 115-111 victory, increasing their win streak to 10 consecutive games. The Raptors versus Warriors are currently the most likely NBA Finals matchup that could take place, but the Celtics versus Warriors are the second most plausible outcome -- this according to various sportsbooks around the world. Kevin Durant led the way with 33 points, nine rebounds and three assists, but Golden State registered quality production from their whole starting lineup. DeMarcus Cousins continued to look sharp, scoring 15 points to go along with eight rebounds, three assists, one block and three steals in 23 minutes of action. A lot has been made about how Golden State will fair with a true center on the court towards the end of a game, but I think the situation is being slightly overblown. Cousins is an elite scorer, and if the team does need to play a small-ball lineup to close out a contest, they will be able to adapt accordingly. Adding a four-time All-Star with the upside that the former Kentucky product possesses can never be a bad thing, and the title is going to be difficult to rip from the Warriors' grip this season.
And the Denver Nuggets beat the Philadelphia 76ers 126-110. Philadelphia was without Joel Embiid and Jimmy Butler, so the victory isn't as impressive as it seems, but both teams should be able to take something from the game. The 76ers giving extra minutes to their young guard Landry Shamet can only help his maturation process, and the Nuggets were able to continue to ease Gary Harris and Will Barton back into action while still picking up a quality win against a top-notch caliber team. We still have three additional fantasy takeaways from Saturday night to discuss, so without further ado, let's take a closer look into what happened around the league on January 26th.
Editor's Note: Get our full-season NBA and DFS Premium Pass for 50% OFF. Plus, you also get our full-season NFL Premium and DFS Pass for free! Take advantage of our lowest pricing all year, and get an edge on your competition.
Sign Up Now!
Aaron Holiday Is Worth A Look In Deeper Leagues
Aaron Holiday has entered the Indiana Pacers rotation with Victor Oladipo (knee) being lost for the season. On Saturday, Holiday posted seven points, three assists, one rebound, one steal and one three-pointer in 16 minutes of action against the Memphis Grizzlies. The issue for Holiday is that he currently sits fourth on the depth chart behind Darren Collison, Cory Joseph and Tyreke Evans for guard minutes, but the 22-year-old could start closing in on around 20 minutes per night.
Evans and Collison will see the most significant increase in value for those playing in a 12-team league, but they aren't going to be players floating on a waiver wire in any setting, so the possibility to grab them is nearly impossible. Joseph's role should stay similar to what it was before, which keeps him as a low-floor player in a 14 to 16 team league. And then we have Holiday, who enters the fray as a deep league waiver add. 12-team members can ignore the message for now, but Holiday does have enough talent to warrant a roster spot in deeper leagues, especially if head coach Nate McMillan decides to give the youngster around 20 minutes a night. He is currently owned in only one percent of leagues, but I would be adding him based on his potential in all 16 team settings and above.
Bruno Caboclo Might Finally Be Happening
Bruno Caboclo, AKA the Brazilian Greek Freak, might finally be starting to take form. On Saturday night, Memphis Grizzlies head coach JB Bickerstaff played Caboclo 29 minutes and stated that even though he only knew 15 percent of the playbook, his defensive versatility made it tough to sit him. The 23-year-old was able to reward his coach with 11 points, four rebounds, one assist, two blocks, one steal and three three-pointers.
Caboclo is only on a 10-day contract with the team, and they will want to see what they have in the youngster. There is still a possibility that nothing comes from this, but the Brazilian possesses freakish athleticism. If you are in a 16 to 20 person league, he is worth a long, hard look. Caboclo is currently owned in zero percent of Yahoo leagues, but that number should begin to drift slightly up. The Grizzlies will be sellers during the NBA trade deadline, and there is a possibility that they decide to blow everything up. That alone makes Caboclo worth an add in deeper leagues.
Kevin Huerter Struggles In Return To Lineup
Kevin Huerter struggled in his return to the Atlanta Hawks lineup, scoring three points to go along with one rebound, one assist and one steal in 21 minutes. Huerter had missed the previous two games due to a neck injury and looked slightly off from the start of the contest.
The 20-year-old will have a lot of his value this season decided by what happens during the trade deadline. Kent Bazemore and Taurean Prince are both on the trade block, and the removal of either from the rotation would help Huerter increase his current late-round value. The Maryland product has barely provided top 200 nine-category league production over the previous 30 days but is worth a hold for the time being.
More Fantasy Basketball Analysis