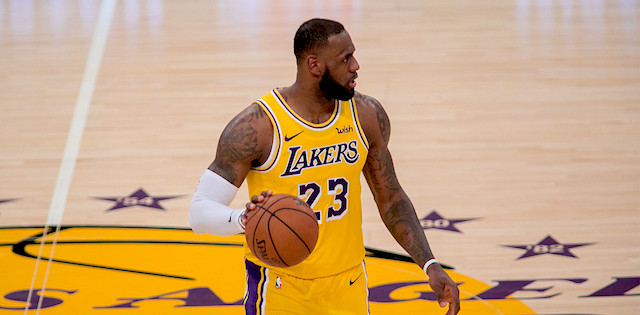 LeBon James is now fourth on the NBA's all-time scoring list. James pumped in a game-high 31 points on 12-of- 21 shooting to go along with seven rebounds and seven assists, but it wasn't nearly enough to overcome a slow start as the Lakers fell to the Nuggets 115-99. The 34-year-old forward has 32,311 career points and now trails Kobe Bryant by 1,332 points for third place on the list. Los Angeles (30-35) has now lost four straight and is just 10-21 since its Christmas Day victory over Golden State. The Lakers were without Brandon Ingram (shoulder) and Kyle Kuzma (ankle).
With the victory, the Nuggets (43-21) snapped a three-game losing streak and moved within one game of the Warriors for the top spot in the Western Conference. Denver is four games clear of Houston, Oklahoma City and Portland in the playoff race. The Pistons, Wizards, Spurs, Nets, Jazz, and Celtics also picked up important wins.
In this RotoBaller NBA recap, we'll take a look at three of my biggest fantasy takeaways from the Association's 10-game slate on Wednesday, March 6th. With the twilight of the season approaching, I'll be making the shift from waiver wire or trade targets, to guys who could provide DFS value and/or are worthy of paying up for, as your fantasy playoff fates are likely all but determined at this point.
Editor's Note: Get any full-season NBA and DFS Premium Pass for 50% off. Our exclusive Preseason Draft Kit, 10 In-Season Lineup/DFS tools, and daily Premium DFS Research.
Sign Up Now!
Gordon Hayward makes amends for mistake by draining game-winner with two seconds left
Mistakes, of course, are part of NBA games. However, many times what separates "special" players from ordinary players is how they react after making a crucial mistake, particularly in crunch time. Hayward, who has struggled mightily this year, showed his moxy last night.
With the Celtics leading 109-106 with 7.6 seconds remaining, Hayward inexplicably fouled the Kings' Buddy Hield on a three-point attempt. Hield subsequently hit all three free throws to tie the game. But with the Celtics not having no timeouts left, Hayward caught the ball around the free throw line and went the length of the court down the left side and sank a fadeaway jumper over Hield with two ticks left on the clock.
Hayward finished the game with 12 points, five assists, three rebounds and one steal in 29 minutes. The 6-foot-8 forward was 6-for-10 from the field, although he missed all three three-point attempts and both of his free throws. It marked his fourth straight game with at least four assists as well as the third straight contest with a steal. He was coming off his third 30-point game against the Rockets on Tuesday.
While the 28-year-old has had consistency issues, he has played much better since the calendar turned to February. In fact, Hayward is averaging the fourth-most fantasy points on the team at 24.8 points a game since Feb. 1. He has now scored in double-figures in seven of his 14 outings during this period. The ninth-year pro has produced 12.1 points, 1.1 triples, four rebounds, and 3.8 assists.
With the Celtics shortening their bench down the stretch, Hayward will likely be getting more than his usual 26 minutes. Hayward is extremely inexpensive in DFS which makes him a value play as he averages between five and six points per $1,000 with upside depending on the matchup.
Kelly Olynyk continues his solid play
The 7-footer is a streaky shooter, who has been really hot lately. He compiled a game-high 22 points on 8-for-14 shooting from the field and 5-for-7 from beyond the arc in the Heat's 91-84 victory over the Hornets. Olynyk added 11 rebounds along with one assist, one block and two steals for his third double-double of the season. The sixth-year pro tallied eight points during a key 17-2 fourth-quarter Heat run.
Olynyk has now scored in double figures in six straight games, which includes four 20-point outings, and nine of 10 -- tying his season-best stretch. He has made at least 50 percent of his shots on seven occasions and made multiple triples six times during this stretch. The 27-year-old is averaging 16.8 points, 6.2 rebounds, 2.2 assists, 2.3 triples, and one steal while shooting 54.8 percent from the floor and 50 percent from long distance. The former Gonzaga star has produced the 84th most fantasy points per game since Feb.11, which makes him a daily DFS play as long as his price point is reasonable.
The Heat have won three straight and are currently eighth in the Eastern Conference.
Spencer Dinwiddie comes up big in the fourth quarter
Dinwiddie is back. The 25-year-old tallied 12 of his game-high 28 points in the fourth quarter to help the Nets earn a 113-107 come from behind victory over the Cavaliers. He compiled 11 points and two assists during an important 20-6 run that turned a tied game into a 108-94 Nets lead.
Dinwiddie finished the game with 28 points, five assists, four rebounds, one steal, and one block. He was 10-for-21 from the field, 3-for-8 from the three-point line and 5-for-6 from the free throw line. It was his fourth straight game racking up at least 10 points, four assists and one steal since coming back from a thumb injury that caused him to miss 14 games. The fifth-year point guard is averaging 17.3 points, 4.5 dimes, 1.8 rebounds, and 1.3 trifectas while shooting 44.4 percent from the field but just 25 percent from the three-point line.
With the Nets squarely in the playoff mix, Dinwiddie should see around 30 minutes a game. Despite his ability to put up big numbers, he is only a matchup-based DFS play due to his inconsistent rebounding and playmaking.
More Fantasy Basketball Analysis