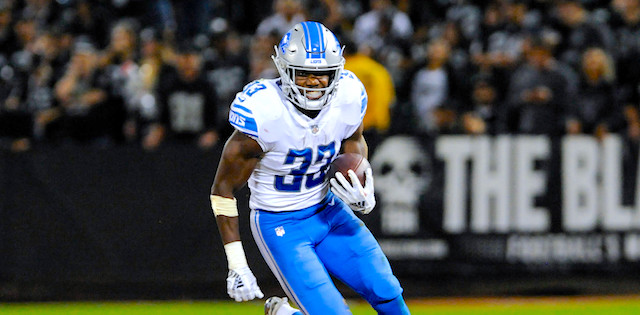 Saquon Barkley will be the first running back drafted this year in re-draft leagues. There's no good faith argument I could make to convince you that some other running back deserves to be taken over Barkley, who will be a first round pick in most fantasy leagues. If you take a different rookie running back in the first round of your re-draft draft...man, I don't know what you're doing. That's a weird strategy.
But Barkley isn't the only rookie rusher who could make an impact in 2018! This was a good draft for running backs and we're coming off a season where rookie backs -- led by Kareem Hunt, Alvin Kamara, and Leonard Fournette -- took the league by storm. Will that repeat this year? Honestly...I don't see it, but there's still value in the rookies this year, even if none of them turn into Kamara.
When I first decided to write this article, I had one answer in mind, Washington rookie Derrius Guice, but if you didn't already know that Guice will miss his entire rookie season with an ACL tear then I am sorry to break that news to you in this way. It's still a deep position even without Guice though, so let's look at which rookie running back should go second in re-draft.
Editor's Note: Our incredible team of writers received five total writing awards and 13 award nominations by the Fantasy Sports Writers Association, tops in the industry! Congrats to all the award winners and nominees including Best NFL Series, MLB Series, NBA Writer, PGA Writer and Player Notes writer of the year. Be sure to follow their analysis, rankings and advice all year long, and win big with RotoBaller!
Read More!
The Candidates
There are six running backs from this year's draft class that have a feasible shot at leading their team's backfield at some point. Let's start by breaking down their game and what kind of opportunities they have on their team before we synthesize it all together at the end to get our answer. Here are the players, listed in the order they were drafted:
Rashaad Penny - Seattle Seahawks
So, Rashaad Penny had surgery on a broken finger and we're not going to see him before Week 1, which means Seattle will start the season with Chris Carson in the backfield. I like Chris Carson and while I think it'll be tough for Penny to surpass him on the depth chart, Carson has had some issues this preseason, including a fumble that led to a Chargers touchback in the team's second preseason outing.
Penny's role at San Diego State was almost exclusively as a rusher, with a total of just 42 receptions over his four seasons there, while Carson had just seven catches in his four games last year for the Seahawks, so we're looking at two guys fighting for the rushing work with J.D. McKissic taking pass catching duties. This backfield isn't any clearer than it was last season at this point.
What gives Penny a chance to beat Carson out for the job? He averaged 3.32 yards per carry last year when he was hit behind the line of scrimmage, suggesting that he can run between the tackles, absorb contact, and still make positive plays out of bad situations. While Carson sits in the middle of the position in speed, Penny's 40 yard dash time ranks in the 88th percentile of running backs and his speed score in 93nd percentile. Penny is both a guy capable of plowing through contact and a guy capable of eluding said contact. That versatility should help him surpass Chris Carson at some point during the regular season. His increased usage in the passing game as a senior also suggests that while he won't be the team's primary receiving back, he is capable of being used as a receiver at times.
Sony Michel - New England Patriots
You know that Kacey Musgraves song with the lyrics "same trailer, different park?" Well, with Michel we have the same situation -- injured rookie running back in a crowded backfield -- in a different place. Michel is dealing with knee issues -- a little bit scarier than dealing with a broken finger like Penny is -- and was supposed to be ready by Week 1, but there are now rumors that he'll miss time in the regular season.
Once he's back, he'll have to carve out a place at a position that New England has long treated with a full blown committee approach. Right now, the Patriots have three guys who seem to be the main players Michel will have to worry about in terms of playing time: Rex Burkhead, James White, and Jeremy Hill.
Michel is a physical runner who has the ability to break past the defense and make big plays in New England. His pass blocking skills mean he can stay on the field in passing situations, but it's hard to know if that will be the case, as White and Burkhead are both guys who are best used in the passing game. That leaves Michel fighting with Jeremy Hill, the former Bengal, for the job of the main guy for early down work. Hill isn't the same runner that he was as a rookie in 2014 when he averaged over five yards per carry, but his veteran presence and the fact that he's fumbled just once in 259 carries over the past two seasons should endear him to Bill Belichick. Michel, meanwhile, had an issue with fumbles at Georgia.
Nick Chubb - Cleveland Browns
Based on preseason usage, Carlos Hyde is the clear starter right now in Cleveland, with Duke Johnson Jr. taking on the passing work. Chubb has shown some things in the preseason, including an 11 carry, 53 yards and a touchdown performance in the team's second preseason game. The problem? Hyde had 64 yards on nine carries in that game.
I've been down on Chubb since he was drafted because of the situation in Cleveland. Picking a running back in the second round when the team had a lot of other holes felt superfluous. Heading into the regular season, I don't see Chubb being a guy that makes a big impact in re-draft leagues. Sure, Chubb is a lot faster than Hyde, but he's entering the season as the third choice on that team. It'll take an injury to Hyde for Chubb to emerge as a serious threat this season.
Ronald Jones - Tampa Bay Buccaneers
Ronald Jones should be the starter in Tampa Bay, but Peyton Barber has been clearly outshining him so far. Jones had four carries in the team's second preseason game, finishing with just two yards while Barber had six carries for 32 yards. I know it's just one game, but it perfectly encapsulates the word coming out of Tampa, which is that Barber is grabbing hold of the starting role and not letting go.
Jones was an extremely effective back at USC, but things haven't smoothly so far. Here's a video of all of Jones touches and targets from the team's preseason game against Miami:
Aside from missing on his only target, that video starts out decently enough, but it ends with play after play of Jones running into defenders in the backfield. Blame the offensive line for some of that, but Jones doesn't look like he has the elusiveness to get away when a play breaks down. I'm not encouraged after watching that.
Kerryon Johnson - Detroit Lions
Aside from inspiring plenty of "Kerryon My Wayward Son" fantasy team names, Johnson is inspiring hope in a rushing situation in Detroit that has struggled for years. Johnson, and LeGarrette Blount, who the Lions added in free agency, might finally have the Matthew Stafford-led Lions in a position where they can maybe, sometimes run the football. Blount's abilities as a goal-line rusher are well documented (including by me in this piece about receiver Kenny Golladay) and lower Johnson's upside since presumably he won't be getting goal-line work, but the former Auburn Tiger is a good north/south runner who should see plenty of early down action this season, but with Theo Riddick as the primary passing-down back we're likely to see a committee in action this season. Johnson has the lowest expectations of any of these running backs, though, so he could be available at a discount. If Blount ends up looking as ineffective this year as he did with the Eagles, there will be room for Johnson to expand his role.
Royce Freeman - Denver Broncos
Freeman was the last one of these players drafted, but he's currently the second player being taken in rookie drafts. Does that mean he's also a value in re-draft?
Unlike some of these other situations above, the path to Freeman being the starter is clouded by players with track records of NFL success; instead, Freeman needs to beat out Devontae Booker, who hasn't shown much over his brief career to elicit much concern from me about Freeman's chances.
At Oregon, Freeman was extremely productive as a rusher and also put up good receiving numbers. He should be able to be an every-down back for the Broncos at some point, though Booker will likely see some third-down work this year. Still, he forces missed tackles. He creates yards after contact. Freeman is a great replacement for C.J. Anderson and has the potential to provide even more offensively for this team than Anderson did.
So, Who Are We Drafting?
After looking at the cases for all six running backs, I have Royce Freeman as my runaway favorite for the top spot. Opportunity matters so much in fantasy football and Freeman has the best opportunity to sustain a major role from the beginning to the end of the 2018 season. He enters the season in a timeshare with Devontae Booker but that could be short-lived once the team puts more trust in the first-year player.
More Fantasy Football Draft Strategy