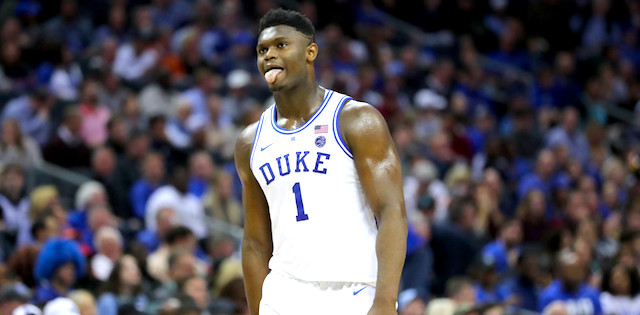 Taking a rookie early rarely works out in fantasy basketball.
Everyone wants to play with the shiny new toy. Everyone wants to be the guy that says, "I believed in Player A because I took him in Round X". That's why people draft rookies way too high almost every year in fantasy basketball.
With all that being said though, there will be some NBA newcomers that will help your team to fantasy glory this season. Some will be on your roster all year. While others may find their stride in February and carry you through the stretch run and fantasy playoffs. Here are some of the rookies that will be on your winning teams.
Editor's Note: Our friends at Monkey Knife Fight have the best, most fun, fastest growing DFS props game! It's super simple to play and to win real money. Just choose your NBA, NHL or PGA game, and make your picks! Get a 100% instant deposit bonus up to $50 using promo code: BALLER. That's $50 for free - don't miss out!
Play Now!
Drafted: #1 Overall
There was breaking news on Friday morning that Zion will miss the first few weeks of the season to start his rookie campaign. Although that sucks in general for basketball fans, it could be great for his draft value and you can now get him for a reasonable price. The Pelicans know that he is the key to their future and they will handle him with care. At this point, it is already a high-risk, high-reward pick. Rookie walls and adjustments periods may not apply to players like Williamson, but the only question that remains is how much can he help you this season?
JA Morant (G, Memphis Grizzlies)
Drafted: #2 Overall
It's easy to get excited about Ja Morant's potential in fantasy basketball. He has been handed the keys to an entire team and looks like he will take them and be firing on all cylinders. He will be allowed to do what he wants for a rebuilding Grizzlies team after he led the nation in assists and transition points last season. However, he won't come without a downside as he will turn the ball over A LOT and isn't exactly a sharpshooter at this point. A low Field Goal percentage and high turnovers will prevent him from catapulting into the upper echelon of point guards this year, but it will be fun to have him on your roster. That's for sure.
R.J. Barrett (G/F, New York Knicks) and Cam Reddish (F, Atlanta Hawks)
Drafted: #3 and #10
It's the nature of the beast that these two seem to get put together. They went to the same school. They both played with Zion. Both were expected to win a National Championship and their flaws caught up to them. The difference is that Barrett has all the pressure of being a top-3 pick in New York, while Reddish gets to join a young core in Atlanta that has Trae Young, John Collins, Kevin Huerter and fellow rookie De'Andre Hunter.
Barrett will not be efficient. His 30.8 percent mark from downtown and 66.5 percent from the line make sure of that. He will be given the green light in the Big Apple. Shoot away young one! He will get you some assists for your squad as he put up 4.3 per night for the Blue Devils. That number should increase... if the Knicks can get the ball in the hoop.
Reddish is in a similar boat. His 36.5 field goal percentage makes it tough to trust him on your fantasy roster, but the transition to the NBA may be easier on him than most rookies. He played off the ball on over 75% of his possessions at Duke and will be used in a similar role on a Hawks team that has a few options ahead of him in the pecking order. He did drain 2.5 threes per game at Duke and is a candidate to get hot throughout the season and carry you for stretches at a time.
Drafted: #9
Now this one is a bit of a half-court heave. It's all about opportunity and taking leaps at the pro level. It may not happen this year. It may not happen next year, but Rui Hachimura will be given the chance to prove he belongs in the NBA. The 6'8" power forward out of Gonzaga can compete for the starting job right away. His numbers in the West Coast Conference tell us that he shouldn't be on your rosters after draft day, but if he wins that starting job then he should contribute and could be a target later in the year. If he plays big minutes, he can help out any team in fantasy basketball.
More Fantasy Basketball Analysis